Opening This Week
Bug
See My, What A Busy Week! on pg. 17. Artists Repertory Theatre, 1516 SW Alder, 241-1278, Opens Fri, runs Tues-Thurs, Sun 7 pm, Fri-Sat 8 pm, Sun 2 pm, through Nov 20, $15-40
Sponsored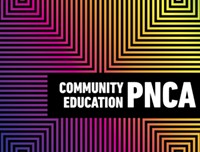 Online art and design classes at the Pacific Northwest College of Art now open for registration!
The Guys
The Interstate Firehouse Cultural Center celebrates being 95 years old with an in-house production of Anne Nelson's play about the firemen who served during 9/11. Directed by Edgar Reynolds and starring Caren Grahm and Danny Bruno. IFCC, 5340 N Interstate, 823-4322, Thurs-Sat 8 pm, Sun 7 pm, through Oct 29, $10-15
Closing This Week
Silence
The inimitable Johnny Stallings presents a one-man show that isn't King Lear or Hamlet. On the contrary, Silence "explores the noise inside our heads and what happens when it falls silent." Brooklyn Bay, 1825 SE Franklin, Bay K, 241-9765, Fri-Sat 8 pm, EXTENDED through Oct 15, $15
Current Runs
The Hyacinth Macaw
The second play in Mac Wellman's four-part "Crowtet," defunkt's production of Macaw doubles as offbeat family drama and frenetic deconstruction of theatrical realism. A strange man named Mr. William Hard (James Moore) arrives at an unusual home; the tearing apart of a family ensues. Father Ray (Tom Moorman) realizes that he is a "duplicate," mother Dora (Lori Sue Hoffman) is lured away by a folk-singing Chinaman (kollodi), and William and daughter Sue (Frances Binder) bury the moon in the backyard. If there is significance to any of this, beyond sheer poetic anarchy, it escaped me. AH Back Door, 4321 SE Hawthorne, 481-2960, Thurs-Sat 8 pm, Sun 4 pm, through Oct. 22, $8-15
Underneath the Lintel
Oregon native Time Winters is "the Librarian," a Dutchman living in a provincial town. When a book gets returned to his library 113 years late, he embarks on a quest to track the guilty borrower down, enthusiastically playing detective and unearthing a stream of clues that leads him on a rambling journey back and forth across the world. As the "lovely evidences" regarding the phantom borrower's origin mount, so too do details from the Librarian's own life, and it becomes clear he is a lost and lonely soul desperate to find meaning in his existence. Lintel's geographical/historical zigzag is a brilliant platform for playwright Glen Berger to explore with zeal his favorite theme: man/woman's purpose in an incomprehensively vast universe. But there's a fine line between zeal and hyperactivity, and as Berger's script moves from lighthearted mystery adventure to existential rumination, the ideas start to crowd each other a bit. JWS Portland Center Stage, 1111 SW Broadway, 274-6588, Tues-Wed, Sun 7 pm, Thurs-Sat 8 pm, Sat-Sun 2 pm, through Oct. 30, $15-56
Dance
10 Years Running
As the title would suggest, Conduit has now been setting the Portland dance world on fire for 10 years. Celebrate all week with nightly free technique classes (Oct 17-20, 5:30 pm), celebrity dance classes with folks like visiting performer Ronald K. Brown (11 am Oct 17), and lots of cool events which we'll tell you more about next week. Check www.conduit-pdx.org for the full details. Conduit Studio, 918 SW Yamhill, 4th Floor, 221-5857, Oct 15-22
Blueprint of a Lady: The Once and Future Life of Billie Holiday
White Bird, your friends in bringing internationally renowned dance to Portland at affordable prices, presents their eighth season opening at Schnitzer Hall: Blueprint of a Lady, a thrilling collaboration between Ronald K. Brown dance company and jazz vocalist Nnenna Freelon. White Bird at the Arlene Schnitzer Concert Hall, SW Broadway & Main, 790-2787, 7:30 pm Wed Oct 19, $19-43
Comedy/Improv
Necrophabulous
The vaudeville-inspired sketch comedy troupe, The Tragedies, has a spiffy website (www.thetragedies.com), a podcast, a slick marketing campaign with press packets inside cute little coffins, and plenty of merchandise like t-shirts and stickers. Now they just need a show title that doesn't make us retch. Interstate Firehouse Cultural Center, 5340 N Interstate, 367-2100, Fri-Sat 10:30 pm, through Oct 22, $7-10
Scary Movie
The Brody's super-rad Halloween-themed Scary Movie is back, at which improvisers make up a whole creature feature movie on the spot, and the theater becomes a veritable museum of vintage horror and sci-fi memorabilia. Brody Theater, 1904 NW 27th, 224-0688, Fri-Sat, through Oct. 29, $10
Sponsored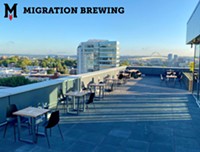 This 9th floor patio boasts stunning views of the city, three mountains, and Portland's West Hills.