Opening This Week
Theatre du Grand Guignol
The Tragedies have undergone a seasonal mutation, turning from a talented sketch comedy troupe into a "monstrous theater company" that combines comedy, horror, and eroticism in the style of French guignol shows. The Little Church, 5138 NE 23rd, Thurs-Sat 8 pm, $15-20
Sponsored
Sketch comedy troupes from all over N. America descend on The Siren Theater for 3 glorious nights.
The Catacombs Project
Hand2Mouth and Fever Theater team up with various performance, video, and visual artists to present a living installation in the Portland Catacombs, populated by ghosts from Portland's sordid past. Portland Art Center, 32 NW 5th, 236-3322, Opens Fri, runs Thurs-Sun, plus Oct 30- 31; performances running continuously from 8 pm-11pm, $10-20
Closing This Week
Betrayal
In mounting a production of Harold Pinter's Betrayal, Imago Theatre provides audiences with a classic example of a well-conceived gimmick. The gimmick, in this case, is that the play unfolds in reverse chronological order: It begins with two former lovers discussing their relationship, and ends with the moment at which that relationship began. Under Jerry Mouawad's direction, the cast works deftly within Pinter's curious parameters; Imago's visually impressive production is ultimately a nuanced, disturbing, and compelling accomplishment. AH Imago Theater, 17 SE 8th, 221-5857, ex 3, Thurs 7:30 pm, Fri 8 pm, Sat 2 pm, 8 pm, Sun 7 pm, $16-26
Second-Hand Smoke
defunkt's new show is split into three acts: the first has an intellectual (Ben Plont) quarreling, then dancing with, two obsequious men; the second features two girls (Danika Stochosky and Yolanda Suarez) engaging in a contest to see who can annoy the audience the most (it's a tie, but they both get As for effort); the third consists of a wheelchair-bound magician (Tom Moorman) shouting at someone who's either his assistant, wife, daughter, or none of the above (Frances Binder). If anyone tells you that there's anything interesting, coherent, or remotely meaningful in Second-Hand Smoke­—and this includes playwright Mac Wellman and director James Moore—they're lying. ERIK HENRIKSEN defunkt theatre, at the Back Door, 4319 SE Hawthorne, 481-2960, Thurs-Sat 8 pm, $10-15; Thurs "pay what you will"
The Road to Xibalba
This world premiere by Miracle's resident playwright follows several Mayan-Americans as they attempt to reconnect with the beliefs of their ancestors. The Miracle Theatre, 525 SE Stark, 236-7253, Thurs 7:30 pm, Fri-Sat 8 pm, Sun 2 pm, $15-20
Current Runs
Afield: The Slideshow of Our Boring Vacation
How often do you get to see a two-woman mask show that includes a faux-slide show, donuts, and interdimensional travel? Not often enough. Performance Works NorthWest, 4625 SE 67th, 249-0989, Fri-Sat 8 pm, Sun 7 pm, $7-10
West Side Story
The inagural season of Portland Center Stage's fancy new Gerding Theater kicks off with the ever-popular West Side Story. Gerding Theater, 128 NW 11th, Tues-Sat 7:30 pm, Sun 2 pm, 7:30 pm, $18.50-55.50
Jingle Spree
CoHo kicks off their fifth season with a dark, twisted look at the contemporary family. Coho Theatre, 2257 NW Raleigh, 220-COHO, Thurs-Sat 8 pm, Sun 2 pm, $20-23
Dance
Tania Perez-Salas
White Bird delivers once again, this time with the West Coast debut of Mexico's Compania De Danza. Lincoln Hall, PSU, 1620 SW Park, 725-3307, Thurs-Sat 8 pm, $14-25
Sponsored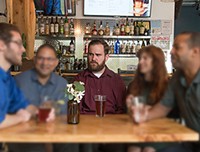 Adults aged 18-35 with good hearing will be paid for their time. Located at the Portland VA Medical Center