When I saw Will Eno's The Flu Season on stage two years ago, I was less impressed with the performance than the script—a clever, furtively informal piece whose threadbare plot was about much more than it seemed. Unfamiliar with Eno's other work, I expected something similar from Thom Pain (based on nothing)—a plotless play that was simultaneously poignant and droll.
I was so confident in Eno's skill that the fact that the cast consists of only one actor didn't disquiet me (and it normally does). The script for Thom Pain is very smart, at times hilarious, and—like The Flu Season—it lacks a true plot arc. Although Thom Pain is simultaneously metaphysical and existential, I feel like it's incorrect to label it as such. For one, this performance isn't, despite involving possible profundities, heavy. What's more, I didn't really absorb the play's ramifications until hours later. While watching, I realized that—again, like The Flu Season—Thom Pain discusses something indistinct and simple, but in no way inconsequential. I didn't dissect it then; I was simply enjoying watching a bespectacled, anxious man regale his audience with anecdotes about childhood bee stings and lost loves.
Of course, a solo show hinges on the performance of its actor. Matthew DiBiasio, as Thom, infuses his character with the necessary credibility. It's not your usual monologue; the role requires impeccable timing, and DiBiasio's got it. When less-competent actors star in meta-shows like Thom Pain, the play often drowns in its own self-awareness. DiBiasio was good enough that it even seemed like improv.
Though this is the first play I've seen by the troupe called Our Shoes Are Red/The Performance Lab, who recently relocated, their future appears promising. Not only was Thom Pain a good show, their upcoming projects—featured playwrights include David Harrower and Samuel Beckett—are intriguing. Further, the Lab's approach to drama is admirable. Very collaborative and inclusive, the group's aim is to provide an innovative perspective on theater. Many theater troupes strive to achieve this simple credo; Our Shoes Are Red, lacking the pretension that befalls many ensembles, seems capable of pulling it off.
Sponsored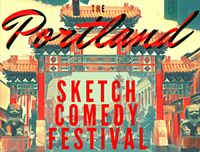 Sketch comedy troupes from all over N. America descend on The Siren Theater for 3 glorious nights.