There's a New Queer in Town
There's loads of fun to be had at the Waterfront Pride Festival—including a weekend's worth of food, music, performance, and vendors. Here are the mainstage acts you won't want to miss! (★ = super-duper recommended.)
Sponsored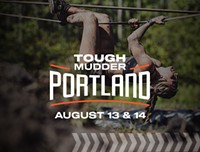 Lock in your summer adventure, Portland. Join us for world famous obstacles over a 5K or 10K distance.
SATURDAY JUNE 16
NOON: Two Spirit Festival Opening
Join our local Two Spirit community as they celebrate Pride and the queer indigenous people of Portland. For more info on Two Spirit, read AJ Earl's feature.
1 pm: Dreadlight
Kandra Tolvstad and Toria Beck are best friends who play "pleasantly headbangable" hard rock.
2 pm: The Shrike
More thunderous progressive rock from the Portland quartet.
2:45 pm: Bria & Chrissy
Beloved YouTube lesbians Bria & Chrissy write fun, catchy music for the masses.
★ 3:30 pm: Frankie Simone
The defiantly queer singer plays danceable hits from her new Love//Warrior release.
4:15 pm: Sateen
A lesbian duo that became the toast of NYC with their brand of sexy, liberating disco.
★ 5:15 pm Lulubeatz
Portland's own up-and-coming R&B songstress who sings like a goddamn angel.
6 pm: Bomb Ass Pussy
A local trio of queer hip-hop artists who are flat-out hilarious.
6:45 pm: Dai Burger
Strong feminist rap from straight outta Queens, NYC.
★ 7:30 pm: Maarquii
Former backup dancer for Chanti Darling breaks out with their brand of soulful, energetic hip-hop.
SUNDAY JUNE 17
12:15 Pm: Portland Drag Brunch
Enjoy our city's most fabulous drag queens and learn why breakfast is the most important meal of the day.
1 pm: Millstone Grit
The international (now Portland-based) queer rock group kicks off day two of Pride with their grungy pop.
★ 1:40 pm: Bridging Voices
Listen to Portland's first chorus for gay, straight, and questioning young people (ages 13-21), and prepare to be utterly charmed.
★ 2:10 pm: Portland Gay Men's Chorus
More hot choral action from the PGMC, singing songs that are both hilarious and poignant.
★ 2:40 pm: Portland Lesbian Choir
MORE... QUEER... CHOIRS! MORE... QUEER... CHOIRS!
3:30 pm: Rachel Wong
Asian-American singer/songwriter Rachel Wong backs up her boisterous voice with empowering lyrics.
4:15 pm: David Hernandez
This American Idol finalist sings R&B-influenced ballads and dance club bangers.
★ 5 pm: Chanti Darling
Read our profile and interview with this Portland fave on page 19.
★ 5:30 pm: Pandora Boxx & Portland Drag Showcase
Beloved RuPaul's Drag Race alum and comedian Pandora Boxx caps off Pride Weekend with some of Portland's finest queens for what will surely be a very wild ride.