It's a pretty funny week on deck as the city readies itself for the dive headfirst into the deep, delicious waters of Pride. Quincy Jones is in town (not that one)! Mike Love is in town (also not that one)! Craig Robinson brings his blend of smooth and weird to the Helium stage, Neil Hamburger is here to hack all over your eager laps, Aunty Donna pays Portland a visit, and the city's is still trying to find its funniest person for 2017. While all that's going on, one of the last good ska bands still skanking around the world hits the Crystal, and one of Seattle's best beatmakers sets up shop at Holocene. There's a lot of fun stuff to dig into; hit the links below and load your plate accordingly.
---
Jump to:
Monday
|
Tuesday
|
Wednesday
|
Thursday
---
The Specials
With so much hatred circulating throughout the world lately, it makes sense that our hearts are heavy with sadness, fear, and confusion. An even stronger racial divide has revealed itself in a new wave of modern extremists, which is why the return of the Specials feels so pointedly... special. Though the band's current lineup only contains three original members, the cultural contributions they represent are still wholly relevant. The Specials revived and popularized 2 Tone ska with chart-topping hits like "Ghost Town," but there are more important aspects to the group's legacy. As former principal songwriter and keyboardist Jerry Dammers put it, the Specials were formed with the specific intention of promoting anti-racism and racial integration by bringing Black and white musicians together. There couldn't be a better message for the world today. CERVANTE POPE
8 pm, Crystal Ballroom, $35-40
PULSE Anniversary: Honor Them with Action
One year ago, we lost 49 beloved members of the LGBTQI+ and Latinx family in the wake of the Orlando mass shooting marked as the deadliest public mass shooting in modern U.S. history. Beginning with a collective moment of silence for the victims, the organizers has invited the Oregon Alliance for Gun Safety to present on gun reform and responsible gun ownership in Oregon. EMILLY PRADO
6 pm, Q Center, free
Revolution Comedy
Every second and fourth Wednesday, local stand-up comic Andie Main hosts a benefit showcase designed to assist progressive causes through the power of comedy. The lineup changes from show to show, but big laughs for a great cause are always guaranteed. The May 22nd show is a benefit for Planned Parenthood, with stand-up sets by Alex Rios, Jeremy Eli, JoAnn Schinderle, and Kelly Richardson.
7 pm, Curious Comedy Theater, $12-15
Key Largo
There's just so much to get film-drunk on with John Huston's 1948 noir Key Largo. There's Karl Freund's amazing black-and-white cinematography, of course. There's the forever-mesmerizing chemistry between Humphrey Bogart and Lauren Bacall, seasoned to perfection in their fourth and final team-up on film. There's the amazing bounty of hard-boiled dialogue ripping out of everyone's mouths like bullets spat from the business end of a tommy gun. But above all, there's Edward G. Robinson as Johnny Rocco, soaking in a bathtub, chomping on a cigar, serving notice that while Sopranos and Corleones might rise in his wake, none will possess the lasting power of his swarthy, malevolent majesty. You wanna see some gangster shit? This is some gangster shit. BOBBY ROBERTS
7 pm, Laurelhurst Theater
Overcoats, Yorke Lore
The New York-hailing duo comprised of Hana Elion and JJ Mitchell bring their electronica-tinged folk, soul, and R&B sound to the Doug Fir in support of their 2017 debut full-length, Young.
9 pm, Doug Fir, $10-12
Hurray For The Riff Raff, Making Moves
Fronted by Alynda Segarra, Hurray for the Riff Raff's genre-straddling songs often align with American traditions in folk, blues, and country. But with new album The Navigator, Segarra & Co. have uncovered something modern in those bedrock sounds. This contemporary slant on familiar tropes makes Hurray for the Riff Raff one of the most exciting musical acts in the country right now. NED LANNAMANN
8 pm, Revolution Hall, $21-23, all ages
Sunbathe, Paper Brain, Strange Ranger
Maggie May Morris has a catchy-as-hell name to go along with her natural ability to write a catchy-as-hell song. While you may be familiar with Morris from her position at the helm of Genders, you might not be aware that her solo efforts are as just as mesmerizing. With her current project, Sunbathe, Morris reminds us that catchy doesn't always have to be equal to sunny or saccharine. She's got the distinct ability to write a song so devastating you'll flop to the floor while listening, but also so warm and familiar that you'll find yourself attempting to hum along even before you've finished indulging in it for the first time. JENNA FLETCHER
8 pm, The Know
Neal Stephenson, Nicole Galland
Snow Crash author Neal Stephenson and novelist and historical fiction writer Nicole Galland come to Powell's to read and discuss The Rise and Fall of D.O.D.O., their new genre-defying near-future thriller.
7 pm, Powell's Books at Cedar Hills Crossing, free
Boogarins, Mattress
Brazil's Boogarins play stuff that's pleasant without being passive, bathing audiences in sunlight, tropicalismo, and soft guitar shredding. EMMA BURKE
9 pm, Mississippi Studios, $10-12
Official 2017 Portland Pride Kick-Off Party
The Lagunitas Brewing Community Room hosts a Portland Pride Week Kick-Off Party with a full evening of music, food, and fun. All proceeds support Pride Northwest and Portland Pride, and admission includes an array of tasty food and a free pint of beer.
6 pm, Lagunitas Brewing Community Room, $10-15
Kung Fu Theater: Forced to Fight
This month's installment in Dan Halsted's ongoing celebration of all things whoop-ass is the only known 35mm print of the undeservedly obscure Forced to Fight. It's built on the boilerplate "student of a murdered master vows revenge" plot, but Forced is enhanced immeasurably by the fact this maligned student is Invincible Super Chan (no shit), who channels his pure rage into superhuman feats of total obliteration, plowing through enemies like a thresher through a wheat field. BOBBY ROBERTS
7:30 pm, Hollywood Theatre, $7-9
Aunty Donna: Big Boys
The absurdist Australian sketch and comedy group bring their Big Boys live show to the Aladdin stage for their first North American theatre tour.
8 pm, Aladdin Theater, $30
Portland's Funniest Person: Preliminary Round
Past winners of this contest have pretty much all promptly packed their shit, moved to Los Angeles or New York, and gotten steady work making people laugh a lot on a national stage. In these preliminary rounds you might see who from our comedy community is about to make that leap for themselves.
7 pm, 10 pm, Helium Comedy Club, $10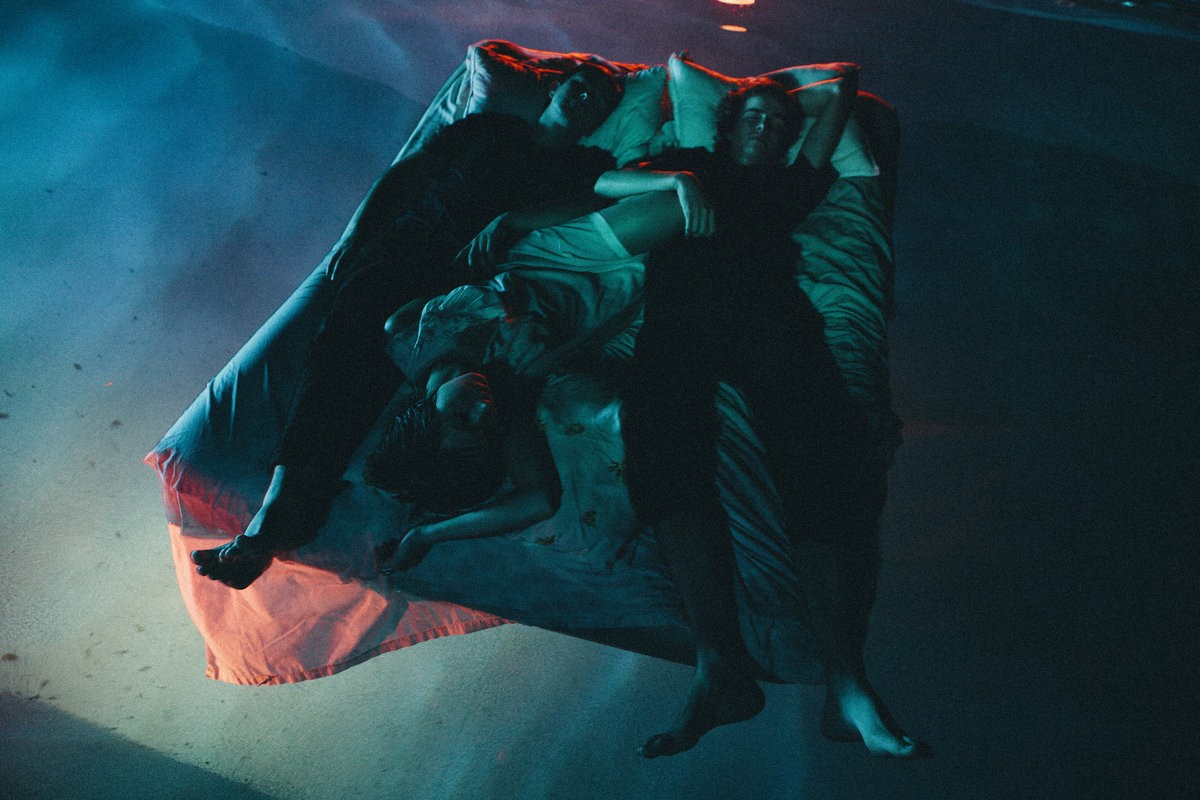 Floating Room, Sinless, Mini Blinds
The local experimental pop and noise rock trio consisting of Maya Stoner, Kyle Bates, and Alec Van Staveren return to Holocene for a headlining show, featuring support from fellow Portland pop stalwarts Sinless and Mini Blinds.
8:30 pm, Holocene, $7-8
Quincy Jones & Friends!
Not to be confused with Rashida and Kidada's dad, this Quincy Jones is a winsome comedian from LA by way of Seattle, and lucky for us, he's bringing his winning personality, expert crowdwork, and varsity-level observational humor to the Siren Theater. He's also bringing friends, including Mercury Undisputable Genius of Comedy Marcus Coleman, so you'll want to be there, unless you hate laughter and joy. MEGAN BURBANK
8 pm, Siren Theater, $18-20
Princess Mononoke
The word "genius" gets batted around with regard to filmmakers with a numbing, reductive frequency. But if Hayao Miyazaki doesn't qualify for that title, who does? Since making his directorial debut with 1979's The Castle of Cagliostro, Miyazaki has blazed his own distinct trail, blending atomic-clock action timing with an awe-inspiring, hand-rendered sense of the infinite. Mononoke isn't just one more example of that balance, it's maybe the best. ANDREW WRIGHT
4:15 pm, 9:30 pm, Academy Theater
WEEED, BlackWater Holylight, Troll
Subtlety never has been—and most likely never will be—a strong suit for a band with a name like Weeed. These Bainbridge Island, Washington, psych-metal stoners named their latest LP Our Guru Brings Us to the Black Master Sabbath, for chrissakes. However, being so straightforward with their influences possibly correlates with their appeal. Like the Matthew McConaughey of psychedelic metal bands, they are just L-I-V-I-N, and there's nothing more to it. CAMERON CROWELL
9 pm, Bunk Bar, $8
Mike Love
This is a performance from the younger, more beardy, reggae-playing Mike Love. Not the older, somewhat controversial Beach Boy Mike Love. Reggae. Not Beach Boys.
9 pm, Doug Fir, $18-22
Earthquake Hurricane/Comedy Nest Crossover Show
A special edition of the weekly stand-up showcase that incorporates the comedy expertise of Seattle's Comedy Nest, known for helping nurture the city's female comedians. So the Nest has sent down some of their best for Earthquake Hurricane to host, including Aila Slisco, Dewa Dorje, Clara Pluton, and Natalie Holt.
7 pm, The Liquor Store, $5
Stas THEE Boss, JusMoni, DJ Lamar LeRoy
THEESatisfaction was years ahead of its time. Blending the neo-freak soul of Erykah Badu and the Afrofuturist hip-hop of fellow Emerald City cohorts Shabazz Palaces, the Seattle duo of Stasia Irons and Catherine Harris-White built an under-the-radar yet dedicated following. As befalls many a project with two visionaries, Irons and Harris-White went their separate ways in 2016 after releasing only two studio albums. Harris-White has gone on with her R&B solo project, SassyBlack, while Irons DJs at Seattle clubs, hosts the Sway x Swoon pop-up house party, and frequently releases instrumentals and remixes (as Stas THEE Boss) on SoundCloud. Her 2014 Bandcamp release, Stas for Hire, is six tracks of space jazz and Dilla-esque beats. You can't listen to the Last Artful, Dodgr, Blossom, or Neill Von Tally without hearing her influence. Joined by Seattle's cosmic R&B singer JusMoni, Irons is sure to provide just enough THEESatisfaction nostalgia for the fans, but more importantly, she'll be keeping her eyes and ears open, as always, to the future. SANTI ELIJAH HOLLEY
8:30 pm, Holocene, $10-12
Craig Robinson
As tempting as it might be to start in on a rewatch of The Office, why not head out and get your laughs straight from one of the show's many delightful sources? When he's not moonlighting with his band the Nasty Delicious, Craig Robinson (AKA Darryl Philbin) can be found serenading audiences with a mix of keyboard-driven stand-up and sing-along that toes the line between wholesome and raunchy in bizarre and uproarious ways that will leave you reeling with delight. CHIPP TERWILLIGER
8 pm, Helium Comedy Club, $33
Mono, Low
The Wonder serves up a hefty co-headlined bill featuring sets from Japanese post-rock institution Mono and Duluth-hailing slowcore pioneers Low.
8:30 pm, Wonder Ballroom, $10-12
CoHo Summerfest 2017
Portland's summer theater offerings that aren't Shakespeare in the Park are severely underrated. Case in point: CoHo Productions' Summerfest, five weekends of excellent, mildly unhinged performance. At last year's festival, I saw a woman perform a solo show as a smarmy showbiz man, and it was one of the best things I saw all summer. Go on! The Keepers can wait! MEGAN BURBANK
Jun 15-Jul 16, Thurs-Sun 7:30 pm, CoHo Theater, $20-75
Turtlenecked, Cool American, Bryson Cone
Prolific local musician Harrison Smith has been making consistently great art-punk and pop under the Turtlenecked moniker for a couple years, but nowhere does it sound more fully realized than on his stunning new full-length, Vulture. The record is chock-full of catchy earworms and anxious energy that's reminiscent of Dayton-hailing weirdo rock pioneers Brainiac or New York's Les Savy Fav at their most melodically manic, and it's tailor-made to be witnessed in a live setting like tonight's. CHIPP TERWILLIGER
9 pm, Mississippi Studios, $5
Neil Hamburger
Sporting a greasy combover, oversized glasses, and a horrible attitude, fictional entity Neil Hamburger is more of a sentient cartoon character than your average Portland-ribbing stand-up. The role of the phlegmy, celebrity-antagonizing Hamburger is played winningly by comedian and musician Gregg Turkington, and he's always a sweaty, ornery joy to witness. MEGAN BURBANK
9 pm, Star Theater, $18
Kelly Williams Brown
The Portland-based author follows up her break-out self-help book, Adulting, with Gracious, a humorous guide to remaining courteous and polite in the face of rather uncivil times.
7:30 pm, Powell's City of Books, free
The Cool Kids Patio Show
The Cool Kids Patio Show returns to the Doug Fir for another evening of free comedy and live music, featuring stand-up by Barbara Holm, JoAnn Schinderle, and Jason Traeger, along with a unique blend of cello, vibraphone, and percussion-driven dance music courtesy of Human Ottoman. Hosted by Andie Main.
6 pm, Doug Fir, free
Queer Horror: Drop Dead Gorgeous
The bimonthly series, hosted by Carla Rossi, returns just in time for Pride with a 35mm screening of the underrated (and very hard to find) 1999 cult classic Drop Dead Gorgeous, a satirical thriller about Minnesota beauty queens and the pageant moms who are all about killing the competition to make sure their precious ones get to wear that sash. Preceded by a drag pageant starring some of Portland's fiercest queens. BOBBY ROBERTS
9:30 pm, Hollywood Theatre
Lez Stand Up: 2003 Pride!
One of Portland's best stand-up showcases just hit upon the perfect theme for this year's Pride edition: 2003! You know, 2003! That one year? It happened 14 years ago? Reminisce on all the... stuff that happened and how... different (?) things were, with help from sets by Kirsten Kuppenbender, Laura Anne Whitley, Caitlin Weierhauser, DJ Martinez, Monisa Brown, Manny Hall, Katie Piatt, and Carlos the Rollerblader, whose sport was already a good five years out of date by the time 2003 rolled around!
8 pm, Siren Theater, $10
Don't forget to check out our Things To Do calendar for even more things to do!