It's like a year is just long enough to help you forget just how busy the weeks can get in the summer. Pride is still going on. Pedalpalooza is still happening. We're on the cusp of Nuggets Night, the Fais Do-Do, and Summerfest getting in full swing. Now add to that Karma Rivera showing you real Sound + Vision, Adult Swim taking over the Sellwood riverfront, Jurassic 5 stomping all over downtown, Jay & Silent Bob killing time at Helium, and Nick Cave being his spellbinding self at the Schnitz. Whew, right? Hit the links below and load your plate accordingly.
---
Jump to:
Monday
|
Tuesday
|
Wednesday
|
Thursday
---
Adult Swim on the Green Tour
Last September's Adult Swim Drive-In tour was cancelled due to the rain, but that (hopefully) shouldn't be an issue this time around when the network known for shows like Rick and Morty, Neon Joe: Werewolf Hunter, and The Eric Andre Show brings its "On the Green" tour to Sellwood Riverfront Park. Enjoy a full-night of games, food, and exclusive prizes, plus free screenings of "Things You've Never Seen," including specials, pilots, and episodes of new Adult Swim shows.
7:15 pm, Sellwood Riverfront Park, $5
Sound + Vision: Karma Rivera, Maze Koroma
Portland hip hop darling Karma Rivera will be performing at Mississippi Studios on Monday night. A frequent performer at Portland events like the Thesis and Mic Check, Rivera has gained a large following in Portland due to her authentic spirit, killer bars, and captivating stage presence. Opening for Rivera is Maze Koroma of Renaissance Coalition. He'll be bringing his signature heavy bars and catchy hooks. CLAIRE HOLLEY
9 pm, Mississippi Studios, free
Horse Movies, Lubec, Prison Dress, Tallwomen
Horse Movies have come a long way since I saw them at their first show in a sweaty, mildew-scented basement last summer. A true hidden Portland gem, they're one of the hardest working bands around. And though they continue to play primarily in basements, it's nice to see Horse Movies making their mark above ground. They've got a busy summer ahead, including a tour with Bay Area emo band Mom Jeans, so wish them well before they hit the open road. Lubec, Portland's favorite existential dream-pop band, will open the night, along with the self-proclaimed "weird punk" of Prison Dress, and Tallwomen—the first hardcore band I've listened to in a long time that actually caught my interest. DELANEY MOTTER
7 pm, Black Water Bar
Lo Moon, Small Milllion
Lo Moon is shrouded in mystery. With the release of their debut track, "Loveless," last September, the Los Angeles trio's magic was manifested in a seven-minute ember of electro-pop not unlike the more revelatory moments of Elbow or the Beta Band. Lo Moon recently released another song, "This Is It," in anticipation of their summer tour opening for Glass Animals and Air. Their latest occupies a similarly smoldering corner of expansive, atmospheric pop, bringing big synths and bigger choruses into the mix for a soul-verifying dose of dreaminess. For a band that literally only has two songs released, they're generating an inordinate amount of press, and already parlayed that wave into an opening slot on Muna's tour earlier this year. It's tough to say what's on the horizon for Lo Moon, but if these early blips are any indication, we can probably expect a pretty fantastic debut. RYAN J. PRADO
9 pm, Bunk Bar, $8
Fantastic Mr. Fox
Wes Anderson's adaptation of the classic Roald Dahl story was the film that caused everyone to simultaneously realize all his previous films were quirky stop-motion shoebox diorama comedies. It's just that he was limiting himself by making them with actual people. Remove the limitation, and you wind up with the most charming, warm, and funny entry in his filmography. BOBBY ROBERTS
5:30 pm, 9:45 pm, Academy Theater
Naomi Klein
The Canadian author, award-winning journalist, social activist, and filmmaker known for her bestselling books No Logo, The Shock Doctrine, and This Changes Everything: Capitalism vs the Climate reads and discusses No Is Not Enough, her timely new book about resisting Trump's shock politics and steering the world away from crisis.
7 pm, Powell's Books at Cedar Hills Crossing
Classic Simpsons Trivia Night
First you watch a classic Simpsons episode, and then you and your team square off against other grown adults who have stored entirely too much Simpsons trivia in their heads, to win a prize that can't possibly make up for all the things you've missed out on in life by staying inside and watching so much Simpsons.
7 pm, White Owl Social Club, free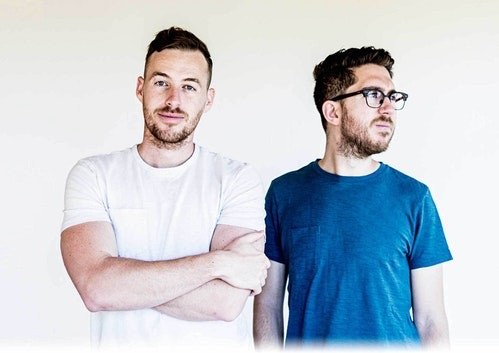 If I Were You: Live
Comedians Jake Hurwitz and Amir Blumenfeld, best known for their hit web series, Jake and Amir, bring their popular advice podcast to Mississippi Studios for a special live taping.
8 pm, Mississippi Studios, $20
Guitar Wolf, Isaac Rother & the Phantoms, Sex Crime, Melt
Over the years, Japanese garage-rock legends Guitar Wolf have built a reputation for their frantic and relentless live show. The band has even starred as heroes in the sci-fi zombie flick Wild Zero. CHIPP TERWILLIGER
8 pm, Hawthorne Theatre, $13.50-16
Repressed Cinema: Hollywood After Dark
This month the Hollywood's showcase for forgotten underground film features rare 35mm print of 1968's Hollywood After Dark, a low-budget, sleazy little noir flick that would have (rightfully) been lost in the trash pile of that era except for the fact the female lead in this dark tale of failed morals is RUE McCLANAHAN. Which means there is absolutely nothing stopping you from considering this as a Blanche DuBois origin story and The Golden Girls prequel. Which we strongly recommend you do. BOBBY ROBERTS
7:30 pm, Hollywood Theatre, $7-9
Death by a Thousand Cuts: A Public Education Funding Town Hall
A town hall called by members of the Portland Association of Teachers, Reynolds Education Association, and the Canby Education Association, to talk about the detrimental effect of continued disinvestment in public schooling. Legislators confirmed to attend include representatives Diego Hernandez, Rob Nosse, Alissa Keny-Guyer, Tawna Sanchez, and Margaraet Doherty
1 pm, Sunnyside Community House, free
Imaginary Tricks, Schaus
The Queens-based duo comprised of Mike Visser and Harlan Muir bring their experimental blend of rock, pop, and R&B to Bunk Bar for the Portland stop on a tour supporting their debut album, Skommel.
9 pm, Bunk Bar, $8-10
The Moth StorySLAM
A spinoff of the nationwide storytelling success, in which potential soul-barers put their names in a hat, and once called, have five minutes to tell their tale. "Cheating" is the theme for tonight's story session.
7 pm, Holocene, $10
Jurassic 5
The legendary alternative hip-hop group is finally coming to town. That's right, now might be your only chance to catch Marc 7even, Chali 2na, Zaakir, Akil, Cut Chemist, and DJ Nu-Mark in this city, a quarter century after the guys first grouped together in Los Angeles to create their trademark vocal harmonies with complex lyrics and chill beats. If you're unfamiliar with them check out their classic 2000 album, Quality Control. DOUG BROWN
8 pm, Roseland, $27-40
Nick Cave & the Bad Seeds
Australian jack-of-all-trades Nick Cave returns to Portland to cast a shadow over the Schnitz with some help from his backing band, the Bad Seeds, and songs from his acclaimed 16th studio album, Skeleton Tree.
8 pm, Arlene Schnitzer Concert Hall, $59.50-99.50
Seu Jorge Presents the Life Aquatic: A Tribute to David Bowie
In Wes Anderson's The Life Aquatic with Steve Zissou, Brazilian musician Seu Jorge played Pelé dos Santos, Team Zissou's safety expert and nautical balladeer. Throughout the 2004 film, Jorge covers 15 David Bowie classics in Portuguese with just an acoustic guitar as accompaniment. Tonight he's bringing these songs to Portland in tribute to the late Ziggy Stardust, who once praised Jorge's sweet and stunning adaptations. CIARA DOLAN
7 pm, Oregon Zoo, $35-200, all ages
Kevin Smith
An evening with the writer, comedian, podcaster, jorts-addict and film director whose 2016 film, Yoga Hosers, is the second in the director's True North trilogy, focused on a pair of clerks who have to fight racist sausages with the help of Johnny Depp.
7:15 pm, Helium Comedy Club, $20-30
The Shins, Pure Bathing Culture
Frontman James Mercer and his Portland-via-Albuquerque indie rock outfit kick-start the summer with a hometown show on the Edgefield lawn in support of their self-recorded 5th studio album, Heartworms.
6:30 pm, Edgefield, $41.50-45, all ages
Sabrina
Can you imagine being asked to sell audiences on the idea Audrey Hepburn would seriously even consider shacking up with Humphrey Bogart's mumble-mouth hang-dog ass? Especially if the other man in the proposed love triangle is young William Holden? But such is the magic and skill of writer/director Billy Wilder in his prime, and the effervescent radiance of Hepburn in hers, transforming what should be a preposterous notion into one of classic Hollywood's sweetest films. BOBBY ROBERTS
6:45 pm, Laurelhurst Theater
Sake Fest PDX
Why should beer and cider get all the fun? A festival with over 100 sake varieties, paired with some of Portland's finest foods, including contributions from Biwa, Noraneko, Sticky Island, Smallwares, and more.
6:30 pm, Oregon Convention Center, $55-75
Who's Metal AF!?
Portland's premier (and only) metal comedy game show comes to the Secret Society. Three comics will duke it out for the title of Metal AF by riffing jokes on metal music videos and completing metal-themed challenges, and you don't need to be a metalhead to have a great time. Hosted by Wendy Weiss and Jake Silberman.
9 pm, The Secret Society, $10-12
Earthquake Hurricane
Powerhouse local comedy show Earthquake Hurricane returns, with Mercury-approved, dry-as-fuck stand-up and improviser Katie Nguyen co-hosting alongside beloved regulars Alex Falcone and Anthony Lopez, all in the show's new Liquor Store digs. Now more than ever, we need comedy and liquor. Get 'em both here! MEGAN BURBANK
7 pm, The Liquor Store
OMSI After Dark: Ciderfest
The June installment of OMSI After Dark doubles as a crash course in cider crafting. Lean about the history, tradition, and science involved in creating the tasty beverage through a series of demonstrations while sipping ciders from 16 makers who will be on hand as part of this special event. Ciderfest admission is extra and includes a tasting glass and 10 tasting tokens.
7 pm, Oregon Museum of Science and Industry, $15-30
(Sandy) Alex G, Japanese Breakfast, Cende
Philadelphia musician Alex Giannascoli—AKA (Sandy) Alex G—is the mysterious creator of songs that hit emotional nerves with unexpected force. Giannascoli's experimental guitar pop roams in and out of neighboring genres like goats leaving the pasture, and his excellent new album, Rocket, sprawls across rootsy, Lucinda Williams-inspired folk. CIARA DOLAN
8:30 pm, Holocene, $14-16, all ages
Dave Depper, Cardioid, Ritchie Young
Portland-based songwriter/multi-instrumentalist and Death Cab for Cutie member Dave Depper headlines Mississippi Studios in support of his new Tender Loving Empire-issued synth-pop album, Emotional Freedom Technique. Ritchie Young of Loch Lomond provides support.
9 pm, Mississippi Studios, $5
Vinyl Williams, Wet Dream
Los Angeles-based multimedia artist and musician Lionel Williams brings his dream pop and spacy psych rock project back to Portland for a free show at the White Owl Social Club.
8 pm, White Owl Social Club, free
Bites for Rights
The annual statewide foodie fundraising event returns, with almost 100 eateries across Oregon donating a generous portion of their proceeds to Basic Rights Oregon. Make your reservations in advance, and then chow down in good conscience.
Various Locations, Visit basicrights.org for a complete list of participating restaurants.
Lidia Yuknavitch
Acclaimed Portland author Lidia Yuknavitch reads from her new dystopian novel, The Book of Joan, a retelling of the story of Joan of Arc, set in a post-apocalyptic world devastated by radiation.
7 pm, Broadway Books, free
Jay & Silent Bob Get Old
Jay & Silent Bob Get Old is a weekly podcast featuring filmmaker/jorts-addict Kevin Smith and actor Jason Mewes. With their days of dealing drugs and loitering outside convenience stores long passed, the pair are now free to talk, share stories, and joke with their audience. Join them tonight for a special live engagement of the podcast taping.
9:45 pm, Helium Comedy Club, $20-30
True Portland
A release party for Teruo Kurosaki's latest work for Hawthorne Books, an unofficial guide for creatives. The party includes local Japanese food and drink from vendors including Wanpaku Natto, Umi Organic, Biwa, Marukin Ramen, and more, as well as drinks from Rev Nat's and Culmination Brewing.
6 pm, Rev. Nat's Cidery & Taproom
The Great Big Fais Do-Do: Square Dance & Cajun Dance Benefit
Kick-off the 2017 installment of the Great Big Fais Do-Do with a special square dance and Cajun dance benefit event at Velo Cult, with proceeds going to help support Dare to be Square West.
7 pm, Velo Cult, $7
Doom Prom: Mammoth Salmon, Wolflaut, The Misery Men
Just because someone enjoys the oppressive sounds of crushing metal beating against their ears doesn't also mean they don't like getting dressed up and enjoying a quality party. There are proms for doomy folks as well. Like this one, celebrating the release of Wolflaut's Waiting for Ragnarok Vol. 1.
8 pm, The Fixin' To, $5
Jeremy Robert Johnson
Jeremy Robert Johnson reads from his anticipated new story collection, Entropy in Bloom, the follow up to his critically-acclaimed sci-fi novel, Skullcrack City.
7:30 pm, Powell's Books on Hawthorne, free
How to Do a One Person Show
A very limited run of Kelly Kinsella's latest one-person show, about the mechanics of putting on a one-person show, while more or less creating the one-person show you're watching right in front of you, as everyone learns why she should be putting on the show you're watching. Part of CoHo's Summerfest.
7:30pm, CoHo Theater, $20
Nuggets Night Blast Off Party
Drew Groove, Lisa Petrucci, Melanie Vammen, and other special (secret) guests will help kickstart this years local celebration of garage, psych, and '60s-flavored rock.
9:30 pm, Sandy Hut
Don't forget to check out our Things To Do calendar for even more things to do!