Welcome to the week in veg! Go ahead and re-read that so you're sure you read what you thought you read. Yup. Veg. Deliciousness awaits you courtesy of the Portland Mercury's Veg Week, but there are just-as-tasty treats on this week's menu, including visits from Gillian Welch, Hope Sandoval, and the Paul Taylor Dance Company, as well as this year's edition of the glorious All Jane Comedy Festival. It's a full week ahead—hit the links below and load your plate accordingly.
---
Jump to:
Monday
|
Tuesday
|
Wednesday
|
Thursday
---
Monday
Gillian Welch
The first time I saw Gillian Welch perform, it was a hot summer night at the historic Capitol Theatre in Olympia. Gillian's aching, ghostly yarns and David Rawlings' crystalline mandolin expressions filled the auditorium like a cloud of fireflies freshly released from a jar. Sweat-drenched admirers were so riveted by these delicate vibrations that they didn't even acknowledge the gentle whirl of the ceiling fans above. Truly one of the most magical concert experiences I've ever witnessed. Special performers can hit a timbre that strikes the emotional heartstrings like golden harp, and Welch's nostalgic yearnings live pleasantly within this zone. You should take any opportunity to experience her live—her music is authentic enough to transport the most ardent roots purist to a Laura Ingalls Wilder fantasy world. CHRIS SUTTON
8 pm, Newmark Theatre, $42.50, all ages
The Portland Mercury's Veg Week
This fall, from October 9-14, your pals at the Mercury are teaming up with Portland VegFest to present Veg Week—an entire week when some of Portland's greatest vegetarian and vegan-friendly restaurants will provide signature vegan entrees... at HALF-PRICE! Stay tuned to this page for a full list of participating restaurants. Veg Week is brought to you in part by Wildwood Farm Sanctuary, Twist Yoga, Farm Spirit, and Peace Seed Organic.
Oct 9-14, Various Locations, click here for a full list of participating restaurants
Robin Sloan
Mr. Penumbra's 24-Hour Bookstore author Robin Sloan is back with Sourdough, a novel about a disaffected software engineer and "number one eater" of her neighborhood takeout place's quasi-magical sandwiches. When its purveyors flee the country, she's entrusted with their sourdough starter; what unfolds is a bizarre little neo-noir that reads like Raymond Chandler for our increasingly technology-addicted, socially stratified world. MEGAN BURBANK
7:30 pm, Powell's City of Books, free
Sugar Candy Mountain, Wet Dream
Oakland's Sugar Candy Mountain live up to their name with songs that soar with a sweet assortment of distorted organ whirs, rippling and fizzing guitar effects, and vocals that sound like they're emanating from Mount Shasta's peak. DAVE SEGAL
9 pm, The Liquor Store, $8
The Texas Chain Saw Massacre
The Hollywood pays tribute to Tobe Hooper with his debut feature, which is also his magnum opus, which is also a lot more subtle than both its title and your memories might have it. Hooper's southern-fried horror classic is notable for how violent it isn't—Massacre nails its oppressively disconcerting tone through almost perfect pacing, framing, and amateur performances whose rawness lends sweaty desperation to an increasingly breathless movie, steadily escalating to a full-on hyperventilating freakout of almost incoherent imagery that just... stops. Hooper never got this good again, but almost nobody else in the genre has either. BOBBY ROBERTS
7:30 pm, Hollywood Theatre, $7-9
Boris, Sumac, Endon
Japanese metal band Boris plays more than just metal, with droning doomscapes, psychedelic rave-ups, and spacey experimental compositions all sitting side by side. It's a patchwork of heavy music—both brutal and blissful—that never lets its artiness get in the way of rocking out. NED LANNAMANN
9 pm, Doug Fir, $20
Indigenous Peoples Day Celebration
Instead of paying homage to a colonizer, opt to join in on the celebration of Indigenous Peoples Day by attending a panel discussion featuring local activists at the Native American Student and Community Center. Dinner is provided and all are invited to join! EMILLY PRADO
5:30 pm, PSU Native American Student & Commmunity Center, free
Lubec, Peaer, Sinai Vessel, Horse Movies
Through unpredictably reactive drumming from Matt Dressen; Eddie Charlton's geometric, calculated guitar riffs; and Caroline Jackson's fuzzed-out classical piano, Lubec creates carbonated shoegaze, too fizzy and frenetic to be dreamy but too distorted to feel like reality. CIARA DOLAN
8 pm, The Know
---
Tuesday
Drab Majesty, Vice Device, Some Ember, DJ Patricia Wolf
If you like '80s new wave, you'll love the self-described "tragic wave" of Drab Majesty. On The Demonstration (released in January on Dais Records), Los Angeles musician Deb Demure weaves together androgynous vocals, complex drum machine beats, and echoing synth-bass lines. It's dramatic, brooding, and 100 percent danceable. CIARA DOLAN
8:30 pm, Holocene, $10-12
Alt-J
The Leeds-hailing electro-indie-rock trio return to Portland for a pair of headlining shows at the Schnitz supporting their 2017 full-length, Relaxer.
8 pm, Arlene Schnitzer Concert Hall, $39.50-79.50, all ages
Kung Fu Theater: Lady Kung Fu
This month's installment in Dan Halsted's ongoing celebration of all things whoop-ass is a very rare 35mm print of this little-seen landmark of the genre, starring Angela Mao as the star student of the Korean martial art Hapkido. She's sorta like the Hermione Granger of kung fu, except instead of constantly taking the back seat to Harry and Ron (Sammo Hung, Carter Wong), Mao stands firmly at center stage as she proceeds to beat the living shit out of every evil dickhead that dares to come at her. BOBBY ROBERTS
7:30 pm, Hollywood Theatre, $7-9
Hope Sandoval & the Warm Inventions, Daydream Machine
It's interesting that Hope Sandoval is rolling through Portland tonight, just a couple weeks after revived SoCal psych-rock band the Dream Syndicate played the Star Theater. The two have been loosely connected for decades, and now are like specters passing each other in parallel hallways. The story is a tangled web of band comings and goings, but to be totally clear: Hope Sandoval has carved out her own incredible career in the years since. Mazzy Star released four albums of downcast, windswept psych-folk, even scoring a significant hit on MTV and the Billboard charts with 1994's "Fade into You." She records solo work under the name Hope Sandoval and the Warm Inventions, her band with My Bloody Valentine drummer Colm Ó Cíosóig. Tonight they play Portland, fresh off the release of a new EP, Son of a Lady, and their 2016 album Until the Hunter, the band's first full-length in seven years. Both find Sandoval doing what she has always done best: Gently draping her perfectly wistful voice across an endless supply of hazy slowcore and narcotic drones. Few humans can conjure a certain vibe quite like Hope Sandoval. BEN SALMON
8:30 pm, Hawthorne Theatre, $30-33
Randy Newman
I love Randy Newman, and I never, ever want to hear him sing. Over the years, Newman's proved himself to be probably greatest American musical satirist of all time (sorry, Tom Lehrer), but more importantly he's evolved the template of the singer/songwriter to encompass musical comedy, film scores, ragtime, Dixieland jazz, avant-garde classical music, and more. He's a genius, no question. And his voice is terrible—somehow abrasive as a pumice stone and soft as a bowl of jelly. Newman's latest, Dark Matter, is an insanely ambitious work that includes tracks like "The Great Debate," a gospel opera that dramatizes the conflict between scientists and religious wingnuts, and "Putin," which skewers the Russian leader via boot-stomped Soviet martial fanfare. These are brilliant songs, and I find them entirely unlistenable. Even as they tickle my brain with fascinating ideas, Newman's woozy, lurching shifts in musical tone and gargly mush of a voice make me feel seasick. So I'm glad Newman's in town, and astonished such a remarkable personage is playing a venue like Revolution Hall. It should be an incredible evening for his biggest fans. I wish I could get over my physical revulsion toward his sound and join them in appreciating his brilliance. But I can't. I just can't. NED LANNAMANN
8 pm, Revolution Hall, $59.25, all ages
---
Wednesday
Mr. Robot Season 3 Premiere
Not enough can be said about the stylish, superbly written television show Mr. Robot, now entering its third season. The story of a worldwide hacking catastrophe as told from the vantage point of its mentally ill instigator (played by a brilliant Rami Malek), was created by Sam Esmail, whose gorgeous, inventive cinematography is currently unrivaled on TV. If you love dystopian stories based in technology (like Black Mirror), then get caught up quick, and don't miss tonight's season three premiere. WM. STEVEN HUMPHREY
10 pm, USA Network
The War on Drugs, Phoebe Bridgers
While the War on Drugs are a more-than-worthy headliner, don't sleep on opener Phoebe Bridgers. The LA singer/songwriter just dropped a marvelous debut album, Stranger in the Alps, and it's ripe with the sort of cozy melancholy that people who don't like sad music will never understand. But you understand, and Bridgers' haunting, spine-tingling folk-rock is exactly the sort of bummer you need to feel alive. NED LANNAMANN
8 pm, Arlene Schnitzer Concert Hall, $29.50-45
All Jane Comedy Festival
Are you a feminist or a feminist-curious person who loves to laugh? Well, I've got amazing news: It's the most wonderful time of the year—the All Jane Comedy Festival, the city's annual celebration of stand-ups who aren't boring white straight men telling unfunny crazy ex-girlfriend and/or dick jokes. (Let's face it: Men just aren't very funny.) (That was a joke. Don't come in here with a reverse sexism defense!) This week, take in master jokery from local champs like JoAnn Schinderle, Andie Main, Katie Nguyen, and Becky Braunstein, and get super fucking thrilled for national comedy stars like Laurie Kilmartin and Aparna Nancherla. MEGAN BURBANK
Oct 11-15, Curious Comedy Theater, see alljanecomedy.org for a full schedule of performances

Shelley Short, Jessi Adele & Alia Farah
Hot on the heels of her excellent new full-length, Pacific City, local folk singer/songwriter Shelley Short performs an intimate solo set at the LaurelThirst Pub.
9 pm, LaurelThirst Public House, free
City of Caterpillar, Thou, Dreamdecay
Over a dozen years after disbanding, the pioneering post-hardcore and screamo band out of Richmond, Virginia swing through Bossanova for the Portland stop on their reunion tour.
7:30 pm, Bossanova Ballroom, $15
Strangers on a Train
Remember in Throw Momma from the Train, when Danny DeVito and Billy Crystal switch murders, and DeVito kills Crystal's ex-wife, forcing Crystal to murder the mean old woman from Goonies? Remember how DeVito got the idea from an old black and white Hitchcock movie, in which two strangers meet on a train and decide to "criss cross" each other's murders? That's this movie! NED LANNAMANN
7 pm, Hollywood Theatre, $7-9
Torres, The Dove & the Wolf
Nashville-hailing singer/songwriter Mackenzie Scott, better known by her stage name Torres, returns to the Doug Fir for a night of gritty and charged alternative rock and pop supporting her upcoming 4AD-issued album.
9 pm, Doug Fir, $13-15
Balmorhea, Heather Woods Broderick
Balmorhea's music might confuse its listeners into thinking that Broken Social Scene got lost somewhere in Texas, lost their voices, and accidentally put out an album. Heavy with loops, fades, and drama, Balmorhea leaves that distant, bittersweet aftertaste in your mouth that so defines this meandering, instrumental journey genre. With six members, ranging from banjo to cello to violin, Balmorhea's unique instrumentation and melodies sustain attention-captivating songs without the need for vocals. Their performance won't inspire any mosh pits, but will certainly get you excited about music again. ROSE FINN
8 pm, The Old Church, $15
---
Thursday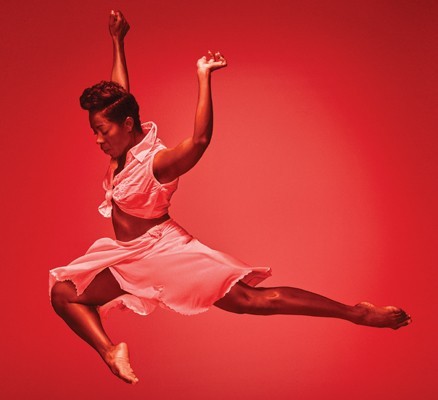 Paul Taylor Dance Company
A pioneer of modern choreography—Martha Graham once called him a "naughty boy"—Paul Taylor's worked alongside the likes of Balanchine, Jerome Robbins, Robert Rauschenberg, and Jasper Johns. The Paul Taylor Dance Company still performs, and they're a big fucking deal. If you care at all about modern dance or art, don't miss the 17-member troupe when they hit Portland this week. MEGAN BURBANK
7:30 pm, Newmark Theatre, $26-70
Hecklevision: The Wizard
Your opportunity to turn your phone into a weapon of textual comedic destruction, aimed at 1989's syrupy video game melodrama The Wizard, a film that led children to (incorrectly) believe the Power Glove was worth a shit, and whose primary utility was to act as a really, really long trailer for Super Mario Bros. 3. 1990 Nintendo World Championships finalist Robin Mihara leads an expert panel stacked with local comedians (David Mascorro, Ian Durias, and Phil Mills) as they chuck poison mushrooms at this interminable turd staining the resumes of Beau Bridges, Christian Slater, Fred Savage, and Jenny Lewis. BOBBY ROBERTS
7 pm, Hollywood Theatre, $7-9
The Cribs, Eyelids, PAWS
The Wakefield, West Yorkshire-hailing trio consisting of brothers Gary, Ryan, and Ross Jarman play a hometown show of sorts (Gary has called Portland home since 2006) in support of their latest full-length, 24-7 Rock Star Shit. Local indie rock veterans Eyelids provide support, while Glasgow rockers PAWS get things started with their own anthemic blend of pop punk
8 pm, Hawthorne Theatre, $16-20
Cockeye, Sashay, Man Repellant
Portland's Cockeye plays vicious, thrashing queercore punk that sounds like it could shatter glass. CIARA DOLAN
8 pm, The Know, $6
Grady Hendrix, Will Errickson
In Paperbacks from Hell, Grady Hendrix takes readers on a tour through some of the most outrageous horror paperback novels of the 1970s and '80s. Hendrix will be joined in conversation by Will Errickson, Too Much Horror Fiction blogger.
7 pm, Powell's Books at Cedar Hills Crossing
Sisters, Rare Diagram, Sheers
Seattle-based disco-pop duo Sisters bring their infectious and bubbly sounds back down the I-5 for album release show at the Liquor Store celebrating their second full-length of 2017, Wait Don't Wait.
9 pm, The Liquor Store
Don't forget to check out our Things To Do calendar for even more things to do!