So this is 2018, huh? Doesn't feel all that different, really. A little slower, so far, but that's mostly because everyone everywhere is still shaking off some form of hangover, whether it be alcohol based due to the partying, or soul-based due to... yunno, the whole "Donald Trump is still destroying our republic" thing. But it's a brand new calendar to look at, and that calendar has some goodies on it already! Built to Spill! The I, Anonymous Show! Brahms v. Radiohead! That last one is at the least guaranteed to be more interesting, compelling, and hair-raising than the last large-scale entertainment that had a "v." in its title! There's more in the links below—hit 'em up and lets get 2018 started right.
---
Jump to:
Tuesday
|
Wednesday
|
Thursday
---
Tuesday, Jan 2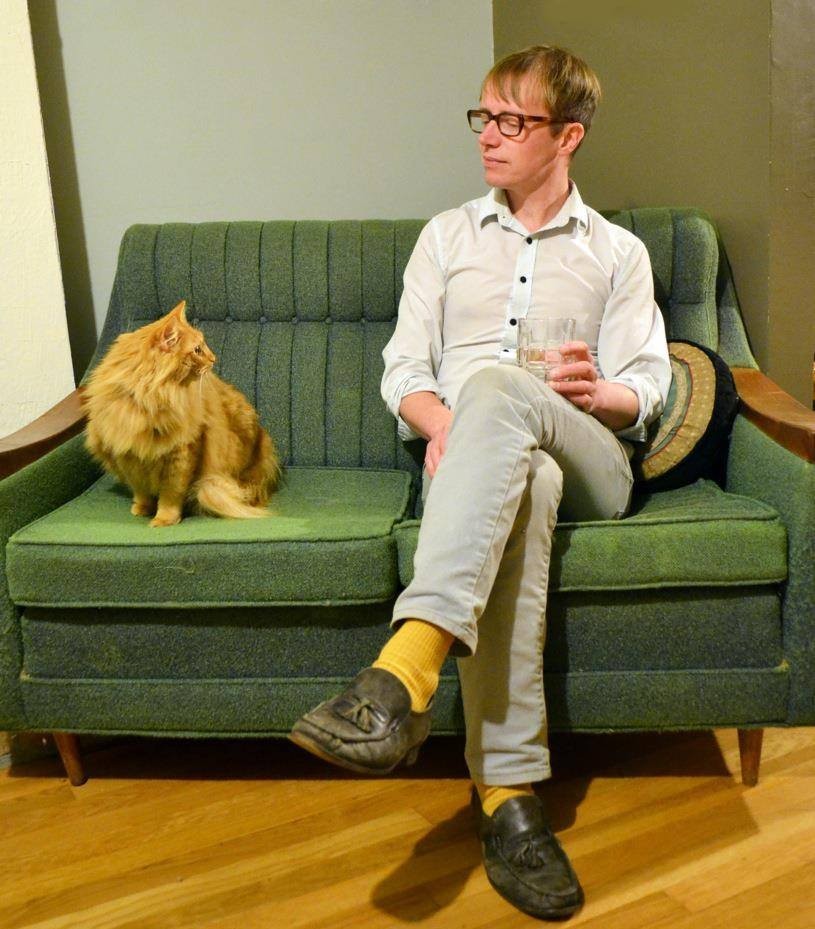 Ritchie Young
The arrival of a new year is an excellent time for reflection and rebirth. Listening to the sublime music of Ritchie Young is a cleansing, healing experience, so he seems like the ideal artist to take on a residency at Al's Den that spans the turning of the calendar's page. Young is a veteran of the local scene, best known for his work as the leader of symphonic pop collective Loch Lomond, a band with dozens of lovely and delicate songs in its catalog. The latest, "Legs and Antlers," came out earlier this month, and finds Young beefing up both his vocal melody and the music behind it. Perhaps 2018 will bring a Loch Lomond dance-pop album? Fingers crossed! In the meantime, wander down to Al's to hear Young perform selections from his bottomless bag of beautiful tunes. BEN SALMON
7 pm, Al's Den, free
Rue the Day, Chronic Trigger, Skullmaster
The first Twilight show of 2018 is going to be a very loud and angry show. It's good to set a tone.
8 pm, Twilight Cafe & Bar, $8-10
Resist Trump Tuesday
The folks over at Indivisible Oregon are calling for good old fashion face-to-face conversation with Senator Merkley about the ongoing resistance against Trump. Attendees will meet in the courtyard before speaking with Merkley just after noon. Can't make it out? You can always give congress and your representatives a call! Senator Merkley can be reached in his office at 503-326-3386. EMILLY PRADO
11:30 am, World Trade Center, free
The Princess Bride
This movie is 100 percent pure charm in film form. That's not to say Rob Reiner's adaptation of William Goldman's bestselling novel isn't also shot through with moments of real romance ("As you wish") and cathartic satisfaction ("I want my father back you sonofabitch,") but the reason this movie occupies such a precious place for so many is the charm radiating off its styrofoamy sets, through a score that sounds like it's coming out of a Casio keyboard's single built-in-speaker, humming under dialogue written so beautifully the actors can't help but smile at the magic flowing out of their mouths. It proves you don't need $200 million and two years of post-production to realize pure imagination. Not when you've got a big heart and all the charm in the world. BOBBY ROBERTS
5:30 pm, Mission Theater
---
Wednesday, Jan 3
Built to Spill, The Only Children
Between a pair of Doug Martsch solo sets and a Built to Spill collaboration with Daniel Johnston, Portland fans of Boise's finest indie rock export have been living on cloud nine since October. It turns out, a prolonged state of euphoria wasn't enough to distract devotees from instantly buying up all the tickets to these shows. Godspeed to those looking for a way in, but at least you hopefully needn't wait long before another chance to see the band presents itself. CHIPP TERWILLIGER
9 pm, Mississippi Studios, Good Luck on the Resale Sites!
The I, Anonymous Show
Featuring true, real-life rants and confessions submitted anonymously to the Mercury, the I, Anonymous Show is a comedic, crazy tour through what people really think! Join enthusiastic host Caitlin Weierhauser as she reads the most scandalous I, Anonymous submissions to this month's panel of laugh-makers: Sarah X Dylan and Greg Nibler from the beloved Funemployment Radio podcast, and one of the great hosts of Minority Retort, Julia Ramos! It'll be a hilarious deep-dive into the human mind. WM. STEVEN HUMPHREY
7:30 pm, Curious Comedy Theater, $10
Girls With Heads
Mariah Munoz's ever-growing collective of women improvisers put on a show at the Siren's Kickstand Comedy Space. The overriding theme for the first show of the new year? Baggage!
7:30 pm, Kickstand Comedy Space, free
The Florida Project
Awards season is nigh, and headlines are already using "front-runner" and "Willem Dafoe" in the same breath. Dafoe has been lauded for showing his "softer side" as Bobby, a kind but no-bullshit manager of a budget hotel in Sean Baker's latest indie gem, The Florida Project. The Oscar buzz is understandable—Dafoe is an acting wizard—but the real reason The Florida Project is a breakout success, and the reason everyone should see the film, is the rowdy, previously unknown seven-year-old actor Brooklynn Prince. CHASE BURNS
Various Theaters, see Movie Times for locations and showtimes
---
Thursday, Jan 4
The Thesis
Cheap hip-hop! Every month the Mercury and a bunch of other great organizations help bring you a delightful sampling of local acts, and we'll be damned if 2018 will be any different. January's Thesis features performances from SamuelThe1st, Andre Waymond, Chris Lee, Verbz, and more. DIRK VANDERHART
9 pm, Kelly's Olympian, $7
Brahms v. Radiohead
How do you do, fellow kids? The Oregon Symphony plans to spruce up the German composer Johannes Brahms' legendary Symphony No.1 with a little help from Radiohead. That's right, vocalists are going to interweave the British band's 1997 classic album OK Computer with some Brahms because… why the hell not? DOUG BROWN
7:30 pm, Arlene Schnitzer Concert Hall, $25-75
Please Advise
Alayna Becker and Julia Ramos host this stand-up showcase that looks to elicit lots of laughs while also providing a general guide on what not to do in your own personal life. Featuring stand-up sets from Becky Braunstein, Mohanad Elshieky, and Corina Lucas.
7 pm, Beulahland, free
Quazars vs. the Jealous Machines
A release party and art exhibition celebrating the collaboration between Ish Butler of Digable Planets and Shabazz Palaces and Joshua Ray Stephens, track-by-track adapting and adding to the album's hip-hop fantasy.
4 pm, Floating World Comics
Ong Bak
Someone steals a Buddhist statue from Tony Jaa's village. Tony Jaa travels to Bangkok to get it back. On the way he knees the fuck out of anyone who gets in his way. You will witness about 150 stuntmen getting their underpaid shit wrecked with no wires or CGI assistance for about 90 minutes. It will be glorious. BOBBY ROBERTS
Laurelhurst Theater, see Movie Times for showtimes
Don't forget to check out our Things To Do calendar for even more things to do!