Valentine's Day isn't until Wednesday, but that doesn't mean you can't indulge in some entertainment deliciousness this weekend, because there is a lot to love on the menu: The unique intersection of art, music, and motorcycles at the One Moto Show; Shannon and the Clams stealing the show; one of Portland's best venues has its fourth birthday; The Portland Black Film Festival pays respect to Afrofuturism; and oh yeah, THE GREAT SATAN. It's a busy weekend ahead—hit the links below and load your plate accordingly
---
Jump to:
Friday
|
Saturday
|
Sunday
---
Friday, Feb 9
Bermuda Triangle, Bells Atlas
How does a trio that's been together less than a year and only released two songs online wind up selling out the Aladdin Theater on their first visit to Portland? In the case of Bermuda Triangle, it helps that one of the group's three members is Brittany Howard, the leader of blues-rock dynamos Alabama Shakes. Initially, this project was supposed to be a one-off affair, with Howard and Nashville stalwarts Becca Mancari and Jesse Lafser playing a single show at a She Shreds magazine event in Nashville last summer. But when you're having fun with your friends, why would you want to stop that train a-rollin'? ROBERT HAM
8 pm, Aladdin Theater, Good Luck with the Ticket Resale Sites
The One Moto Show 2018
If you love motorcycles—hell, if you love art, food, craft beer, great music, and motorcycles—then the annual One Moto Show is the cultural event of the season! Experience 60,000 square feet of cycle magic in the form of the hottest rare, unconventional, and custom-built motorcycles designed by master crafters from across America (and of course, here in the PNW). Oh, but that's not all! The One Moto Show also features tons of vendors featuring delicious craft brews, coffee, wine, and food, DJ action from Dennis Dread and Trio, bands including Acid Wash, Atomic Rust, and Savage Family, and loads of motorcycle inspired art. And yet? That's still not all! The gang will be taking the One Moto Show down to Salem for flat track races Saturday and Sunday, so check the1moto.com for more information on that, and what will certainly be the best (and funnest) motorcycle show of the year. WM. STEVEN HUMPHREY
Feb 9-11; Fri 6 pm, Sat & Sun 9 am; The Pickle Factory, $8-20
Kurt Braunohler
Comedian Kurt Braunohler is wonderful, weird, and ever so likable, with jokes about the particular sadness of being a ginger going blonde with age, and the best goddamn impression of a beaver you'll ever see in your life. It's just really cute and great and defies all description. I know that sounds weird, but it's true, and if you want to understand why, you'll need to see it for yourself. MEGAN BURBANK
7:30 pm & 10 pm, Helium Comedy Club, $17-33
Hurry Up, Braille Stars, Creature to Creature, Conditioner
Hurry Up is the unholy trinity of Maggie Vail (bass), Kathy Foster (drums), and Westin Glass (guitar). It's also kind of a super-group: Vail fronted the now-defunct Bangs, she and Foster represent two-thirds of the Strange Babes DJs, and Foster and Glass play in the Thermals. On their debut self-titled EP, Hurry Up sounds fluent in the lo-fi punk tradition of Dead Moon—all three sing (and scream) over big, razor-edged guitar riffs and drum attacks more intimidating than a charging rhinoceros. CIARA DOLAN
7 pm, American Legion Local 134, $5
Super Diamond
San Francisco's premier Neil Diamond tribute head back to the Crystal Ballroom for another stop on their unrelenting mission to "spread the good word of Neil."
9 pm, Crystal Ballroom, $20-25
Improv Giants
A massive attack of the Siren Theater's favoritest improv comedy all-stars, including Shelley McLendon, Nicholas Kessler, Brad Fortier, Beau Brosseau, and more!
8 pm, Siren Theater, $10
Tezeta Band, Korgy & Bass
Portland veterans the Tezeta Band bring a soulful blend of jazz, R&B, and ancient Ethiopian music to the Bunk Bar stage.
9:30 pm, Bunk Bar, $12-14
New Kingston, The Late Ones
Formed in Brooklyn by three brothers, New Kingston has been fusing reggae, R&B, and dancehall for a over a decade.
9:15 pm, Jack London Revue, $12
Under The Covers: A Valentine's Day Affair
The Doug Fir's Valentine's Day extravaganza showcases the romantic sides of some of Portland's most beloved bands (including Melville, Lenore, and The Breaking) and XRAY.fm DJs.
9 pm, Doug Fir, $10-12
Marty Grimes, Yung Mil, Lord Lawrence, Drae Slapz
The Berkeley-hailing rapper makes his way back up the coast for an all-ages show supporting his latest mixtape, Cold Pizza.
8 pm, Hawthorne Theatre, $15-18
---
Saturday, Feb 10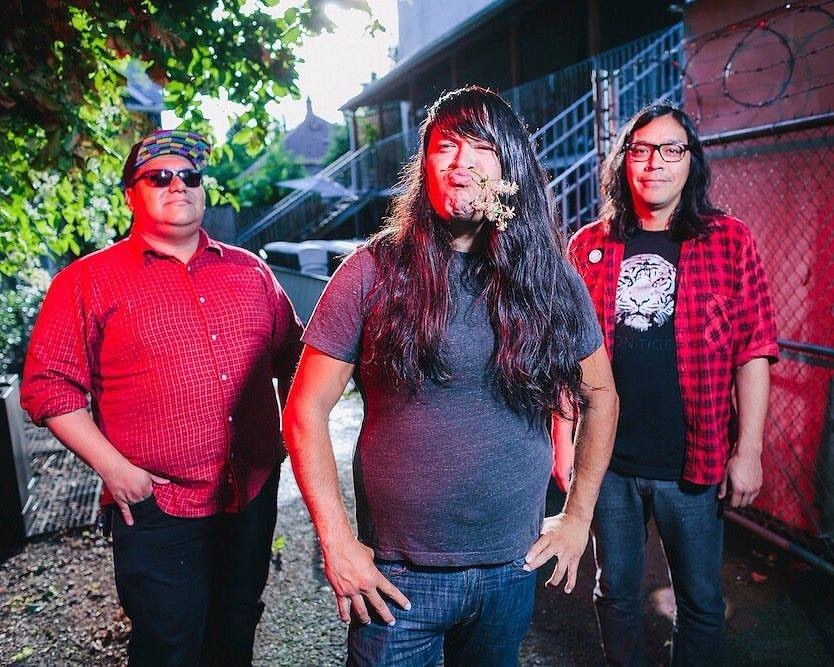 Turn! Turn! Turn!'s 4th Birthday Party
Four years ago, Scott Derr took over the former Record Room and opened his unique vision: a bar/record-store hybrid that's, perhaps unexpectedly, become one of the city's most vital live music venues, regularly hosting performers of all stripes in an intimate, basement-rec-room environment. Celebrate Turn! Turn! Turn!'s fourth revolution with a night featuring psych instrumentalists Máscaras along with Arteries and Guillotine Boys. NED LANNAMANN
8 pm, Turn! Turn! Turn!, $5
Mic Capes
"Black Pearls" is one of my personal favorite tracks off Mic Capes' debut full-length, 2016's Concrete Dreams. Featuring a spoken word intro from Lauren Steele, and a chorus sung by Aaron O'Bryan Smith, it's an R&B-infused ode to the magic, power and beauty of Black women. Now Capes is premiering the visual, directed by Prema DiGrazia, which will feature Black women from the Portland area. It's free, so come and see. JENNI MOORE
noon, Avalon, free
The Great Satan
A devlishly ridiculous collection of VHS odds and ends from Everything is Terrible, the world-renowned purveyors of quality trash captured on video cassette. This one-night-only screening formulates the satanic panic of the early '80s into a loose narrative incorporating Dungeons & Dragons, god-fearing waterfowl, and scariest of all: sad white men. Read our review of The Great Satan.
10:30 pm, Cinema 21, $12-14
Doug Loves Movies
Do you love movies? Hey, so does Doug! Comedian Doug Benson's podcast Doug Loves Movies is doing a live taping of his hilarious cinema game show at Helium this afternoon. Might I suggest getting high for this? Meet renowned pothead Benson halfway in his quest for super stonedom and movie-knowledge supremacy. COURTNEY FERGUSON
4:20 pm (har har get it), Helium Comedy Club, $22
G Perico
The quick-rising Los Angeles-based rapper brings his G-funk- stylings up the coast for an all-ages show supporting his acclaimed 2017 album, 2 Tha Left. Read our story on G Perico
8 pm, Hawthorne Theatre, $15
Dent May, Moon King
Dent May always felt a little bit out of place. The well-dressed baroque-pop crooner is from Mississippi, a state that's home to many musical styles, but best known for its muddy Delta blues. And for years, he recorded for the Paw Tracks label, home to skewed-pop weirdos like Animal Collective, Ariel Pink, and Prince Rama. May makes pop music, but he's not so weird, choosing instead a stately aesthetic to go with his Beach Boys-indebted sound. But May is now based in Los Angeles, where his polished sound won't stick out like a sunburned thumb. With a fresh start and a clear head, he released a new album, Across the Multiverse, last summer. It's lush, warm, tuneful, cosmic, and funky in places, like a long, deep breath of clean air beneath a starry night sky after a thrilling evening spent with someone special. It sounds like Dent May found a spot that suits him. BEN SALMON
9:30 pm, Bunk Bar, $12-14
Cover Your Hearts
Cover Your Hearts brings you a pre-Valentine's Day heaping of guilty pleasure love songs served up by a handful of local acts including Dr. Theopolis, Jonah, Bryan Free & Jaycob Van Auken, Risley, The Loved, Camp Crush, and 80HD. Plus, it's all for a good cause, with proceeds going to benefit the Jeremy Wilson Foundation.
9 pm, Doug Fir, $25
On Drugs, Scarves, Friskies, Die Fam
On Drugs walks the daunting tightrope between manic and composed, maintaining both energy and elegance throughout their songs. DELANEY MOTTER
8 pm, The Know, $8
Quanice Hayes Angelversary & Peaceful Protest
Two years ago, 17-year-old Quanice Hayes was killed by Portland police. Join Hayes' family and the community for an afternoon of peaceful protest and mourning. Bring photos of loved ones who have passed and protest signs. EMILLY PRADO
3 pm, Portland Police Bureau—East Precinct, free
Global Based
The city's only monthly moombahton showcase returns, with sets from Los Angeles producers Astronomar and Tony Quattro, Seattle's Tollefson, and Portland's own Mama Tunga, along with live art from Heysus and friends. Read our story on Global Based.
10 pm, The Whiskey Bar, $10-15
---
Sunday, Feb 11
Dan Auerbach & the Easy Eye Sound Revue, Shannon & the Clams
Okay, I know Dan Auerbach is headlining this show and that he's a Black Key or whatever, but what you really need to know is that the incomparable Shannon Shaw is singing with his backing band, the Easy Eye Sound Revue. Shaw's voice is a national treasure, and her own band, Shannon and the Clams, makes doo-wop punk that sounds like it's inspired by John Waters movies, used bubblegum, and greasy-faced teenagers slow dancing at prom. Auerbach produced their new album, Onion, which comes out later this month (the singles "The Boy" and "Did You Love Me" are fantastic). CIARA DOLAN
8:30 pm, Crystal Ballroom, $35-37, all ages
Worst Day of the Year Bike Ride
The Worst Day of the Year ride is a creature of hyperbole. You can walk out your door pretty much any February day and get weather that's as bad or worse than what'll likely show up today. That's your God-given right as an Oregonian. But we recommend this damn thing every year because it's a celebration of that right, and an opportunity to defy against this damp winter trash with hundreds of like-minded riders—preferably dressed as wallabies or some such. Routes include 4-mile and 40-mile options. Do the hard one. DIRK VANDERHART
8 am, Lucky Labrador Brew Pub, $15-50
Lukáš Vondráček
This weekend, the good folks at Portland Piano International welcome globetrotting musician Lukáš Vondráček to Rip City for a pair of solo performances on a captivatingly intimate stage. While the bulk of Sunday's program is dedicated to German romantic sonatas, the fascinating setlist for Saturday features a trio of composers from Vondráček's native Czechoslovakia, guaranteeing a chance to witness some truly rare works infrequently played in this country. Along with this trio of classical B-sides, the keyboard will spring to life with Robert Schumann's totes delightful Carnaval and the incomparably delicate Transcendental Etude No. 9 in A-flat Major from piano god Franz Liszt. If you're game for some serious chills and trills, grab a ticket and prepare to be utterly transported through the unfiltered, unplugged power of 10 masterful fingers and 88 magnificent keys. BRIAN HORAY
4 pm, PSU Lincoln Performance Hall, $45-55
Amy Miller
For those who are cursing the day comedian Amy Miller left Portland for greener comedic pastures, you're in luck! Amy is returning to Helium! Not only will your guts bust with laughter over her new material, they'll bust again thanks to her hilarious local co-stars, Marcus Coleman and Caitlin Weierhauser. WM. STEVEN HUMPHREY
7:30 pm, Helium Comedy Club, $12
Kevin Leigh Robinson, Sunbathe, Risley
In-demand Portland music fixture Kevin Leigh Robinson (AKA Kaylee Rob) brings his own eclectic folk sounds down to the Doug Fir Lounge for a hometown headlining show.
9 pm, Doug Fir, $7-10
Portland Black Film Festival: Afrofuturism
Portland's infamous for having low access to Black movies in its theaters, which is exactly why we need things like Black History Month! Each February, the Portland Black Film Festival provides a bunch of opportunities to go see and support Black films—some are classics, some are old, some are educational, and most are seriously underappreciated. One screening seems particularly rare and appealing: a series of "other worldly" short films exploring sci-fi, horror, fantasy and other facets of Afrofuturism. This can only be a good use of your money, and at the very least it'll be an interesting, stoned watch. JENNI MOORE
7:30 pm, Hollywood Theatre, $7-9, all ages
French Kisses: An Evening of Champagne and Chocolate
A discussion and tasting of two of the finest things humanity has ever invented: wine with bubbles and chocolate. Food authors Alan Tardi and Cheryl Wakerhauser talk about how these delectables are made, and how you can properly pair them.
5 pm, Pix/Bar Vivant, $20
Don't forget to check out our Things To Do calendar for even more things to do!