Damian Lillard picked a hell of a time to go supernova. That's bound to happen when an entire league tries to snub its most explosive player. Watch out for the blow-up after the fuse is lit and he's thrown at the Cleveland Cavaliers! But even if you don't like the whole basketball thing—it's cool. We got you. There's one of Portland's best monthly comedy showcases, a celebration of local poetry and Frank Ocean, a theatrical screening of a kickass headfuck way ahead of its time, and a tribe dedicated to potent beats has come to party. It's a busy week ahead; hit the links below and load your plate accordingly.
---
Jump to:
Monday
|
Tuesday
|
Wednesday
|
Thursday
---
Monday, Mar 12
Son Lux, Gordi, Wills
Last year, composer Ryan Lott lost a friend to cancer and welcomed a baby into the world. On Brighter Wounds, his newest album under the Son Lux moniker, Lott reckons with these tumultuous changes. He's written film scores, and the songs on Brighter Wounds have a cinematic, sweeping quality, but few are predictable. Across 10 tracks, Lott, guitarist Rafiq Bhatia, and drummer Ian Chang demonstrate their skillful musicianship; Chang's sparse drums mingle with Bhatia's jazz-influenced guitar, and the occasional, wonderful horn section. Lott's voice wavers so haphazardly, he sounds like a combination of Bjork and Billie Holiday, revamped for the Soundcloud era. Diehard Son Lux fans should definitely check out the band's live renditions of their songs, which, based on my meticulous YouTube research, vary greatly from their recordings. ISABEL LYNDON
8 pm, Doug Fir, $17-20
Sarah McBride
As the student body president of American University, Sarah McBride already had prominence on campus when she came out as transgender via a Facebook post. Her influence spreads much farther these days. In 2016, she was the first transgender person to speak at a national political convention. As press secretary of the Human Rights Campaign, she's constantly pushing for LBGTQ rights. And her moving memoir, Tomorrow Will Be Different, tells the tale. DIRK VANDERHART
7:30 pm, Powell's City of Books, free
Chisholm '70: Unbought and Unsold
Too many people don't know near as much as they should about Shirley Chisholm, the first Black woman elected to Congress (1968), the first Black person to run for President (1972), and the Democrat party's first woman nominee. Shola Lynch's documentary is a great place to start, featuring interviews with Chisholm herself, as well as the hardworking members of her campaigns. Part of the Hollywood Theatre's Feminist March film series.
7:30 pm, Hollywood Theatre, $7-9
Coin
Quick-rising Nashville indie pop quartet Coin headline an all ages show at the Wonder Ballroom in support of their sophomore full-length, How Will You Know If You Never Try.
8:30 pm, Wonder Ballroom, $18-20, all ages
J-Dog Night
Daruma's Chef Devin joins forces with DJ Sappho to present a delicious and funky pop-up evening celebrating what some people call the Kobayashi Dog, but what they simply call the J-Dog, your average American frank made wonderful with amazing topping combinations.
4 pm, Daruma Sushi + Sake
---
Tuesday, Mar 13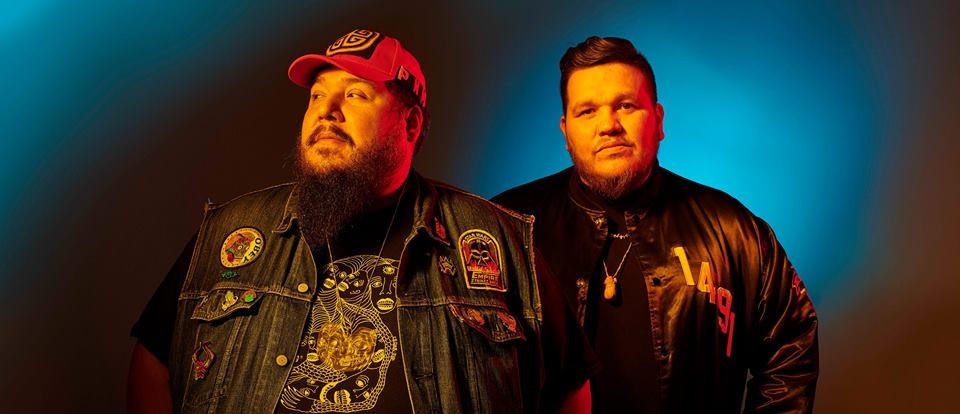 A Tribe Called Red
Ottawa DJ crew A Tribe Called Red blends traditional First Nations music, hip-hop, and EDM to create what they call "powwow-step." Bear Witness, 200lman, and NDN (who recently left the group to focus on activism) started hosting their wildly popular Electric Pow Wow dance parties for the local indigenous community in 2008, and since then, they've released three albums: 2012's A Tribe Called Red, 2013's Nation II Nation, and 2016's We Are the Halluci Nation, which features Yasiin Bey (FKA Mos Def) on "R.E.D." and monologues from author Joseph Boyden, who writes about colonialism and the systemic inequalities indigenous people in North America still face. By allowing past and present to coexist, ATCR celebrates the vibrancy and resilience of modern First Nations cultures. CIARA DOLAN
8:30 pm, Wonder Ballroom, $18-20, all ages
A Jesus Christ Superstar Singalong with the OK Chorale
Portland-based drop-in community choir the OK Chorale return to Mississippi Studios to pay tribute to the Andrew Lloyd Webber and Tim Rice rock opera, Jesus Christ Superstar.
7:30 pm, Mississippi Studios, $22-25
Kung Fu Theater: The Kid with the Golden Arm
This month's installment in Dan Halsted's ongoing celebration of all things whoop-ass is a rare 35mm print of 1979's Kid with the Golden Arm, directed by Chang Cheh—well, not so much "directed" as much as it is "detonated," featuring three or four completely distinct (and ridiculously costumed) groups of kung fu masters consistently and furiously engaging in arias of balletic violence over a single shipment of gold. Well, sometimes the violence is beautiful and fluid. And other times it's just a giant mess o' swords, axes, and wine splashing all over the screen. Which is equally awesome, really. BOBBY ROBERTS
7:30 pm, Hollywood Theatre, $7-9
TraegerMethod Comedy Show
The latest installment of comedian Jason Traeger's free monthly showcase brings a mind-melting array of comedy, music, and video art performances to the Holocene stage, along with featured sets from Milan Patel, Kate Murphy, Chris Johnson, Pedro Andrade, and Tim Ledwith. Co-hosted by Paul Schlesinger.
8 pm, Holocene, free
---
Wednesday, Mar 14
I Think I'm Ready to See Frank Ocean: Book Launch & Tribute
Shayla Lawson presents her latest poetry collection, I Think I'm Ready to See Frank Ocean, with a special book launch event that doubles as a Frank Ocean tribute show, with sets from DNVN, Amenta Abioto, Shayla Lawson & The Oceanographers, DJ Max, and DJ Deena Bee.
8 pm, Holocene, $8
Cornelius
Japanese composer and multi-instrumentalist Keigo Oyamada, better known by his stage name Cornelius, brings his shapeshifting blend of experimental pop and electronica to the Revolution Hall stage in support of his 2017 full-length, Mellow Waves.
9 pm, Revolution Hall, $20
Lez Stand Up
Lez Stand Up returns to Helium with another showcase of quality queer comedy, including sets from Irene Tu, Marita De Leon, Caitlin Weierhauser, Laura Anne Whitley, Corrina Lucas, and Bob Wolf. Hosted by Kirsten Kuppenbender.
8 pm, Helium Comedy Club, $12
Think & Drink: Criminal Justice Alternatives
Oregon Humanities presents the latest in their lecture and discussion series, this time hosting ACLU of Oregon's Executive Director David Rogers, and Oregon Justice Resource Center's Executive Director Bobbin Singh, focused on how to reform America's justice system, and what alternatives there are to how we do things now.
6:30 pm, Alberta Rose Theatre, $10-20
Why Don't We
The Los Angeles-based boy band consisting of Daniel Seavey, Zach Herron, Jonah Marais, Corbyn Besson, and Jack Avery bring their pop sounds back to Portland in support of their latest EP, Invitation
7 pm, Crystal Ballroom, $29.50, all ages
Three for Silver vs. Human Ottoman, Eliza Rickman
A pair of Oregon-based trios split a co-headlined bill that pits their dynamic folk, jazz, funk, and Eastern European Gypsy-leaning sounds head-to-head.
8 pm, Mississippi Studios, $10-12
---
Thursday, Mar 15
Tank Girl
In 1995, Rachel Talalay directed an adaptation of the cult comic Tank Girl, starring Lori Petty and Naomi Watts. Nobody in the film industry had carved out a space for something like Tank Girl to exist within, so when Talalay and Petty made that space, a lot of people (men, really—boys, more accurately) sneered at its loud, scattered, ridiculous indulgence and dismissed it. And it is those things! Most comic book adaptations are! But instead of starring roided-up hulkmen bleeding asinine catchphrases, Tank Girl centers on an irreverent feminist anti-hero who gives not one solitary fuck about protecting for any dude's limited conception of what comic book movies can be. Tank Girl, even in its compromised, misunderstood form, is still something of a minor miracle of the genre. It shouldn't exist. But there she is. Straddling a tank turret, laughing, and flying double birds at you from 1995. BOBBY ROBERTS
Academy Theater, see Movie Times for showtimes
Portland Trail Blazers vs. Cleveland Cavaliers
With an unrelenting slate of crucial games on the horizon for the Trail Blazers, Damian Lillard has picked the perfect time to elevate his game and play his way into the MVP conversation. With just under a month left in the regular season, expect nothing short of playoff atmosphere at the Moda Center tonight when living legend LeBron James and a re-tooled Cavaliers side roll into town looking to make a statement of their own. CHIPP TERWILLIGER
7pm, Moda Center, $73-2200 (!?) (Jesus Christ $2200?? Fuck that shit), all ages
NW Dance Project
Two world premiere works, including Sarah Slipper's Hedda, based on the classic Ibsen play, and Cayetano Soto's new (very pink) piece focused on bringing whimsy into the world of dance.
7:30 pm, Newmark Theatre, $34-58
Chrome
The pioneering industrial rock and post-punk act out of San Francisco return to Portland for a headlining show supporting their 2017 album, Techromancy.
8:30 pm, Star Theater, $15
Xylouris White, Secret Drum Band
Crete lutenist George Xylouris joins forces with Dirty Three drummer Jim White for an eclectic set of tunes pulling from jazz, punk, bluegrass, klezmer, and folk. Portland's own Secret Drum Band provides support.
8 pm, Holocene, $13-15
Off the Cuff
Milan Patel hosts a fresh installment of Helium's latest recurring show, Off the Cuff, which asks local comedians to prepare a 7-minute set based off of audience suggestions fielded at the top of the show. Once the comedians have their go, the audience will select a winner to host a future Off the Cuff show. Featuring sets by JoAnn Schinderle, Nariko Ott, Amanda Arnold, Ben Harkins, and James Barela.
8 pm, Helium Comedy Club, $12
Drag Becomes Her
Qurb Magazine and Peaches Christ Production presents a drag stage show parody of the '90s black comedy, Death Becomes Her, staring Jinkx Monsoon as Madeleine Ashton, BenDeLaCreme as Helen Sharp, Peaches Christ as Lisle Von Rhuman, and Major Scales as Ernest Menville.
7 pm, Aladdin Theater, $30-120
Don't forget to check out our Things To Do calendar for even more things to do!