All the heavy hitters are coming through Portland lately. James Comey just left town and there's not even enough time for the vaccuum to form before Madeleine Albright fills it with light and insight at Revolution Hall. And then Ron Funches helps lead comedy to the coast for the launching of the Undertow Comedy Festival, while Minority Retort holds it down at the Siren, and the Clinton Street serves up a deep mug of Black Coffee for those who love caffeine and quality conversation—and that's but a fraction of what's on the menu this week. Hit the links below and load your plates accordingly
---
Jump to:
Monday
|
Tuesday
|
Wednesday
|
Thursday
---
Monday, Apr 23
Revolution Comedy
Andie Main's Revolution Comedy series refuses to fuck around when it comes to great comedy and sticking a finger in the eye of the Trump administration. That's why the show not only provides great stand-up from Portland's funniest local comedians (as well as those from across the nation), it also raises moolah for important local progressive charities. This particular show will benefit Rahab's Sisters which provides "radical hospitality" to vulnerable and exploited women in Portland, while hilarious headliner Shane Mauss—who you've seen killing it on his own Netflix special, Comedy Central Presents, AND Jimmy Kimmel—will be bringing the laughs. So help some sisters out a little, and get a LOT of funny in return. WM. STEVEN HUMPHREY
7 pm, Curious Comedy Theater, $5-15, all ages
Peelander-Z, Dim Wit
Peelander-Z bill themselves as a "Japanese Action Comic Punk band hailing from the Z area of Planet Peelander." You can catch them tonight when they touch down at Bunk Bar.
9 pm, Bunk Bar, $15
Jon Michael Varese, Jon Raymond
Jon Michael Varese reads from The Spirit Photographer, his suspenseful debut about a post-Civil War era photographer haunted by a ghost from his past. Varese will be joined in conversation by Jon Raymond, author of Freebird.
7:30 pm, Powell's Books on Hawthorne, free
Sex Positive Bingo
A night of daubing and shouting and frantic waving of cards (it'll be a lot sexier than that sounds, promise) all to help benefit A Call to Safety.
7 pm, Crush
Goodfellas
So many questions with Goodfellas. Is it Scorsese's best movie? Is it better than The Godfather? Is it the best mafia movie ever? It's definitely Ray Liotta's best movie, right? Can you even cut garlic so thin with a razor blade that it just liquefies in the pan? How is that possible? How many times do you think you'll shout "Oh shit it's that one dude from The Sopranos!" before whoever you're watching with punches your shoulder and tells you to shut the fuck up already? Is there anything funnier than Morrie's wig falling off his melon-head while Robert De Niro chokes him with a phone cord? That last one has an answer. That answer is no. BOBBY ROBERTS
7 pm, Clinton Street Theater, $5
---
Tuesday, Apr 24
Alvin Ailey American Dance Theater
The dance world can be a staid, white, male-dominated place (COUGHCOUGHPeterMartinsCOUGHCOUGH), but New York's Alvin Ailey Dance Theater has broken the mold time and time again with a diverse company and modern technique. They're bringing both to town this week in a partnership with White Bird. If you think you hate dance, this is the show to dissuade you of that notion. MEGAN BURBANK
7:30 pm, Arlene Schnitzer Concert Hall, $36-120
Cigarettes After Sex
Greg Gonzalez's project Cigarettes After Sex dates back to 2008, but his dark, dreamy slowcore only recently picked up steam with increasing YouTube clicks and likes. That eventually led the now four-piece to release their self-titled debut LP last year. Its lyrics are rife with lovelorn infatuation and melancholy that sounds even more engaging when set to the lethargic tempo of the group's beats. Cigarettes After Sex bring a sexiness to the madness of love; it's addictive music, no matter your current romantic situation. CERVANTE POPE
8:30 pm, Wonder Ballroom, $20-22, all ages
Flatbush Zombies, Nyck Caution
The Brooklyn hip-hop outfit spearheaded by Meechy Darko, Zombie Juice, and Erick Arc Elliott return to the Roseland to support their 2018 full-length, Vacation in Hell.
8 pm, Roseland, $25, all ages
Black Coffee: A Dialogue on Race & Coffee Culture
This live podcast event will feature several leading coffee experts discussing the intersections of race and coffee culture. Hosts include Michelle Johnson, Ian Williams, and Gio Fillari with guests Dee Stubblefield, Cameron Heath, Zael Ogwaro, and more. Proceeds will be donated to Brown Girl Rise and Sandoka Collective Northwest. EMILLY PRADO
6 pm, Clinton Street Theater, $10
Grindhouse Film Festival: Cisco Pike
This month's entry in the Hollywood's celebration of Grindhouse cinema is a rare 35mm print of director Bill L. Norton's 1972 crime drama starring a young Kris Kristofferson—or as "young" as Kris Kristofferson can be (pretty sure he was born at age 37 and simply accumulated crags from that point forward) as a hard luck musician forced into indentured drug-dealing servitude by Gene Hackman as a crooked cop. BOBBY ROBERTS
7:30 pm, Hollywood Theatre, $7-9
Black Belt Eagle Scout, Holy Hum
Portland musician Katherine Paul brings her Black Belt Eagle Scout project back to Mississippi Studios to split a co-headlined bill of atmospheric post-rock along with Holy Hum, the recording project of Vancouver-based singer/songwriter Andrew Lee.
9 pm, Mississippi Studios, $10-12
Jenny Don't & the Spurs, Star Club, Kassi Valazza
Jenny Don't and the Spurs play vintage country and western straight out of the lonesomest corners of mid-20th century America, Don't and her cohorts sound nothing like a museum piece; rather, there's grit, sadness, and an edge of danger to these rumbling-boxcar country songs. NED LANNAMANN
9 pm, Alberta Street Pub, $8
---
Wednesday, Apr 25
Phoebe Bridgers, Lomelda
Fresh off a pair of Portland shows opening for Noah Gundersen and The War on Drugs, the quick-rising singer/songwriter out of Los Angeles brings her heartfelt and intimate blend of indie folk back up the coast for a headlining show supporting her acclaimed 2017 debut, Stranger In The Alps.
9 pm, Doug Fir, $13
Back Fence PDX: Russian Roulette
If you like storytelling with a little danger, check out Back Fence PDX: Russian Roulette! Six entertaining storytellers spin a wheel of "prompts" (examples: "public nudity," "breaking the law") and whatever the wheel lands on, the person will have five minutes to come up with a five minute story on that subject! Trust me, it's a goddamn hoot—and joining divine hosts B. Frayn Masters and Mindy Nettifee will be the very funny writer/actor Jason Rouse, Caitlin Weierhauser, Kirsten Kuppenbender, and more! WM. STEVEN HUMPHREY
7:30 pm, Curious Comedy Theater, $16-22
Brown Calculus, Adebisi, Mal London
The Liquor Store hosts this interstellar collision of jazz, hip-hop, and poetic lyrics.
9 pm, The Liquor Store, $7
Melange: A Queer & POC Variety Show
Destiny Smokes and Dahlia Kash present "Purple stRain," a Prince and Cannabis themed installment of their brand new variety show spotlighting Queer and POC performers. With drag, burlesque, music, and comedy routines from Isaiah Esquire, Magnoliah Black, Dubelevay, Prince Albert Pierce, Izmagnus, and Cloud.
8:30 pm, Tonic Lounge, $10
Re-Run Theater: Saturday Morning Meltdown
For many kids, Saturday morning in the '80s consisted of pouring a big bowl of puffed corn and cow juice, laying two feet away at most from the family's tube TV, jamming your elbows into the carpet, the heels of your hands under your chin, mainlining poorly animated 30-minute toy commercials into your eyeballs. This is your chance to relive all of that, but with beer, pizza, and the Hollywood's big screen replacing that tube TV as the medium (barely) containing the furry majesty of Thundarr the Barbarian, Scooby Doo, and the live-action sci-fi curiosity Ark II (with special guest Jim Backus!) BOBBY ROBERTS
7:30 pm, Hollywood Theatre, $7-9
Fringe Class, My Body, Lisa Vazquez, DJ Lamar Leroy
An array of synth, hip-hop, disco, and electro-pop acts gather at Holocene for a midweek dance party that doubles as a local music showcase.
8:30 pm, Holocene, $8
---
Thursday, Apr 26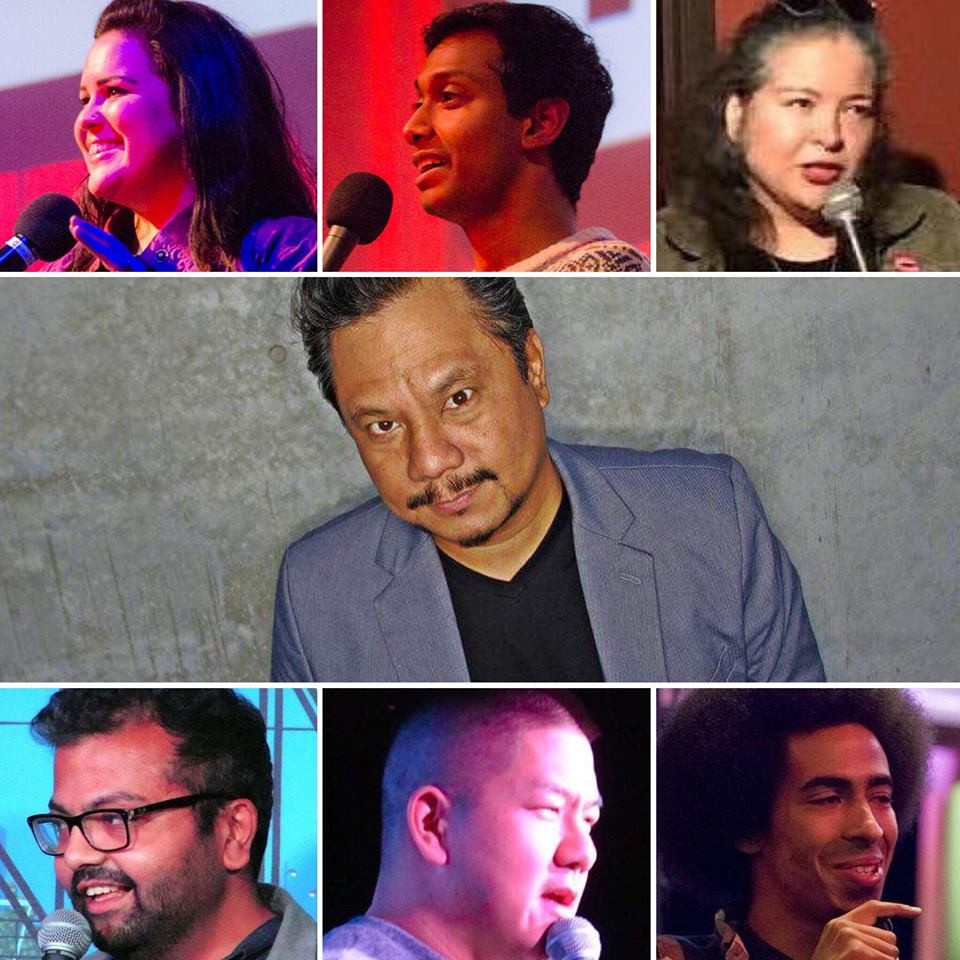 MInority Retort
The latest installment of Portland's only comedy showcase focused entirely on POC and minorities features a headlining set from veteran Filipino American comedian Rex Navarrete, along with support from Portland's own Kate Aguilar, Parth Shah, Anchor Song, and Zane Thomas. Hosted by Jason Lamb, Julia Ramos, and Neeraj Srinivasan.
8 pm, Siren Theater, $12
Jorja Smith, Ama Lou
The British singer/songwriter brings her soulful blend of R&B, pop, and dancehall through the Wonder Ballroom for the Portland stop on a North American tour.
8 pm, Wonder Ballroom, $25-45
Undertow Comedy Festival
Remember when Bridgetown Comedy Festival was shiny and new? An underground, underdog upstart in the world of stand-up festivals, carving out a place for itself and making you feel special having been there as it was happening? It's not often you get a second chance to witness that history, but it certainly seems like Lincoln City is looking to stake its own claim to stand-up glory with this three-day festival featuring some of the country's best comics, including Ron Funches, Laurie Kilmartin, Judah Friedlander, Shane Mauss, Ron Lynch, and more.
Apr 26-28, Various Locations, Lincoln City, $20-99
Madeleine Albright
The former Secretary of Sate returns to Portland to read from Fascism: A Warning, a timely and personal exploration of fascism throughout the twentieth century and its impact on the world today.
7:30 pm, Revolution Hall, $37.99
Post Malone, 21 Savage, SOB x RBE, Paris
The headliners, who blew up the last months of 2017 with their collaboration "Rockstar," are going to be responsible for a ton of tickets sold, but don't get to the Coliseum late—the odds are very high that Bay Area collective SOB x RBE will steal the whole show like they stole the Black Panther soundtrack out from under everyone else on it.
8 pm, Rose Quarter Memorial Coliseum, $71-120
Stephen Tobolowsky
The beloved character actor and podcast host known for portraying Ned Ryerson in Groundhog Day and Action Jack Barker in Silicon Valley returns to town to read from My Adventures with God, his humorous memoir told through the lens of the Old Testament.
7:30 pm, Powell's City of Books, free
Dolphin Midwives, Location Services
Portland-based musician Sage Fisher (AKA Dolphin Midwives) creates enchanting experimental music using layered harp and vocal arrangements.
8 pm, White Owl Social Club, free
Star Trek IV: The Voyage Home
Before J.J. Abrams resurrected Star Trek with his candy-coated 2009 adventure, the most popular Star Trek film was this big-screen sitcom from 1986, most commonly known as "The one with the whales." That sounds like a slam, but it's really not—sitcoms are a staple of pop-culture because people very much enjoy just spending time with beloved characters as they bounce off each other. A story doesn't need to be a fraught, revenge-soaked tragedy in order to mean something, and director Leonard Nimoy's decision to lower the stakes (sorta—the film is about impending world destruction), dispense with overt villainy, and just enjoy the company of the Enterprise's crew not only reminded longtime fans why they fell in love with the series, but inspired a lot of then-casual fans to become not-so-casual about that fandom afterwards. BOBBY ROBERTS
9:45 pm, Academy Theater, $3-4
Verselandia!
The 2018 installment of the annual city-wide poetry slam featuring students from 13 high schools vying for the title of best poet in Portland.
7 pm, Arlene Schnitzer Concert Hall, $10-40
Don't forget to check out our Things To Do calendar for even more things to do!