---
Jump to:
Readings & Talks
|
Performance
|
Visual Arts
---
Readings & Talks
Chuck Klosterman
The bestselling author and cultural critic returns with X, offering up an specific-yet-incomplete journey through the cultural highs and lows of the past decade.
Mon, 7:30 pm, Powell's City of Books, free
Kate Swoboda
Kate Swoboda reads from The Courage Habit, a self-help book offering tips on how to silence your inner critic.
Thurs, 7 pm, Powell's Books at Cedar Hills Crossing, free
Gregory Pardlo
The Pulitzer Prize-winning poet returns with Air Traffic, his sprawling memoir exploring fatherhood, race, addiction, and the American dream.
Fri, 7:30 pm, Powell's City of Books, free
Alex Behr, Josh Fomon
A pair of Pacific NW-based authors read from their latest works: Alex Behr from her story collection, Planet Grim, and Josh Fomon from his new collection of poems, Though We Bled Meticulously.
Sat May 12, 7 pm, Independent Publishing Resource Center, $10
Todd Robert Petersen
Utah-via-Portland author Todd Robert Petersen reads from It Needs to Look Like We Tried, his new novel of disjointed stories chronicling a web of interconnected failures.
Mon May 14, 7:30 pm, Powell's Books on Hawthorne, free
Carl Wolfson
Local progressive talk-radio host Carl Wolfson has been a staple on the Portland airwaves for years. Tonight he swings through Broadway Books to read from Slide!, chronicling the true story of the the Philadelphia Phillies' epic collapse in the 1964 season.
Tue, 7 pm, Broadway Books, free
Ellen Forney
The graphic novelist behind Marbles returns with Rock Steady, a personal memoir and self-help guide for people living with mood disorders.
Tue, 7:30 pm, Powell's City of Books, free
---
Performance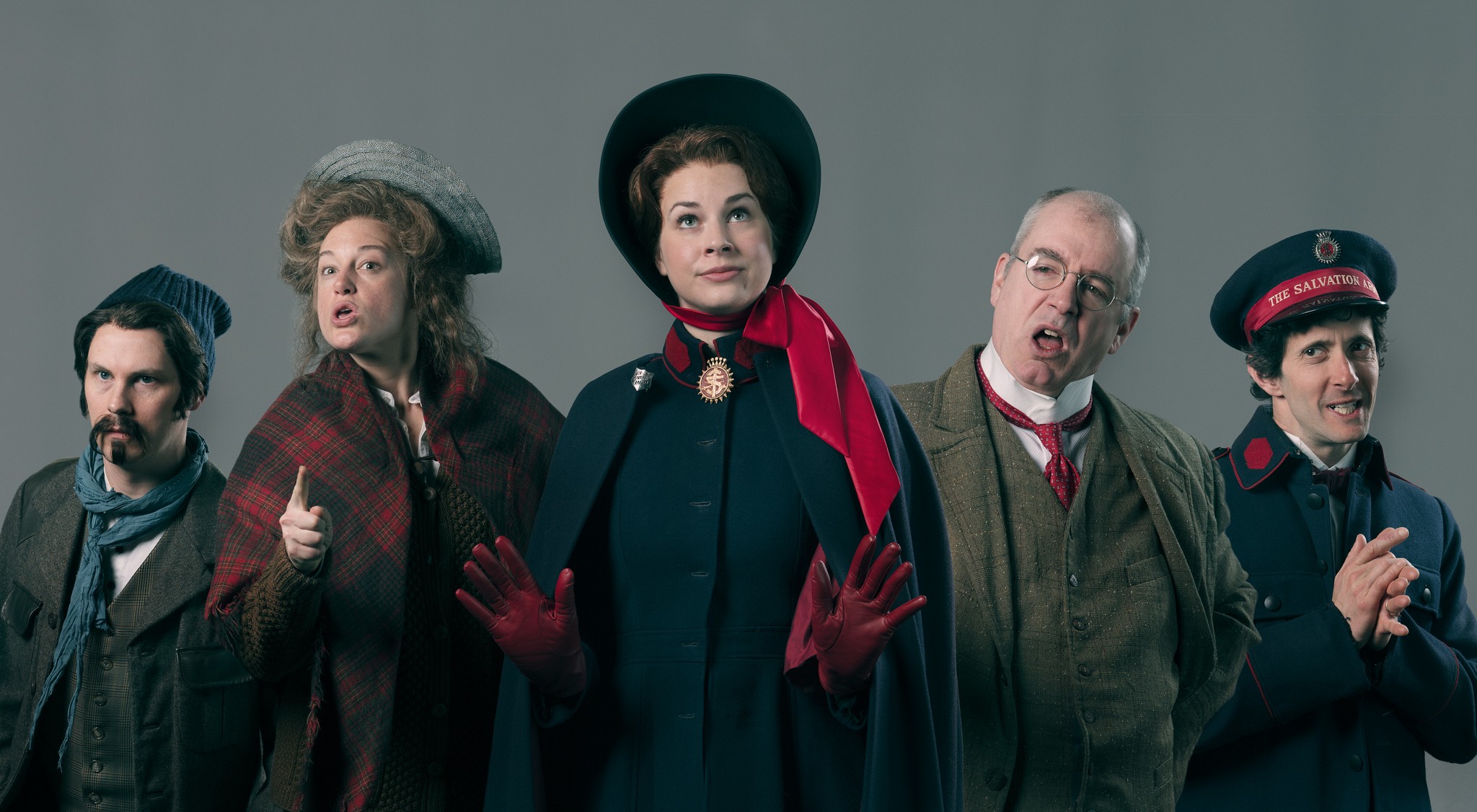 Major Barbara
Chris Coleman directs this lush comedy from George Bernard Shaw, pitting a peace-loving daughter who only wants to help the poor against her warmongering father who has provided for his daughter by selling weapons.
Wed-Sun 7:30 pm; Sat-Sun 2 pm; Thurs noon; Portland Center Stage, $25-87, Through May 13
Compose
PDX Contemporary Ballet and NW Piano Trio bring to life Clarice Assad's Iara, featuring choreography from Briley Neugebauer. The program also includes performances of "Swing Shift," composed by Portland's Kenji bunch, and "Frolic," composed by Zach Gulaboff Davis.
Fri 7:30 pm; Sat 2:30 pm & 7:30 pm; Sun 2:30 pm; New Expressive Works, $15-35
Fallen Monsters
Antero Alli presents this "intermedia performance ritual" built on William Blake's Songs of Innocence and Experience.
Fri-Sun 8:30 pm, Performance Works NorthWest, $10
Girl in the Red Corner
Defunkt Theatre's Paul Angelo directs the West Coast premiere of the Stephen Spottswood play about a woman named Halo who has left her marriage, quit her job, and just met Gina, the MMA trainer who is going to shift her whole perspective on life.
Thurs-Sun 7:30 pm, Back Door Theater, $5-50, Through Jun 2
Kings & Thieves: Drag Show
The Atlantis Lounge plays host to the latest installment of the Kings & Thieves Show, with performances from Tony J. Carmichaels, Adrian Dale Valentine, Spectral J. Carmichaels, and more.
Mon 8 pm, Mississippi Pizza Pub & Atlantis Lounge, $3
Love Never Dies
Andrew Lloyd Webber's acclaimed follow-up to The Phantom of the Opera comes to the Keller Auditorium for a week's worth of performances.
Tue-Wed, 7:30 pm, Keller Auditorium, $25-100, Through May 20
Our Waters: BIg River to the Pacific
The PSU Native American Student & Community Center presents an evening of music and storytelling inspired by the courageous protesters who stood their ground at the Standing Rock protests.
Sat 7:30 pm, PSU Native American Studen & Community Center, $5-20, all ages
Rain & Roses
BodyVox presents the world premiere of their latest collection of works, pairing dance, story, and music from some of the contemporary era's most potent songwriters for an exhibition of physicality and expression that promises to be both witty and a little weird.
Fri-Sun 7:30 pm, The North Warehouse, $27, Through May 19
Dan Soder
An weekend of stand-up from the New York-based comedian and actor best known for his appearances on Conan, MTV2's The Guy Code, and Showtime's Billions. Soder can also be heard on SiriusXM's The Bonfire with fellow comedian Big Jay Oakerson, as well as on his debut comedy recording, Dan Soder's Not Special.
Thurs 8 pm; Fri-Sat 7:30 pm & 10 pm; Helium Comedy Club, $17-33
Steel Dragnolias
Qurb Magazine and Peaches Christ Productions present their latest drag stage show parody, Steel Dragnolias, starring Alaska Thunderfuck, Coco Peru, Peaches Christ, Heklina, Mahlae Balenciaga, and Abbey Roads.
Thurs 7 pm, Aladdin Theater, $30, all ages
Ryan Hamilton
An evening of observational stand-up delivered with a sarcastic and self-deprecating edge from this Idaho-born and raised comedian who has made appearances on The Late Show with Stephen Colbert, Conan, Last Comic Standing, and Comedy Central.
Fri 8 pm, Aladdin Theater, $29.50, all ages
Speechless
The Siren Theater's improvised PowerPoint presentation show Speechless is back, with the best kind of organized chaos: a delightful lineup of funny Portlanders making up lectures on the spot—"TED Talk, startup pitch, even a self-help seminar" are all fair game—to accompany surprise slides and placate a team of judges. Next slide!
Fri 8 pm, Siren Theater, $10
TraegerMethod Comedy Show
The latest installment of comedian Jason Traeger's free monthly showcase brings a mind-melting array of comedy, music, and video art performances to the Holocene stage, along with featured sets from Caitlin Weierhauser, Jeremiah Coughlan, Corina Lucas, Brandon Lyons, and Lydia Manning. Co-hosted by Milan Patel.
Mon 8 pm, Holocene, free
---
Visual Arts
CCNA: Interwoven Radiance
Chilkat and Ravenstail weavings are two of the most complex art forms in North America—and also two of the most underappreciated. The opening of Interwoven Radiance, a new exhibit at the Portland Art Museum's Center for Contemporary Native Art, aims to change that, by finally shedding some much-needed light and attention on this beautiful and spiritual weaving tradition, carried on by women weavers.
Portland Art Museum, Through Jun 24
Best Coast
The multi-city art tour stops at Future Shock to showcase Aries Art pieces by Mindie Gum-Grivell, as well as new works from Miranda Thomas and Katie Costa.
Future Shock, Through May 31
(Ir)regular
A new solo exhibit of monochromatic paintings from artist Barry Pelzner, using black gouache on white paper to compose imagery that literally sits just outside of center.
Froelick Gallery, Through Jun 2
More Revery
A series of paintings on found objects by Adrian Landon Brooks, focused on rituals and symbolism within art.
Stephanie Chefas Projects, Through May 26
Ultra Vivid Dreaming and Jungle Road
Dreaming, curated by Ashley Stull Meyers, features photographic and video works focused on contemporary Black bodies by Elliott Jerome Brown Jr. and Shikeith, won Blue Sky's 2018 Curatorial Prize. Road, by Laurie Lambrecht, captures imagery from the area surrounding the Robert Rauschenberg Residency in Florida.
Blue Sky Gallery, Through Jun 3
Welcome to Your Cell
Can't imagine what it's like to spend 23 hours a day locked up inside a 6x9 foot concrete cell for days, weeks, or years on end? "Welcome to Your Cell" invites you to step inside the reality of too many people who have lived (or are living) through solitary confinement via video installations by four artists to bring awareness to the prison industrial complex in the United States. The exhibition has also arranged to display The Guardian's virtual reality experience which focuses on the damning psychological damage that often ensues while in isolation. An estimated 80,000-100,000 people incarcerated are currently facing some form of solitary confinement. EMILLY PRADO
Sat-Sun 1 pm, Outer Space Gallery, Through May 20
Don't forget to check out our Things To Do calendar for even more things to do!