North Portland is awesome. If you don't believe us (don't know why you wouldn't, but okay) then just get your ass to St. Johns this Saturday and watch as the place blossoms into an entertainment wonderland—a free entertainment wonderland offering up some of the best arts, music, food, and drink the city can provide. It's also a good opportunity to score a last minute gift or two for Mother's Day, which is waiting for you on Sunday after spending the previous two days soaking up SUPER wisdom from amazing women, enjoying a real Dirty Revival, Dashing with Doggies, and hanging out with Private Hudson for a couple hours. It's a very, very busy weekend awaiting you; hit the links below and load your plate accordingly.
---
Jump to:
Friday
|
Saturday
|
Sunday
---
Friday, May 11
Joey Bada$$, Boogie, Buddy, Dessy Hinds
Brooklyn rapper Joey Bada$$ put out one of the best hip-hop albums of 2017. His All-Amerikkkan Bada$$ masterfully handles weighty subjects and politically charged themes with a conversational pace and spot-on timing. Tracks like "For My People," "Temptation," "Land of the Free," and lead single "Devastated" should serve for a cathartic live listening experience. JENNI MOORE
8 pm, Roseland, $25, all ages
Dirty Revival, Con Brio, The Lique
If you're celebrating an anniversary of some sort today, I feel sorry for ya—because the rest of Portland is going to be partying HARD at tonight's Dirty Revival 5th Anniversary show! And seriously, you can't blame them, because Dirty Revival (led by the boisterous vocals of Ms. Sarah Clarke) produces some of the best hand-clapping, ass-wiggling soul music ANYWHERE. Toss in a Memphis-style horn section, and the occasional soulful barn-burner, and you've got an anniversary show that cannot be missed. (So maybe postpone yours until next week?) WM. STEVEN HUMPHREY
8 pm, Star Theater, $15
RBG
Supreme Court Justice Ruth Bader Ginsberg is the closest thing America has to royalty. With her fashion-forward collars, cool demeanor, and righteous reading of the Constitution, Ginsberg holds court on Capitol Hill like a true monarch. The breadth of her reign is captured in RBG, a new documentary about the 85-year-old woman's life thus far. Learn how Ginsberg's groundbreaking wins against gender discrimination as both a civil rights lawyer and on the Supreme Court bench have shifted national politics and public life, cementing her legacy as a Supreme queen. Join the ACLU of Oregon for a special presentation of the film to nerd out with ACLU attorneys over Ginsberg's achievements. ALEX ZIELINSKI
Hollywood Theatre, see Movie Times for showtimes, $9
Courtney Marie Andrews, Taylor Kingman
Country singer/songwriter Courtney Marie Andrews' new LP May Your Kindness Remain is already one of my favorite albums of the year. The blues seem like they're an even deeper shade of blue these days, and personal micro-tragedies seem ever-more tied to larger systemic failures—something Andrews masterfully illustrates on tracks like "Two Cold Nights in Buffalo," where she surveys the crumbling infrastructure of the Rust Belt town and laments the "American Dream dying," as well as the blistering "Border," which was inspired by the tensions in her hometown of Phoenix, Arizona, and tells the story of a Mexican immigrant struggling to cross the Sonoran Desert and then struggling to succeed in this country. It's relevant and powerful protest music, but the album's true beauty lies in rousing guitar riffs, golden-toned organ, and Andrews' ability to contextualize her own despair within a much bigger picture, all sung in her emotive vibrato, which can resemble the iconic voices of Joni Mitchell, Linda Ronstadt, and Loretta Lynn within the span of the same song. CIARA DOLAN
9 pm, Mississippi Studios, $13-15
Bobby Peru, Planet Damn, Husky Boys
Portland punks Bobby Peru head up a night of high-energy rock at the Kenton Club along with support from like-minded locals Planet Damn and Husky Boys.
9 pm, (The World Famous) Kenton Club, $5
Horse Feathers, Dead Horses
The beloved Portland-based indie-folk outfit return to the Revolution Hall stage for a hometown show supporting their latest Kill Rock Stars-issued full-length, Appreciation.
9 pm, Revolution Hall, $20-22.50, all ages
The Parson Red Heads, Dovecoats
This may be a bold statement, but I think the Parson Red Heads are one of my favorite Portland bands. Their sound is just magic—honeyed harmonies fall together seamlessly, with slide guitars and organs stepping in at times to create sonic gems. The Parson Red Heads' music harkens back to nostalgic, '60s-era American folk pop—but not in the inauthentic, trendy style of late. CIARA DOLAN
8 pm, Turn! Turn! Turn!, $8
Gamanfest
Revel in a variety of art performances sure to stun at Gamanfest, a two-day festival celebrating artists from the Asian diaspora. Fittingly, gaman is a Japanese word for endurance or perseverance, and works will explore themes of identity, heritage, history, and social change. This series is presented in partnership with the Oregon Nikkei Endowment and PCC and will also feature short films and musical sets from No-No Boy, The Slants, Erin Aoyama, and more. EMILLY PRADO
Fri 6 pm; Sat 10 am; PCC Cascade: Moriarty Arts and Humanities Auditorium, free, all ages
Ryan Hamilton
An evening of observational stand-up delivered with a sarcastic and self-deprecating edge from this Idaho-born and raised comedian who has made appearances on The Late Show with Stephen Colbert, Conan, Last Comic Standing, and Comedy Central.
8 pm, Aladdin Theater, $29.50, all ages
Peter Hook & the Light
The former Joy Division and New Order bassist returns to the Wonder Ballroom with his new backing band in tow to tackle material off Joy Division's Unknown Pleasures and Closer albums.
9 pm, Wonder Ballroom, $23-25
Dreamdecay, Lavender Flu, Hurry Up
Seattle psych punk and noise rock outfit Dreamdecay make their way back down the I-5 for a headlining show with support from like-minded locals the Lavender Flu and Hurrry Up.
8:30 pm, High Water Mark, $8
Gregory Pardlo
The Pulitzer Prize-winning poet returns with Air Traffic, his sprawling memoir exploring fatherhood, race, addiction, and the American dream.
7:30 pm, Powell's City of Books, free
---
Saturday, May 12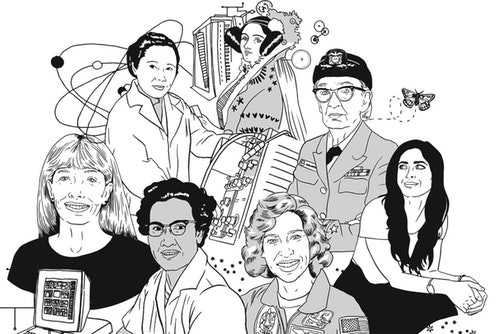 Super: Women in Tech
News flash! Being a woman or nonbinary person in the bro-heavy tech industry is NOT SO EASY. (Oh, this doesn't come as a surprise?) That's why you should check out this evening of live, storytelling awesomeness from women and nonbinary folk who have been in the tech trenches and survived to tell the tale. Expect hilarious, poignant, and sometimes angering stories from the strongest, and brainiest people you will ever meet. WM. STEVEN HUMPHREY
8 pm, Aladdin Theater, $12-30
St. Johns Bizarre
The 12th annual St. Johns Bizarre returns to the North Portland neighborhood's main drag this weekend to kick-start the street festival season. The late spring revelry will include an open-air craft fair with more than 125 vendors, activities for kids (like balloon animals, jugglers, and "bubble artists"), activities for grown-ups (like beer gardens with brews from Occidental Brewing Company and Oregon Mead and Cider Co.), and live music from some of the Pacific Northwest's most talented performers: R&B singer Fritzwa, heavy psych-rockers BlackWater HolyLight, indie pop sweethearts Wild Ones, Blackalicious collaborator Vursatyl, Seattle punk band Wimps (whose music is decidedly un-wimpy), and many more. Bonus: It's free! CIARA DOLAN
10 am, St. Johns Plaza, free, all ages
CABA Classic Alpaca Show
Sometimes an event comes around that you didn't know you needed, but now it's the only thing you want to do with your life. That's how I feel about hanging out with 500 alpacas. These alpacas are entering contests to strut their stuff and have the fluffiest fleece. Vendors will sell alpaca fleece arts and crafts in case you want to keep petting some alpaca for the rest of your life. KELLY KENOYER
Fri-Sat 8 am, Portland Expo Center, free, all ages
A L I E N S
Aliens is the best film James Cameron ever made. Not the biggest—lord knows the man himself has apparently conflated the two terms as his career exploded all over the box office in ever louder, ever-more-simple pandering blasts of spectacle—but the best. Imagine the audacity to follow up one of the most influential horror films ever made by turning it into a Vietnam War allegory that is also a metaphor for motherhood that is also an action film so perfectly paced that most people don't realize it takes over an hour before a single fanged penis-beast from outer space shows up. And imagine executing on that idea so well that movies, comics, and video games spend the next 30-plus years strip-mining every inch of it for inspiration. Cameron never wrote another script this tight, never directed actors this precisely, and never made a film this palpable—almost unbearable—again. BOBBY ROBERTS
9:25 pm, Academy Theater, $3-4
Oregon Humane Society Doggie Dash
A daylong party for pets and their owners, and also a party for the Oregon Human Society's 150th birthday! The 2018 Doggie Dash includes a walk/run through Portland, vendors, live music, canine contests, and more activities for the whole family, with proceeds supporting Oregon Humane Society.
7:30 am, Tom McCall Waterfront Park, free, all ages
Preoccupations, Moaning
For Canadian post-punks Preoccupations, calling their latest album New Material was probably a no-brainer. Ever since the band's ill-advised original name Viet Cong sparked cancelled bookings and general outrage, they've been forging ahead under their new banner with the same anxious and suffocated modus operandi. Now fully settled into their post-controversy career, focus can return to Preoccupations' music, and New Material is more than deserving of the attention. Other than the droning enormity of closing track "Compliance" and the synth-heavy moodiness of "Doubt," the album is often as streamlined in performance as it is in presentation (or at least lacks a 10-plus minute track, unlike both previous records). Hollow, danceable opener and lead single "Espionage" feel directly inspired by Faith-era Cure, while the immediacy of songs like "Decompose" and "Antidote" lays in the tight, hypnotic grooves of bassist Matt Flegel and drummer Mike Wallace. These details will likely translate into a live show invigorating enough to make us forget that, as Flegel snarls, "to live is to suffer again and again." BEN WEINSTEIN
9:30 pm, Star Theater, $15
Blossom, SUS, All Star Opera, SXLXMXN
Any chance to experience Blossom live is worth your time and money—she's the undisputed queen of Portland soul, and her debut LP Tease (with producer Hot16) was one of the best records of last year. Throughout, Blossom's velvety voice glides over slow-burning beats ("Superwoman") and throwback funk breakdowns ("Loves Coming"), and the result is hypnotic, empowering, and sure to make you move. CIARA DOLAN
9 pm, Kelly's Olympian, $8-10
Phone Call, Dreckig, Sunbathe, Petit Poucet
The 12th annual St. Johns Bizarre spills over into the Fixin' To with free performances from Phone Call, Dreckig, Sunbathe, and Petit Poucet.
8 pm, The Fixin' To, free, all ages
GeekCraft Expo PDX
A free curated craft fair (founded by comics creator Daniel Way) featuring pop-culture inspired, handmade goods created by local makers and artisans.
Fri-Sat 11 am, Oregon Convention Center, free, all ages
Feria de Portland
Oregon's flamenco community gets a chance to cut loose and celebrate itself and the culture of flamenco, with performances, demonstrations, dancing, Spanish food vendors, a full bar, and more.
5 pm, AudioCinema, $10-15
Count Bass D, Rev Shines
A rare visit from one of the most underrated-yet-essential hip-hop producers of all time, Count Bass D, who is pretty damn good at the whole rapping thing as well.
9 pm, The Liquor Store, $10
St. John's Bizarre After-Party: Blesst Chest, Moon Debris, Tiger Touch
Sure, technically, the Bizarre is over by the time this party starts. But all the weird, wooly, and wonderful that was just going on outside all day is absolutely coming in for a drink and a chance to bounce around the inside of Slims for the rest of the night.
9 pm, Slim's, free
Gulch, Rllrbll, Sam Wenc
Local trio Gulch bring their jangling and infectious indie rock sounds out to Speck's to celebrate the release of their latest full-length. Likeminded locals Rllrbll and Sam Wenc (of Post Moves) round out the proceedings.
7 pm, Speck's Records and Tapes, free, all ages
13th Annual Bob Dylan Tribute Show
A slew of Portland's finest musicians gather at the Alberta Street Pub to pay tribute the life and works of the Nobel Prize winning songwriter out of Duluth. With performances from The Old Yellers, Crystal Lariza, Rachel Brashear, The Moaning Lorries, Jessa Campbell, Ronnie Carrier, Castletown, Cedro Willie, Kimberly Devine & Perry Devine, Carlos Severe Marcelin, The Waxwings, and more.
8 pm, Alberta Street Pub, $10
---
Sunday, May 13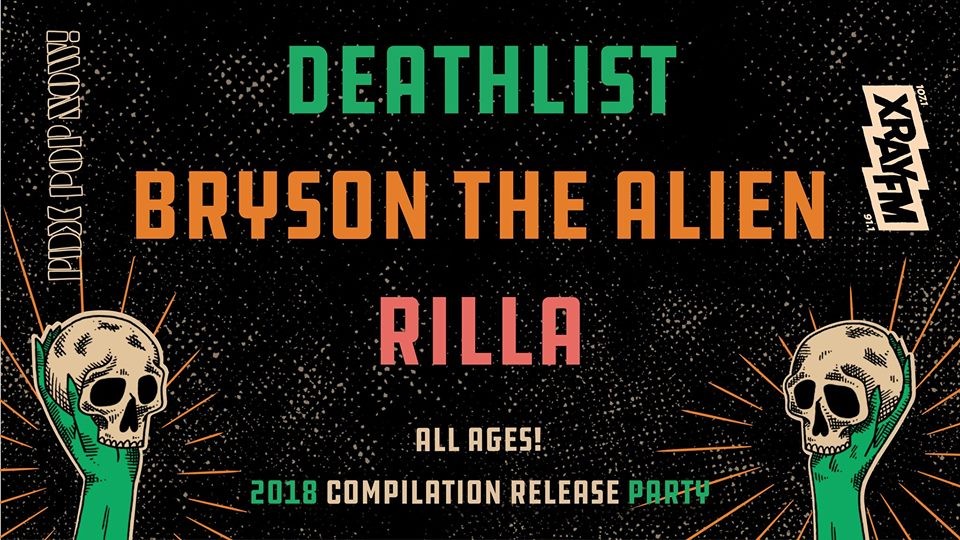 PDX Pop Now! 2018 Compilation Release Party
Portland's best and only free, all-ages music festival PDX Pop Now! returns in July, but first it's time to celebrate the release of this year's compilation, which features songs from nearly 40 local musicians. Jenny Logan's post-punk project Deathlist, extraterrestrial rapper Bryson the Alien, and the indie rockers of Rilla will play sets, and the price of entry includes a copy of the comp. CIARA DOLAN
6 pm, Lagunitas Brewing Community Room, $8, all ages
Portland Timbers vs. Seattle Sounders FC
The quest for the 2018 Cascadia Cup gets underway this afternoon, and while the battle for bragging rights among rivals doesn't get any bigger than here in the Pacific Northwest, both the Sounders and the Timbers find themselves in dire need of three points to merely keep afloat in a wild Western Conference. It's the exact sort of scenario you would expect from the league's marquee matchup, so get swept up in the moment and enjoy the ride. CHIPP TERWILLIGER
1 pm, Providence Park, $52-200, all ages
---
MOTHER'S DAY
Normally this is the part where we'd hit you with that jumbo-size guilt trip as a means to cajole you into doing the right thing and spending time with the person who gave birth to you. But that's kinda screwed up, right? If you have to be guilted into doing it, it's probably not a thing you should be doing. Not everyone's mom is worth celebrating. On the other side of things—maybe some of you just (gasp! zounds!) like hanging out with your mom. In which case, lets dispense with the guilt and haranguing: Portland's got a lot of cool things you can do together, including a wide array of brunches, some outdoor activities, some shopping, some crooning—look at our Mother's Day listings and see what strikes you as a good way to spend time with mom
Various Locations, click here for a list of Mother's Day events
---
Sabroso Craft Beer, Taco, & Music Festival: The Offspring, Pennywise, Against Me!, Lit
The first time I heard Against Me! was on a mix CD made by my high school crush. I didn't have the track listing, but was struck by the simple, muted guitar line, xylophone, and Laura Jane Grace's feeble shouts of "When you sleep, nobody's homeless/When you sleep, you can't feel the hunger." The song was "8 Full Hours of Sleep," and I listened to it on repeat until the mix CD became too scratched to play. Then I bought the band's 2002 debut, Reinventing Axl Rose, and also played that until it wore out. I grew to love their whole discography, from the cheesy ("I Was a Teenage Anarchist") to the real heart-bleeders ("True Trans Soul Rebel"). But I always came back to "8 Full Hours of Sleep," a song so perfect that listening to it at different points in my life I felt angst, anger, love, longing, emptiness, helplessness, and, on the rare occasion, real hope. CAMERON CROWELL
1 pm, Portland Meadows, $39.50-69.50
Tricky
Tricky has always seemed like a visitor from another world. Even after pioneering the musical genre that's now known as trip hop, he stood a great distance apart from his contemporaries, as though he were stubbornly unconcerned about his influence or his imitators. With the help of frequent collaborator Martina Topley-Bird, Tricky released an uninterrupted stream of masterpieces in the mid- to late-'90s, and while most artists who first gained popularity in that decade sound embarrassingly dated and obsolete today, Tricky has been spared that fate, largely by doing what he's always done: remaining distant from changing fads and trends, and staying true to his craft. His post-millennium output—including 2013's False Idols and his most recent album, 2017's Ununiform—proves that Tricky is still on top of his game and still the only one who can do what he does. Tonight's show was moved to Wonder Ballroom after immediately selling out Doug Fir, so you've got a second chance to score tickets for this rare Earthly visit from the Knowle West Boy. SANTI ELIJAH HOLLEY
8 pm, Wonder Ballroom, $30-35
Kimya Dawson
Kimya Dawson writes sweet, posi children's folk songs that sad adults eventually come to realize have been ingrained in their subconscious. Whether you found Dawson through the Moldy Peaches (her anti-folk project with Adam Green); her extensive back catalog with Rough Trade, Plan It X, and K Records; the Juno soundtrack; or that random radical zine you found in a friend's bathroom, you have at one time or another found yourself humming one of Dawson's oddly but beautifully arranged tunes. And even if you haven't heard her music in years, you can somehow muster all the words to at least one of her songs. Dawson is a special artist in this way, and with every note of melodic melancholy comes a deep sense of empathy and understanding of people's complexities. There's hardly anything more grounding and comfortable than that. CAMERON CROWELL
8 pm, The Old Church, $15-17, all ages
Swiss Family Robinson
The mouse-eared entertainment monopoly that is Disney wasn't always a grinning, white-gloved goliath at the box-office. In 1960, something like their adaptation of Swiss Family Robinson was seen as Disney swerving way outside its lane. An honest-to-god widescreen adventure epic, Swiss Family Robinson was about as risky (and weird) for 1960 as Pirates of the Caribbean was in 2003. But both bets paid off, and while Robinson seems a little quaint and quiet in comparison to the rummy, hammy pleasures of Pirates, watching the studio's first forays into big-budget live-action still makes for a satisfying trip to the movies. BOBBY ROBERTS
2 pm, Hollywood Theatre, $6, all ages
Roselit Bone, Autopilot Is for Lovers, Paper/Upper/Cuts
Roselit Bone is one of Portland's best country bands. With his deep, bellowing voice, frontman Joshua McCaslin sounds like he's telling ghost stories about the cosmic cowboys of yore over a campfire, with flurries of horns and pedal steel swelling around him like crackling embers when he reaches the climax. It's big, dark, and cinematic music.
8:30 pm, Holocene, $8-10
Kulululu, Actionesse, Millstone Grit
Seattle-hailing garage-ska-punk outfit Actionesse come down the I-5 to spark a North Portland dance party with help from bizarro shredders Kulululu and British-Korean rock outfit Millstone Grit.
8 pm, Turn! Turn! Turn!, $5
Don't forget to check out our Things To Do calendar for even more things to do!