This weekend seems sorta grown-up, doesn't it? Bill Nye swooping through with science to share, Paul Simon saying goodbye to touring (he means it), locals Alela Diane and Laura Veirs spreading meaningful, important messages in their carefully crafted songs, and there's a Royal Wedding going on early Saturday morning. But then again... that wedding is being hosted by a couple of Saturday Night Live vets, so maybe not so grown-up? And then there's Bay Area legend Andre Nickatina getting decadent at the Roseland, the Match Cut Movie Club taking your fondest memories of Saturday Morning and turning it into an all-day movie marathon, and OMSI turning the museum over to having breakfast at night—alcohol-infused breakfast. It's a pretty busy weekend full of stuff that's good, and good for you, too—hit the links below and load your plate accordingly
---
Jump to:
Friday
|
Saturday
|
Sunday
---
Friday, May 18
Beth Stelling
Originally a product of Chicago's comedy scene, LA writer and stand-up Beth Stelling has honed her ability to disarm audiences with her laid-back delivery and trounce them with her unpredictable wit for the better part of a decade. Her expertly crafted half-hour special is a highlight of Netflix's The Standups, and that's just a small taste of what Stelling will have up her sleeve when she hits the Star Theater stage tonight. CHIPP TERWILLIGER
8 pm, Star Theater, $18
Bill Nye
Bill Nye (the Science Guy), a staple of '90s public television, has used his Millennial recognition for good. Instead of tragically fading into obscurity, Nye has kept his now-adult fan base engaged with approachable lectures and New York Times editorials. His Portland visit comes with its own unique tie-in: It coincides with the 38th anniversary of the Mount St. Helens eruption. Nye will explain the environmental fallout of that explosive day, answer audience questions, and kindly remind you that climate change is real. Bill! Bill! Bill! ALEX ZIELINSKI
7:30 pm, Arlene Schnitzer Concert Hall, $40-60
McMenamins' Annual UFO Festival
Downtown McMinnville gets taken over by the 19th Annual UFO Fest, which features music, booze, an "alien pet costume contest," the "Alien Abduction Dash 5K," and panels about everything from a 1994 incident in which "60 schoolchildren saw a UFO land and beings approach," to government's stance on "the modern UFO problem," to trusty old standbys like "mutilated cattle." Don't miss the UFO Speakers Panel, a mega-panel that lines up a slew of the fest's guests for a Q&A that will likely cover conspiracy theories, creepy aliens, nice aliens, skin walkers, Sasquatch, and the incontrovertible fact that humans will soon be conquered and enslaved by creatures we cannot comprehend. Might as well drink some beer and wear some tinfoil hats in the meantime! (In case you think I am joking, I am not: Some people here will be wearing tinfoil hats. If you're smart, so will you.) ERIK HENRIKSEN
Fri-Sat, Hotel Oregon, $20-40, all ages
Andre Nickatina, Six Fif, Speaker Child, Rell Money
Almost like clockwork, Andre Nickatina seems to hit the road every year, and Portland has always been a frequent stop of his. Though he's toured mostly for the fun of it in recent years, Nickatina's got a couple of things to celebrate with his current "King of March" tour. Not only is his birthday in March, but Nickatina also released his newest album, Pisces, during that month as well. Pisces marks a point in Nickatina's career where he can ride on the relevance of Bay Area rap and his contributions to it, while also marking the resurgence of his record label, 75 Girls. The label actually came back secretly last year, but Pisces is 75 Girls' official return, and it's accompanied by a new roster of Bay Area talent to boot. Nickatina claims he doesn't listen to much new rap, and that may have influenced how much Pisces sounds like classic-era Nickatina. He proudly keeps things old school, with both his own sounds and those of his 75 Girls artists. With the constant movement of the rap game, it's refreshing to have the consistency and confidence that Andre Nickatina brings. CERVANTE POPE
8 pm, Roseland, $25, all ages
Portland Cello Project
The Portland Cello Project bring their genre-defying sounds to the Revolution Hall stage for a one-off hometown show with special guests Nancy Ives, Maiah Wynne, and Farnell Newton.
8 pm, Revolution Hall, $22-25, all ages
Nacho Gold
Don't call it a comeback, and don't call it a one-off. From the ashes of local legends The 3rd Floor has arisen the sketch comedy phoenix that is Nacho Gold, with a brand new set of ridiculous situations to luxuriate in, written and performed by Portland veterans Jordi Barnes, Lori Ferraro, Jason Keller, Jason Rouse, Tony Marcellino, and Ted Douglass.
Fri-Sat, 8 pm, Siren Theater, $12-15
Tao Lin
The writer, artist, and poet reads from Trip, a blend of memoir, history, and journalistic exposé examining psychedelic drugs, art, and the life and work of the late Terence McKenna, a leading advocate of psychotropic drugs in the modern era.
7:30 pm, Powell's City of Books, free
The Briefs, Mean Jeans, The Girls, The Cry
The longtime Seattle rockers bring their infectious sounds down the I-5 to spearhead a night of pogo-ready pop-punk at Dante's along with support from Mean Jeans, The Girls, and The Cry.
9 pm, Dante's, $13
Candi Pop
Candi Pop returns to Holocene to bring you another night of glitter, lollipops, rainbows, unicorns and all the bubblegum pop hits you could ever want.
9 pm, Holocene, $10-12
OMSI After Dark: Marys & Mimosas
Some of Portland's best brunch spots set up shop during OMSI after Dark to turn the science museum into the place to be if you love Bloody Marys, Mimosas, and breakfast food in general. And if you love breakfast, you probably also know the dirty secret about it: It tastes even better when you have it for dinner.
7 pm, Oregon Museum of Science & Industry, $40-70
---
Saturday, May 19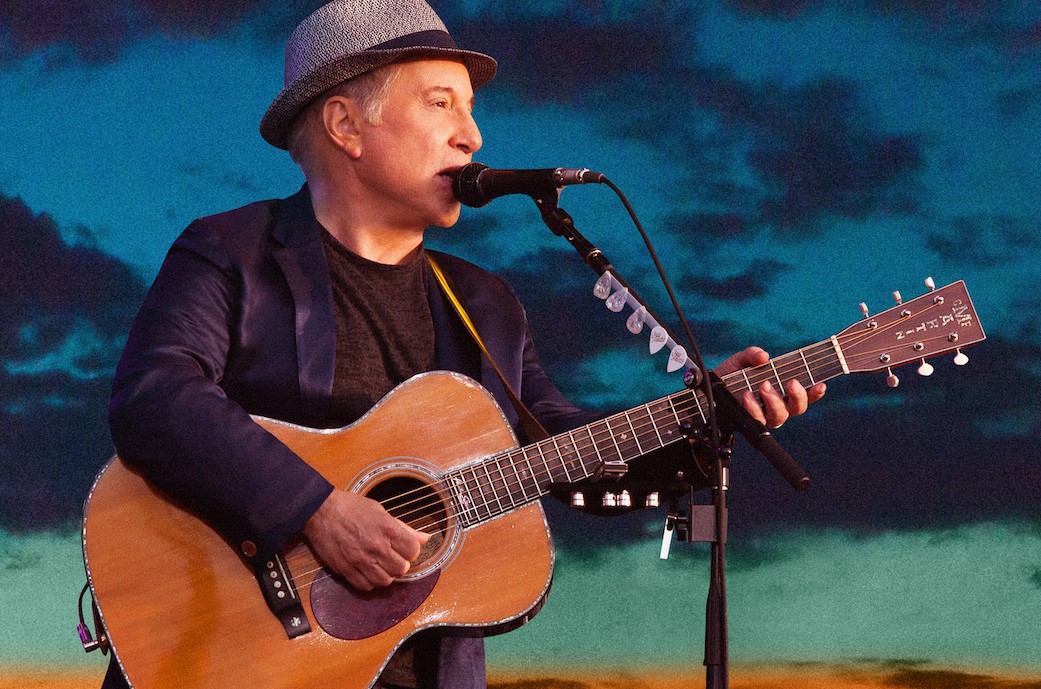 Paul Simon
Too often, we never know if this particular tour is gonna be our favorite aging musician's last one ever. (We learned the hard way with Prince and Tom Petty.) Which is why it's incredibly helpful that legendary New York songwriter Paul Simon has kindly informed us this current jaunt will be his farewell tour. This is the guy who wrote "The Boxer," "Graceland," and "Slip Slidin' Away," and this is your last chance, Portland. NED LANNAMANN
8 pm, Moda Center, $47.50-157, all ages
Laura Veirs, The Hackles
One of Portland's most beloved (and long-lasting) folk-pop artists, Laura Veirs, is back to charm the pants off of us with her newest solo album, The Lookout. Influenced—but not overwhelmed—by our current, chaotic times, The Lookout makes a strong case for self-protection and especially protecting others. The songs are gorgeous, warm, and just the thing to soften up your crusty shell for a bit—so self-protect yourself and listen to Laura sing these soon-to-be classics live! WM. STEVEN HUMPHREY
9 pm, Mississippi Studios, $20
The Royal Wedding LIVE with Cord and Tish
Unlike America, whose nominal leaders are literally the tackiest motherfuckers on the entire planet, England has assloads of CLASS. And they're gonna rub it in all of our faces with the Royal Wedding, in which Prince Harry will wed Meghan Markle and Windsor Castle will get LIT. Obviously, the best way to experience this international spectacle will be via HBO, where Will Ferrell and Molly Shannon—as their hilarious characters Cord Hosenbeck and Tish Cattigan—will be live-hosting the whole thing. I assume the Queen asked them to? Anyway, heads up, this shit really is live, which means it starts at 4:30 am. ERIK HENRIKSEN
4:30 am, HBO
La Luz, Savila
Although the band was formed in Seattle, La Luz never sounded like they belonged in the Pacific Northwest. The garage-pop four-piece's reverb-heavy music felt far too laid-back and dreamy to have emerged from the damp climes of the Emerald City. Perhaps heeding the sonic call that came from within their first two full-lengths (2013's It's Alive and 2015's Weirdo Shrine), the group picked up stakes and relocated to Southern California, where they concocted their latest and greatest album, Floating Features. The new environs have inspired principal songwriter Shana Cleveland to dig deeper into the essential building blocks of her group's aesthetic. Cleveland reveals the impact of La Luz's new ZIP code within her lyrics—there's plenty of giddy romanticism, a few pangs of regret, and some discomforting memories of recent nightmares. But the core of the album is found in "California Finally," a sigh of relief delighting in "one endless summer after another" and finding the peace to do what she wants, at her own unhurried pace. Sounds damn enticing. Who knew dreams still came true in Los Angeles? ROBERT HAM
9 pm, Aladdin Theater, $15
The Posies, Terra Lightfoot
For a brief spell in the early '90s, Seattle's Posies must have felt on top of the world. In between cutting their own records, Jon Auer and Ken Stringfellow—the band's core creative force—had one of their songs covered by Ringo Starr and played alongside Alex Chilton and Jody Stephens in the reformed Big Star. The Posies' 1993 album, Frosting on the Beater, is one of the best rock albums to come out of the Pacific Northwest. Highlights like the micro-hit "Dream All Day" and the dizzyingly gorgeous "Solar Sister" embraced grunge's timbres but eschewed its nihilistic glorification of incompetence. The result is an album that almost sounds like it's playing dumb; soaring, Brian May-inspired guitar solos and magisterial vocal harmonies are buried beneath layers of fuzz. Though Frosting on the Beater was something of a breakthrough, the Posies have since gone the way of their idols, Big Star—a "secret handshake" band championed by wizened indie rockers and pasty power-pop cultists. But unlike Big Star, the Posies still make great records—in particular, 2010's Blood/Candy, which saw the band return to the bouncy Hollies worship of their earliest material. MORGAN TROPER
9 pm, Doug Fir, $22-25
Oregon Tradeswomen's 26th Annual Career Fair
Whether you're a budding or established tradeswoman or a recruiter interested in equity, the 26th annual Oregon Tradeswomen Career Fair is the place to be. Offerings include seminars, networking opportunities, workshops, and an app to navigate it all. Past workshops include Climb a Utility Pole, Wire a Light and Switch, and more. Head to tradeswomen.net for more info EMILLY PRADO
9 am, NECA-IBEW Electrical Training Center, free
Sam Coomes, Lori Goldston, Paper Gates
With nothing more than his trusty vintage organ, mid-'60s rhythm box, and restless vocal attack, Portland indie rock fixture Sam Coomes twists up off-kilter-yet-groovy experimental pop that springs to life like a circuit breaker being magically flipped on at some long-abandoned carnival midway.
9 pm, The Fixin' To, $8
Alela Diane, Mariee Sioux
Alela Diane's new album Cusp is, first and foremost, about her experience becoming a mother, and perhaps more indirectly about the way that identity has intersected with her preexisting identity as a musician. Since her 2006 debut, The Pirate's Gospel, the Portland singer/songwriter's records have cataloged different chapters of life, with incisive lyrics that often source metaphors from the natural world, rootsy acoustic guitar melodies, and Diane's powerful, magnetic voice. CIARA DOLAN
8 pm, The Old Church, $15, all ages
Dave Attell & Jeff Ross
Two of the comedy's biggest names join forces for the "Bumping Mics" tour, giving you two chances to catch the host of Insomniac and the "The Roastmaster General" on stage together at Revolution Hall for what's sure to be a no holds barred event.
7 pm & 10:30 pm, Revolution Hall, $42.50
Yonatan Gat, Abronia
My first experience with Israeli-born guitarist Yonatan Gat was about a decade ago with his now-defunct maniacal punk band Monotonix. While vocalist Ami Shalev was typically the center of attention—scaling walls, using audience members as tackle dummies—it was hard not to be mesmerized by Gat, who had a Jimmy Page-esque flair about him. He's an incredible guitarist, but even if he only knew three chords, he'd still wield that guitar like a rock 'n' roll weapon. Gat now performs under his own name, recruiting musicians of equal ability and blowing audiences away. If there's a guitar god for the new millennium, it's Yonatan. So help me Gat. MARK LORE
9:30 pm, Bunk Bar, $12-14
Match Cut Movie Club
Normally, the Match Cut Movie Club is just a one-shot mystery box: you buy a ticket, and you get surprised with a cinematic classic, be it American Graffiti, Lone Star, or The Birds, for example. But this time, Hotel deLuxe is making a whole damn day out of it, with a six film, 13-hour marathon that begins with some Saturday Morning Cartoons before sprinkling in vintage commercials and mini-documentaries between four all-ages-appropriate features and two for-the-grown-ups-only movies. RSVP at matchcutmovieclub.com
10am, Hotel deLuxe, $20, all ages
Portland Timbers vs. Los Angeles FC
Mexican international star Carlos Vela and the rest of the newly-minted Los Angeles side make their way to Providence Park for the team's first-ever meeting with the Timbers.
noon, Providence Park, $29.50-165, all ages
Slay
Slay is a hip-hop party for LGBT, minorities, and open minded people, providing yet another safe space to twerk, blow off steam, and be yourself in our little sanctuary city. JENNI MOORE
9 pm, Holocene, $10
Pepper + Bones Presents: Burlesque & Variety Show
Pepper and Bones' sprawling cabaret extravaganza returns to the Funhouse Lounge, with perfromances from Hai Fleisch, Honeydew La Roux, and Babs Jamboree. Hosted and produced by Wanda Bones and Dee Dee Pepper.
10 pm, Funhouse Lounge, $15
Portland's Prom
Save the date and break out your nice dress or fancy slacks, because Portland's Prom is returning for its 9th year, featuring a professional photo booth by DAbooth, music from Chanti Darling, Just People, The Adio Sequence, Worth+Marcott, and DJ Demetri, and plenty of punch served up in a lavish setting.
8 pm, Star Theater, $15-20
---
Sunday
Southeast Sunday Parkways
It's bike month, so what better way to spend a sunny Sunday than pedaling around on streets free of traffic? There will be vendors, music and activities to join in along this adorable seven-mile ride that passes through Laurelhurst, Sewallcrest, Colonel Summers and Ivon Parks. KELLY KENOYER
11am, Various Locations, free, all ages
Pitch, Please!
Perhaps you've heard about local artist/funny person Carolyn Main's great new card game Pitch, Please!, in which players choose a classic movie trope from a deck, and then "pitch" an original idea for a film within 60 seconds. Well, now this concept just got funnier—because Pitch, Please! is now LIVE ONSTAGE, and will be played out for your endless amusement by some of the most hilarious comedians in town including Amanda Arnold, Kat Buckley, as well as previous Mercury Geniuses of Comedy, Mohanad Elshieky and Nariko Ott! If you love movies and comedy, you won't want to miss this. WM. STEVEN HUMPHREY
8 pm, Siren Theater, $5
Illmaculate, OnlyOne
The St. Johns-based MC known for his battle rap and freestyle skills and his role in the local hip-hop collective Sandpeople takes over Mississippi Studios for a hometown EP release show along with OnlyOne.
9 pm, Mississippi Studios, $10
Moorea Masa & the Mood, Raquel Rodriguez, Maarquii
For many in the Portland music scene (myself included), Moorea Masa first grabbed our collective attention as a vocalist in Ural Thomas and the Pain. She's since gone on to work with the Brent Knopf/Matt Berninger collaboration El Vy and sung for the Decemberists and kd lang, but concurrently, Masa's also been proving herself an artist fully deserving of her own spotlight. Tonight marks the local record release show for Masa's first solo album, Shine a Light, a soulful, magnanimous collection of songs that sounds fully contemporary even as it boasts vintage garnishments like whirring Hammond organ and Motown-esque stabs of strings. Masa's voice would likely sound fantastic in front of any backdrop, but Shine a Light is the perfect showcase for her terrific voice, tinged with soul, R&B, folk, and pop. It's an album good enough to turn Masa into the kind of superstar she so clearly is destined to become. NED LANNAMANN
8 pm, Doug Fir, $10-12
The Glitch Mob, Elohim, Anomalie
The LA-based electronic music group spearheaded by edIT (Edward Ma), Boreta (Justin Boreta), and Ooah (Josh Mayer) bring their shapeshifting industrial beats back to Portland for a headlining show supporting their latest album, See Without Eyes.
8 pm, Roseland, $28
Molly Crabapple, Lidia Yuknavitch
Award-winning artist and writer Molly Crabapple reads from Brothers of the Gun, an illustrated coming-of-age memoir detailing the life of Syrian freelance journalist Marwan Hisham. Crabapple will be joined in conversation by Lidia Yuknavitch, author of The Book of Joan and The Small Backs of Children.
7:30 pm, Powell's City of Books, free
The 7th Voyage of Sinbad
Ray Harryhausen's 1958 masterpiece showcases not only his technical skills, but also the boundless imagination that inspired 1,000 careers—including those of James Cameron, George Lucas, and Tim Burton. H. PERRY HORTON
2 pm, NW Film Center's Whitsell Auditorium, all ages
Mahler's Seventh Symphony
Conductor Carlos Kalmar and the Oregon Symphony cap off the 2017/18 Classical Series with a performance of Mahler's "Song of the Night."
7:30 pm, Arlene Schnitzer Concert Hall, $24-120, all ages
Depressed Cake Shop
This one-day pop-up shop raises awareness and money for mental illness using the power of baked goods. Gray cakes and cookies, often brightly colored on the inside, are sold and encourage folks to speak openly about mental health issues. This event will benefit Baby Blues Connection in support of mothers and families working through perinatal mood disorders. EMILLY PRADO
1 pm, Opal 28
9th Annual Kenton Street Fair
Kenton celebrates itself in grand style (as it always does - it's World Famous, after all) with over 80 vendors, local food and drink, and three live music stages playing for as many families as can gather under the gentle shadow of that big-ass Paul Bunyan statue.
10am, Paul Bunyan Statue, free, all ages
Don't forget to check out our Things To Do calendar for even more things to do!