Sometimes this city really does feel like some sort of wonderland. A pedal-powered wonderland, fueled by delicious beer, where you can look to your left and see literal dragons in the river. It almost sounds like a level out of some crazy-delirious video game based on a cartoon or something, right? But nah. That's just Portland this weekend. And that's not even a quarter of the magic on tap, much less the half; hit the links below and (over) fill your cup accordingly.
---
Jump to:
Friday
|
Saturday
|
Sunday
---
Friday, Jun 8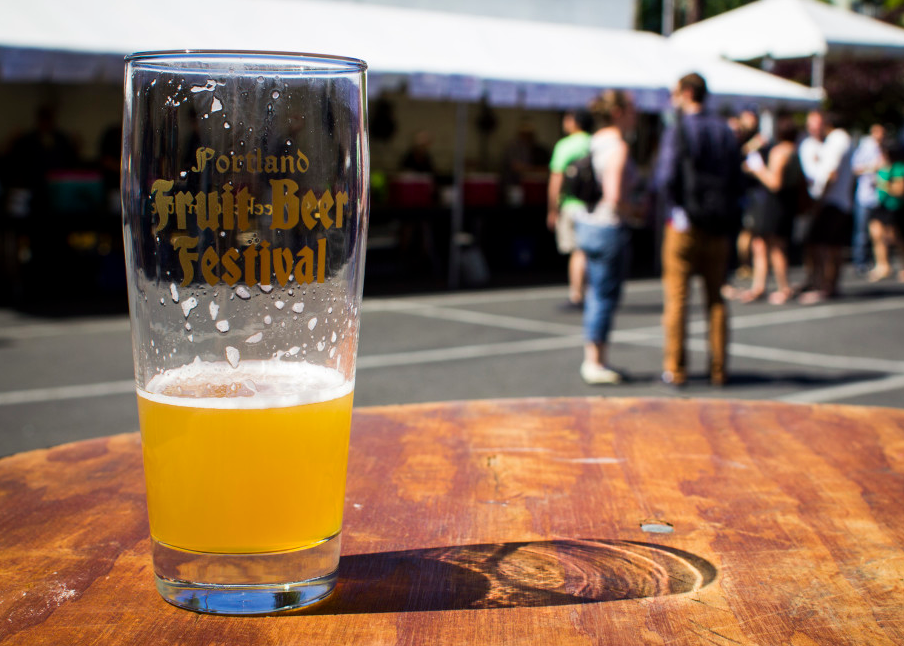 Portland Fruit Beer Festival
Move over, Bud Light with Lime—fruit beer has matured in recent years to become an apotheosis of the brewer's art, with craft beer makers concocting fruit-featuring styles in every style under the sun. The Portland Fruit Beer Festival gathers the most exciting and refreshing new fruit beers made by your favorite local breweries, with 25 exclusive beers to taste and six ciders. Plus there'll be additional rare fruit beers to try, DJs, great food, and fruit sodas for drivers and kids. Get fruity! NED LANNAMANN
Fri 4 pm; Sat-Sun 11am; Burnside Brewing Co, $20-25
Cartoon Network Game Jam
In 2016, Cartoon Network invited Portland's talented video game development scene to a Game Jam event where they teamed up and created playable indie games within a 48-hour span. Tonight's documentary screening will offer a never-before-seen glimpse into all of the madness, and give you the chance to meet local game makers and go hands-on the fruits of their labor for the first time since the event's after-party. CHIPP TERWILLIGER
6:30 pm, Revolution Hall, free w/ rsvp, all ages
Road House: The Play!
Patrick Swayze gave my friend a ride home once when she was too drunk to drive. He was a true hero and a staple of manly Americana. Road House, the 1989 film, celebrated Swayze's gentle machismo as a "cooler" brought in to civilize a rowdy Missouri nightclub. Road House: The Play!, adapted for the stage in 2010 by Shelley McLendon and Courtenay Hameister, is an uproarious, no-holds-barred, slapstick homage to the film, performed by an outstanding cast of Siren Theater comedy favorites. You'll laugh 'til it hurts! Nobody ever wins a fight, but this show always sells out. SUZETTE SMITH
Fri-Sat 8 pm, Siren Theater, $18-22
Pride Block Party
Friendly House hosts this friendly Pride party whose theme is —surprise—friendliness! Featuring performances from the House of Dott doing their best to shine a light on local LGBTQ talent, as well as a bounce house, face painting, ice cream, barbecue, and more.
5 pm, Friendly House Community Center, free
Barenaked Ladies, Better Than Ezra, KT Tunstall
It's been... two years since Canadian rockers the Barenaked Ladies headlined a show at the picturesque Edgefield lawn. Tonight they return to town in support of their 2017 full-length, Fake Nudes, with support from Better Than Ezra and KT Tunstall.
6 pm, Edgefield, $51.50, all ages
Paul Reiser
Most know him as a sitcom star (Mad About You), through Netflix's Stranger Things, or as the rat-fuck sonofabitch company man in Aliens, but Paul Reiser got his start as a stand-up. Missing his return to that particular art form? That's a bad call, Ripley. It's a bad call.
8 pm, Aladdin Theater, $35, all ages
Dr. Dog, (Sandy) Alex G
The cavernous Arlene Schnitzer Concert Hall might be an odd place to see experimental guitar pop master (Sandy) Alex G when he opens for Dr. Dog Friday night, given the Philadelphia musician's origins uploading DIY bedroom recordings to Bandcamp. But it also could be the perfect venue for the sprawling, rootsy songs from his last record, 2017's Rocket, which feature recurring characters with multi-album story arcs and unexpected instruments like violin and saxophone. Time will tell, but I sincerely hope he performs the album's strange, pummeling hardcore track "Brick" on that big fancy stage. CIARA DOLAN
8 pm, Arlene Schnitzer Concert Hall, $28-45, all ages
Treepeople, The Prids
On June 20, 1991, Portland's Melody Ballroom hosted a pretty significant show, with newly minted major label weirdos Dinosaur Jr. in the headlining slot, up-and-coming "grunge" band Nirvana as main support, and Seattle punks Treepeople opening the night. Shortly thereafter, Treepeople guitarist Doug Martsch left to form his own Boise-based group, Built to Spill, with whom he still slays in an indie guitar-pop-jams sort of way today. Shortly after Martsch left, Treepeople closed up shop, seemingly for good. But a few years ago, Martsch and his old mates got back together to play Treepeople songs at Treefort Music Fest in Boise, and they were motivated to practice and play some "real" shows, per Martsch. Two of those shows happen in Portland this weekend. Expect noisy, jumbled, fuzzed-out, punky alt-rock threaded with Martsch's distinctive sense of melody. See you there, old Northwest heads. BEN SALMON
Fri-Sat 9 pm, Mississippi Studios, $22-25
Erotic City
Why confine Prince's birthday to a single day? That's not how Erotic City's gonna do it; they're taking over the Fixin' To for three nights, with a different DJ each night pulling from their collections to help pay tribute to His Royal Badness.
Fri-Sat 9 pm, The Fixin' To, $7
Corey Pein
Journalist Corey Pein reads from Live Work Work Work Die, exploring the cutthroat and treacherous inner workings of Silicon Valley.
7:30 pm, Powell's City of Books, free
Nighmares on Wax, Catching Flies
Leeds-hailing DJ and electronic music composer George Evelyn bring his influential hip-hop and electronica project back to Portland for a headlining show supporting his latest full-length, Shape the Future.
9 pm, Wonder Ballroom, $20-22, all ages
Nellie McKay
The British-American singer/songwriter and Broadway actress brings her eclectic and playful musical stylings back to the Alberta Rose for a Portland show supporting her latest full-length, Sister Orchid.
8 pm, Alberta Rose Theatre, $20-25
Woolen Men, Fronjentress
Portland trio the Woolen Men bring their infectious jangle pop and rock out to No Fun for an intimate hometown show with support from local country and folk-pop outfit Fronjentress.
9 pm, No Fun, $5
Billy & Dolly, The Zags, Thee Last Go Round
San Francisco's Billy & Dolly headline a night of quality indie pop that goes in some very unique and interesting places.
8 pm, Turn! Turn! Turn!, $5
Female Trouble
Just in time for Pride, the Hollywood Theatre unleashes a new film series: Mondo Trasho. With a title like that, you might be thinking "Hmm... smells like John Waters to me," and oh boy are you gonna get your nose mashed into the plentiful, joyful stink that is the Baltimore bad boy's 1974 queer classic Female Trouble. Honestly, it'd be some sort of cinematic crime if they didn't kick off a trash cinema series with Divine front and center. BOBBY ROBERTS
9:45 pm, Hollywood Theatre, $7-9
---
Saturday, Jun 9
Dragon Boat Races
It's one of the cooler traditions in Portland: Every year, more than 80 teams from all over the world hop in beautifully decorated Chinese dragon boats and race down the Willamette River. Go cheer for whatever dragon tickles your fancy! KELLY KENOYER
Sat-Sun 8 am; Tom McCall Waterfront Park, free, all ages
Pedalpalooza!
Portlanders are uniquely passionate about riding bikes. This passion is gloriously exemplified in June, when Portland's month-long bike fest swarms the city. This year, Pedalpalooza is serving up a healthy dose of whimsical, educational, clothing-optional, and—as always—oddly specific bike rides for the general public. Have a tiny dog that fits in your backpack? Want to watch two guys get married whilst pedaling around Ladd's Addition? Need a reason to wear a Tiki shirt? Passionate about urban goats? There's a ride for you this week. ALEX ZIELINSKI
Various Locations, click here for a complete list of rides and times
Drama, Natasha Kmeto, Chanti Darling
Na'el Shehade and Via Rosa definitely live up to the name Drama, but the Chicago duo creates it with subtlety. Shehade's beats aren't overbearing, and instead hang mystically behind Rosa's supple vocals. The project's mellow dramatics could score both late-night dance parties and solitary introspection. It's Drama's first time playing in Portland, and with the always excellent Natasha Kmeto and Chanti Darling rounding out the bill, Doug Fir is guaranteed to be a hotspot for some smooth and sensual vibes. CERVANTE POPE
9 pm, Doug Fir, $13-15
Portland Timbers vs. Sporting Kansas City
The Timbers play host to an always tough Kansas City side in a re-match of the epic 2015 Western Conference Knockout Round that kick-started Portland's run to their first-ever MLS Cup.
7:30 pm, Providence Park, $42-175, all ages
OMSI After Dark: Tapas & Tequila
I don't even know if this has anything to do with science, really, but hell: It's right there in the title. You like tapas? You like tequila? There's a bunch of those things in a science museum that isn't letting little kids in for the night.
6 pm, OMSI Empirical Theater, $40-70
Frankenstein's Comic Book Swap
With admission only a buck, it's hard to justify not swinging by Frankenstein's Comic Book Swap—which returns this weekend to take over the Eagles Lodge with table after table and crate after crate of classic comics, weird old magazines, battered VHS tapes, dog-eared paperbacks, creepy toys, and all sorts of half-forgotten pop-culture ephemera. Chances are good you'll find something you had no idea existed, and chances are also good you'll end up taking it home. ERIK HENRIKSEN
11 am, Eagles Lodge (F.O.E.#3256), $1-5, all ages
Wax Idols, Screture, Dead Spells
Hether Fortune and her Oakland band bring their goth-tinged pop and post-punk sounds back through Portland for a headlining show supporting their latest full-length, Happy Ending.
8:30 pm, Tonic Lounge, $10
Portland Scandinavian Midsummer Festival
A Summer Solstice celebration, Norwegian-style, featuring live music, food, a beer garden, a Maypole raising, and of course, dancing around that Maypole.
11 am, Oaks Amusement Park, $7-17, all ages
Sugarland, Brandy Clark, Clare Bowen
The first big tour from country duo Sugarland is called "Still the Same." That's also the title of the first single from their forthcoming album Bigger. But it feels more like a reminder (or even a plea) for their fans: Jennifer Nettles and Kristian Bush may have put the project on ice in 2012 to work on solo endeavors and raise families, but now that they've reunited, nothing has changed. One spin of the tracks that Sugarland has released so far, including a duet with Taylor Swift, should put any worries to bed. Nettles and Bush still truck in the big choruses, heartfelt lyrics, and musical dramatics that pushed earlier singles like "Stuck Like Glue" and "It Happens" into heavy rotation on country radio. Sugarland's journey back onto the charts looks like it might be a steep climb, but the path seems pretty clear.
7 pm, Moda Center, $30-109, all ages
The Mystery Box Show
A special Pride Week installment of Portland's long-running storytelling series dedicated to the sexier side of things hits the Alberta Rose Theatre with true tales from Jenny Brown, Jessica Stewart, and more.
7 pm, Alberta Rose Theatre, $22-57
---
Sunday, Jun 10
Moorea Masa & the Mood, Blossom
For many in the Portland music scene (myself included), Moorea Masa first grabbed our collective attention as a vocalist in Ural Thomas and the Pain. She's since gone on to work with the Brent Knopf/Matt Berninger collaboration El Vy and sung for the Decemberists and kd lang, but concurrently, Masa's also been proving herself an artist fully deserving of her own spotlight. Masa's first solo album, Shine a Light, is a soulful, magnanimous collection of songs that sounds fully contemporary even as it boasts vintage garnishments like whirring Hammond organ and Motown-esque stabs of strings. Masa's voice would likely sound fantastic in front of any backdrop, but Shine a Light is the perfect showcase for her terrific voice, tinged with soul, R&B, folk, and pop. It's an album good enough to turn Masa into the kind of superstar she so clearly is destined to become. NED LANNAMANN
8 pm, Rontoms, free
The Sea & Cake, L.A. Takedown
The influential trio out of Chicago bring their jazz-tinged indie rock and post-rock through the Doug Fir Lounge in support of Any Day, the band's first new album since 2012's Runner.
9 pm, Doug Fir, $18-20
Iceage, Mary Lattimore
By all accounts, Beyondless—the new album from Denmark's ambitious punk band Iceage—is an artistic triumph. And that's probably true: Iceage is good. But don't let the relative quietude of tonight's opening act fool you into a chit-chat with friends near the back of the venue. Mary Lattimore is an in-demand harpist who's played with big names like Kurt Vile and Sharon Van Etten, and she's also a composer who experienced something of a breakthrough with her 2016 album At the Dam. But it's her new one—Hundreds of Days—that captivates in current times. Inspired by her move from Philly to California and powered by an artistic residency on the Pacific Coast, Hundreds of Days finds Lattimore experimenting with vocals, keyboards, guitars, and theremin, building gorgeous and airy songs around her mastery of the 47-string harp. It's a positively entrancing listen, so go to the show ready to be entranced before you dance. BEN SALMON
9 pm, Mississippi Studios, $15
A Hawk and a Hacksaw, Luz Elena Mendoza
Forest Bathing, the new album from Neutral Milk Hotel drummer Jeremy Barnes' project A Hawk and a Hacksaw, explores American and Eastern European folk music and fuses both traditions with 10 instrumental tracks. Sunday night's your chance to experience these immersive sounds live, and it's also an opportunity to see Y La Bamba frontwoman Luz Elena Mendoza perform solo. CIARA DOLAN
8 pm, Mississippi Studios, $13-15
Spec Script: Westworld
A live episode of the Rivercity Podcast Federation program, where a staged reading of Anthony Hudson's script for a Westworld episode is performed live by local comic talent.
7 pm, Kelly's Olympian, $7
Avery Sunshine
Pennsylvania-hailing singer/songwriter and pianist Avery Sunshine brings her gospel-rooted vocals and contemporary R&B and soul sounds to the Jack London Revue for the Portland stop on a tour supporting her latest full-length, Twenty Sixty Four.
9 pm, Jack London Revue, $25
One Flew Over the Cuckoo's Nest
This 1975 adaptation of the novel by Oregonian Ken Kesey was Miloš Forman's big splash in American mainstream cinema, and won about a bazillion Oscars. Filmed in Salem, it's an incredibly bleak satire dealing with distribution of power; Forman, an exiled Czech, is preoccupied with the oppression of the individual at the hands of those in control—in this case, the nurses and doctors at an insane asylum. But it's a comedy, isn't it? Jack Nicholson mugs it up as a con artist posing as a lunatic to avoid hard time; his skewed mindset and goofball antics inject some life into the other crazies. Sure, it doesn't end well, but the movie isn't afraid to entertain even as it asks tough questions. NED LANNAMANN
7 pm, Hollywood Theatre, $7-9
Don't forget to check out our Things To Do calendar for even more things to do!