---
Jump to:
Readings & Talks
|
Performance
|
Visual Arts
---
Readings & Talks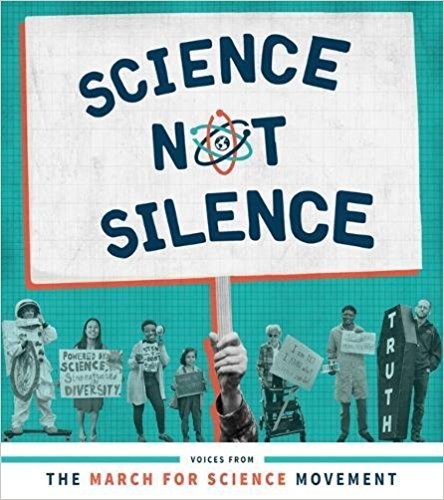 Stephanie Fine Sasse
There's no shortage of people, places, and things that've been fucked over by Trump (sometimes literally). But amidst all the human rights abuses and dictator-pandering, the Trump Administration has had one constant foe: science. From decimating the American West to cozying up with oil barons to sabotaging the EPA and NASA, Trump's waged a campaign against fundamental facts that will have devastating consequences for generations. With Science Not Silence: Voices From the March for Science Movement, editors Stephanie Fine Sasse and Lucky Tran collect the stories of those fighting back—and who don't plan to stop anytime soon. Tonight, Sasse will be joined by activists from Portland's March for Science at Powell's. ERIK HENRIKSEN
Wed 7:30 pm, Powell's City of Books, free
Amber Tamblyn, Lidia Yuknavitch
Actress and writer Amber Tamblyn reads from her debut novel Any Man, which blends poetry, prose, and suspense to explore the harmful ways in which our society perpetuates rape culture. Tamblyn will be joined in conversation by Lidia Yuknavitch, author of The Chronology of Water.
Sun 7:30 pm, Powell's City of Books, free
Amy Fusselman, Elena Passarello
Amy Fusselman reads from Idiophone, a collection of meditative essays exploring art-making, motherhood, and addiction. Fusselman will be joined in conversation by Elena Passarello, author of Animals Strike Curious Poses.
Tue 7:30 pm, Powell's City of Books, free
IRL Reading Series
Volume three of the IRL Reading Series sets up shop for at ADX for a late June evening of readings from Gary Gamza, Mamie Stevenson, Aubrey Gates King, Katie Nguyen, and Izzy Ferguson.
Fri 7 pm, Art Market PDX
---
Performance
David Cross
The award-winning star of Mr. Show and Arrested Development brings his latest stand-up through the Crystal Ballroom for the Portland stop on the "Oh Come On" Tour.
Sat 9 pm, Crystal Ballroom, $35-40
Dear Sugar's Summer Party
Dear Sugar Radio's Cheryl Strayed and Steve Almond return to the Revolution Hall stage for a summer party featuring special guests, live questions, and music from Portland's own Wonderly.
Sat 8 pm, Revolution Hall, $25-28
J Names
A collection of all the improv talent in Portland that begins with the letter J. Amazingly, there's a ton of it. With special guests Katie Nguyen and Campus Brochure.
Fri 9:30 pm, Curious Comedy Theater, $10
---
Visual Arts
Apparitions
PNCA's Low-Residency MFA program presents a new series of Plein Air paintings of the sky and forest by Milwaukee-based artist John Riepenhoff, created during the evening hours and typically by light cast from lanterns or campfires.
PNCA, Through Jul 12
Germination
Xander Marrow and Rocket feature their most recent photographic works, both using small-scale images to capture the important moments of self-actualization in a DIY artist's life.
PSU's White Gallery, Through Jul 27
Kanani Miyamoto
Murouroa Mururoa: Big Lies is a new exhibition of works from the Portland-based printmaker Kanani Miyamoto, intended to challenge the art community's automatic embrace of Paul Gauguin's colonialist erasure of indigenous perspectives.
Killjoy Collective, Through Jul 21
Lebowskiland
A special 20th Anniversary tribute to the Coen Brothers comedy classic, curated by illustrator Michael Buchino, featuring pieces by Aaron Draplin, Ryan Sprague, Jean Julien, Jeff Bridges (!), and more.
Land, Through Jul 22
Don't forget to check out our Things To Do calendar for even more things to do!