---
Jump to:
Readings & Talks
|
Performance
|
Visual Arts
---
Readings & Talks
Tin House Summer Reading Series
The Portland-based literary magazine and book publisher presents at series of free summer readings at Reed College's Cerf Amphitheater, with an array of acclaimed novelists, poets, nonfiction and short story writers sharing excerpts from their latest works.
Sunday, July 8th:
Rosalie Knecht, Camille T. Dungy, and Benjamin Percy
Monday, July 9th:
Robert Boswell, Lacy M. Johnson, and Lesley Nneka Arimah
Tuesday, July 10th:
Antonya Nelson, Shane McCrae, and Lauren Groff
8 pm, Reed College Cerf Amphitheater, free
Chris C. Cilla
Comics artist and screenprinter Chris Cilla follows up his 2014 Revival House comic Labyrinthectomy/Luncheonette with Blue Onion, which continues Cilla's surrealist sex, drugs, and outer space adventure— both inward and intergalactic. Known best for his 2010 graphic novel Heavy Hand, you only need to take a peep at Cilla's style to know if his comics are for you. But if you're on the fence, Cilla's absurdist humor will surely seal the deal. SUZETTE SMITH
6 pm, Floating World Comics
Chelsea Hodson, Melissa Febos, Sophia Shalmiyer
A reading from three exciting writers, featuring Hodson's collection of essays Tonight I'm Someone Else, Febos' Abandon Me, and Shalmiyer's upcoming memoir Mother Winter.
7 pm, Mother Foucault's
Tin House Summer Workshop Series
The Portland-based literary magazine and book publisher presents a full-slate of summer workshops at Reed College, with an array of authors, poets, and guests sharing their latest works and offering insight into their creative process.
Reed College, for a complete schedule of workshops, click here.
---
Performance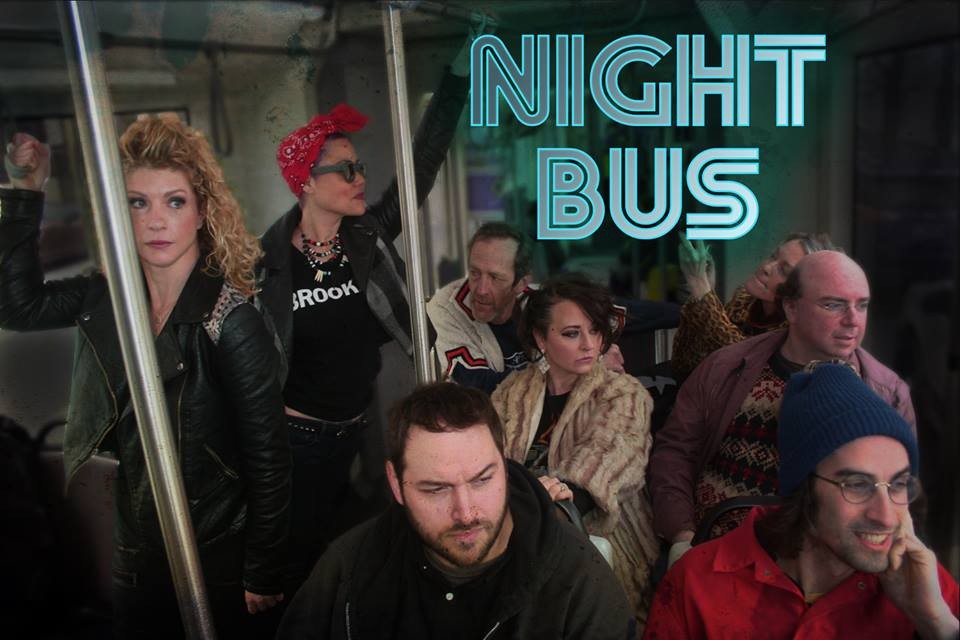 Night Bus
Portland comedy all-star Brooke Totman leads this new sketch troupe through a night full of wild absurdity, courtesy performers Alan Burrell, Anna Nicholas, Darius Pierce, Michael Zimmer, Genevieve Sage, and Ted Rooney.
Thurs-Sat 7:30 pm, Shoe Box Theater, $15
Finding Soul: A Constellation of Stories
Coho's Summerfest for 2018 continues with this multimedia dance narrative from Andrea Parson and Susan Banyas, featuring performers Andrea Parson, Megan Dawn, and Stephanie Schaaf bringing to life unique "soul stories."
Thurs-Sun 7:30 pm, CoHo Theater, $20
Lez Stand Up: Summer Love
You know that feeling you get when you come home, ditch your binding patriarchal garments for a loosely draped caftan, take a long sip from a goblet flowing with the tears of anti-abortion politicians, and decide over coven group text which powerful man to topple next, all while you watch Samantha Bee and slide into the 20 pillows you keep on your bed at all times? That's what Lez Stand Up shows are like. Bless. MEGAN BURBANK
Sat 8 pm, Siren Theater, $12-15
Raising Coen
Deep End presents this improv showcase aiming to harness the style and feel of the Coen ouevre, while making up stories on the spot every night, and seeing how a Coen-esque character might react to the moral quandaries that unfold as a result.
Fri-Sat 7:30 pm, Deep End Theater, $16
---
Visual Arts
Fragmented Fruits
Local artist M3AT presents new works created over the past year, representing the artist's experiences with loss, depression, and infertility.
Wolff Gallery, Through Sept 2
Beth Kerschen
"Portland Retrospectives" is multi-disciplinary artist Beth Kerschen's new mixed-media series exploring the evolution of the Portland cityscape over the years.
Fri 6 pm, Gallery @ the Jupiter Hotel
cover-up
The first solo exhibition for Sarah Mikenis, cover-up features works inspired by Los Angeles' fashion district, and specfically, the colors and patterns in the bolts of fabric set up on the sidewalks.
Nationale, Through Aug 3
Finding Figures
Project Object hosts this group exhibition hosted by Stockpiler, exploring aesthetics, humanity, gender identities, and the distances between desire and disgust.
Project Object, Through Jul 31
Household
Hannah Jenkins' new solo exhibition features copperplate etchings, monotypes, and collage interpreting imagery and memories from her family home.
Erickson Gallery, Through Aug 3
Kiln to Kitchen
Inspired by the Farm to Table movement, Kiln to Kitchen showcases locally sourced and made tableware created by over 12 local and regional artists.
Eutectic Gallery, Through Jul 28
Meryl Pataky
Oakland's Meryl Pataky returns to Stephanie Chefas for an exhibition of her newest works, using neon tubes, black pigment, and resin in her sculptural pieces, representing the self-awareness in the light.
Stephanie Chefas Projects, through Jul 28
Don't forget to check out our Things To Do calendar for even more things to do!