Welcome to the back half of what's probably (if you scheduled it just right) a really long Fourth of July weekend. Hopefully you spent Thursday recuperating from all the barbecue and blowing shit up, because you'll need to be fully rested to tackle the laundry list of awesome stuff on deck for the next 72 hours. Two legendary comedians team up for a night you'll forget for the rest of your life; Kelly's Olympian is pouring some fashionable, funny, and funk-filled Juice for you to guzzle down; DJ Jonathan Toubin returns to Portland and he's bringing the New York Night Train dance party with him, The Last Podcast on the Left looks to spook up Revolution Hall, and Lents basically opens up all of its garages for your purchasing perusal. That's just a fraction of the fun on the menu this weekend; hit the links below and load your plate accordingly.
---
Jump to:
Friday
|
Saturday
|
Sunday
---
Friday, Jul 6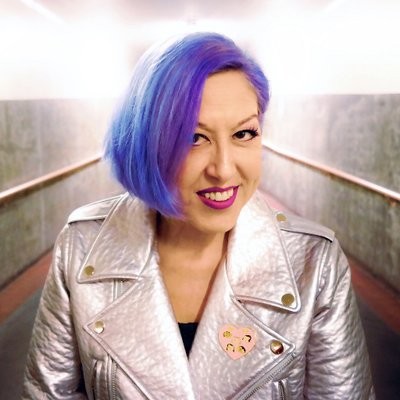 The Damned, Alice Bag, Giuda
Alice Bag is known for fronting seminal Los Angeles punk band the Bags in the 1970s, but her legacy doesn't stop there—the Chicana icon is also an author, educator, and feminist archivist. In March, Bag released her second solo album Blueprint, which blends personal and political lyrics over hook-heavy punk rock melodies. A major highlight is the equal pay anthem "77:" "I make 77 cents on the dollar/It's not fair, and it makes me wanna holler!" CIARA DOLAN
8 pm, Crystal Ballroom, $25-28
Karma Rivera, Maarquii, Fountaine, [E]mpress
Along with bubbly, fierce and fashion-forward host Masyn Wade, tonight's lineup of Portland hip-hop artists is one of the most enticing I've seen in a while. Headlined by rapper Karma Rivera, who's known for her lively, rabble-rousing sets and house-party anthems, the lineup's a mixed bag. There's also the ultra-talented rapper/singer/dancer Maarquii on the bill—their music a mix of experimental hip-hop, R&B, and industrial booty-house music—and eclectic rapper/producer Fountaine, whose hyper-lit energy and innovative genre fusions will surely activate the crowd. It's also a good opportunity to check out opener [E]mpress, another Portland hip-hop artist on the rise. JENNI MOORE
9 pm, Doug Fir, $10-13
KP, Layperson, Drunken Palms, No Mutuals
Under the Black Belt Eagle Scout moniker, Katherine Paul (AKA KP) has mastered the art of delivering a searing-yet-tender blend of post-rock in both the live setting, and on her excellent 2017 album, Mother of My Children. Tonight, Paul steps out for a rare solo performance, and with proceeds going to benefit an array of great organizations, including Bikes for the World and Bikes Not Bombs, catching this stripped-down set should be at the top of your weekend to-do list. CHIPP TERWILLIGER
8 pm, Turn! Turn! Turn!, $8
Bead and Gem Faire
If you're like me and have gradually grown into a sage-burning weekend witch, who believes in the powerful frequency of crystals and has even started building a modest collection of gemstones, you should probably get your ass down to the Bead and Gem Faire. There'll be millions of beads, as well as gems, crystals, minerals, jewelry, gold and silver, and many other earthly treasures. The Gem Faire's dealers are direct importers, wholesalers, and manufacturers, so you'll find lower prices for glorified rocks than you do at boutiques. JENNI MOORE
Jul 6-8; Fri noon, Sat & Sun 10 am; Oregon Convention Center, $7, all ages
Sergio Leone's The Man With No Name Trilogy
This weekend, the Hollywood Theatre is screening all three films from Spaghetti Western director Sergio Leone's Man with No Name Trilogy: 1964's A Fistful of Dollars, 1965's For a Few Dollars More (the best one, in my humblest opinion), and 1966's The Good, the Bad, and the Ugly. Soundtracked by the great Ennio Morricone, watch Clint Eastwood collect bounties, search for treasure, and rock a sweet-ass poncho—decades before he ever talked to a chair! CIARA DOLAN
Fri 7 pm, A Fistful of Dollars; Sat 7 pm For a Few Dollars More; Sun 6 pm The Good, The Bad, and the Ugly; Hollywood Theatre, $7-9
Siren and the Sea, Fake Fireplace, Mujahedeen
On their brand-new debut LP Borrowed Problems, Fake Fireplace employs the sort of understated pop that fans of early 2000s indie will find comforting. Songwriter Neal Wright's hypnotic compositions follow jagged lines, though they rarely avoid the opportunity to allow a song to unfold into satisfying crescendos, as heard most emphatically on the blooming anthem "School Spirit." It's a far cry from the trippy electronic menageries of Wright's other project, Wave Collector, but flanked by drummer Will Hattman (Down Gown, Months) and keyboardist Ayal Alves (Kelli Schaefer, Siren and the Sea), Fake Fireplace operates in no less engaging terrain. On songs like "Knife to Your Back," the Portland band's gloomy outlook is manifested by ethereal keys, primeval percussive work, and enchanting fingerpicking. Throughout Borrowed Problems (which is being released tonight), Fake Fireplace's tendency toward melodic experimentation is critical to how great the record sounds. RYAN J. PRADO
9:30 pm, Bunk Bar, $10
Tribe Mars, Astro Tan, Dan Dan
Local hip-hop fusion ensemble Tribe Mars bring their funk, soul, and R&B sounds out to Mississippi Studios to head up an eclectic array of local acts.
9 pm, Mississippi Studios, $8-10
The Chicharones, Serge Severe, Glenn Waco, ThatKidCry
In the early 2000s, Portland was engaged in what felt like a war against hip-hop. The few clubs that provided space for hip-hop shows were targeted by police, repeatedly fined, and routinely shuttered. The local scene was driven underground and chased from club to club. One of the most exciting acts in town at this time was the Chicharones, consisting of Canada-born Josh Martinez and Sleep, from long-running Northwest hip-hop crew Oldominion. The duo's performances were light and infectious—part hip-hop, part pop, and part performance art, like early Beastie Boys. With their rapid-fire flows, close harmonies, and lyrics that bounced between social consciousness and comic absurdity, the Chicharones brought humor and fun to what was an otherwise hostile situation. Portland has since called off the war on hip-hop, and the culture has taken off in ways once unimaginable, in part because the Chicharones—and many others in the local scene—never stopped fighting for our right to party. SANTI ELIJAH HOLLEY
6 pm, Paris Theater, $15
The Avett Brothers
It was always apparent that the Avett Brothers were going to be big. Even back when they were a little hillbilly hurricane of a band from small-town North Carolina, their combination of ultra-melodic Americana music, wild-eyed performances, aw-shucks earnestness, and sweet Southern charm couldn't fit inside cramped clubs forever. They were too good—at songwriting, singing, entertaining, and lookin' handsome—to not blow up. That said, who could've predicted that the Avett Brothers—a traditional string band with pop sensibilities and punk energy—would someday sell out (well in advance) three consecutive nights at Edgefield? That place holds thousands! And thousands multiplied by three is a whole heck of a lot of folks. Kudos to the Avett Brothers for not only fulfilling their destiny, but also exceeding it. (I hope they play "Ten Thousand Words.") BEN SALMON
Fri-Sat 7 pm, Edgefield, $49.50
The Last Podcast on the Left
A special live taping of the weekly true crime and comedy podcast that explores the horrors of the world both imagined and real. Hosted by Ben Kissel, Henry Zebrowski, and Marcus Parks.
8 pm, Revolution Hall, $30-45, all ages
Improvisation Summit of Portland 2018
Freewheeling artistic exploration and experimentation is the name of the game at Creative Music Guild's Improvisation Summit of Portland. For two days at Disjecta, more than 40 performers from Portland and beyond will gather and create in a variety of ways, including dance, film, and, of course, music. Portland: You live in a city where this kind of event not only happens, it thrives. You live in a place that appreciates the fringes of artistic expression. Not everyone has access to something like this. At $35 for an all-festival pass and free for folks under age 18, the Improvisation Summit of Portland is a killer deal for two days of sounds you're not going to hear pouring out of just any old club on any given night in this town, and that's a beautiful thing. BEN SALMON
Jul 6-7; Sat 5 pm, Sun 3 pm; Disjecta, For a complete schedule of performances, click here, $18-30
RNB, The Holy Trinity: Rihanna/Nicki/Beyonce
Tonight we will celebrate the only religion worth worshipping, the holy trinity of Rihanna, Nicki Minaj, and Beyoncé—because these three strong, independent women are truly great examples to look up to, and who create soul-lifting music with which to waggle your ass to the heavens. RnB, the Holy Trinity is a dance-heavy celebration of these three saviors, with their best hits, features, and collabs spun by DJ Ronin Roc, along with music videos, a dress-up contest, photo booth, and more. Celebrate the queens in the most joyous way possible. It may not be Sunday, but church is definitely in session. WM. STEVEN HUMPHREY
9 pm, Holocene, $10-12
Jamie Lee
Jamie Lee is best known for appearances on Girl Code, @Midnight, Chelsea Lately, and HBO's Crashing, but her stand-up is as good a place as any to be wowed by not just her punchlines but her presence.
Fri-Sat 7:30 pm & 10 pm, Helium Comedy Club, $17-32
---
Saturday, Jul 7
New York Night Train's Soul Clap and Dance Off, w/ DJ Jonathan Toubin
Legendary DJ Jonathan Toubin returns to Portland with his New York Night Train dance party, playing irresistibly danceable classic soul—and there's the infamous Dance Off competition, featuring an all-star, all-local panel of judges. Toubin was in a freak accident in Portland in 2011 when a cab crashed into his room at the Jupiter Hotel, but he doesn't hold it against us, so let's make sure we all get out and show him the love. NED LANNAMANN
9 pm, Mississippi Studios, $10
Juice
Juice is a monthly showcase where hip-hop, comedy, fashion, and DJs spin under the same roof. Brought to you by Green Luck Media Group's Bryce Trost, and co-producer Shrista Tyree, Juice aims to create a Def Jam-style comedy night where POC comedians and friends can perform sets about their experience in comfort. Each month, Juice picks a local clothing line to include in their show with a pop-up shop and merch booth. Hitting the stage this month are Chris Johnson, Corina Lucas, Milan Patel and Pedro Andrade. SUZETTE SMITH
10 pm, Kelly's Olympian, $10
2nd Annual Lents Garage Sale
There's no better way to spend your Saturday than scrounging through the unwanted possessions of your neighbors. The epicenter is the Tool Library, but garage sales are spread out throughout the neighborhood. Bring some cash so you can get a great deal! KELLY KENOYER
9 am, Green Lents Community Tool Library, Visit Visit lentsgaragesale.com for a complete map of all the participating homes.
A$AP Ferg, IDK, Buddy
A$AP Ferg—quality rapper, trap lord, and coolest member of A$AP Mob—is back to make up the Portland show he postponed in March. With him are opening acts IDK and Buddy. IDK who IDK is, but Buddy is fresh. He grew up in Compton, starring in musicals and attending a performing arts high school before he was discovered by Pharrell Williams, who it turns out is a well-connected guy in the music industry. Which is why Buddy's 2014 mixtape Idle Time included guest appearances by Kendrick Lamar, Miley Cyrus, and Freddie Gibbs, among others, and the first single ("Hey Up There") from his forthcoming debut—Harlan & Alondra, out July 20—features Ty Dollar $ign. More importantly, Buddy is a skilled rapper with a taste for left-of-center beats, old soul, and summer jams. BEN SALMON
8 pm, Roseland, $29.50, all ages
Portland Craft Beer Festival
The Fields hosts this grand kickoff to Oregon Craft Beer Month with a three-day celebration of Portland's (many) contributions to the art of brewing. $25 admission includes a cup and 15 beverage tickets ($30 and 10 tickets if purchased at the door.) Come down and enjoy delicious food and beverage offerings from Base Camp, Lompoc, Migration, Natian, Occidental, Pints, Bridgeport, Coopers Hall, Cider Riot, and many more.
Sat 10 am, Sun noon; The Fields, $25-30
Babehoven, 90s Television, Joypress
As you may or may not know, Good Cheer Records is one of the best labels in Portland, at least if you're into indie pop and rock. They've put out some of the city's best albums in recent years, thanks to a strong roster of artists that includes Turtlenecked, Little Star, Floating Room, and Cool American. Now you can add another name to that list: Babehoven, a local trio made up of singer/songwriter/guitarist Maya Bon, bassist Skyler Pia, and drummer Elias Williamson. The only evidence of their music-making online currently is a five-song EP called Sleep, which proves Babehoven is particularly skilled at gentle, tunefully sad lo-fi pop songs. And there's more where that come from—Good Cheer recently announced they'll be releasing more Babehoven music later this year. BEN SALMON
8 pm, Turn! Turn! Turn!, $8
Lez Stand Up: Summer Love—Ashley Padron, Wendy Weiss, Marita DeLeon, Kirsten Kuppenbender, Bob Wolf, Laura Anne Whitley
You know that feeling you get when you come home, ditch your binding patriarchal garments for a loosely draped caftan, take a long sip from a goblet flowing with the tears of anti-abortion politicians, and decide over coven group text which powerful man to topple next, all while you watch Samantha Bee and slide into the 20 pillows you keep on your bed at all times? That's what Lez Stand Up shows are like. Bless. MEGAN BURBANK
8 pm, Siren Theater, $12-15
Weedeater, Zeke, Sierra
The Bossanova Ballroom serves up an evening of Southern-fried sludge metal from out North Carolina way.
7:30 pm, Bossanova Ballroom, $20
Mic Capes & Drae Slapz, [E]mpress, KayelaJ
Acclaimed Portland rapper Mic Capes headlines a free, all-ages show at Green Noise Records along with support from fellow local hip-hop artists Drae Slapz, [E]mpress, and KayelaJ.
5 pm, Green Noise Records, free, all ages
Gustafer Yellowgold
The Grammy-nominated children's entertainer returns to Portland with a multimedia, audience-interactive live show featuring new stuff alongside his much beloved songs and stories.
11 am, Clinton Street Theater, $6-12
Thunderpussy
Seattle's Thunderpussy dishes out unapologetic rock 'n' roll like it's the air they breathe. They're the perfect band to see if you need a boost in your mood (as we all might, these days). CERVANTE POPE
3 pm, Music Millennium, free, all ages
---
Sunday, Jul 8

Coverpalooza
Spend your Sunday afternoon soaking up rays in the parking lot behind the Church bar, sipping on ice-cold drinks and listening to your favorite jams live. Four special cover bands have formed for this summer throwdown, featuring musicians from local groups like Mini Blinds, Lola Buzzkill, Havania Whaal, and more, and they'll be playing sets of songs by Amy Winehouse, the Stooges, Talking Heads, and the B-52s, so you'll be dancing 'til the sun goes down. NED LANNAMANN
4 pm, Church, $10
Steve Martin & Martin Short
With their excellently named touring show An Evening You Will Forget For the Rest of Your Life, Steve Martin and Martin Short are hitting the Edgefield, and no, that's not a typo: On the high end, tickets are going for hundreds of dollars. BUT ON THE OTHER HAND! It's hard to think of two comedy legends who're more… uh, comedic or legendary than Martin and Short, whose remarkable careers—from stand-up to SNL, from The Jerk to Inherent Vice—have helped define comedy for the past five decades. Seeing two of the Three Amigos having a blast on stage? Yeah. That's worth coughing up some cash. ERIK HENRIKSEN
6:30 pm, Edgefield, $89-225, all ages
The Shivas, Plastic Cactus
A pair of Portland's finest purveyors of psych- and surf-infused garage rock head up the latest installment of Sunday Sessions at Rontoms.
9 pm, Rontoms, free
Neurosis, Converge, Amenra
You and I will die, but Neurosis will live forever. My bones and your bones and even Tom Cruise's bones will be pulverized by time. Neurosis, exempt from all natural laws, will watch us die. They will watch as we merge with mud. They will make a powerful album about our slow decomposition. It will be a triumph, but there will be no humans left to hear it. Neurosis will rule a kingdom of worms and crows, and they will make music for the stars. They'll even play their old stuff. "To Crawl Under One's Skin" will be thousands of years old, hundreds of thousands of years old, but it will still sound fucking punishing. The song will scream across the barren land upon which we once trod and cannonball into the fiery sea. It will be beautiful. It will always be beautiful. CHRIS STAMM
8 pm, Roseland, $27.50-30, all ages
GEAR Con PDX
This years celebrationn of all things steampunk and retro-futurist is World War I-themed for 2018, with workshops on how to glue gears to things and make goggles look cool, panels with some of the world's finest steampunk writers, fashion shows, burlesque, and more.
9 am, University Place Hotel, $35, all ages
Tender Age, The Wild Body, Chip Scout
Portland's Tender Age bring their noise-pop and slow-burning guitar rock through Mississippi Studios to celebrate the release of their latest record, Becoming Real Forever, along with support from the Wild Body and Chip Scout.
9 pm, Mississippi Studios, $5
Redstone Collective
For over 15 years, the Redstone Collective has served indigenous and Latinx communities in the Portland metro area through sweat lodges, art, spirituality, and performance. The collective is currently offering mentorship to youth and is in the midst of preparing a large art showcase highlight the contributions of youth who are incarcerated. Learn more about their invaluable work at the group's first fundraiser and enjoy food, a silent auction, raffle, performances, and more. EMILLY PRADO
2 pm, p:ear, free
Backyard BBQ: A Cannabis Industry Appreciation Party
The title may make it sound like this is an exclusive sort of barbecue, but appreciating the cannabis industry is something anyone can do, and as such, anyone can roll into the White Owl and get themselves a plate (or two) while enjoying the sounds of Flamingosis, DJ100Proof, Lamar Leroy, Roane Namuh, and Freaky Outty. Hosted by Reva DeVito.
3 pm, White Owl Social Club, $10
Planet Damn, Supercrush, Big Bite, Born Upset
Mark Palm is one of the West Coast's most versatile—and consistent—songwriters. As a guitarist in the band Devotion, Palm channels classicist proto-metal, while his songs in the San Francisco-based group Modern Charms recall '90s shoegaze. With his most recent project, Supercrush, Palm applies his Midas Touch to pining, painfully tuneful power-pop. Supercrush has been a shameless singles band from the very beginning, which makes sense, given that this genre doesn't typically lend itself too well to the LP format. Since 2013, Supercrush has released a quartet of excellent 7-inches, the latest of which was released this past April. But the best of the bunch is still 2015's "I Don't Want to Be Sad Anymore"—a sugary blast of technicolored bliss that, like all the best power-pop songs, belies a distinctly depressing set of lyrics. MORGAN TROPER
9 pm, High Water Mark, $8
We Are Scientists, Beverly
The California-based electro rock and post-punk duo spearheaded by guitarist/vocalist Keith Murray and bass guitarist Chris Cain head back up the coast in support of their 2018 album, Megaplex.
9 pm, Doug Fir, $15-17
Don't forget to check out our Things To Do calendar for even more things to do!