I hope you took the opportunity to rest up somewhat between last weekend and this one (which might be harder than it seems considering there are still slackjawed dipshits setting off fireworks it's almost August you fucking selfish firebug cocksplats knock it the fuck off already) because you're gonna need that energy to fully enjoy the cornucopia of festival frivolity that is Portland. There's PDX Pop Now, the Cathedral Park Jazz Festival, the PDX Latinx Pride Festival 2018, the Portland Queer Comedy Festival, Tea Fest PDX, Zenger Farm's 4th Annual Hoedown, The Clinton/Division Street Fair & Parade, the Zodiac Kiki Ball, and the inaugural VegOut Vegan Beer and Food Festival (mops brow). Those are just the festivals. That's not getting into the litany of awesomeness that are all the concerts, comedy nights, and film screenings in town this weekend. Hit the links below and load that plate accordingly.
---
Jump to:
Friday
|
Saturday
|
Sunday
---
Friday, Jul 20
Cathedral Park Jazz Festival
As if you need an excuse to hang outside on a summer's day in one of Portland's most beautiful parks—but here it is, the annual Cathedral Park Jazz Festival, three days of free, local jazz smack-dab in the middle of summertime. The solid lineup includes the best on the local scene, plus there's a beer garden, a food court, and the stunning St. Johns Bridge overhead. NED LANNAMANN
Fri 5 pm; Sat-Sun 1 pm; Cathedral Park, free
Portland Queer Comedy Festival
Are you ready to laugh all weekend long? Portland's Queer Comedy Fest is the place to do it! Now in its second year, the fest—which primarily showcases queer comedians but also contains a few friendly Portland allies (the One Straight Show on Sun, 6 pm)—draws talent from around the county to four stages for four hilarious fun-filled nights. This year's lineup includes Irene Tu (SF), Jame Adomian (LA), Jason Stuart (LA) and many other greats from across the US (though, let's be real, mostly LA). Portland's robust and local talent also makes a powerful showing. The Keep Portland Queer (Thurs, 9 pm) lineup looks especially funny, with local joke monsters like Whitney Streed, Chris Ettrick, and D. Martin Austin—whose ridiculous party descriptions you've read in the Mercury's Party Review column. The fest includes some improv shows like Rants Off / Dance Off (Sat, 8 pm) and don't miss the Bingo (Sun, 4 pm) reads with drag queens Bolivia Carmicheals and Valerie DeVille. Did I mention that Portland's Queer Comedy Fest is the only multi-day, multi-stage queer comedy fest in our entire dern country? This fest is something to be proud about. SUZETTE SMITH
Fri 6 pm; Sat 2 pm; Sun noon; Various Locations (Across Portland) click here for a full list of performers and venues
Bombino, The Dogon Lights
For the past several years, the droning desert blues of the Tuareg people of Saharan Africa has been growing in popularity around the world, to the point where the New York Times recently called it "arguably the most successful world music genre to break through since reggae." The Nigerien guitarist known as Bombino has been one of the genre's guiding lights, but after recording his last three albums in America (with big-name producers like the Black Keys' Dan Auerbach and Dirty Projectors' Dave Longstreth), he decided to record his brand-new record, Deran, closer to home. Bombino ended up at a studio owned by the king of Morocco, where he and his band laid down an intoxicating blend of dusty rock, swaying rhythms, mellow blues, entrancing vocals (sung in the Tuareg language of Tamashek), and some of the finest guitar-playing this version of Earth has to offer. BEN SALMON
9 pm, Star Theater, $25
The Zodiac Kiki Ball
The incredibly talented Portland Ballroom organizers are hosting a zodiac-themed kiki ball at the Portland Art Museum in honor of cancer season and all things astrological. A portion of all sales will benefit Pueblo Unido PDX and SMYRC. Be sure to bring unopened menstrual products for donation to the Portland Menstrual Society (and PSU Queer Resource Center) and arrive early to check out the exhibits. Aren't familiar with the rich, significant history of ball yet? Come prepared by reading my December 2017 Mercury feature on the scene and checking the Facebook event page with tons of research. EMILLY PRADO
8 pm, Portland Art Museum, $25-50
Gaytheist, Rubella Graves, Minoton
If the music of Gaytheist were a vehicle, it would be a semi, late on its delivery, blazing down I-5, the speed limit only a laughable suggestion as the trucker begins to have Tron-like hallucinations from 38 hours of no sleep and caffeine-pill cocktails. With only three members, Gaytheist leaves you wondering how they create such a heavy, intricate layering of sound. CAMERON CROWELL
9 pm, Tonic Lounge, $10
The Low Anthem, The Ophelias
The Providence-hailing quartet bring their experimental indie folk and rock through Mississippi Studios in support of their latest full-length, The Salt Doll Went to Measure the Depth of the Sea.
8:30 pm, Mississippi Studios, $16-18
Melvins
The Pacific Northwest legends bring their sludge metal and experimental rock back to town for an all-ages show supporting their latest full-length, Pinkus Abortion Technician.
8 pm, Wonder Ballroom, $20-23, all ages
Bone Thugs-N-Harmony
Hot on the heels of their performance at last year's Boo Bomb, Bizzy Bone, Wish Bone, Layzie Bone, Krayzie Bone, and Flesh-n-Bone roll back into Portland for a headlining club show supporting their 2017 album, New Waves.
9 pm, Crystal Ballroom, $25-40
Melt, Plastic Cactus, Baywitch, Swamp Meat
Melt serve up garage-pop swirling in the fuzzy headspace occupying the mind of frontman Jeff Boyardee.
8 pm, Turn! Turn! Turn!, $8
Mira Death, Anothernight, Tsar Anise
Over the past couple of years, Portland musician Mira Death dropped two vampire-centric releases with her glam-punk band Sweeping Exits—the 2016 EP The Projectionist and the 2017 LP Glitter and Blood—and played some of the most exciting shows in town, with lots of fake blood and dry ice. Death recently debuted some excellent new solo songs on Soundcloud, including the pummeling "Ivory (Now My Teeth Are in My Hands)" and "Holly," an eerie storm of cascading piano and electronic beats. CIARA DOLAN
9 pm, No Fun, $5
Got Laffs Comedy Jam
Cut the Jive presents this all-star stand-up showcase featuring headliner Shang (BET, Comedy Central, Netflix), support from New Orleans' Mark Caesar, and sets from local laugh-makers Jake Silberman, Chris Johnson, and Lance Edward. Hosted by the Real Hyjinx.
8 pm, Alberta Abbey, $20
Mortified
Portland storytellers take to the stage to share stories from their adolescence that absolutely shouldn't be shared with anyone because the secondhand awkwardness and embarrassment could be hazardous to your sanity.
6 pm & 9 pm, Alberta Rose Theatre, $16-23
---
Saturday, Jul 21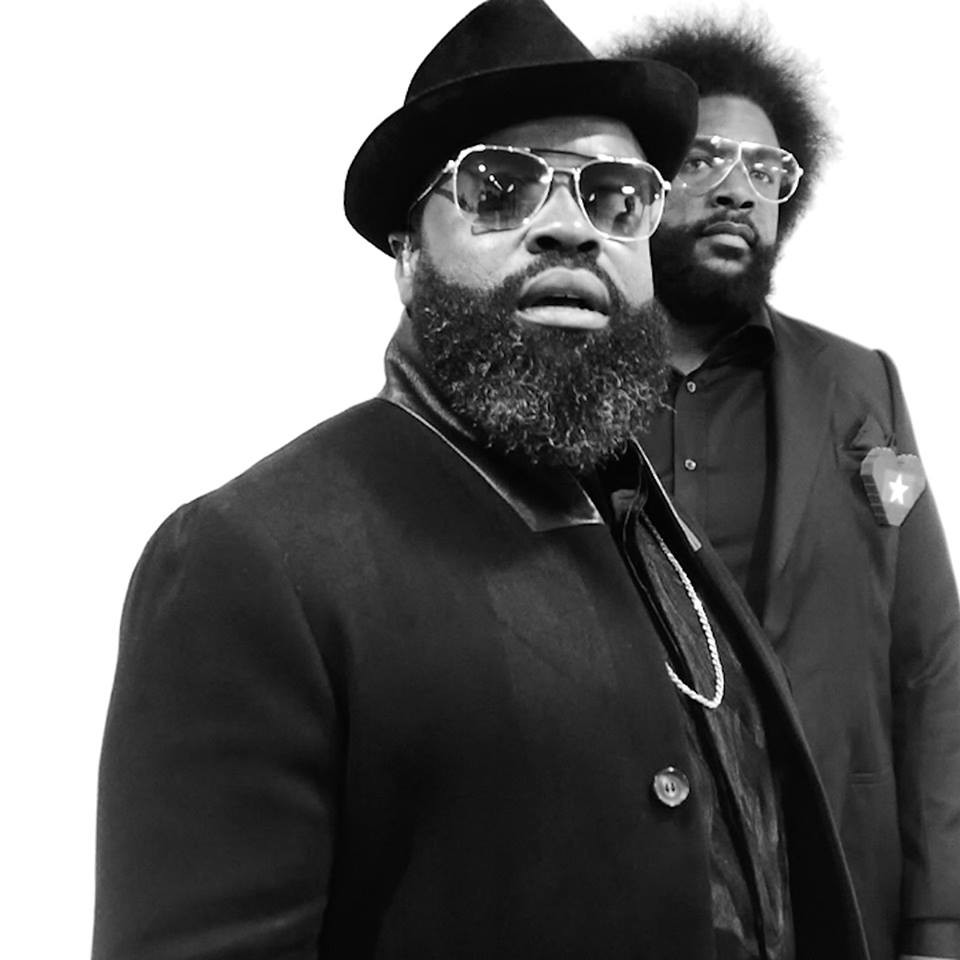 The Roots
It's been said The Roots put on the best live show in the entire hip-hop genre. We don't doubt it. The legendary Roots Crew, led by drummer Questlove and rapper Black Thought, have been challenging the genre's status quo since 1987. They even pull off being a house band for a late night show without losing their effortless cool. But, if there's one thing that could make their live show even more magical, it's ZOO ANIMALS. ALEX ZIELINSKI
7 pm, Oregon Zoo, $57.50-117.50 good luck at the resale sites, all ages
King Princess
Like the name suggests, King Princess (AKA Mikaela Straus) makes music that plays with gender and artfully subverts the status quo of mainstream pop. In February the 19-year-old genderqueer singer/songwriter and producer dropped her debut single "1950," a song inspired by the lesbian love story in Patricia Highsmith's 1952 novel The Price of Salt (which was recently adapted into the film Carol). With more than 108 million Spotify streams, "1950" is one of the biggest pop hits of the year, and for good reason—it's an update on the old-school torch song, and finds Straus (who played every instrument on the track herself) struggling to hold back the levees against her surging desire and devotion. Straus released her debut EP Make My Bed in June, and between her falsetto delivery of the bedroom jam "Holy" and the combustible catharsis of "Talia" (a heartbroken sequel to "1950"), it's proof that the greatness of her breakthrough single wasn't an isolated incident. CIARA DOLAN
8 pm, Doug Fir, $18-20
PDX Pop Now!
With other Portland-area summer music festivals taking some time off, PDX Pop Now! is more important than ever. The city's beloved free, all-ages music festival is celebrating its 15th year with a full-weekend of live music spread across two stages under the Hawthorne Bridge. With a diverse range of rising local talent sharing the spotlight with longtime Portland favorites, and food carts, vendors, and a beer garden to keep you occupied between sets, the latest installment of the annual summer tradition is as unmissable as ever. CHIPP TERWILLIGER
Sat-Sun noon, AudioCinema, click here for a full list of performers and showtimes, free, all ages
2001: A Space Odyssey
Every once in a while, the Hollywood Theatre busts out a shockingly pristine 70mm print of 2001: A Space Odyssey—and for cinephiles, seeing Stanley Kubrick's masterpiece on the big screen, sitting in a sold-out and awed audience, is about as good as moviegoing gets. Now the Hollywood is showing 2001 again, but this time with a brand new print—one that's been photochemically restored by none other than celluloid fanatic Christopher Nolan, who'll start pontificating about how much better film is than digital given the slightest provocation. (Seriously. Across the pond, his ears probably just pricked up, somehow knowing we mentioned it.) Rather than discuss the extensive restoration process, Nolan's using this spruced-up 2001 to remind people how much better movies can look when projected from actual film. "[The restoration discussion] tends to obfuscate the greater truth, which is that photochemical is a much higher-quality image format," Nolan recently told Variety. "Showing people prints in the cinema is the way you best make that point, and if you could choose one movie to try to show that to people, it would be 2001." ERIK HENRIKSEN
1 pm & 9:30 pm, Hollywood Theatre, $12.50, all ages
Division/Clinton Street Fair & Parade: The Cry, Jenny Dont & the Spurs, Common Starling
One of Southeast Portland's favorite haunts is the Division/Clinton neighborhood, who really know how to party! For proof, check out the Division/Clinton Street Fair, which not only boasts a parade, yummy chow, vendors, and a beer garden, but also awesome music!
10 am, SE 25th & Clinton, free, all ages
Vice Device, Martin Bisi, Vibrissae
Martin Bisi's one of those important figures whose name you should know, but probably don't—unless you scrutinize the credits of records by cult musicians like Swans, John Zorn, Boredoms, and Material. (He's also worked with bigger acts like Sonic Youth, Dresden Dolls, and Helmet, and recorded Herbie Hancock's paradigm-shifting hit "Rockit.") The man's a production wizard and a canny musician himself. DAVE SEGAL
9 pm, Mississippi Studios, $10
Poison Idea, The Accused A.D., Dog Soldier
There are few Portland bands as influential as Poison Idea. Since forming in the early '80s, they've toured the realms of punk rock, hardcore, and heavy metal, and this year, they're celebrating the 30th anniversary of their pivotal record Feel the Darkness. It'll be the band's first local show in a while, and they'll commemorate the occasion by playing Feel the Darkness in its entirety and re-releasing it as a remastered double album including band outtakes, bonus tracks, and more previously unreleased material. With the Accused A.D. and Dog Soldier opening the night, it'll be quite the dirty 30. CERVANTE POPE
8 pm, Bossanova Ballroom, $15
PDX Latinx Pride Festival 2018
For 2018 PDX Latinx Pride is celebrating the queer heroes in their community—but everyone is welcome to join in the fun, so long as you believe in equality and you believe in celebrating LGBTQ and Latinx culture, with food carts, drinks, entertainment, vendors, and a drag show, followed by a dance party!
4 pm, District East, $5
Father John Misty, Blitzen Trapper
Although singer/songwriter Josh Tillman's Father John Misty persona is really starting to wear on me, his 2018 record God's Favorite Customer is pretty dang good. Its first single, "Mr. Tillman," is sung from the perspective of a hotel concierge trying to deal with the former Fleet Fox while he has a breakdown. A few of the best lyrics: "Mr. Tillman, for the seventh time/We have no knowledge of a film that is being shot outside/Those aren't extras in a movie; they're our clientele/No, they aren't running lines and they aren't exactly thrilled." Hometown heroes Blitzen Trapper will open the outdoor show with songs from their 2017 album/stage production Wild and Reckless. CIARA DOLAN
6:30 pm, Edgefield, $40-45, all ages
Zenger Farm's 4th Annual Hoedown: Wonderly, Ants Ants Ants!
Indulge in an evening of food and drinks along with music from local folk duo Wonderly and some kid-friendly tunes from Ants Ants Ants! at Zenger Farm's 4th Annual Hoedown.
4 pm, Zenger Farm, $15-25, all ages
Marisa Anderson, Larry Yes
Marisa Anderson brings her distinct and haunting blend of folk, blues, and country through the Old Church for a hometown headlining show with support from Larry Yes.
8 pm, The Old Church, $15, all ages
Shawn Mullins, Max Gomez
The Grammy Award nominated folk-rock and country singer/songwriter known for his hit single, "Lullaby," brings his sounds back to the Aladdin Theater stage for a two-night stand celebrating the 20th anniversary of his breakout album, Soul's Core.
8 pm, Aladdin Theater, $25, all ages
Tea Fest PDX
A holiday for anyone who really, really loves the smell, the taste, and the rituals behind making that perfect cup of tea, whether you're a newcomer to the larger tea universe or whether you've been exploring it for years. Includes live music, food, classes, workshops, yoga, tai chi, and more.
9:30 am, World Forestry Center & Museum, $10
Distillery Row Cocktail Crawl
No lesser a man than Sonny Crockett of the Miami Police Department (Vice Division) has proudly claimed himself "A fiend for mojitos." Sonny knows what's up. Come and enjoy a day dedicated to sipping the finest spirits as expertly mixed by the eight craft distillers (and two guests from the NW Distiller's District) that make up Distillery Row, with benefits from the variations on minty drinkable deliciousness you'll be sucking down going to Urban Gleaners.
noon, Distillery Row
---
Sunday, Jul 22
Sit, Stay, Slay: A Drag Show... with Dogs!
The AMAZING title says it all, doesn't it? So bring lots of tip and raffle money to this free event, which benefits Portland's Family Dogs New Life no-kill shelter, and marvel at performances from this stellar lineup of drag queens and their dogs: Delta Flyer and her pup Stormy Spaniels; Mars and Theodore Rooseveltina; Clare Apparently and Clare Abeagley; Valerie DeVille and Veruca DeVille; Violet Hex and Xanadu; Daizelle and Fina; Marla Darling and Anastasia Pupper-hausen; and last but not least, Ida Summer Garden and Hannibal LickedHair. Yes, queen, a thousand times, yes.
6 pm, White Owl Social Club, free
Vertigo
For many film fans (aficionados, snobs, jerks, insert your descriptor of choice here,) Alfred Hitchcock ceased being a person decades ago, and instead became a cinematic religion, his silhouette as important as the shape of the cross or Superman's emblem. Consensus on his best film is almost never reached among that zealous flock, but they can agree which film lays bare the man behind the icon: Vertigo, an icy, immaculate depiction of the fetishistic mess that was Hitchcock's brain, which he might as well have just simply poured into a projector. Screens in 70mm. BOBBY ROBERTS
2 pm & 6 pm, Hollywood Theatre, $12.50
VegOut! Portland Vegan Beer & Food Festival
The VegOut Vegan Beer & Food Festival brings the inaugural celebration of vegan cuisine to Holladay Park, with live entertainment, educational speakers, chef demonstrations, fitness classes, and over 100 vendors.
11 am, Holladay Park, $20-45, all ages
Bebel Gilberto
An evening of transformative bossa nova-inspired music from the award-winning singer.
7:30 pm, Winningstad Theatre, $40
Arj Barker
Comedian and actor Arj Barker, best known as the bandana-clad Dave from Flight of the Concords, swings through Helium for a one-off Portland show before jetting off to Australia for an extensive tour.
7:30 pm, Helium Comedy Club, $20
Opia, Pleasure Curses, Leo Islo
Making their Portland debut tonight is the emerging Connecticut-based electronic duo Opia. On their 2017 debut EP Faded, guitarist Cole Citrenbaum and keyboardist DJ Stanfill build songs out of synthesized rock beats, upper-range vocals, and heartbreaking lyrics about love. As they prepare to release their second EP, Opia will headline this this all-ages night of indie electronic music, supported by local acts Pleasure Curses and Leo Islo.
8:30 pm, Holocene, $13-15, all ages
Hosannas, Korgy & Bass
A pair of local duos head up the latest installment of Sunday Sessions with a mix of avant pop and jazzy hip-hop beatmaking.
9 pm, Rontoms, free
Don't forget to check out our Things To Do calendar for even more things to do!