The last weekend in July is a bold one, and not just because one of the boldest dance nights in town is turning sweet 16. I mean, yeah, the bhangra, the bass, and the joyous bounce of ANDAZ is a huge part of it—but lets not short shrift the Brewers Festival still getting a buzz on at the Waterfront; the Portland Zine Symposium expanding minds all weekend long; the Montavilla Street Fair closing down Stark to open the community to everyone; Portland Center Stage getting its JAW on, Strange Babes serving up soul... even Lupe Fiasco is coming through. That's only a fraction of what's on tap for July's finale; hit the links below and fill your cup accordingly
---
Jump to:
Friday
|
Saturday
|
Sunday
---
Friday, Jul 27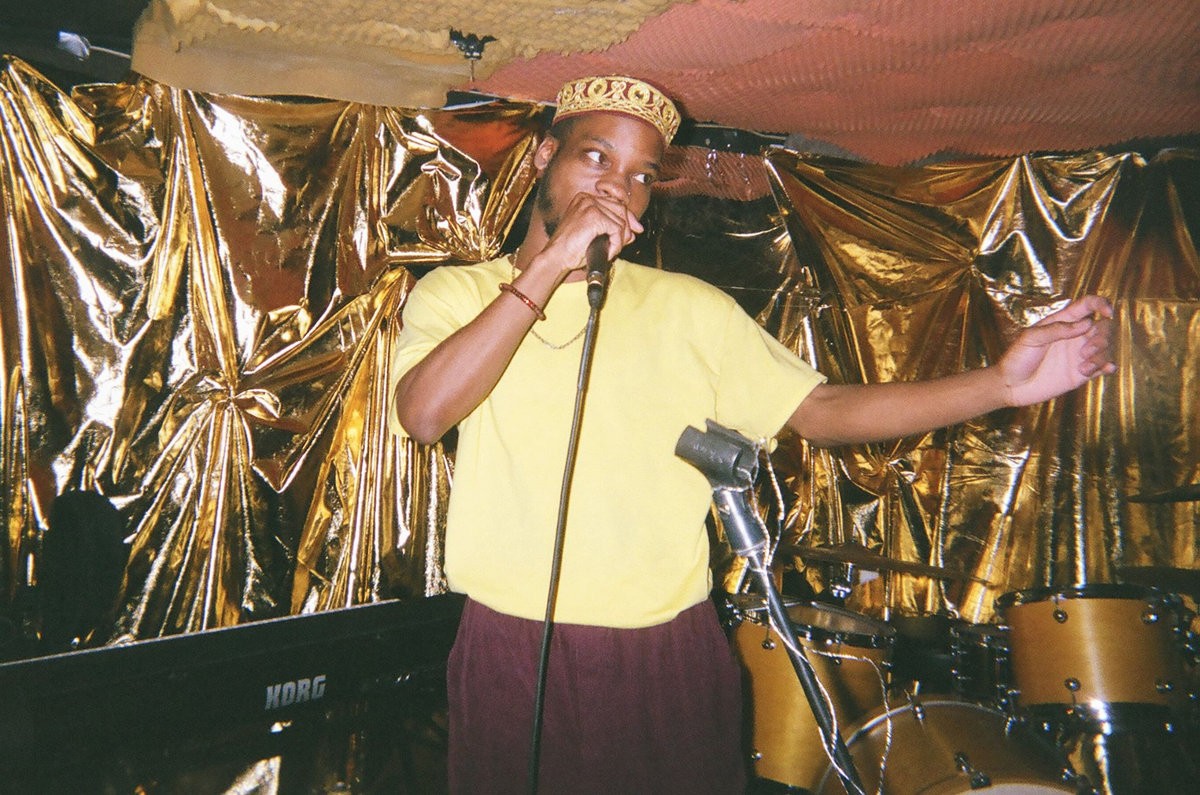 Fountaine, Point Juncture, WA
Anime-loving rapper/producer Fountaine is young but prolific; his Bandcamp profile overflows with material, like his most recent LP, 2017's H.F.I.L. (Hell for Infinite Losers). Across 16 tracks, Fountaine sings and raps behind aqueous beats that're sometimes dazed and unsettling ("Scorprio") and sometimes reverberating with danceable, Prince-inspired funk ("Dressed to Kill"). He'll be joined by beloved experimental indie rock band Point Juncture, WA, who released their long-awaited double album Me or the Party in 2016 after some quiet years. It's totally worth getting lost in, especially softer tracks like "Whodunnit" and closer "Kings III." CIARA DOLAN
8 pm, Turn! Turn! Turn!, $5
The Psychedelic Furs, X
We could all use a little escapism right about now. Tonight, your best bet is to sink into the soft, forgiving nostalgia of the Psychedelic Furs—"Love My Way" and "Pretty in Pink" remain evergreen post-punk gems of the '80s—and see if you can forget the past two years ever happened. Plus, the legendary X opens the show, and their twisted punk take on American musical idioms is utterly timeless NED LANNAMANN
7 pm, Oregon Zoo, $35-95, all ages
ANDAZ 16th Anniversary Celebration
Tonight DJ Anjali and the Incredible Kid celebrate the 16th anniversary of Andaz, the longest-running bhangra and Bollywood dance party in the world (and one of the wildest opportunities to shake your bum in Portland). In May the beloved DJ duo decided to stop hosting their monthly events at the Analog Theater after the owner was accused of sexual harassment. They still haven't found a permanent replacement home for Andaz, but will continue throwing pop-up shows throughout the summer, including this very special night in the basement of the Liquor Store. Known for fusing heart-quaking electronic with bhangra—a genre with roots in the traditional folk music of the northern Indian state of Punjab—and the soundtracks of Bollywood films, DJ Anjali and the Incredible Kid's dance floor sites are sweaty, glorious chaos. CIARA DOLAN
9 pm, The Liquor Store, $10
Mimicking Birds, Sunbathe, Evan Way
On Mimicking Birds' latest album, Layers of Us, the Portland trio embraces the cosmic underbelly of their remarkably vibrant experimental pop. Despite having spent more than a decade together, it's only the band's third studio effort, and showcases singer Nate Lacy's lilting voice more dramatically and with broader strokes than ever before. It could be due to the fact that my first exposure to the record was during a sneak preview at the OMSI planetarium (with a full star show) just prior to its release this past January, but the hyperbole of the floating, deep-space menageries that Layers of Us employs are too vivid and powerful to chalk up to pure circumstance. The band has, strangely, flown slightly under the radar, though the magic of this most recent LP ought to turn the tide for Mimicking Birds. RYAN J. PRADO
9 pm, Mississippi Studios, $15
The Voidz
Once you're able to get past the fact that they aren't the Strokes, the Voidz are almost as interesting as the band that restarted rock in the early 2000s. Julian Casablancas' current project is far more experimental, as the Voidz successfully meander between psych and electro-pop on their recently released sophomore album Virtue. "Don't overthink it, don't overthink it," Casablancas chants on lead single "Leave It in My Dreams," which becomes a mantra for the whole record. Just when you think the Voidz are falling too far down the rabbit hole, standout tracks like the falsetto-studded "Pink Ocean" and the R&B-inspired "AlieNNatioN" bring clarity. And though "Wink" might seem like a dis track about a certain former band of Casablancas', it's probably best not to overthink it. ANNA KAPLAN
9 pm, Wonder Ballroom, $25-28, all ages
31st Annual Oregon Brewers Festival
The Northwest tradition returns to the Waterfront to serve over 80,000 customers some of the finest beer the world will ever drink. Visit oregonbrewfest.com for a list of brewers.
Fri-Sun noon, Tom McCall Waterfront Park, free
Stress Position, Licky Chomps, Avola, Elrond
Calling music "post-rock" or "post-hardcore" sounds kind of diminutive—it's like saying a band is an afterthought to something greater that came before them. Stress Position could easily fit into either of those subgenres, but they don't really convey the meditative, heavy catharsis of the band's recent self-titled LP, released via label Nadine Records. Its 12 tracks balance general dissonance with moody harmonies, ever-shifting energies, attitudes, and tempos, and blast it all through a fuzzy filter. The result carries a stomping weight and conviction you can't turn your back on. Plus, six of the tracks include just bass, drums, and vocals—and there's always something to be said for a band that's able to break out of the confines of the guitar, bass, drums, and vocals formula and still sound whole. ARIS HUNTER WALES
9 pm, Firkin Tavern, $7
Wyrd War's Summer Bummer
Wyrd War offers up an opportunity to beat the summer heat not just via the Hollywood's air-conditioning, but with a very cool double feature from cult director Jeff Lieberman, including 1977's Blue Sunshine, an indictment of Southern Californian suburbia in the form of LSD-and-alopecia fueled murder, and 1981's Just Before Dawn, the other early '80s camp slasher filmed at Silver Falls State Park. Director in attendance.
7:30 pm, Hollywood Theatre, $15
The Slants
A lot of bands out there are trying to imitate and incorporate that synth-fueled dance rock sound that helped define the '80s, but Portland's own Slants are one of the few that really have it dialed in. Part of 2018's Concerts in the Park series.
6:30 pm, Fernhill Park, free, all ages
Streetlight Manifesto
Everything Goes Numb, the 2002 debut LP from New Brunswick outfit Streetlight Manifesto, is hailed as a ska masterpiece in circles where that phrase isn't an inherent contradiction. No matter how many waves you think there have been—really, who can keep track—ska's always had a way of sounding instantly dated. In the decade and a half since the band's well-received debut, Tomas Kalnoky & Co. haven't done much to avoid their genre's uniquely fraught aging process. The list of chin-scratchers includes the 2006 re-recording of their old band Catch 22's beloved Keasbey Nights, and 2010's 99 Songs of Revolution Vol. 1 (a collection of covers that might more accurately be titled 11 Songs That Don't Really Need Ska Interpretations). If I sound dismissive, that's probably because ska has always been so easy to mock, but it's precisely that full-throated embrace of their own aesthetic that makes bands like Streetlight Manifesto so fun to begin with. NATHAN TUCKER
8:30 pm, Crystal Ballroom, $23.50-27, all ages
---
Saturday, Jul 28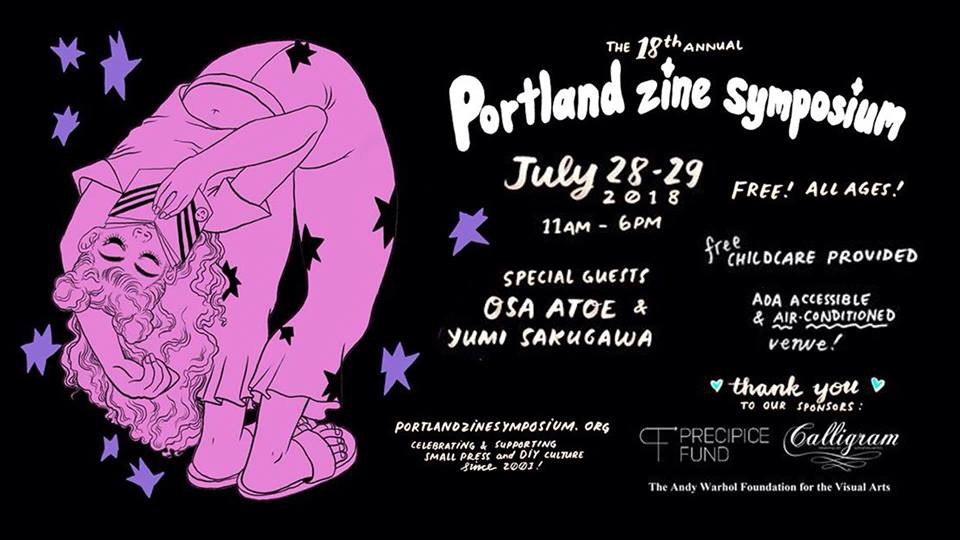 Portland Zine Symposium
Just so ya know, zines aren't just a '90s fad that refuses to die—the small press movement continues to be an important way to hear and experience marginalized voices. PLUS THEY ARE WICKED COOL. Check out the 18th (!) annual Portland Zine Symposium, which will feature over 150 zinesters from around the world showing their wares, as well as free workshops, panels, and special guests including zine-maker Osa Atoe and comic artist Yumi Sakugawa. And free childcare on the premises? Somebody should do a zine just about that. WM. STEVEN HUMPHREY
Sat-Sun 11 am, Wattles Boys & Girls Club, free, all ages
Portland Timbers vs. Houston Dynamo
The last time the Houston Dynamo set foot in Providence Park, they sent the Timbers crashing out of the 2017 playoffs in heartbreaking fashion. That loss came without Diego Chara, whose glaring omission from next week's MLS All-Star game will spark plenty of conversation surrounding his MVP caliber season and his crucial role in cementing the Timbers' status as an elite side in the league. CHIPP TERWILLIGER
6 pm, Providence Park, $42-175, all ages
Strange Babes Soul & Funk Revue
Much beloved radio disk jockeys Jen O, KM Fizzy, & Magic Beans crack open the deep music knowledge they bring to their XRAY.FM radio show and pour it all over the Killingsworth Dynasty dance floor. Stay strong, be positive and shake it off with their soul and funk standards like Sister Nancy, Grace Jones, the Marvelettes and probably a few weird ones too—they are the Strange Babes, after all. SUZETTE SMITH
9 pm, Killingsworth Dynasty, $3-5
Night of the Demons
VHS was the means by which many a trash classic was made in the '80s. Films that theaters seemed ashamed to screen would enjoy a second life on video store shelves, garish, tasteless covers beckoning to pubescent thrill-seekers. 1988's Night of the Demons is one of the best examples of that phenomenon—its box featured a prom queen from hell, red-eyed and leering, warning that this film was too scary for Freddy and Jason! For its 30th anniversary, the Hollywood has unearthed a 35mm print and invited its star (and horror icon) Linnea Quigley to answer questions from a crowd packed full of people formatively scarred by its foul mouth (this film taught 11-year-old me "fuck" could be placed into bowls and eaten, which was a mindblowing approach to profanity at that age,) its ample gore, and its still-somewhat-transgressive feel. Yeah, it's basically just an Evil Dead riff, but a good one, maintaining a delicate balance between cheese and "Jesus Christ that is fucked up" for 90 minutes. BOBBY ROBERTS
7 pm, Hollywood Theatre, $15
Summer Cannibals, Kinski, Ex-Kids
Summer Cannibals is one of the best bands in Portland; a perfect storm of talent, DIY ethos, and community mindedness. (Frontwoman Jessica Boudreaux has contributed time and expertise to Portland's School of Rock, while also supporting the city's omnipresent need for all-ages shows and music venues.) Summer Cannibals' rock 'n' roll is driven to excellence by Boudreaux's roaring vocals, often delivered with a take-no-crap attitude. The band released their first two albums on their very own independent label, New Moss Records, before signing with Kill Rock Stars to release their most recent LP, 2016's Full of It. DELANEY MOTTER
9 pm, Mississippi Studios, $12-15
Portlandia Mermaid Parade
Is there anything more magical than a mermaid learning to walk on two feet? Dozens of the mystical creatures will march down the waterfront in glittering regalia, culminating in a beach party at Poets Beach. The parade theme is "Oh the Hu-manatee," a celebration of human connection, children, families, and merfolk of all shapes, genders and orientations are welcome. KELLY KENOYER
noon, Tom McCall Waterfront Park, free, all ages
JAW: A Playwright's Festival
Every summer, emerging playwrights are selected from a competitive pool to develop, revise, and debut brand-new work at Portland Center Stage during the nationally appreciated JAW: A Playwrights Festival—all for the low, low cost of zero dollars to you. As a sneak peek at new theater creators making cool shit, JAW is more than worth your time. Throw in air conditioning and you'd be a fool not to go. MEGAN BURBANK
Sat 1 pm, Sun noon; Portland Center Stage, click here for a complete list of performances and showtimes, free
Holy Grove, Worshipper, Old Man Wizard
Holy Grove takes all the evil things from classic metal, doom, and blues and transforms them into a hulking beast—and that's just the rhythm section. Vocalist Andrea Vidal sings with power and precision, and guitarist Trent Jacobs unleashes riffs that are sludgy yet dexterous. MARK LORE
8:30 pm, Tonic Lounge, $10
10th Annual Portland Women's 3x3 Basketball Tournament
Lace up your favorite pair of Jordans and gear up alongside your basketball crew to participate in a tournament series in support of the Human Rights Campaign. Register as an individual for $20 or as a team for $80 and pick the best bracket for your needs at hrc.org/pdxbasketball. Last year, the tournament boasted 25 teams! All women are welcome. EMILLY PRADO
9 am, Irving Park, $20-80
Media Jeweler, Young Jesus, Cynthia Nelson's Digressive Combine
Turn! Turn! Turn! gets my vote for Portland's best venue, and it's wonderfully motley bills like this that make the place so special. Brace yourself: Moods will swing. Cynthia Nelson's most recent album, Out of the Cave, is a bewitching collection of folk rock that evokes the peculiar pleasure of trekking through a forest and getting just lost enough to be just scared enough to notice how strange the world can be. Young Jesus is all about liminal wonder too, but the Los Angeles band's emo-inflected epics live in the final hour of a sleepless night, that stretch during which thoughts go sideways and dreams creep backwards to claw at consciousness. Santa Ana's Media Jeweler, on the other hand, is an enemy of reverie. The band's latest, 1-800-SUCCEED, is a herky-jerky dance of hyperactivity begging for hyphens—it might be something like post-punk math-rock, but I say we forget language for a minute and let our bodies find the band's elastic wavelength. CHRIS STAMM
8 pm, Turn! Turn! Turn!, $8
Becky with the Good Jokes
Becky Braunstein's all-star comedy extravaganza returns to the Funhouse stage with summery stand-up sets from Heather Marulli, Allison Mick, Mohanad Elshieky, Milan Patel, along with a special musical performance from the Unipiper!
9:30 pm, Funhouse Lounge, $8-12
Mattress, Naomi Punk, Casual Hex, Gary Supply
Olympia's Naomi Punk and Seattle's Casual Hex bring their distinctive post-punk and noise rock stylings down the I-5 for an intimate Portland show benefiting Transition Projects. Portland's own Mattress and Gary Supply round out the proceedings.
8 pm, The Fixin' To, $5-10
---
Sunday, Jul 29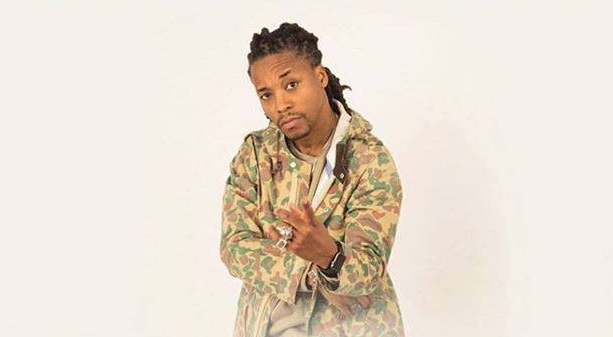 Lupe Fiasco, Mickey Facts, Horizun
The last time Lupe Fiasco played in the Rose City it was at the 2017 Soul'd Out music festival; it was dope to see him rock songs like the 2011 rap-pop anthem "Show Goes On," and his boom-bap-driven debut single "Kick, Push." After departing from an unhappy relationship with Atlantic Records, Lupe Fiasco independently released his subversive and trap-heavy album DROGAS Light last year. Now the Chicago-born lyricist is bringing his tour to Portland, giving you a chance to see him live, performing his most coherent new material in years. JENNI MOORE
9 pm, Crystal Ballroom, $25-50, all ages
Montavilla Street Fair
Stark gets shut down between SE 76th and 82nd to make room for the return of this inclusive, family-friendly community block(s) party, including over 120 vendors, live music spread across three stages, food and drink, and activities and games for kids.
10 am, SE Stark & 76th, free, all ages
Alexandra Savior, Merō, Eirann
Forget the fact that Alexandra Savior was tipped by Courtney Love as the next big thing while she was still in high school, or that she's got a collaborative relationship with Alex Turner of the Arctic Monkeys. The proof of the Portland singer/songwriter's creative cool is evident throughout her 2017 debut LP, Belladonna of Sadness. Her performances cast an enchanting shadow, and she tackles the bewitching songs from Belladonna with dark humor that endears listeners to follow her rapturously through hypnotic wormholes of warbled pop, not unlike the similarly enigmatic artistic path of Fiona Apple. Shortcut comparisons aside, Savior is bound to convert even the most jaded within a song or two. RYAN J. PRADO
9 pm, Doug Fir, $12-14
Yojimbo
Don't just watch it because this is the movie that Sergio Leone flat-out ripped off to make A Fistful of Dollars, and don't just watch it because it's an Akira Kurosawa film and you're supposed to watch Kurosawa so you can become a more sophisticated, learned, well-rounded aficionado or some shit like that. Watch Yojimbo because it's just really, really fucking good, and it's also one of the best things Toshiro Mifune ever did, so good that within about five minutes of his appearing onscreen it becomes very apparent Clint Eastwood's whole acting career is literally a pale, watered down and stepped-on pantomime of Mifune's. BOBBY ROBERTS
7 pm, Hollywood Theatre, $7-9
Renegade Craft Fair
It's true there are a lot of craft fairs in this city, but Renegade Craft Fair is one of the bigger and better ones, particularly since it adds a healthy sprinkling of vendors traveling from out of state to mix in with some of our own region's all-stars. MARJORIE SKINNER
11 am, Pure Space, free
Rhye, Blossom
Canadian singer/songwriter and electronic musician Mike Milosh brings his alternative R&B and soul project through Revolution Hall for the Portland stop on a tour supporting his latest full-length, Blood.
7 pm, Revolution Hall, $27.50-30, all ages
Rip City 3-on-3
'Tis the weekend for hoops and fundraising. The fourth annual Rip City 3-on-3, hosted by Trail Blazers at the Rose Quarter on Saturday and Sunday, is a benefit for Special Olympics Oregon. If you think you can ball, register for the popular and competitive tourney, but it's fun to check out regardless (stay for the slam dunk contest). DOUG BROWN
Rose Quarter Commons, all ages
Noche Libre Debut Party
Noche Libre DJs Black Daria, Bombón, Lucha, Suavecito, Tia Bruja, Xolotl, and Mami Miami (AKA Mercury contributor Emilly Prado) explore the music of Latin America, from cumbias to dancehall to boleros to Afrobeat to rancheras to reggaetón. The Latinx femme DJ collective makes its official debut with this day party at Chapel Hill, where they'll also have tacos, mixtapes, and a Donald Trump piñata. CIARA DOLAN
2 pm, Chapel Hill, $7-10
Rich Hunter, Hip Hop Assassins, Adebisi
Portland singer/songwriter Rich Hunter brings his contemporary R&B and neo-soul sounds back down to the Jack London Revue for a hometown headlining show.
9 pm, Jack London Revue, $7
Holiday Friends, Foxtails Brigade, Swansea
Holiday Friends, from Astoria, take straightforward pop-rock songs and dress 'em up with synths, programmed rhythms, and other future-stuff.
8 pm, Mississippi Studios, $10
Tender Age, Floating Room
For both Tender Age and Floating Room, the process of writing and recording an album is as slow and methodical as the dreamy music they play. Though they've been around for a few years, Becoming Real Forever is the brand-new debut LP from Tender Age. The self-recorded analog album trades surf sounds for primed '90s shoegaze that exudes the somber beauty of the Oregon Coast, where it was recorded. Floating Room's sophomore album False Baptism is just as emotionally forthright as their first; the gentle tones of Maya Stoner's voice contemplate tough subjects through experimental noise-pop. Certain artists have the ability to summon sentiments buried deep within, and for anyone attending this show, it'll probably be damn near impossible to leave without feeling something. CERVANTE POPE
9 pm, Rontoms, free
The Wizard of Oz
1939's The Wizard of Oz is less a film than it is an American touchstone, a rite of passage for children of every generation, a silly, sentimental constant always running in our popular culture's background like a TV in the other room. But when you set all that aside and actually watch it as a film—holy shit is it one fuckin' weird movie, an acid-trip wonderland full of flying monkeys and melting witches and lions and tigers and bears and little dogs, too. There's a reason dipshit burnouts have been trying to make Pink Floyd its unofficial soundtrack for decades now. BOBBY ROBERTS
7 pm, Academy Theater, $3-4, all ages
Co-Lab
A unique new collaboration between B. Frayn Masters of Back Fence PDX and Lost Lander's Matt Sheehy, redefining what a storytelling showcase can be through the addition of video, live music, and other audio/visual enhancements to help share real life narratives from performers including Anis Mojgani, Katie Piatt, and Chris Williams.
7 pm, CoHo Theater, $16-30
Don't forget to check out our Things To Do calendar for even more things to do!