It's August, and that means hot nights ahead. Pickathon provides shade and cool sounds to swim in; The Marathon of the Apes puts you in a dark, air conditioned theater and lets classic cinema wash over you; Todd Barry's ice-cold punchlines will feel just that much better inside the comfy climes of Mississippi Studios—and that's not even getting into Kelly's Olympian serving up some tasty Juice, and Oregon's Largest Water Balloon Fight. But maybe you wanna lean into that heat. Club Kai Kai is a great way to burn up the night, the Hot Sauce Expo seems like a no-brainer, and the Lents Street Fair has probably the hottest event on the calendar this weekend: The Chicken Beauty Contest. It's a very full weekend awaiting you; hit the links below and load your plate accordingly
---
Jump to:
Friday
|
Saturday
|
Sunday
---
Friday, Aug 3
In the Cooky Jar
There is ass-shaking to be done in this town, and DJ Cooky Parker (Scott Magee) provides one of the best dance nights to do just that. Held on the first Friday of every month at the East Portland Eagles Lodge, In the Cooky Jar clearly demonstrates the magnificent depth of Parker's crates as he pulls out awesome 45 after 45 of the greatest classic soul and RnB cuts you will ever hear, and lose your goddamn mind to. Pro-tip: Feel free to wear clothes—but don't go overboard—because you will work up a sweat. WM. STEVEN HUMPHREY
9 pm, Eagles Lodge (F.O.E.#3256), $5 w/ food donation, 7 w/out
Pickathon
It's that time of year again—Pickathon time! The music festival, celebrating its 20th birthday this year, has flourished at a time when other Portland-area music festivals are dropping like flies. Perhaps this has to do with their adventurous curatorial approach, stretching far beyond the roots and acoustic music that got them started to embrace the most talented bands in the world, regardless of genre. Or perhaps it has to do with the premium they put on attendant experience, such as the fest's glorious farmyard setting, its pioneering sustainability practices, and a something-for-everyone approach that caters to both families and all-night revelers. Whatever the reason, it's the best weekend of the summer. Don't miss it. NED LANNAMANN
Fri-Sun, Pendarvis Farm, $160-320, all ages
Tualatin Crawfish Festival
People love lobster, but what about the good ol' crawdad, huh? Why can't crawdaddy get some festival love? Tualatin's got the answer to that question with this weekend-long celebration of the crayfish in all his tasty glory, with multiple food, beer, and wine booths available, as well as live music, carnival games, kids activities, a watermelon eating contest, and more, as well as a guest appearance from blues legend Curtis Salgado on Saturday.
Fri 4 pm, Sat 10 am; Tualatin Community Park, $5, all ages
The Body, Dark Castle, Lingua Ignota, MSC
In May, experimental metal duo the Body dropped I Have Fought Against It, But I Can't Any Longer, and soon after released a collaborative album with New York industrial duo Uniform. Mental Wounds Not Healing—a lyric from Ozzy Osbourne's 1980 single "Crazy Train"—takes the best qualities from each band;: the pulsing drum machine pairs nicely with fuzzy guitar reverb and screeching synth tones. Though it's difficult to decipher the lyrics, the whole album is a noisy piece of art that captures the feeling of an unstable psyche. CERVANTE POPE
9 pm, Doug Fir, $12
Adam Ant, The Fixx
The UK post-punk and new wave icon breaks out the hit singles live on stage when the "Anthems" Tour swings through the Oregon Zoo Amphitheater.
7 pm, Oregon Zoo, $35-95, all ages
Please Underestimate Me
Jason Rouse directs Jay Flewelling's latest creative endeavor, a combination of traditional play, sketch comedy show, and autobiographical storytelling event, tracing Flewelling's long and winding path through life, with five actors and an ASL interpreter playing Flewelling and his various allies and antagonists at different points along his timeline.
Fri-Sat 7:30 pm, Curious Comedy Theater, $15-25
Saeeda Wright & the Wright Way
Join vocalist Saeeda Wright and her band for a night filled with soul, jazz, and gospel sounds when she swings through the Jack London Revue.
9 pm, Jack London Revue, $15
Diva
The minds behind Tribute Night have once again put together one hell of a Friday night throwdown for those who recognize greatness when they hear it, and it's easy to recognize it when it arrives in the forms of Janelle Monae, Aaliyah, Lauryn Hill, Beyonce, Salt 'n' Pepa, and more. Partial proceeds from the festivities will go towards charities benefitting women of color, as well as the family of Nia Wilson.
9 pm, Holocene, $10
Plastic Weather, Gender Confetti, The Social Stomach, Kids Table
Plastic Weather's love of the bizarre is obvious, but it's oddly inviting, carving out a space and sound for those of us on the fringes of traditional hyper-masculine punk. DELANEY MOTTER
8 pm, No Fun, $5
Planning for Burial, Drowse, Amulets, Canadensis
Lots of bands claim to exist in between established genre boundaries, but Planning for Burial is one of the few that actually does it. Since the mid-2000s, the Pennsylvania-based project has sounded like soaring post-rock, blistering noise, placid doom, overcast pop, heavy ambient music, cracked black metal, and scowling slowcore—sometimes all at once. There's one vibe that runs through it all, and that's despondence, and there's one guy behind that despondence: Thom Wasluck, who has a gift for making gloom beautiful. Wasluck's most recent album, Below the House, was one of 2017's best. Also on tonight's bill: Portland's best Planning for Burial analog, Drowse (whose new album Cold Air is a must-hear), plus Amulets and Canadensis. BEN SALMON
9 pm, Tonic Lounge
---
Saturday, Aug 4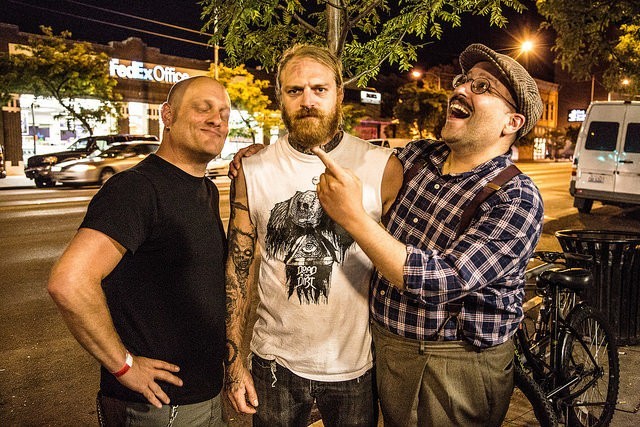 Gaytheist, Saola, VOG
The new Green Noise Records, which changed location and ownership last year, is one of the best record stores in Portland, offering solid prices on a wide array of new and used stuff, much of which is punk-focused. Plus they do the best in-stores! Today's show is free and all-ages, and features the heavy brilliance of Gaytheist, sludgers Saola, and the punk frenzy of VOG.
5 pm, Green Noise Records, free, all ages
Marathon of the Apes
Cinema is a proud and illustrious art form, and its wondrous contributions will echo throughout the centuries. And yet, out of all of humankind's tens of thousands of motion pictures, eight stand above all others as the apex of human achievement: THE PLANET OF THE APES MOVIES! Thank Caesar that the Hollywood Theatre is recognizing this indisputable fact with their Marathon of the Planet of the Apes, which will show each and every Planet of the Apes film on the big screen to celebrate the series' 50th anniversary! Things kick off with 1968's classic Planet of the Apes (Sat Aug 4), the thrilling, brilliantly allegorical classic that maroons Charlton Heston on a planet full of talking monkeys! Then, the ape-pocalypse continues with the batshit crazy sequel, 1970's Beneath the Planet of the Apes (Sun Aug 5), which features TELEPATHIC MUTANTS WHO WORSHIP A NUCLEAR BOMB! ERIK HENRIKSEN
Aug 4-27, see Movie Times for titles and showtimes, (Please note: The Hollywood, along with every human and ape on Planet Earth, is pretending that Tim Burton's 2001 Planet of the Apes—you know, the one with Marky Mark!—does not exist.) $7-9,
Resist Patriot Prayer
In a show of solidarity and resistance, several anti-fascist and anti-racist community groups are organizing a counter protest against Patriot Prayer members and supporters. Protests involving Patriot Prayer are known to get violent, so proceed with caution and take protective measures. EMILLY PRADO
11:30 am, Tom McCall Waterfront Park, free
Club Kai Kai
Tonight's Club Kai Kai welcomes the Boulet Brothers, creators/producers of the drag competition TV series The Boulet Brothers' Dragula: Search for the World's Next Drag Supermonster. In addition to the scream queen duo, tonight's lineup includes Anastasia Euthanasia, Carina Borealis, Drama Club and Fine China. The showcase is (of course) hosted by Ann Pyne and Buckmaster, with visuals by Rakeem and Lo Satanica. JENNI MOORE
10 pm, Holocene, $10-15
Todd Barry, Dax Jordan
Todd Barry doesn't even really need jokes, although he's got a ton of great ones. Give him a couple marks in the crowd, and just five minutes of conversation, and you have a night of comedy with more laughs per pound than any hyperactive loud mouth screaming into the mic. BOBBY ROBERTS
7:30 pm & 10 pm, Mississippi Studios, $20-24
Amos Lee, Bailen
The acclaimed folk, blues, rock, and soul singer/songwriter out of Philadelphia returns to Portland for an outdoor show at the Oregon Zoo Amphitheater supporting his forthcoming full-length, My New Moon.
7 pm, Oregon Zoo, $39.50-99.50, all ages
Club Nitty Gritty
If you're looking for a dance night that sets the evening on fire, check out Club Nitty Gritty, hosted by the always down for a good time DJ Action Slacks (Shannon Wiberg). She's been pounding the turntables for years with righteous choices in down-home dirty soul—the kind with raw sax and voices that wail and scratch.
9 pm, (The World Famous) Kenton Club, $7
H20k: Oregon's Largest Water Balloon Fight
Shute Park3 hosts Oregon's biggest water balloon fight for those 21 and up, with 20,000+ balloons, two full bars, live music, games, food, raffles and giveaways, and a photo booth by DAbooth.
2 pm, Shute Park3, $25-30
2018 Soulful Giving Blanket Concert
An all-day charity concert highlighting some of the Northwest's best tribute bands, bringing the sounds of classic rock to life for the benefit of Randall Children's Hospital and Providence Cancer Center. The Garden View Estate throws open the gates for nine hours of rock, cocktails, games, silent auctions, and more.
11:30 am, Yoshida Gardenview Estate, $50-100
Juice
Juice is a monthly showcase where hip-hop, comedy, fashion, and DJs spin under the same roof. Brought to you by Green Luck Media Group's Bryce Trost, and co-producer Shrista Tyree, Juice aims to create a Def Jam-style comedy night where POC comedians and friends can perform sets about their experience in comfort. Each month, Juice picks a local clothing line to include in their show with a pop-up shop and merch booth. Hitting the stage this month are Carter Anderson, Dylan Carlino, The Real Hyjinx, and Zane Thomas. SUZETTE SMITH
9 pm, Kelly's Olympian, $10
Fremont Fest
Summer is a great excuse for the multitude of Portland's amazing neighborhoods to throw themselves a party, and this weekend is Fremont's turn, with the 32nd annual transformation of the blocks between NE 42nd and 51st into a giant block party, featuring live music on three stages, 300 different vendors, a pub crawl, a kid zone, a parade, and much more.
10 am, NE Fremont & 42nd, free, all ages
---
Sunday, Aug 5
Stephen Malkmus & the Jicks, Soccer Mommy
For the past three decades, Stephen Malkmus has approached his music career with a sort of oblique nonchalance, whether he's fronting '90s indie giants Pavement or piloting a solo-ish career with his band the Jicks. In a world where so many artists must hustle to make something of their art, Malkmus keeps getting dragged back in, somewhat reluctantly, by the music and expectations of a world that counts him as an underground icon. That said, there's a different vibe on Sparkle Hard, the album Malkmus released in May. Malkmus seems deeply invested and connected to this material, and his band sounds punchier than it has in years. It's hard to imagine many people trying out Stephen Malkmus' music for the first time in 2018. But those who do will find a man—and a band—at the top of their game. BEN SALMON
9 pm, Star Theater, $24
The Night of the Hunter
Night of the Hunter probably scared the bejesus out of audiences when it hit theaters in 1955. The film follows the murderous exploits of an itinerant reverend-turned-serial killer in rural Appalachia, but the FBI didn't even coin the term "serial killer" until two decades later! From the suspenseful use of silhouettes to visual metaphors like the reverend's knuckle tats, which say "LOVE" on one hand and "HATE" on the other, it's still absolutely terrifying (and absolutely worth revisiting at one of these weekend matinees). CIARA DOLAN
2 pm, Hollywood Theatre, $6
Portland Hot Sauce Expo
Good hot sauce makes life just a little bit better, doesn't it? If you think so, head to the hottest show in Portland for the Portland Hot Sauce Expo, where you'll enjoy food and sauce samples, craft beer, and "some of the most insane eating challenges known to mankind." DOUG BROWN
11 am, Oregon Museum of Science and Industry, $7-60
Lents Street Fair
If you're yearning for some of that old-school Portland weirdness—the kind that is less twee and more real—then do not miss the annual extravaganza known as the Lents Street Fair! They have food, a beer garden (and a root beer garden for the kids), music, bouncy castles, the world-famous Lents goats (formerly the Belmont goats), and the much beloved highlight—the Chicken Beauty Contest. It does not get much more "real" than this. WM. STEVEN HUMPHREY
11 am, Lents International Farmers Market, free, all ages
Lemuria, Katie Ellen, Dusk
It's been a momentous year for Buffalo, New York, band Lemuria: It's the 10th anniversary of their beloved debut, Get Better, and they just released their fifth LP, Compassion, last month. The new album finds Lemuria branching out into more pop-focused melodies while staying true to their DIY indie rock roots. After more than 15 years together, Lemuria's continues to endear themselves to both longtime fans and new listeners drawn in by the hooks of songs like "Neon Prison" and "Recreational Hate." DELANEY MOTTER
8 pm, Holocene, $15, all ages
Amy Miller, Joe DeRosa, David Gborie, Chris Charpentier
Did you miss the last time Portland's own Amy Miller triumphantly returned home? Lucky you, there's a one-night-only opportunity to rectify that at the Siren! Not only will your guts bust with laughter over her new material, but she's being supported by a hilarious lineup including David Gborie, Joe DeRosa, and Chris Charpentier
8 pm, Siren Theater, $20-25
Minden, Jackson Boone
Since moving to Portland from Kansas City in 2012, Minden's ascent in the local scene has been powered by classic funk, soul, and millennial lethargy, all in the guise of psychedelic pop. The band's latest, Sweet, Simple Things, is a sexy brew that pairs well with copious intoxicants and the company of a romantic partner.
8 pm, Rontoms, free
The Wild Body, Meringue, Sad Horse, Dim Wit
Local indie rock and noise pop outfits the Wild Body and Meringue celebrate the release of a split cassette with an all-ages hometown show at the Local 134. Fellow Portland scene stalwarts Sad Horse and Dim Wit round out the proceedings.
7 pm, American Legion Local 134, all ages
Santoros, Dreckig
Santoros is a hidden gem in the over-saturated sea of Los Angeles garage punk. The Mexican-American band has released just one LP (2012's Ancestros) and two EPs (2014's Animals and this year's Bad Habits). Their tours are just as few and far between, but Santoros puts on some of the most wildly entertaining, straight tequila-sippin' shows in the business. You'd be doing yourself a disservice by missing the infinitely catchy surf guitar riff and bumbling bassline of "My Buddy Jim." CIARA DOLAN
9 pm, Mississippi Studios, $10-12
Don't forget to check out our Things To Do calendar for even more things to do!