If ever a weekend was maybe packed too full of good stuff, August 17-19 might be the one that goes down in Portland history. It's just an unimaginable bounty of block parties, festivals, community gatherings, and yeah, people doing dangerous things at ridiculous speeds. Almost all the best stuff is free on top of that, and a lot of the stuff that isn't, is at the very least air-conditioned. Safe to say: No matter what it is that turns your particular crank, it's gonna get cranked past 10 this weekend. Hit the links below and (overload) your plate accordingly
---
Jump to:
Friday
|
Saturday
|
Sunday
---
Friday, Aug 17
Y.G.B Portland + Black Panther
In one of the most organic mash-ups I've ever come across, YGB (Young Gifted and Black/Brown) is hosting a Black Panther screening as part of the city's "Free Movies In the Park" summer series. St. Johns rapper Mic Capes will perform before the movie starts, along with soul singer Scooty. There will also be free face painting by artist Tazha. A few ground rules: You should eat your edibles (since vaping and smoking in the park is prohibited), leash your dog, and don your very best Wakanda-inspired garb. Alcohol consumption is allowed for personal use during the concert/movie. JENNI MOORE
6:30 pm, Lents Park, free, all ages
The PDX Drive-In Movie Spectacular
Sure, America's insane obsession with cars has irrevocably decimated the environment and led to millions of horrific deaths… but the automobile also gave us drive-in movies, so it all evens out. This weekend, the Portland Expo Center is hosting their PDX Drive-in Movie Spectacular, inviting Portlanders to drive, bike, or walk onto the Expo Center grounds, park or sit in a comfy spot in front of their giant outdoor screen, and enjoy a slew of great movies: Pee Wee's Big Adventure (Fri Aug 17), Dirty Dancing (Sat Aug 18), and Best in Show (Sun Aug 19). Thanks, Expo Center! Thanks, cars! ERIK HENRIKSEN
Fri-Sun 6:30 pm, Portland Expo Center, $5 per person, $15 per carload
Jawbreaker, Swearin', Hurry Up
One of the most influential bands to ever exist, New York's Jawbreaker sweetened hardcore punk's bile and paved the way for countless emo and pop punk bands to come. Reunited after two decades, Jawbreaker's original lineup is packing 'em in for two nights at the Crystal, and while ticket prices are hefty, it's one of the most impressive triple bills of the year: Swearin' and Portland's own Hurry Up are opening, so be prompt. NED LANNAMANN
Fri-Sat 8 pm, Crystal Ballroom, $50, all ages
Sávila, Sister Mantos, DJ Anjali & The Incredible Kid, Liberaces, We The Dreamers
Named for the plant non-Spanish speakers know as aloe, Portland-based cumbia band Sàvila plays music with similar healing properties. Already beloved for the surfy riffs of guitarist Fabiola Reyna (founder of She Shreds magazine), the haunting vocals of Brisa Gonzalez, and the insistent rhythms of percussionist Papi Fimbres, this Friday the trio is finally releasing their long-awaited debut and celebrating with a blowout party at Polaris Hall. CIARA DOLAN
8 pm, Polaris Hall, $12
Lez Stand Up: Hot August Dykes
Lez Stand Up heats up another showcase of quality queer comedy, including sets from regulars Laura Anne Whitley, Caitlin Weierhauser, and Kirsten Kuppenbender, along with L.A.'s Amanda Faye Jimenez, and a special birthday guest spot from Carlos the Rollerblader
8 pm, Siren Theater, $12-15
Flynt Flossy & Turquoise Jeep
Purveyors of a genre they call EMB hip-hop ("Existing Musical Beings"), for nearly a decade Turquoise Jeep have brought humor back into hip-hop and R&B. There have been a few changes to the Turquoise Jeep roster, as they've said goodbye to the sultry voice of Pretty Raheem and Yung Humma, the creator of their most famous hit "Lemme Smang It," but the boys continue to churn out hilariously sensual jams. For those in the mood to get a little "Licky Sticky" belting out lyrics about their "Cavities," Turquoise Jeep know how to bring seductive performances (which often include audience participation). It's no wonder they've managed to "keep the jeep ridin'" for all these years. CERVANTE POPE
9 pm, Mississippi Studios, $15
Ings, Jessica Dennison & Jones, Kendall Core, Pat Moon
The Seattle-based singer/songwriter brings her harmony-driven "lullaby rock" back down the I-5 for an intimate Portland show with support from Jessica Dennison & Jones, Kendall Core, and Pat Moon.
8 pm, Turn! Turn! Turn!, $10
Ween
Aaron Freeman and Mickey Melchiondo—AKA Gene and Dean Ween—bring their shapeshifting experimental rock band out of New Hope, Pennsylvania back through town for a two-night stand on the picturesque Edgefield lawn.
Fri-Sat 6:30 pm, Edgefield, $49.50-52, all ages
Tribute to the Music of Motown
DJ Action Slacks (Shannon Wiberg) hauls her record collection up to St. Johns to spearhead this monthly dance party celebrating the golden era of Motown Records.
9 pm, The Fixin' To, $7
The Portland Mercury's Burger Week
Have you not yet partaken of the patties on offer at 50 fine dining establishments throughout the city, all prepared to be procured for the low low price of five mere dollars? WELL THERE'S ONLY TWO DAYS LEFT TO DO THAT, YA BIG DUMMY. Burger Week is a celebration not just of local business, but the local chefs with amazing imaginations (and the culinary skill to make those burgery dreams a delicious reality), and besides—how often do you get a chance to dig into this many delectable miracles so affordably? You got two days left to get in on this Burger Week goodness. Make 'em count.
Various Locations, click here for a full list of participating venues, $5
---
Saturday, Aug 18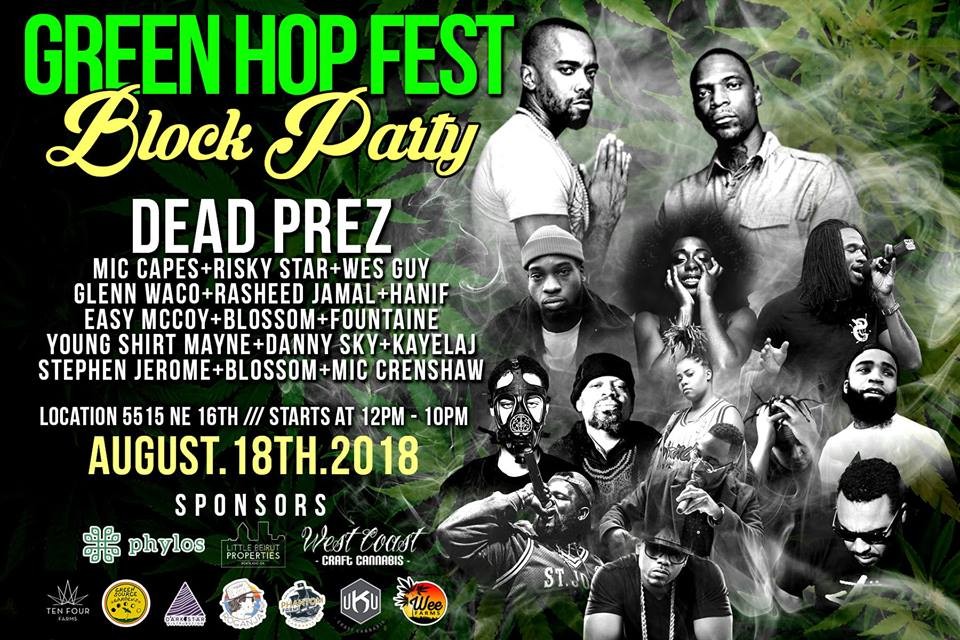 Green Hop Fest Block Party
After celebrating its grand opening earlier this summer, Green Hop—the "world's first historical hip-hop dispensary"—is hosting a fundraising block party for Green Hop Academy, an internship program designed to bring more people of color into the cannabis industry. The lineup includes none other than Dead Prez, along with beloved local MCs like Mic Capes and soul singer Blossom. CIARA DOLAN
noon, Green Hop, free
Portland Adult Soapbox Derby
Remember when you were a kid and your parent helped you build a death machine to ride down a hill in? Well, now you can be your own dad and build yourself a soapbox racecar! Adults speed down the hill at crazy speeds in their own handmade contraptions. Sounds like the perfect circus to watch on a sunny summer day. KELLY KENOYER
9:30 am, Mt. Tabor Park, free
All Together Festival
It just feels good to support local record label/boutique/gallery Tender Loving Empire. Not only is their collection of handmade goods from local artists and makers absolutely adorable, making it one of my top Portland destinations to buy gifts for friends and family (and myself, obvi), but TLE also lends its support to some of the city's most talented rising music stars. Case in point: the All Together Festival. In celebration of the label's 11th annual Friends and Friends of Friends compilation album, TLE has curated 12 hours worth of stellar acts—including DJs Rap Class and Maxx Bass, who will close out the evening. Whether you're interested in hearing soul-infused garage-pop from the Fur Coats, synth-focused dance music from Dan Dan, or Luz Elena Mendoza's Mexican-rooted indie folk, there's something for everyone! There's also a big draw in Chanti Darling, who turns every venue into a dance party with their irresistibly dancey blend of R&B, disco, funk and new jack swing. The fact that all of this is free makes it a no-brainer. JENNI MOORE
2 pm, White Owl Social Club, free
15th Annual Hot Dog Eating Contest
I think I ate four hot dogs once. The rest of the day did not go well. But those with more intestinal fortitude than me shall converge at upper Hawthorne wiener house Zach's Shack for their 15th annual hot dog eating contest. The in-house record is 26 hot dogs in 10 minutes. Think you can beat it? Or do you just want to watch? NED LANNAMANN
4 pm, Zach's Shack, free to watch, $10 to enter
Portland Thorns vs. Chicago Red Stars
Playoff races don't get any more exciting than the NWSL this season, and if you haven't been keeping up, tonight's match between the Thorns and the Red Stars presents the perfect opportunity to tune in. Keeping Australian phenom Sam Kerr off the score sheet will be no easy task, but if the defending champs can grind out a win at home tonight, they'll have an excellent shot at reaching the postseason for a third straight year. CHIPP TERWILLIGER
12:30 pm, Providence Park, $15-70, all ages
Neal Brennan
The co-creator and co-writer of Chappelle's Show gets a chance to display his stand-up chops live on Aladdin Theater stage.
7 pm, Aladdin Theater, $28.75
Crystal '80s Block Party
The Crystal Ballroom and Hotel throw a free '80s-themed block party on SW Stark Street between 12th & 13th, with a beer garden, boozy sno-cones, a pig roast, live music from My Voice Music, My Siamese Twin, and Glass of Hearts, and a Video Dance Attack grand finale.
3 pm, Crystal Ballroom, free
Punch Brothers, Andrew Bird
The progressive bluegrass quintet headed up by mandolinist and Prairie Home Companion host Chris Thile make their way to the Oregon Zoo Amphitheater for an so-headlined show with beloved violinist and singer/songwriter Andrew Bird.
7 pm, Oregon Zoo, $39.50-99
Sun Angle
Artist/musician Marius Libman (Copy) moved to San Francisco not too long ago, placing his multitude of Portland-based music projects on hold. Happily, one of those will be taken off the shelf tonight when Sun Angle plays a reunion show. Libman, on bass, will be joined by drummer Papi Fimbres and guitarist/vocalist Charlie Salas-Humara, and the trio will whirl through a diverse, mind-expanding blend of psychedelia, punk, and pop. The show also serves as a delayed release show for their album Skullflower, which came out on XRAY Records in 2016 but never received its live due, since Salas-Humara suffered unexplained hearing loss and Libman left town shortly thereafter. Fortunately, good things come to those who wait, and tonight Sun Angle is a whole entity again. Witness them lay their disparate mosaic tiles of avant-garde sound, hyper-danceable rhythms, and sunshine acid-blotter melody—who knows when the chance will come again? NED LANNAMANN
9 pm, The Fixin' To, $10
OMSI's Sci-Fi Film Fest
OMSI's in the midst of their 2018 Sci-Fi Film Fest, when they devote the GINORMOUS screen in their Empirical Theater to some of the finest, funnest science-fiction movies of the past few decades! You've got your pick from arthouse (Alphaville) to pop (Solo: A Star Wars Story), from classic (The Day the Earth Stood Still) to contemporary (Avengers: Infinity War), and from Blade Runner (Blade Runner) to Blade Runner (Blade Runner 2049)... but also in the mix are The Matrix, Close Encounters of the Third Kind, Eraserhead, and on Saturday, a Robot Theater Triple Feature, featuring A.I. Artificial Intelligence, Forbidden Planet, and Ex Machina (an underseen, underrated creep-out from Alex Garland, one of the best filmmakers working today.) ERIK HENRIKSEN
Various Times, click here for a complete schedule, Oregon Museum of Science and Industry, $6-7 individual screenings, $25-30 festival passes
---
Sunday, Aug 19
Montavilla Jazz Festival
It makes sense that in order to hear local jazz musicians pushing the envelope, you have to venture to the edge of the city's envelope, as the Portland Metro Arts Center hosts artists such as Randy Porter, Nancy King, Dmitri Matheny, Darrell Grant, Christopher Brown, Alan Jones, and more.
1:30 pm, Portland Metro Arts Center, click here for a complete list of performers and showtimes, $15-50
Portland Beer and Music Festival
You like beer. You like music. Behold: A festival geared specifically to those fine and cultured tastes! Admission includes tastings from the over 40 craft beers available, and a chance to listen to sounds from the 182s, Jon Davidson, and the Bass Punks.
7 pm, Tiffany Center, $35-50
Cardioid, Cat Hoch, Dan Dan
For years, Radiation City was one of the most popular bands in Portland, thanks to their snappy blend of synth-pop, indie rock, and modern soul. But they splintered in late 2016, and keyboardist/singer Lizzy Ellison struck out on her own, forming Cardioid with Unknown Mortal Orchestra drummer Riley Geare, recording an excellent and efficient pop-rock album called Parts Dept., and moving to Los Angeles. Tonight, Cardioid returns to Portland for a hometown show, this time with a sophomore album in the works—the merch section of their website teases: "Fantasy Metal - Coming Soon!" There's no official word of what that means, exactly, but show up tonight and see if Cardioid has anything new up their sleeves. BEN SALMON
9 pm, Doug Fir, $10-12
Lubec, Curling, Slippery Eyes
Through unpredictably reactive drumming from Matt Dressen; Eddie Charlton's geometric, calculated guitar riffs; and Caroline Jackson's fuzzed-out classical piano, Lubec creates carbonated shoegaze, too fizzy and frenetic to be dreamy but too distorted to feel like reality. CIARA DOLAN
7:30 pm, Firkin Tavern, free
Pig & Oyster Roast
Perlot presents this one-of-a-kind, Mexican-inspired feast from the culinary mind of Executive Chef Patrick McKee, featuring raw and grilled oysters, whole roasted pork shoulder in spiced adobo, coal roasted veggies, and live music from Devin Phillips.
6 pm, Perlot, $35
The CCS Invitational at Hubba Berg
CCS hosts an invitation pro skate contest and festival with help from Adidas. Watch over 40 pro skateboarders tear up small scale recreations of legendary skate spots Hubba Hideout and Wallenberg with a 5k cash prize on the line, all while enjoying food, beer, carnival games, and browsing wares from over 30 skateboard, footwear and apparel brands.
2 pm, CCS, free
The Neverending Story
In 1984, celebrated German director Wolfgang Petersen (Das Boot) made his first English-language film, an animatronic-stuffed adaptation of half a children's book called The Neverending Story. It concerns a bullied bookworm who retreats to an attic to lose himself in a stolen tome, and manages to literally lose himself within it. This movie is one of the most '80s things ever made, with a cast of vaguely disquieting pseudo-Muppets assisting an androgynous horse-mounted rockstar on a synth-drenched journey through a Yes album cover to save a nameless princess. The movie is shaggier than the flying dog that steals every scene he's in with a lecherous charm, but there is still a strange, cheesy magic (barely) holding everything together. BOBBY ROBERTS
2:30 pm & 7 pm, Academy Theater, $3-4, all ages
Multnomah Village Vine & Dine
Pairing some of the Northwest's finest wines with sweet and savory treats from the region's best chefs. Proceeds benefit the Multnomah Village Block Initiative.
1 pm, Multnomah Arts Center, $30-50
Oregon Handmade Bike Show
One of the better Oregon bicycling traditions is this weekend-long showcase of designers, engineers, and cycling aficionados coming together, having some beer (a very important step) and creating artfully done transportation with their own hands.
11 am, Cathedral Park Place
Drag Queen Brunch
Liven up your Sunday brunch with an early afternoon cabaret show featuring celebrity tributes, comedy, and glamour served up by some of Portland's premier drag queens. Coffee and brunch buffet is included with admission, but you'll need to bring extra funds for Bloody Marys or mimosas.
11 am, Night Light Lounge, $23-50
Don't forget to check out our Things To Do calendar for even more things to do!