---
Jump to:
Friday
|
Saturday
|
Sunday
---
Friday, Sept 14
Kali Uchis, Gabriel Garzón-Montano
Kali Uchis is teetering on the brink of pop super stardom. The Colombian American singer/songwriter has toured with Lana del Rey and cultivated a following of loyal stans ever since releasing her 2015 Por Vida EP. In April, Uchis dropped her debut LP Isolation, and it's pretty much perfect—she jumps easily from R&B to garage rock to reggaetón, with features from artists like Bootsy Collins, Reykon, and Tyler, the Creator. Uchis' music videos, which have millions of YouTube views, typically involve a lot of bubblegum-pink (her pink hairdo, a pink sunset) and driving down lonely roads in retro roadsters. (8:30 pm, Roseland, $35-65, all ages) ISABEL LYNDON
Chad VanGaalen, Valley Maker, Loving
Canadian singer/songwriter and visual artist Chad VanGaalen makes weirdo indie rock that's only rivalled in greatness by his animated music videos. His 2017 album Light Information holds a microscope to humanity's relationship with time, technology, and self-imposed boundaries. Like every VanGaalen creation, it's strange but beautiful, in an alien way. (9 pm, Doug FIr, $17-20) CIARA DOLAN
Lez Stand Up: Caitlin's Going Away Show
Lez Stand Up bids a fond farewell to one of Portland's most amazing founts of pure wonderfulness, Caitlin Weierhauser, with a going-away show containing sets from regulars Laura Anne Whitley and Kirsten Kuppenbender, along with Wendy Weiss and special guest El Sanchez. (8 pm, Siren Theater, $12-15)
Greta Van Fleet, Dorothy
The much-ballyhooed "death" of rock has led to an unusual side effect: As shaggy dudes playing loud guitars recede from the spotlight, the few remaining rock acts have grown even more precious to the diehards. This explains the rapid rise of Greta Van Fleet, a Michigan quartet of three brothers and one friend who are selling out large halls before they've even released a full-length album (and before two of the members have reached legal drinking age). A listen to either of GVF's startlingly competent EPs, Black Smoke Rising and From the Fires, reveals why: These kids are hidebound devotees to the Orthodox Church of Led Zeppelin, replicating that band's swing, swagger, and screeching vocals with an almost astonishing amount of confidence. They've gained acclaim for a powerful live show, and with their much anticipated debut album due in October, Greta Van Fleet are poised to become absolutely massive. When they do, enjoy their riffs, which really are good—but just be ready to ignore the countless think-pieces that say, "Rock is back!" (8 pm, Arlene Schnitzer Concert Hall, $37.50-50, all ages) NED LANNAMANN
Galaxe, Blossom & Ripley Snell
Rapper/singer Ripley Snell and local soul songstress Blossom recently dropped their collaborative four-track EP, Clout Atlas:: Dormiveglia. "Dormiveglia" is defined as the state of being half-asleep or half-awake, and the project resulted in some sleepy, synthy, laid-back grooves like the title track, "Trader Joes," and "casting couch." Their show at Jack London is an opportunity to hear the EYRST labelmates perform it all live. (9 pm, Jack London Revue, $10-12) JENNI MOORE
Ohmme, Mere Mention
The Chicago-hailing experimental pop and rock act spearheaded by vocalists and musicians Sima Cunningham and Macie Stewart swing through Kelly's Olympian for an intimate Portland show supporting their Joyful Noise-issued debut, Parts. (9 pm, Kelly's Olympian, $10-12)
Judy on Duty: Dykes Wanted
A special TBA edition of Judy, celebrating the local queer community. The vibe is genuinely comfortable and inclusive, so assholes and creeps: Stay away, or you'll have to answer to a lot of angry Judys. (10 pm, PICA at Hancock, $5-15)
Honne
The London-based electronic soul duo spearheaded by Andy Clutterbuck and James Hatcher returns to the Wonder Ballroom stage for the Portland stop on the "Love Me/Love Me Not" Tour. (9 pm, Wonder Ballroom, $16-18, all ages)
Little Shop of Horrors Picture Show
Many have tried to capture that Rocky Horror magic, but of all the contenders to that irreverent throne, Little Shop of Horrors might have the strongest claim, and the Alberta Rose hosts a blowout interactive sing-a-long and screening to help benefit Wildwood Farm Sanctuary. There will be props, cupcakes and donuts (vegan, too!), an opportunity to take a photo with man-eating plants, a raffle, and more! (7 pm, Alberta Rose Theatre, $25)
The Comedy Get Down
This kingly collection of all-star comedy talent comes back through Portland, with sets from stand-up legends D.L. Hughley, Eddie Griffin, Cedric the Entertainer, and George Lopez. (8 pm, Moda Center, $49.75-89.75)
Clementine Ford, Lindy West
In Fight Like A Girl, Clementine Ford blends elements of memoir, opinion, and investigative journalism to chronicle, and rally around, the uphill battle women face on a daily basis. Ford will be joined in conversation by Lindy West, author of Shrill: Notes From a Loud Woman. (7:30 pm, Powell's City of Books, free)
Penn & Teller
When they first started, Penn & Teller were the punk upstarts in a wing of the entertainment industry that was fairly staid in its superficial glossiness. And as the decades have gone on, they've essentially become the establishment they set out to overturn, without sacrificing their irreverence and style. (7:30 pm, Keller Auditorium, $45-65)
---
Saturday, Sept 15
Director's Uncut: An Evening with John Cameron Mitchell
Fresh off filming the upcoming Hulu series Shrill here in Portland, the writer, star, and director of Hedwig and the Angry Inch and How to Talk to Girls at Parties comes to Revolution Hall to provide director's commentary for both films, as well as a special live music performance during intermission. (8 pm, Revolution Hall, $25-30)
W. Kamau Bell
The host of the brilliant, short-lived talk show Totally Biased and the current CNN documentary series United Shades of America brings his razor-sharp sociopolitical comedy back through Portland for a headlining show at the Aladdin Theater. (7 pm & 10 pm, Aladdin Theater, $30)
NWSL Semifinal: Portland Thorns vs. Seattle Reign
After securing a 3-1 win over Seattle in the final match of the regular season, the Thorns welcome their rivals back to town for a semifinal match that will send the winner to the NWSL Championship at Providence Park on September 22nd. (noon, Providence Park, $18-135)
Leon Bridges, Khruangbin
The quick-rising R&B, gospel, and soul artist returns to town for a picturesque show on the Edgefield lawn supporting his latest full-length, Good Thing. (6:30 pm, Edgefield, $48.50-72.50)
Murder by Death, William Elliott Whitmore
Murder by Death and William Elliott Whitmore have come full circle. Back in 2000, Whitmore performed for the first time with a brand-new band, Little Joe Gould, led by the young vocalist/guitarist Adam Turla and cellist Sarah Balliet, in a basement in Bloomington, Indiana. Little Joe Gould would eventually change their name to Murder by Death, and the two musicians embarked on multiple tours together. They found themselves once again sharing the road, and now a label, as both artists released albums this year on the venerable Bloodshot Records. MBD's eighth LP, The Other Shore, finds them writhing in their literary gothic-folk, this time under the guise of a space-western epic taking place on a post-apocalyptic planet. Meanwhile, Whitmore's seventh record, Kilonova, rides the singer/songwriter's far-reaching baritone vocals and swampy Americana into new and exciting realms. (8 pm, Wonder Ballroom, $24-28) RYAN J. PRADO
Brews for Baby Blues
Baby Blues Connection has offered support to women and families facing postpartum depression through a variety of services including a 24-hour help line and peer support group since 1994. Support their work at this family-friendly event filled with music, kid and adult activities, booze and pop, a silent auction, and much more. (6 pm, Lagunitas Community Room, $25) EMILLY PRADO
Charts, Airport, Motrik
Come for the Charts, but make sure you're there early to pour some Motrik in your ear, and most especially, help celebrate Airport's most recent record, Canary Island Breakfast. (9 pm, Firkin Tavern)
Lompoktoberfest
Its that time of year, once again, where lederhosen is worn like a superhero costume, if superheroics included drinking beer out of glass boots and eating your body weight in schnitzel. Lompoc celebrates Oktoberfest with a whole bunch of German-styled food to pair with their German-styled beers. And starting at 5:30 pm, they'll put the Timbers game on for good measure. (4 pm, Lompoc Sidebar)
The End of Summer Party
The Oregon Zoo says goodbye to Summer 2018 with this all-day party amidst the wildlife, with live music from the Junebugs and Jujuba, an opportunity to enjoy a meet & greet with the people behind Wildlife Live, food carts; drinks from 15 different breweries, wineries, and cider houses; lawn games, kids activities, and more. (2 pm, Oregon Zoo, free w/ zoo admission, all ages)
The Muppets Take Manhattan
Of all the big-screen Muppet adventures, 1984's The Muppets Take Manhattan is the most uneven. But while the story (Kermit and company want to stage a Broadway musical) never quite takes off, even mediocre Muppetry is still a good time, and Manhattan boasts two legitimately great sequences: The wedding of Kermit and Miss Piggy (spoilers!) and the first-ever appearance of the Muppet Babies, whose adorability couldn't be contained in a single film and went on to become a beloved, award-winning Saturday morning cartoon. Also starring Dabney Coleman, who is first-rate. (2 pm, Hollywood Theatre, $3-6, all ages) BOBBY ROBERTS
---
Sunday, Sept 16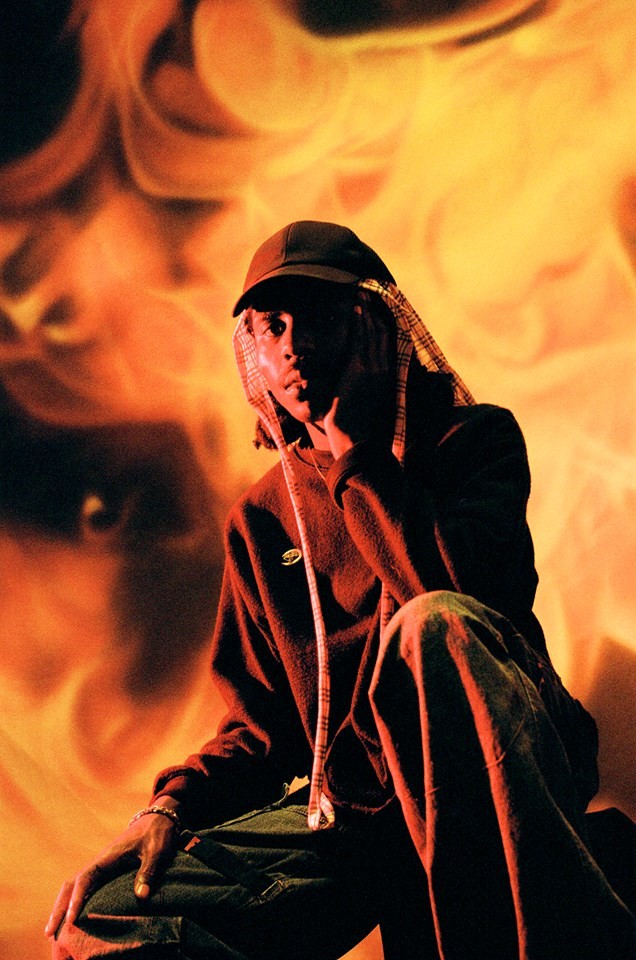 Blood Orange
Though Dev Hynes has written and produced hits for the likes of Solange, Florence and the Machine, Kylie Minogue, and Carly Rae Jepsen, his solo work as Blood Orange has never been all that concerned with chart-topping singles. Over seven years and three albums, Hynes used the Blood Orange moniker to delve into deeper, more delicate, and more personal material. His new record Negro Swan explores themes like the ongoing anxieties of queer and trans folks and people of color, surviving childhood trauma, and what he defines as "Black depression." Negro Swan is a meditative journey through Hynes' most intimate thoughts, sung over minimalist drum beats, mellow guitar riffs, and spaced-out keys. It's less an album of independent and disjointed singles—as so many hip-hop and R&B albums are today—as it is one continuous and slowly unspooling narrative. Lacking such straightforward bops as Freetown Sound's "Best to You" or Cupid Deluxe's "You're Not Good Enough," Negro Swan requires more patience than previous Blood Orange albums, and perhaps more than a couple of front-to-back listens. Its progressive R&B and lush bedroom pop is more ruminative than Hynes' previous efforts, but the result is beautiful, haunting, and brutally honest. With guest appearances by Tei Shi, A$AP Rocky, Project Pat, and Diddy (who lets himself be surprisingly candid), the most important and frequent guest is transgender activist Janet Mock, whose spoken interludes are heard throughout the album, propelling the narrative forward to a triumphant coda. (8 pm, Roseland, $29.50-39.50, all ages) SANTI ELIJAH HOLLEY
Feast Portland
If you haven't Feasted yet, you better get on that. Today is the last day of this city-spanning food festival specifically for you foodies out there, and there's still a lot to do (and eat), not least of which being the Feast Sunday Tailgate, featuring oysters, lobster rolls, and cold beer. Something for everyone! Visit feastportland for a full list of venues and times. (Various Locations)
School of Rock Portland: Weird Al
Students from the School of Rock Portland pay tribute the accordion-wielding icon and comedic genius known for his bottomless pit of song parodies. (noon, Doug Fir, $12-15, all ages)
Back to School Bingo
Finally! All those rat bastard kids constantly encroaching on your lawn are penned up in our public education institutions! Time to be throwing on a nice sweater, getting that hair did just right, and settling in for a long day of daubing at cards and cursing under your breath as some other schmuck wins all the Bingo prizes you rightfully deserve! Local comedy talents Erin Jean O'Regan and Jed Arkley will call the numbers. (11 am, Siren Theater, $5)
Madeleine Peyroux
Modern jazz culture is alive, vibrant, and still producing greats, one of which is jazz vocalist/songwriter Madeleine Peyroux. (8 pm, Revolution Hall, $49) ROBIN BACIOR
Boz Scaggs
Like mushrooms after rain, vinyl copies of Boz Scaggs' Silk Degrees tend to sprout up overnight in people's record collections. "Jeez, I don't remember buying this," every record collector has said at one time or another, suspiciously eyeing the iconic album cover with Scaggs on a park bench looking either drunk or dejected as a manicured lady hand suggestively reaches into frame. The former Steve Miller Band guitarist's blockbuster 1976 album is a swankfest from bygone days, a surprisingly ambidextrous collision of string-laden R&B, gently discofied beats, singer/songwriter introspection, and Springsteen-esque bar-band bravado. And its two hit singles couldn't be more different: "Lowdown" was, probably, sexy for its time, with its Barry White groove and burning-cool jazz flute; nowadays it sounds immeasurably creepy. But "Lido Shuffle" has a McCartney-worthy melody, a Thin Lizzy quick-shuffle rock beat, and the soaring sing-along chorus of your karaoke dreams. Scaggs has apparently recorded dozens of other albums that you've never heard, and presumably he'll play songs from some of them tonight, but expect those Silk Degrees jams to be the meat of the set list. (7:30 pm, Arlene Schnitzer Concert Hall, $59.50-79.50, all ages) NED LANNAMANN
John Kerry
Son of a Diplomat, Vietnam Veteran, Senator, Presidental nominee, Secretary of State, and now memoirist with Every Day is Extra, John Kerry visits Powell's to read from his new book, and tell stories about his extraordinary life. Admission includes a hardcover copy of the book. (7:30 pm, Powell's City of Books, $35)
Don't forget to check out our Things To Do calendar for even more things to do!