---
Jump to:
Friday
|
Saturday
|
Sunday
---
Friday, Oct 19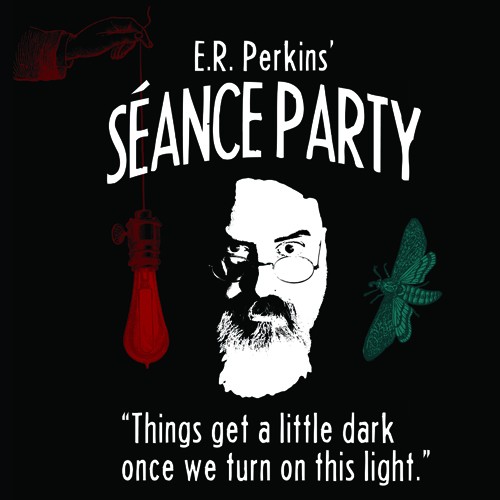 E.R. Perkins' Seance Party
If you're a fan of funny/legit spooky, then don't miss E.R. Perkins' Séance Party, starring the very talented Loren Hoskins as your tour guide into the history of séances, and haunted artifacts—and trust me when I say that things will get CREEPY and WEIRD. Partially an exposé of spiritualism and a love letter to the dark arts, you will laugh, be amazed, and (if you're anything like me) uncontrollably blurt out "Holy SHIT" at least once. This was one of the best performances of 2017, and this year he's only doing it once. So don't sleep. (8 pm, Siren Theater, $12) WM. STEVEN HUMPHREY
Portland Retro Gaming Expo
For those of us who believe that vintage games are still the best games, the Portland Retro Gaming Expo is a hell of a lot of fun. Looking for a copy of Jet Grind Radio for your Dreamcast system (or maybe an entire system replacement)? You'll probably find it here, along with 30,000 feet of classic arcade games and pinball machines (all set to "free play"), Tetris and NintendoAge tournaments, tons of interesting panels and speakers, a live auction, AND a cosplay contest? Yes, yes, a thousand times yes (Fri noon, Sat 9 am, Sun 10 am, Oregon Convention Center, $10-35, all ages) WM. STEVEN HUMPHREY
Bubba Ho-Tep
Throughout history, cinema has told many great stories—stories that revolutionize cultures, that meditate upon emotion and philosophy, that attempt to define what it means to be this thing we call "human." All of those stories are shit compared to Bubba Ho-Tep, a film in which Elvis (Bruce Campbell) and JFK (Ossie Davis) fight an evil mummy in a retirement home. Director Don Coscarelli in attendance. (7 pm, Hollywood Theatre) ERIK HENRIKSEN
My Favorite Murder
Join hosts Karen Kilgariff (Mr. Show, Bridgetown Comedy Festival) and Georgia Hardstark for a live taping of their popular true crime podcast in which they discuss their favorite tales of murder and weigh in on hometown crime stories from friends and fans. (8 pm, Arlene Schnitzer Concert Hall, $39.50-59.50)
King Khan & the Shrines, Gabriella Cohen
From the looks of his Bandcamp page, it's been a couple of years since Arish "King" Khan released anything with his nine-piece band, the Shrines. But what the garage rock royal has unveiled to the world over the past two decades has been routinely spectacular, conjuring psychedelic legend Roky Erickson and the hip-swiveling soul of James Brown in equal turn. In recent years Khan has been recording and producing albums for other artists from his Moon Studio in Berlin, most notably his teenage daughter, Saba Lou, whose 2017 debut Planet Enigma is lo-fi cosmic folk at its best. The King Khan shows I've attended have been shocking, strange, and mind-blowingly great—prepare accordingly. (8 pm, Star Theater, $15-17) CIARA DOLAN
Black Moth Super Rainbow, The Stargazer Lilies
The Pittsburgh-hailing experimental outfit bring their otherworldly blend of psychedelic electro-pop back through town for a headlining show supporting their latest full-length, Panic Blooms. (9 pm, Wonder Ballroom, $20-23)
Tove Stryke, Au/Ra
Who knows why Tove Styrke playing Holocene at 5:30 p.m. on a Friday, but what a treat! For those unfamiliar: Styrke is a former Swedish Idol contestant who, over the past decade, has developed into one of the most interesting and engaging pop artists out there. Her 2015 album Kiddo is a modern classic of tightly wound, technicolor electro-pop, the kind that bubbles up from underground rather than clubs you over the head (think Carly Rae Jepsen). It earned positive reviews, but didn't exactly make Stryke the household name she should be (also Jepsen-esque!). Now she's back with a long-teased third album, Sway, that flies by in seven tracks and just 25 minutes, plus… a demo of a Lorde cover? It's a head-scratcher of a release, but rest-assured, it's well worth bailing out of work a little early. (5:30 pm, Holocene, $16-18) BEN SALMON
Boreen, No Aloha, Mo Troper, Joypress
Good Cheer Records and the Clinton Street Theater host an all-ages benefit show for the Oregon Food Bank. (7 pm, Clinton Street Theater, $6, all ages)
Hawthorne Hip-Hop Showcase
A lineup of all-local hip-hop at the Hawthorne on a Friday is a rarity, but with a bill this good and diverse, they might just pack the place out. In addition to six-piece hip-hop/soul/funk band Speaker Minds, there will also be a set by cannabis enthusiast/rapper Stevo the Weirdo, relative newcomer [E]m-press (their 2018 project HeartBreak Hotel is rock-solid), YungShirtMane of the Naturally Grown Misfits crew, and Mat Randol, who released the truly excellent and cohesive full-length Art of Allowing last month. (8 pm, Hawthorne Theatre, $10-12, all ages) JENNI MOORE
Halloween Soundtrack Release Party
Music Millennium hosts a release party for John Carpenter's new score of the David Gordon Green directed Halloween sequel. Attendees will receive a free trick or treat bags from Sacred Bones records, and will have a chance to win a free copy of the record, along with a limited edition Halloween 12-inch. (6 pm, Music Millennium, free)
Ex-Cult, Mr. Wrong
Memphis punks Ex-Cult invoke the kind of furiously paced hardcore that sent scores of adolescents to American Legion halls, Quonset huts, and basements across the country in the early-'80s and beyond. (9:30 pm, Bunk Bar, $12) RYAN J. PRADO
Disrupt
WeMake presents this design conference about the positive power of disruption in the arts, featuring talks and workshops by artists and makers including Amy Dragon, Katy Ann Gilmore, Tommy Perez, Lizy Gershwinson, Christine Lonsdale, Loveis Wise, Kate Bingaman-Burt, Lisa Congdon, and more. (6 pm, Portland Art Museum, $75)
Ages & Ages, King Who
Ages & Ages bring their rousing choral pop and folk sounds to Portland's newest venue for an intimate hometown show. (8:30 pm, Polaris Hall, $10-15)
A Girl Walks Home Alone at Night
In horror movies, and sometimes in life, a girl alone at night is a victim. Shadows are ominous, noises are frightening. The night doesn't belong to her. Which is just part of why Ana Lily Amirpour's debut feature is so exhilarating. The Girl (Sheila Vand) is a taciturn, hijab-clad vampire in a tiny Iranian town called Bad City, gliding through the deserted streets like a not-so-friendly ghost. The night is her domain, though the men she encounters might assume otherwise. The Girl does what she wants, and usually what she wants is to drink somebody. (9:30 pm, Fifth Avenue Cinema) ALISON HALLETT
Walter Mosley
Bestselling author (and legitimate literary treasure) Walter Mosley returns with John Woman, a coming-of-age story about a young man who reinvents himself as a professor in order to spread his father's wisdom throughout classrooms and beyond. (7:30 pm, Powell's City of Books, free)
---
Saturday, Oct 20
Phoebe Robinson
Phoebe Robinson has become an increasingly popular voice in comedy. Perhaps you've heard of one of her hilarious podcasts (2 Dope Queens and Sooo Many White Guys), or enjoyed one of her stand-up sets on that recent "Yaaas Queen Yaaas" tour with Ilana Glazer, or read her first memoir You Can't Touch My Hair: And Other Things I Still Have to Explain. Now she's touring in support of her new book Everything Is Trash, but It's Okay. Sadly, her set at Live Wire is sold out, but you can still catch her at Powell's, the only free and open-to-the-public stop on the whole damn book tour. (7:30 pm, Powell's City of Books, free) JENNI MOORE
Saintseneca, Trace Mountains
Saintseneca's songs crackle and buzz with an energy that would benefit many similar indie folk-rock bands. The Columbus, Ohio, group—helmed by singer/songwriter Zac Little—has felt like it's been on the verge of bigger things for a while now, thanks to 2014's Dark Arc and 2015's Such Things. But the band's new album, Pillar of Na, may be their best yet. It's warm, strummy, restless, and relentlessly catchy, with one foot planted in the world of elegant pop-rock and the other rooted in punk ethos. It's well worth a listen, if for no other reason than Little's stated goal: "I told [producer] Mike Mogis I wanted Violent Femmes meets the new Blade Runner soundtrack," he explains in the band's bio. "I'm looking for the intersection between Kendrick Lamar and the Fairport Convention." Was he successful? That's for your ears to decide. (9 pm, Doug Fir, $12-14) BEN SALMON
Snowvana
This celebration of all the things that make winter fun returns to the Rose Quarter, courtesy of 10 Barrel Brewing and Toyota. This year's events include an opportunity to meet Olympic gold medalists Red Gerard and Maddie Bowman, as well as skiiers and snowboarders like Sammy Carlson, Erika Vikander, and AJ Kitt. Plus the mountain of vendors and exhibitors selling wares and experiences you normally can only get on a mountain as opposed to the Rose Quarter. (Veterans Memorial Coliseum, $10-49, all ages)
Peanut Butter Wolf
The Los Angeles-based DJ and founder of the influential rap label, Stones Throw Records, makes his way up the coast for a late-night set at the Jack London Revue. (11:55 pm, Jack London Revue, $18-20)
Máscaras, Healing Gems, Ex-Kids
Local psych shredders Máscaras head up a Saturday night show at the Fixin' To, with likeminded Los Angeles outfit Healing Gems and up-and-coming Portland punks Ex-Kids rounding out the bill. (9 pm, The Fixin' To, $7)
The Shining
It says something about Stanley Kubrick's skill as a director that, of all the perfectly framed, perfectly lit, perfectly staged scenes and shots in The Shining, moments that embed themselves like patient little tumors in the soft spots of your brain, maybe the most profoundly fucking creepy thing in the whole film isn't two twins holding hands, or an elevator filled with blood, or a man in a bear suit caught mid-fellatio, or a woman transforming instantly in a single edit from siren to pile of sloughed-off skin. No, it's a little boy riding a Big Wheel around the perimeter of a carpeted dining room. That's it. A boy, his bike, and the unsettling rhythm of his plastic wheels thumping up onto the carpet, and smacking back down on the hardwood. (6:30 pm, 9:30 pm, Academy Theater, $3-4) BOBBY ROBERTS
The Weather Station, Jennifer Castle
The Weather Station is the working name of Canadian songstress Tamara Lindeman, whose work has conjured up comparisons to musicians like Joni Mitchell and Bill Callahan, just as much for her vocal timbre and gentle finger-picked melodies as for her penetrating lyrics. It'd be easy to assume from their meandering, breezy instrumentation that her songs would be filled with simplistic lyrics, but within Lindeman's wispy delivery are striking depictions of landscape and relationships that read like stand-alone poems or essays. (9 pm, Mississippi Studios, $12-14) ROBIN BACIOR
Comedy, Candidates, & Cocktails
Multnomah County Democrats harness the power of local laughter to help raise funds for their electoral efforts, featuring stand-up sets from Alex Falcone, Mohanad Elshieky, Corina Lucas, and Katie Nguyen. Hosted by state senator Lew Frederick. (7:30 pm, North Portland Eagles Lodge, $25)
Food for the Soul: A Benefit Concert for Potluck in the Park
Potluck in the Park has served hot, nutritious, and free meals to people in need every Sunday since 1991. Celebrate 25 years of their entirely volunteer-run work by joining them in a vital fundraiser packed with tasty food, cocktails, several different bands, and legendary drag performer Darcelle XV. (6 pm, Tiffany Center) EMILLY PRADO
Roller Derby Tournament: Rose City Wreckers vs. Special Guests
The Rose City Wreckers host an all-day, double elimination tournament at the Hangar featuring the Columbia Gorge Roller Girls, Everett Washington's Jet City Roller Derby, Southern Oregon's "SO Derby," Eastern Washington's Chaos Theory Pickup Rollers, and Montana's Big Mountain Misfits. The tournament begins at noon, with the finals going off at 7:30pm and 9pm. (noon, The Hangar at Oaks Park, $15-25, all ages)
The Mummies, The Edgar Allan Posers, The Nummies
The pioneering garage punk revival act out of San Bruno, California bring their raw sound and trademarked live show through Dante's to get the Halloween festivities started a little early. (9 pm, Dante's, $25)
Pan's Labyrinth
Pan's Labyrinth is Guillermo del Toro's masterpiece. Set in post-civil war Spain, Labyrinth follows a young girl, Ofelia (Ivana Baquero); as post-war fascism dominates her life, she discovers an ancient forest presided over by a faun who's at once welcoming and sinister (Doug Jones). Descending into a world of myth, danger, and horror, Ofelia's story becomes twofold--roughly half of Labyrinth deals with historical drama, while the other explores the fantastic and symbolic. Labyrinth is breathtaking: Rich performances, stunning visuals, and an assured, original tone demonstrate how dear the material is to del Toro. (7 pm, Fifth Avenue Cinema) ERIK HENRIKSEN
Hands Up: 7 Playwrights, 7 Testaments
The August Wilson Red Door Project is bringing back the revered Hands Up, a monologue set commissioned in the wake of Michael Brown and John Crawford III's murders. Each of the seven testaments were created by individual Black playwrights. Past runs have sold out quickly, so get your free tickets in advance. (7:30 pm, Wayfinding Academy, free w/ rsvp)
East Portland Arts and Literary Festival
The Asian Pacific American Network of Oregon presents proof that a vibrant, valid, and necessary arts festival doesn't have to be confined to downtown, and POC representation should be much higher. The East Portland Arts and Literary Festival is led by artists of color, and participating performers include Joe Kye, Dao Strom, Brian W. Parker, Katie Nguyen, and many more. Includes family-friendly activities, a book and craft fair, workshops, and visual art showcases and installations. (10 am, Portland Community College Southeast Campus, $5)
---
Sunday, Oct 21
Portland Timbers vs. Real Salt Lake
This afternoon, a well-rested Timbers side welcome Real Salt Lake to Providence Park for Portland's final home game of the regular season. The road wasn't without its share of bumps and bruises, but head coach Gio Savarese's first year with the club is shaping up to be a success. A win today would generate some much-needed momentum with playoffs looming large on the horizon. (2 pm, Providence Park, $42-175, all ages) CHIPP TERWILLIGER
Henry Rollins
The punk legend-turned-writer, actor, motivational speaker, television and radio host, spoken word artist, comedian, and activist shares some photographs from years spent traveling when the "Travel Slideshow Tour" swings through the Aladdin Theater. (3 pm & 8 pm, Aladdin Theater, $30, all ages)
Greg Proops
You know Greg Proops as the outstanding improviser from Whose Line is it Anyway—but he's also outstanding in the field of smart, incisive standup comedy AND funny, highly listenable podcasting. (7:30 pm, Helium Comedy Club, $16-26) WM. STEVEN HUMPHREY
Portland VegFest
Portland VegFest is giving veggie lovers, vegans and vegetarians a chance to celebrate plant-based living. For an entry of just $10 you can partake in free samples, chef demonstrations, workouts, and checkout a slew of health and nutrition speakers, restaurants, films, books, and activities for youth. (10 am, Oregon Convention Center, $10-17) JENNI MOORE
Gruff Rhys
The Welsh singer/songwriter and Super Furry Animals frontman steps out for a solo show supporting his latest full-length, Babelsberg. (9 pm, Doug Fir, $12-14)
Portland Mac & Cheese Festival
Castaway hosts the First Annual Portland Mac & Cheese Festival, with chefs from Portland and beyond serving up an array of takes on the comfort food classic and competing to take home the crown for best dish of the festival. Entry includes unlimited Mac & Cheese tastings, access to adult beverages, and one vote for your favorite dish. (11 am, Castaway, $45-90)
Little Shop of Horrors
"I think I need a root canal. I definitely need a long, slow root canal." (2 pm, Hollywood Theatre)
Lykke Li, TiRon, Ayomari
Renowned Swedish singer/songwriter Lykke Li brings her dreamy and dancey blend of electronic pop music through the Roseland for the Portland stop on a North American tour supporting her latest full-length, So Sad So Sexy. (8 pm, Roseland, $29.50-45, all ages)
Arlo Indigo, Jackson Boone, Small Skies
Portland's Arlo Indigo (AKA Jeremiah Brunnhoelzl) serves up electronically-enhanced pop music built out of layers of sound and melody. Tonight he celebrates the release of his latest full-length, Heartbeef, performing the complete album in its entirety. (8:30 pm, Holocene, $8)
No Kind of Rider, Pool Boys, Wave Action
Wave Action's simple, down-tempo surf feels like daydreaming about aquamarine beaches while lying in a lukewarm Fred Meyer kiddie pool on a gray, humid Portland summer day. (8 pm, Rontoms, free) CIARA DOLAN
Hocus Pocus
The 1993 Disney family comedy that starts at "sugar high" and ends somewhere past "diabetic shock" on the saccharine scale. At least it's not Teen Witch. (8 pm, Mission Theater)
Don't forget to check out our Things To Do calendar for even more things to do!