---
Jump to:
Friday
|
Saturday
|
Sunday
---
Friday, Oct 26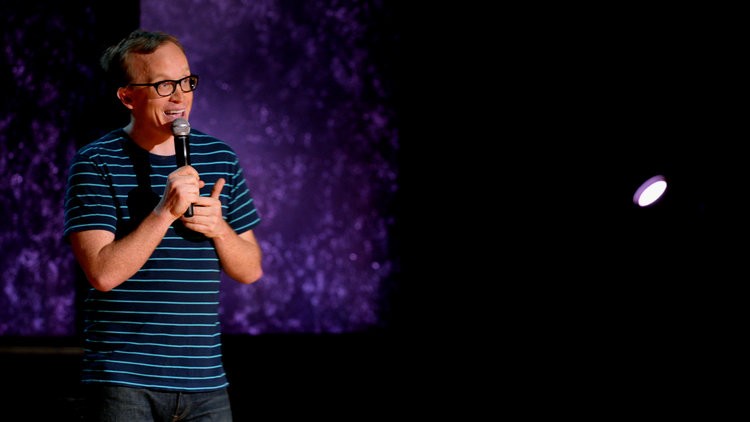 Chris Gethard
The comedian and writer known for his Beautiful/Anonymous podcast and his gone-to-soon DIY talkshow, The Chris Gethard Show, makes his way back to Portland in support of his new book, Lose Well. (10:30 pm, Hawthorne Theatre, $25-28)
The Shining
It says something about Stanley Kubrick's skill as a director that, of all the perfectly framed, perfectly lit, perfectly staged scenes and shots in The Shining, moments that embed themselves like patient little tumors in the soft spots of your brain, maybe the most profoundly fucking creepy thing in the whole film isn't two twins holding hands, or an elevator filled with blood, or a man in a bear suit caught mid-fellatio, or a woman transforming instantly in a single edit from siren to pile of sloughed-off skin. No, it's a little boy riding a Big Wheel around the perimeter of a carpeted dining room. That's it. A boy, his bike, and the unsettling rhythm of his plastic wheels thumping up onto the carpet, and smacking back down on the hardwood. 10:45 pm, Kennedy School) BOBBY ROBERTS
The Joy Formidable, Tancred
Welsh alternative rock trio the the Joy Formidable return to Portland for an intimate show supporting their forthcoming full-length, Aaarth. Up-and-coming pop rock guitarist and singer/songwriter Jess Abbott—AKA Tancred—rounds out the proceedings with songs off her latest album, Nightstand. (9 pm, Doug Fir, $25-53 Good luck at the ticket resale sites
Dirty Revival, Mbrascatu
Led by powerhouse vocalist Sarah Clarke, Dirty Revival plays "vibrant neo soul," but their classical and original renditions are infused with funk and hip-hop as well—guitarist Evan Simko occasionally hops on the mic to deliver verses as the group's sole MC, Evv N Flo. The band sounds like the ultra-mixed lovechild of Sharon Jones and the Dap Kings, Farnell Newton, Jill Scott, and The Roots. Just take a quick gander at their sax- and trumpet-studded performances on YouTube and you'll be pissed you didn't hear/see them sooner. 9 pm, Mississippi Studios, $14-16) JENNI MOORE
Snap! '90s Dance Party: Halloween Edition
Tonight's special Halloween installment of the beloved weekly dance party boasts special guest appearances from Seattle's DJ Introcut and Portland's own Chanti Darling. Attendees are encouraged to dress as their favorite superhero or supervillain to save $3 at the door and get a chance to win a Halloween prize pack. (9 pm, Holocene, $7-10)
'80s Video Dance Attack: Halloween Party
The annual '80s Video Dance Attack Halloween Party returns to the Crystal Ballroom and Lola's Room with a special spooky installment to kick-start your Halloween weekend. Top floor is the classic Dance Attack experience (but with way more candy corn), but Lola's Room puts a strong focus on the New Wave hits, so if you're feeling a little post-punky or goth, you know where to go. Come dressed to impress for a chance to win a big prize in the costume contest. (8 pm, Crystal Ballroom, $25)
Fresh to Death
DJ Ronin Roc and DJ Juggernaut take over the Jackknife for a Halloween hip-hop dance party and costume contest complete with a themed photo booth and a few surprises. (10 pm, Jackknife, $5)
Captured! By Robots, BadXMouth, Born A Lot
Jay Vance and his band of robots blend comedy, performance art, and grindcore with their long-running project. (9 pm, Dante's, $12-15)
The Dodos, Prism Tats
The Bay Area-hailing duo headed up by guitarist Meric Long and drummer Logan Kroeber bring their tightly woven blend of psych-folk and pop back to Portland in support of their latest full-length, Certainty Waves. (9 pm, Star Theater, $15)
Creature Party, The Mean Reds, Mink Shoals, The Cool Whips, The Shriekers, Metropolitan Farms
Turn! Turn! Turn! hosts a Halloween tribute night and costume party that doubles as a benefit for Not OK PDX, with tributes to the B-52's (Creature Party), the Bee Gees (Mink Shoals), the Go-Go's (The Mean Reds), the Monkees (The Cool Whips), XTC (Metropolitan Farms), and the Oberlin Spires (The Shriekers). (8 pm, Turn! Turn! Turn!, $5-10)
Thirsty City
The monthly hip-hop and beats showcase returns to the Liquor Store with a tricks, treats, and sweet, sweet beats for this Halloween-themed edition. Performers include Mike Slott, Omari Jazz, Jansport J, and more. Hosted by NorthernDraw. (8:30 pm, The Liquor Store, $10-15)
Months, Bike Thiefs, Mouthbreather
A pair of Portland's finest indie rock purveyors team up with Toronto's Bike Thiefs to kick-start the weekend at the Fixin' To. (9 pm, The Fixin' To, $7)
---
Saturday, Oct 27
She Shreds 5 Year Anniversary
For those who think the constant preening and posturing of male guitarists is RIDICULOUS, She Shreds magazine—devoted to spotlighting women guitarists and bassists—is a hard-rocking, healing salve. Now five years old, She Shreds is celebrating their well-earned anniversary with a show that (naturally) features a lineup of fantastic women performers, including Nat Palm (of Hiatus Kaiyote), Francesca Simone (who played for Beyoncé [!!!]), three piece Cumbia band Sávila, and the radical indigenous queer feminism of Black Belt Eagle Scout. This is a party that's guaranteed to shred. (8 pm, Revolution Hall, $10-20) WM. STEVEN HUMPHREY
All Night Horror Marathon
The unknown is literally a scary thing tonight—or rather, it's four scary things. If you wanna know what horror classics from the 1970s and '80s are getting screened in 35mm tonight, you'll have to enter the Hollywood Theatre first in order to discover what bloody treasures await you... alongside the more mundane treasures of pizza, beer, and coffee. (9 pm, Hollywood Theatre)
Kumoricon 2018
Portland's biggest celebration of anime, manga, and Japanese pop-culture turns 15 this year, with panels, vendors, costume contests, and much more. Guests include Yoshitaka Amano (Final Fantasy, Gatchaman), Lucien Dodge (Sailor Moon, Dust: An Elysian Tail), Keith Silverstein (Overwatch), and more! (Sat-Sun 8 am, Oregon Convention Center, $45-65)
BarFly's Ooky-Spooky Halloween Bus Tour
BarFly's annual adult trick-or-treating service returns for the 19th year, inviting you to put on your most original costume, head down to the designated meeting location, and roll out for costume contests and drink specials at an array of Portland bars. (7 pm, Various Locations, $30)
Fall Used Book Sale
The annual fundraiser from Friends of the Multnomah Library, featuring 100,000 used books, audiobooks, DVDs, CDs, comics, and more for sale. Friday is for members only, Saturday features a trivia contest, Sunday is half-off with an educator ID, and Monday is half-off for everyone. Visit friends-library.org for more info. (Sat 9 am, Sun 11 am, Doubletree Hotel Lloyd Center, free)
Killer Pumpkin Fest
A one-day mini-beerfest focused on the wonderfulness of taking pumpkins and turning them into beers, with Rogue providing a whole bunch of actual pumpkins to bowl, decorate, carve, and/or smash, with the kitchen providing a special pumpkin menu to pair with the over 40 pumpkin ales to sample. Also featuring costume contests for kids, grown-ups, and even your dogs. Proceeds benefit Camp Ukandu. (11 am, Rogue Eastside Pub & Pilot Brewery, $5, all ages)
Liz Vice, Moda Spira
Liz Vice is labeled a gospel singer, but that's not a completely accurate descriptor. Yes, her songs are almost solely dedicated to all things Jesus, but Vice's music owes more to soul-influenced gospel than to tambourine-shaking revivalism—she's more Mavis Staples than Mahalia Jackson. Her debut, There's a Light, was quietly released in 2015, and since then she's garnered much-deserved praise (no pun intended), climbing both gospel and R&B Billboard charts. (9 pm, Aladdin Theater, $17-20) SANTI ELIJAH HOLLEY
I Want Candy: '80s Neon/New Wave Costume Party
In what is becoming a bit of a Halloween tradition, DJ Cooky Parker takes control of the Eagles Lodge for the cant-miss party of the weekend. This year he'll join forces with DJ Gregarious to serve up the sweetest '80s and new wave dance party in all the land.(9 pm, Eagles Lodge, $10)
Blowpony's Homoween
Queer Halloweens are the best Halloweens, so get yourself to the always INSANE Blowpony's Homoween, with performances from Pinche, Double Duchess, Angelica D'Vil, Nekkra Nomicon, and more. (9 pm, Bossanova Ballroom, $13)
Bollywood Horror XVI
Anjali & the Incredible Kid return once again for one of the biggest, bassiest, bhangriest Halloween parties the city has ever seen, with support from Adam McCollom on the Panjabi dhol drum, dance performances from Tiare Tashnick, Paulina Munoz, and Sasha Khetarpal-Vasser, remixed Halloween visuals from South Asian horror films by Micha Schmelzer and Deai, special guests, a costume contest, and much more! 9 pm, No Vacancy Lounge, $15)
Dragging an Ox Through Water, Gillian Frances, Half Shadow
Swirling with and against Brian Mumford's voice and acoustic guitar are swaths of electronics, oscillators, synthesizers, and god knows what else. There are things like hummable choruses and moments of lilting serenity, but it remains heavy stuff from a heavy place. (7 pm, Mothership Music, free) ANDREW R. TONRY
Judy on Duty: Halloween
Guest DJ Jubilee heads up a special Halloween edition of Judy, celebrating the local queer community. The vibe is genuinely comfortable and inclusive, so assholes and creeps: Stay away, or you'll have to answer to a lot of angry Judys. (9 pm, Tonic Lounge, $10)
Spinal Tarp, Cheap Trick or Treat
The Fixin' To keeps the Halloween cover shows coming, with members of Summer Cannibals, Alice Donut, and the Dovecotes channeling Spinal Tap, and members of Ashes Rise, Soda Pop Kids, Piss Test, and the Gamits doing their best Cheap Trick. (9 pm, The Fixin' To, $8)
Simple Minds
A full evening with the Scottish rock band best known for the The Breakfast Club anthem "Don't You (Forget About Me)," currently on tour in support of their latest album, Walk Between Worlds. (8 pm, Roseland, $50-65)
Thrill the World
Another Halloween, another joyous celebration of what many consider to still be the greatest music video ever made, featuring hundreds (maybe even thousands) of people re-enacting Michael Jackson's famous dance routine. Degree of difficulty: They have to re-enact all of it, not just the Frankenstein's monster side-to-side bit. Or the slide-and-overhead-clap bit. (3 pm, Irving Park, free, all ages)
Kennedy School Halloween Party
One of the most fun venues in the entire city transforms into an '80s-era costume party starring My Siamese Twin resurrecting the alternative music of the 1980s, with a tribute set covering the likes of The Smiths, The Cure, New Order, Echo & the Bunnymen, Peter Murphy, The Cult, The Psychedelic Furs, The Church and more. (7 pm, Kennedy School, free)
Poltergeist LIVE
Theeeeey're gone! Tonight is the last 2018 performance of Bad Reputation's smash success parody Poltergeist Live!; which is, of course, a spoof on the '80s film about a little blonde girl getting sucked into her TV set? IDK, I never saw it. But I got the gist from last year's production because you don't really need to see the original film to enjoy this ridiculous spoof which includes the Mercury's own Editor in Chief, Wm. Steven Humphrey in the cast—not as the little girl but as something equally innocent and terrifying! (8 pm, Siren Theater, $18-25) SUZETTE SMITH
---
Sunday, Oct 28
Sunday Service: Day of the Dead
Chapel Hill hosts a special Halloween installment of Sunday Service, with live performances from Portland hip-hop and R&B artists TYuS and Young Lit Hippy, DJ sets from Dubblife and Dave Quam, and a full line-up of fun activities including beer pong, face painting, and a raffle. (3 pm, Chapel Hill, $7)
Public Image Ltd
John Lydon's tenure as the leader of Public Image Ltd has eclipsed the number of years he spent fronting the Sex Pistols by at least a decade, but people won't let him live down his days as Johnny Rotten. More's the pity, as Public Image Ltd has gone to higher musical heights—incorporating dub, noise, synth-pop, and Steve Vai along the way—than his first band would ever dream of attempting. The group's current iteration arrives on our shores to celebrate the 40-year anniversary of their debut album and the release of a new career-spanning documentary on the band. (8 pm, Wonder Ballroom, $35-40)
Adebisi, Tribe Mars, Mal London, Mic Capes
Adebisi Okuneye and her backing band bring a blend of neo-soul, jazz, and hip-hop down to the Doug Fir Lounge to celebrate the release of their new single, with Tribe Mars, Mal London, and Mic Capes on-hand to round out the proceedings. (9 pm, Doug Fir, $10-12)
WL, The Wild Body
Portland dream pop trio WL head up the latest installment of Sunday Sessions at Rontoms with assistance from local post-punks the Wild Body. (9 pm, Rontoms, free)
The Magic Numbers
The English quartet headed up brothers and sisters Angela and Sean Gannon and Michele and Romeo Stodart bring their pop-tinged indie rock across the pond for a North American tour supporting their 2018 full-length, Outsiders. (9 pm, Holocene, $14-16)
SOB x RBE, Quando Rondo
The quick-rising Bay Area hip-hop group spearheaded by Yhung T.O., Slimmy B, Lul G, and DaBoii make their way back up the coast for the Portland stop on their their international "Global Gangin" Tour. (8 pm, Roseland, $25)
Hahas for Housing
A comedy fundraiser to help benefit housing nonprofict Sabin CDC, with sets from local all-stars including Mohanad Elshieky, Jaren George, Dylan Jones, Rochelle Cote, Corina Lucas, and Carter Anderson. Hosted by Benjamin Tier. (5 pm, Helium Comedy Club, $50)
Halloween Bingo
The Siren hosts a Halloween party that hearkens back to the days of hairspray and polyester, cigarettes and coffee, daubers full of bingo ink and hyper-competitive old people matching numbers and letters. Jed Arkley and Erin Jean O'Regan host this throwback afternoon complete with prizes and mimosas. Come in costume! Well, you don't have to, but it'd be cooler if you did! (11 am, Siren Theater, $5)
Howloween!
The Oregon Zoo provides a safe space for families looking to get their trick-or-treating in early, and most trick-or-treat expeditions don't include intricately planned scavenger hunts amidst a ton of animal exhibits, so costumed kids can acquire heaps of deforestation-free candy while learning about wildlife. (9:30 am, Oregon Zoo, free w/ Zoo admission, all ages)
Don't forget to check out our Things To Do calendar for even more things to do!