---
Jump to:
Monday
|
Tuesday
|
Wednesday
|
Thursday
---
Monday, Nov 26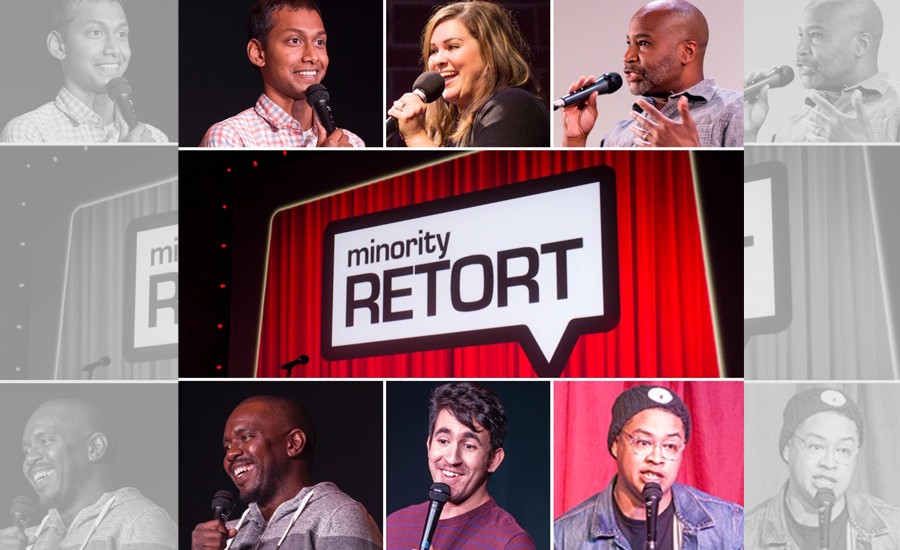 Minority Retort: Holiday Edition
Oh hey now Minority Retort, you're moving up in the world. For a monthly, bi-monthly comedy show—which showcases POC comedians—Minority Retort consistently delivers hilarious headliners. This holiday special at the The Armory is bound to be huge. They've got "Undisputable Geniuses of Comedy" Isaac Pendergrass and Mohanad Elshieky. They've got NBC Sports NW's Blazers Outsiders host Shain Brenden. And that's just what we know about! (7:30 pm, Portland Center Stage, $15) SUZETTE SMITH
Shana Falana, Havania Whaal, Friskies
Kingston, New York-based psych-pop artist Shana Falana takes a dream-pop backbone and filters it through a range of styles, morphing from spaced-out experimental-pop to uptempo, vocal-driven new wave with seamless grace and ease. (8 pm, Doug Fir, $5-8) CHIPP TERWILLIGER
Ingrid Michaelson Trio
The multiplatinum, award-winning singer/songwriter and her backing band bring the "Songs for the Season" tour through Revolution Hall to spread some holiday cheer here in Portland. (8 pm, Revolution Hall, $44.50, all ages)
Conan the Barbarian
The gloomy, bloodthirsty tone of 1982's Conan the Barbarian is likely due to director John Milius, the gun-toting conservative who co-wrote Apocalypse Now and the first two Dirty Harry movies. Milius is a little daffy, yes. He's also the kind of filmmaker that doesn't exist any longer in Hollywood; his clarity of vision in Conan is undeniable. The film is shockingly violent and completely preoccupied with anarchic forms of behavior. Conan is not a redeemable figure, but rather a character driven by rage and hatred. There are ritual sacrifices, pagan chanting, and bizarre witchcraft rites not seen anywhere on film outside of the schlockiest of grindhouse horror. Milius and Schwarzenegger take the pulpy story of Conan incredibly seriously, and the result is not your typical swords-and-sorcery fantasy, but rather a fully realized depiction of the blood-soaked early epics that predate the English language. (7 pm, Clinton Street Theater, $5) NED LANNAMANN
Ryan Bingham
The Alberta Rose Theatre hosts a heartfelt show featuring stories and songs from the popular Los Angeles-based Americana and roots rock singer/songwriter. (8 pm, Alberta Rose Theatre, $29.50-35)
Tuesday, Nov 27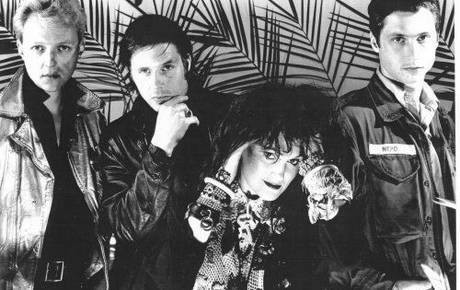 X, Elettrodomestico
Few punk bands have influenced the genre more than X. The group's dynamism was thrust onto the Southern California scene by way of blistering live shows and the chemistry between John Doe and Exene Cervenka. X's 1980 debut, Los Angeles, is a touchstone of American rock 'n' roll, featuring tunes like "Your Phone's Off the Hook, But You're Not," "Johnny Hit and Run Paulene," plus a cover of the Doors' classic "Soul Kitchen" (a nod to the record's producer, Doors organist Ray Manzarek). Since the band began to perform live again, they've established a new generation of fans, and have branched out from the lightning-fast three-chord attack of their early days. They even performed an entirely acoustic set at Pickathon 2014, though Doe admitted to the Mercury at the time that he wasn't sure why anyone would want to see X unplugged. Regardless, they're back, they're plugged-in, and they're poised to set that bouncy Crystal Ballroom floor to new levels of springiness. (9 pm, Crystal Ballroom, $29.50-35) RYAN J. PRADO
Grindhouse Film Festival: Vanishing Point
1971's Vanishing Point is a goddamn classic. Starring Barry Newman as the fearless driver Kowalski—and a 1970 Dodge Challenger as Kowalksi's 1970 Dodge Challenger—it's a car-chase movie so pure and visceral that you can smell burning rubber. (7:30 pm, Hollywood Theatre) ERIK HENRIKSEN
Roselit Bone, WIBG, Dreckig
A trio of Portland's finest country, psych rock, and cumbia-infused dance punk outfits take center stage at Mississippi Studios as part of a cheap and local bill. (9 pm, Mississippi Studios, $5)
Whitney Houston Dinner Cabaret with Poison Waters
The fantastic Poison Waters will host this dinner cabaret, providing plenty of comedy… and singing the songbook of Whitney Houston? OH HELL YEAH. Admission includes a 3-course dinner and non-alcoholic drinks. (7 pm, Mission Theater, $40)
Joe Bonamassa
Prolific blues rock guitarist and and two time Grammy nominee Joe Bonamassa returns to the Schnitzer stage in support of his latest live album, British Blues Explosion Live. (8 pm, Arlene Schnitzer Concert Hall, $99-199, all ages)
Lan Su Food Drive and Free Day
Bring a can or several dozen of non-perishable foods and receive free admission to the beautiful Lan Su Chinese Gardens as a thanks. Most requested items include rice, tuna, beans, shelf-stable milk, canned tomatoes, low/no sugar nut butters, and nutritious foods in general. (10 am, Lan Su Chinese Garden, free) EMILLY PRADO
Twist Your Dickens
Portland Center Stage presents the Second City's Christmas spoof Twist Your Dickens, directed by returning director Ron West and featuring some of the city's finest stage performers, including Nicholas Kessler, Rebecca Sohn, Bobby Mort, Chantal DeGroat, and more. (7:30 pm, Portland Center Stage, $25-82)
Wednesday, Nov 28
The Holiday Ale Festival
For the 23rd straight year, Pioneer Courthouse Square gets tented, heated, and filled with over 50 specialty winter ales from some of the best brewers in the country. Come down spread some holiday cheer while indulging in an array of delicious Belgians, barleywines, stouts, and sours you won't find at the supermarket, and capitalize on the opportunity to talk to the geniuses responsible for making all these delicious suds, too. (Wed-Sun 11 am, Pioneer Courthouse Square, $35)
Kweku Collins, Joseph Chilliams, Parisalexa
With distorted instrumentals built around piano and cello, somnambular beats, and introverted lyrics, Grey—the 2017 EP from Kweku Collins—broadens the scope of the dreamy universe the 21-year-old Midwestern rapper/producer introduced on Say It Here, While It's Safe. From a strikingly pretty Yeah Yeah Yeahs cover ("Oasis2: Maps") to the restless momentum of lead single "International Business Trip" to the warm, crackling production of standout track "Aya," Grey is captivating from cover to cover. Collins' newest single, "ET"—led by an acoustic guitar riff and heavenly, Auto-Tuned harmonies—proves his knack for moody melodies is only improving with time. (8 pm, Holocene, $12-15, all ages) CIARA DOLAN
Neil deGrasse Tyson
From the rebooted Cosmos to Twitter, astrophysicist Neil deGrasse Tyson brings logic and inspiration to a time that often feels mired in fear and superstition. (Wed-Thurs 7:30 pm, Arlene Schnitzer Concert Hall, $45-85)
Wait... What?
Hosts Martin Lendahls and Isaac Pendergrass present a live comedy game show filmed at Helium Comedy Club. "Wait... What?" pits four teams of Portland comics against each other in a series of challenges created to get each performer out of their comfort zones. Tonight's teams: Corina Lucas & Dylan Jenkins, Kirsten Kuppenbender & Nariko Ott, Andie Main & Adam Pasi, and Julia Ramos & Neeraj Srinivasan. (8 pm, Helium Comedy Club, $12)
Portland Trail Blazers vs. Orlando Magic
The Blazers celebrate Pride Night for the 3rd straight year with a mid-week game against the Orlando Magic. Enjoy drinks, food, raffles, music provided by DJ Mister Charming, and more, with proceeds go to benefit the Q Center and their work for the LGBTQ2SIA+ communities and allies in the Pacific Northwest. (7 pm, Moda Center, all ages)
We Three
Fresh off a breakout performance on America's Got Talent, the McMinnville-hailing trio headed up by siblings Joshua, Bethanyn and Manny Humlie bring their soulful pop sounds to the Crystal Ballroom to celebrate the release of their debut full-length. (8 pm, Crystal Ballroom, $20-25, all ages)
Heather Mayer
In Beyond the Rebel Girl, Heather Mayer profiles key figures of the Industrial Workers of the World in Oregon and Washington and explores how the IWW spearheaded the fight for birth control, sexual emancipation, and improved labor conditions. (7:30 pm, Powell's City of Books, free)
Dom Kennedy, Cozz, Jay 305
Los Angeles-based rapper Dom Kennedy brings the "Win or Lose" Tour up the West Coast for an all-ages show at the Hawthorne featuring support from Cozz and Jay 305. (9 pm, Hawthorne Theatre, $26-30, all ages)
Thurs, Nov 29
Papercuts, Sugar Candy Mountain, Ezza Rose
Parallel Universe Blues, the new record from San Francisco's Papercuts, picks up right where 2014's Life Among the Savages left off, which is to say frontman Jason Quever's washed-out dream-pop sound is in no danger of being abandoned. This time around, there are fewer anthemic tunes like "Still Knocking at the Door," but the album's lo-fi take on Quever's skillset still causes gooseflesh on songs like "Sing to Me Candy" and "How to Quit Smoking." Papercuts' music is still characterized by repetition and a lot of reverb, but more obvious nods to shoegaze icons like the Jesus and Mary Chain make Parallel Universe Blues feel like an instant classic. (9 pm, The Liquor Store) RYAN J. PRADO
Jimmy Carr
The English comedian, writer, and actor brings his dark wit, deadpan delivery, and unrivaled crowed work out to the Aladdin Theater for the Portland stop on "The Best Of, Ultimate, Gold, Greatest Hits" World Tour. (7:30 pm, Aladdin Theater, $7:30 pm, all ages)
Magic Sword, Crystal Ghost
The mysterious cloaked figures of Magic Sword—who are, in reality, three dudes from Boise—play retro-futuristic synth-rock that's like a whirling tornado of John Carpenter, Judas Priest, Daft Punk, and gamer influences. The anonymous musicians go by the aliases the Seer, the Weaver, and the Keeper. They speak in riddles and have sworn to defeat somebody known as "the immortal Dark One." Laser eyeballs glow behind their weird masks; they kind of look like Power Rangers having a spa day. No one really knows who they are, but there are rumors that I am not presently built to spill. Magic Sword has released a comic book and two records on Portland label Tender Loving Empire. "Reborn," their newest single, is a melodramatic synthesizer epic that would make my eyes roll if it weren't so undeniably righteous. (8 pm, Dante's, $16) CIARA DOLAN
The Old 97's
The pioneering alt-country outfit bring their "Holiday Extravaganza" Tour to the Wonder Ballroom stage, featuring a headlining set from the band, along with a special performance from DIY punk rock magician Casey Magic, as well as an acoustic set from Old 97's frontman Rhett Miller. (8:30 pm, Wonder Ballroom, $25-27)
Louis the Child
The Roseland serves up a night of upbeat electronic music and future bass from the Chicago-hailing production duo headed up by Robby Hauldren and Freddy Kennett. (8 pm, Roseland, $25-35, all ages)
Blue Plate Special
A week after Thanksgiving, the Siren Theater serves up a different kind of feast, one that that combines quality improv with true (and surprising) tales. Shain Brendan and Kirsten Kuppenbender provide the true-life stories, and Shelley McLendon, DK Reinemer, Tyler Quinn, Jenn Hunter, and Chad Parsons bring the improv. (8 pm, Siren Theater, $10-15)
Don't forget to check out our Things To Do calendar for even more things to do!