---
Jump to:
Friday
|
Saturday
|
Sunday
---
Friday, Jan 18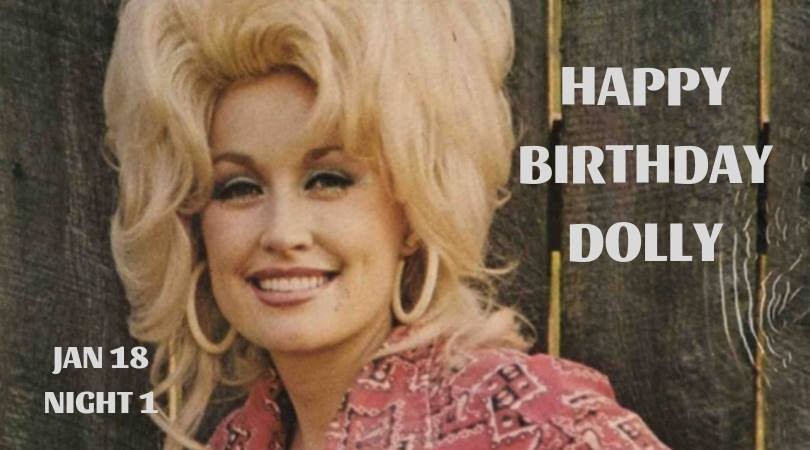 Dolly Parton Birthday Party: Night 1
Fact: Dolly Parton is the greatest human to ever walk this planet. Today she is 73, and to pay tribute to such a momentous occasion, local cover band Doll Party will honor the country legend's continued existence with two shows at the Fixin' To, where they'll don platinum wigs and play her greatest hits and deepest cuts all night long. Ooo-eee! (9 pm, The Fixin' To, $10) CIARA DOLAN
Black Belt Eagle Scout, Amenta Abioto
Arguably the best album to come out of Portland last year, Black Belt Eagle Scout's Mother of My Children is eight songs chiseled down to their essentials. It's slowcore heartbreak, bleak and celebratory, a history lesson in the brooding music of the Pacific Northwest. It's an album that's both completely familiar and wholly its own. Within its unadorned mantras, Mother of My Children is a queer breakup album, a grief memoir, and a story of Native American resistance. It's all there if you want it—a work fully distilled and yet too big to easily hold in your hands. (9 pm, Mississippi Studios, $10-12) JOSHUA JAMES AMBERSON
Toro Y Moi, Old Grape God
Tonight, one-time Portlander Toro Y Moi returns to town to celebrate the release of his new album Outer Peace. If the greatness of singles like "Freelance" and "Ordinary Pleasure" are any indicators, both the record and the show will provide shelter from the cold with sweaty, cathartic disco-funk grooves. (9 pm, Wonder Ballroom, $25-28, all ages) CIARA DOLAN
Victims Family, Nasalrod, Cliterati, The Social Stomach
The long-running hardcore band out of Santa Rosa bring their shape-shifting blend of punk, jazz, funk, and noise rock up the West Coast for their first Portland show in several years. Like-minded locals Nasalrod, Cliterati, and The Social Stomach round out the bill. (8 pm, High Water Mark, $10)
School of Rock Portland: A Tribute to the History of Portland
Students from the School of Rock Portland honor the city's rich musical tradition with tributes to Poison Idea, Wipers, Nu Shooz, Dead Moon, the Kingsmen, and many more. Proceeds go to benefit the PROWUS music scholarship fund. (6 pm, Holocene, $12-15, all ages)
From 503 to 530: A Benefit Show and Silent Auction
The need for emergency and disaster response extends long after the initial tragedies have struck. That's the case for the Campfire blaze and the communities that are still recovering, resettling, and piecing their lives back together. Spend your evening listening to hardcore punk from Deadwitch and Worws, bidding on local artwork, and giving back by showing up. (8 pm, Black Water Bar, $8) EMILLY PRADO
Peter Murphy & David J., Desert Mountain Tribe
English musicians Peter Murphy and David J celebrate 40 years of their beloved post-punk and gothic rock outfit Bauhaus with a Ruby anniversary show at the Roseland. (9 pm, Roseland, $29.50-45)
Andy Borowitz Live
Hey, you know those satire stories from the New Yorker that are almost constantly getting confused for legitimate news because satire is functionally dead when reality is as stupid and absurd as ours currently is? Well this Andy Borowitz guy writes 'em! He's that guy! He's also the guy who created Fresh Prince of Bel-Air, and because of that, we were gifted Alfonso Ribeiro's portrayal of Carlton Banks, which is really the show's eternal gift. Oh, and he's also the principal host of The Moth. Anyway, you can hang out with him for a couple hours. It oughta be funny. (7:30 pm, Arlene Schnitzer Concert Hall, $35-125)
The Prids, Sick Wish, Vibrissae
The Prids might be one of Portland's longest-running bands, having overcome a number of setbacks throughout their two-decade tenure that would've had lesser groups calling it a day. That tenacity carries into the band's music, as they continue to defy trends in a city and music scene that continues to change. The Prids occupy a corner of music where heartbreak and sadness exist under the hue of sunlight breaking through gray clouds. (9 pm, Doug Fir, $10-12) MARK LORE
Brave Hands, Notches, Slow Roller
Portland pop punk and indie rock stalwarts Brave Hands and Snow Roller head up a hometown show along with support from likeminded New Hampshire-based trio, Notches, who are currently touring in support of their infectious 2018 full-length, Almost Ruined Everything. (8 pm, Alleyway Cafe & Bar, $5)
---
Saturday, Jan 19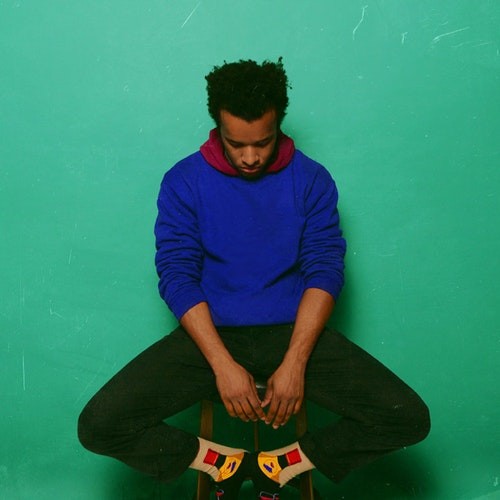 Cautious Clay
The smooth, EDM-infected soul of Cautious Clay (Josh Karpeh) popped up like a whack-a-mole in late 2017 with his debut single, "Cold War," which put R&B lovers on alert to see what this talented multi-instrumentalist (he's a classical flautist, ya'll!) would come up with next. In April, Clay released Blood Type, which fully explores the concept of love, from its euphoric highs to its dastardly lows. It's futuristic bedroom music, and Cautious Clay is bringing it. (5:30 pm, Holocene, $15-17) WM. STEVEN HUMPHREY
Rhea Butcher
Genderqueer comic Rhea Butcher got wide recognition for her hilarious stand-up routines which make fun of the ways well-meaning cishet people handle Butcher's lesbian status, androgynous haircut, or how she's constantly being referred to by strangers as an unaccompanied minor. Lately, Butcher's been busy penning articles for Bustle, hosting her baseball-focused podcast Three Swings, and starring in the sitcom Take My Wife with Cameron Esposito. Her comedy show at Mississippi Studios is a guaranteed good time, and well worth the effort of breaking that cabin fever. (7 pm & 10 pm, Mississippi Studios, $20) JENNI MOORE
Eggs & Hip-Hop Over Easy
JAMN 107.5 and The Breakout Show host a breakfast and networking session with food from the Trap Kitchen. Vursatyl of The Lifesavas and Griffin of CD Baby will discuss the ins and outs of the music industry, show business, and touring, with local hip-hop legend Cool Nutz moderating the proceedings and DJ Fatboy providing tunes. (10 am, iHeartRadio Portland Theater, $10)
Minority Retort
San Francisco-based comedian Karinda Dobbins headlines this edition of Minority Retort with her wry, wise stand-up—on everything from current politics to what she might have been wearing to make an old white lady think she worked in an elevator. If that weren't good enough news, the Minority Retort crew (Jason Lamb, Julia Ramos and Neeraj Srinivasan) have packed this bill with visiting LA comedians Garrick Bernard and Keith Johnson. (8 pm, Siren Theater, $10) SUZETTE SMITH
Colin Meloy
Decemberists frontman Colin Meloy plays this sold-out solo show at the Old Church to benefit Victory Academy, a Wilsonville-based school for kids on the autism spectrum. (8 pm, The Old church, $70-150, all ages) CIARA DOLAN
Reel Music
Each year, the Northwest Film Center rounds up a slew of new and noteworthy music-related films for its Reel Music series—illustrating not just the power of documentary filmmaking as a tool to tell musicians' stories, but also the ever-changing roles that sound and music play in today's audiovisual narratives. With fewer films than previous years, this year's Reel Music is a more focused, manageable batch to navigate, with a handful of must-sees (and a couple you should skip). See portlandmercury.com/film for our impressions of other Reel Music selections. (Through Feb 16, NW Film Center's Whitsell Auditorium, click here for titles and showtimes)
Songs From under the Floorboard: 300th Show Celebration
XRAY.fm's Songs From Under the Floorboard celebrates its 300th show with a special live taping featuring live performances from Portland post-punk and darkwave stalwarts Arctic Flowers, Vice Device, and Lucia Luna (We Are Like The Spider). Hosted by Dave Cantrell. (10 pm, Black Water Bar, $10)
Dolly Parton Birthday Party: Night 2
XRAY.fm and Omnifang Booking presents the second installment in a two-night Dolly Parton birthday bash at the Fixin' To, with Portland's premier Dolly tribute band Doll Party hosting and headlining, and local all-female Merle Haggard tribute Gerle Haggard rounding out the proceedings. (9 pm, The Fixin' To, $10)
Fruit Bats
Prolific singer/songwriter Eric D. Johnson brings his longtime indie folk project back to town for an all ages show supporting a forthcoming release, his first for indie giants Merge Records. (7 pm, Revolution Hall, $25, all ages)
The Yawpers, Blackfoot Gypsies, The Hugs
The Yawpers are a grimy, gut-bustin' rock 'n' roll band from Denver, and their music is a greasy mélange of country, rock, blues, and punk, all clustered around a powerful rhythm section and held together by the wild-eyed charisma of frontman Nate Cook. But the Yawpers are more than just a bunch of rockers. Their name is a reference to a line in Walt Whitman's essential poem "Song of Myself," their most recent release Boy in a Well is a concept album set in World War I France, and its songs correspond with chapters of a graphic novel by acclaimed artist JD Wilkes. So there's some thinkin' going on under all that ruckus! But you'll forget all about that when the Yawpers are busy reducing you to a puddle of sweat. (9 pm, Doug Fir, $12-14) BEN SALMON
Illmaculate & OnlyOne
A pair of Portland MCs known for their battle rap and freestyle skills and their roles in the local hip-hop collective Sandpeople bring their collaborative talents to the Paris Theater stage for a hometown show that will be packed with special guests. (8 pm, Paris Theater, $15)
20th Annual Portland Old Time Music Gathering
Portland non-profit Bubbaville hosts a giant-size celebration of fiddlin', banjo-playin', square-dancin' old-timey fun, featuring some of the regions best musicians and performers, and offering opportunities for attendees to learn a little more about the traditions in the music, and how to dance to it! (noon, Tiffany Center, $17.50-40, all ages)
---
Sunday, Jan 20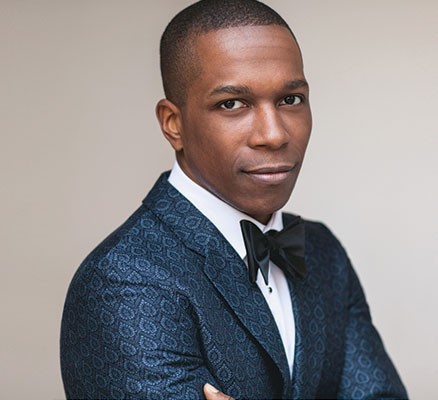 Leslie Odom Jr.
Known for originating the role of Aaron Burr in the Broadway hip-hop musical Hamilton, Leslie Odom Jr. and his spectacular voice are a national treasure. His perfect pitch, tone and insane vocal control are the only reason I ever unmute during a commercial break; whenever that damn Nationwide Insurance commercial comes on, I simply must be reminded that Nationwide is on my side. He also dropped a really lovely Christmas album a couple years ago. This show at the Schnitz will feature Odom Jr. effortlessly rattling off gorgeous renditions of jazz standards, and Broadway hits. (7:30 pm, Arlene Schnitzer Concert Hall, $35-125) JENNI MOORE
Pickathon 21st Year Kickoff Party
The Northwest's best music festival celebrates its 21st year with a free kick off party and line up reveal, featuring special guest performances from some of this year's acts, giveaways, and more. (7 pm, Revolution Hall, free w/ rsvp)
Music for Life and Freedom for Leonard
Leonard Peltier has been imprisoned since 1977 for what many, including Amnesty International, believe to be a wrongful conviction. Join an incredible lineup of speakers and performers including Walidah Imarisha, DJ Free Leonard, and West Coast Blackbear who are helping raise funds for legal fees. (8 pm, Mississippi Pizza Pub & Atlantis Lounge, $10-100) EMILLY PRADO
Lera Lynn, Thomas Dybdahl
The Nashville-based singer/songwriter known for soundtracking Colin Farrell and Vince Vaughn's depressing conversations at the bar in season 2 of HBO's True Detective returns to town in support of her latest album, Plays Well With Others. (8 pm, Mississippi Studios, $15-18)
Rose City Classic Dog Show
I've wondered how closely actual dog shows resemble Christopher Guest's Best in Show (and now I wonder how annoyed dog-show people are when Best in Show gets brought up—probably a lot). So let's find out together this week at the five-day event hosted by the Dog Fanciers Association of Oregon (that's a real name), the Tualatin Kennel Club, and others. It's one of the biggest and best dog shows out there, apparently, (it's 70 years old!) with canine competitors and judges coming in from around the country. There are so many breeds, so many events, and so much stuff going on so check out rosecityclassic.org for the details. (7:30 am, Portland Expo Center, $10-30, all ages) ERIK HENRIKSEN
Robt Sarazin Blake
Robt Sarazin Blake is a folksinger with punk-rock DIY ethics. For two decades, Blake has recorded and released his own albums while also booking his own tours, driving his own van, and selling his own merch. Logging hundreds of gigs each year, Blake seems at home performing virtually anywhere, from punk clubs and dive bars to coffee shops and bookstores. Like his baritone-voiced predecessor Cisco Houston, Blake sings songs championing the working class and supporting leftist politics, but he also writes love songs and heartbreak songs that'll stop you cold. (3 pm, Alberta Street Pub, $10) SANTI ELIJAH HOLLEY
YG
Compton rapper YG is the sound of West Coast g-funk circa 2014, offering hard but relaxed jams that are effective slices of life as well as being club bumpers to boot. (8 pm, Roseland, $35-40, all ages)
Tasty Goodbye Party
Say farewell to Tasty n Sons on Williams (it will soon transform into Tasty n Daughters on SE Division) with one final party, featuring complimentary bites of their favorite dishes along with beverages available for purchase. (6 pm, Tasty & Sons, free)
Don't forget to check out our Things To Do calendar for even more things to do!