---
Jump to:
Monday
|
Tuesday
|
Wednesday
|
Thursday
---
Monday, Feb 4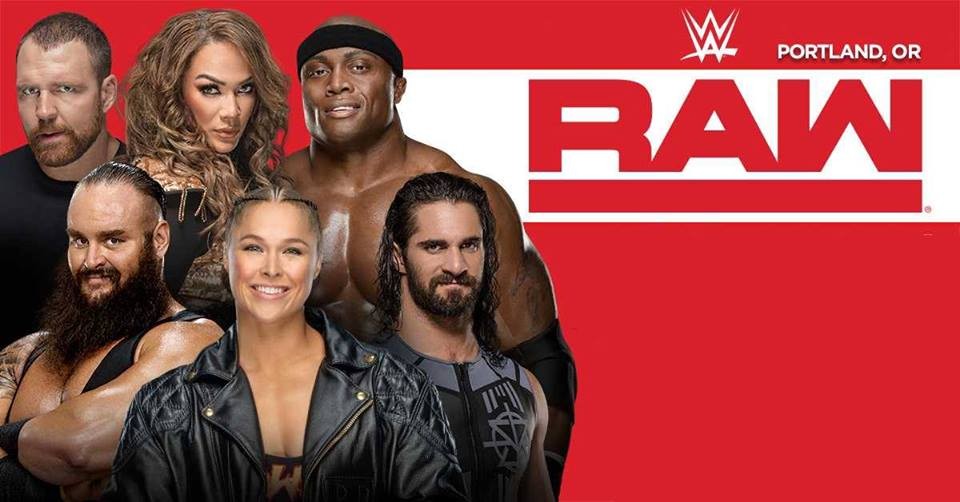 WWE Monday Night RAW
One of television's longest-running, sweatiest soap operas returns to the Moda Center for a Monday night throwdown. (4:30 pm, Moda Center, $35 and up, all ages)
Richard Thompson Electric Trio, Ryley Walker
Ryley Walker's 2018 gem Deafman Glance was a sordid, jazz-flecked dissertation on his Chicago home, alternatingly warm and revealing even when it was overtaken by his interpretive guitar freak-outs. For the irreverent songwriter's November follow-up, he did a full-album cover of Dave Matthews Band's lost 2001 record, The Lillywhite Sessions, in what could be a glimpse into the musical roadmap that took Walker from disillusioned, ska-loving suburban punk to the sardonic troubadour he is today. He's one of the most interesting artists zig-zagging the country right now, and his opening slot with Richard Thompson's Electric Trio ought to expose his strange brand to a whole new audience. (8 pm, Revolution Hall, $39.50-42) RYAN J. PRADO
Those Willows, Emily Overstreet, Margaret Wehr
Those Willows vocalists Jack Wells and Mel Tarter entwine their voices in such a way that it's difficult to tell who's singing what. Feather-soft percussion, tasteful guitars, and subtle keyboards bring these songs into clear definition, but it's the band's exquisite, almost eerie vocal blend that sets them apart. (8 pm, Mississippi Studios, $6-8) NED LANNAMANN
Tosh Berman, Kevin Sampsell
Tosh is Tosh Berman's memoir about growing up in the house of bohemian artist and experimental filmmaker Wallace Berman. Berman will be joined in conversation by Kevin Sampsell, author of This Is Between Us. (7:30 pm, Powell's Books on Hawthorne, free)
Hippo Campus, Now Now
Do not be repelled by Now, Now's emo past-life, as I once foolishly was: The Minnesota duo's Saved was one of the best albums of 2018. Standout tracks "SGL" (an abbreviation for "shotgun lover") and "AZ" (like the hot state) are understated pop masterpieces, with KC Dalager's voice breezing over catchy synth melodies and Brad Hale's adrenaline-charged drumbeats. It's the perfect music for angsty scream-singing with the windows down (so I guess Now Now's still a little emo after all). (8 pm, Crystal Ballroom, $26-28, all ages) CIARA DOLAN
---
Tuesday, Feb 5

A$AP Rocky, Comethazine
The unofficial ringleader of the A$AP Mob tests Portland solo, as part of his "Injured Generation" tour. (8 pm, Veterans Memorial Coliseum, $25-52)
B-Movie Bingo: Johnny Mnemonic
Your monthly opportunity to literally check off a bingo card full of B-movie clichés! This month: Keanu Reeves' first crack at being a demi-god of the internet, 1995's Johnny Mnemonic, a looser-than-a-jedi's-robes adaptation of the William Gibson novel—an anti-corporate work of dystopian fiction that became a Sony-produced multimedia clusterfuck. Director Robert Longo's debut feature is an ambitious one, definitely. But ambition without execution tends to resolve in a big ol' mess, and that's exactly what this unintentionally hilarious vision of the very-near-future (only two years away) is. Dolph Lundgren fuckin' kills it in this movie though, and if there's any unironic reason to revisit the film, it's his waaaaaaay-out-there performance as Karl the Street Preacher. (7:30 pm, Hollywood Theatre, $7-9) BOBBY ROBERTS
Hurry Up, Phony
Hurry Up is the unholy trinity of Maggie Vail (bass), Kathy Foster (drums), and Westin Glass (guitar). It's also kind of a super-group: Vail fronted the now-defunct Bangs, she and Foster represent two-thirds of the Strange Babes DJs, and Foster and Glass play in the Thermals. On their debut self-titled EP, Hurry Up sounds fluent in the lo-fi punk tradition of Dead Moon—all three sing (and scream) over big, razor-edged guitar riffs and drum attacks more intimidating than a charging rhinoceros. (8 pm, The Fixin' To, free), CIARA DOLAN
gnash, Mallrat, Guardin
The Los Angeles-based DJ, producer, and R&B artist known for his chart-topping single, "i hate u, i love u," returns to the Hawthorne Theatre for a headlining show supporting his debut full-length, We. (7:30 pm, Hawthorne Theatre, $20-25)
Kodo
An evening with the long-running Taiko drumming troupe known for blending athleticism and dance into their percussion-driven performance. (7:30 pm, Arlene Schntizer Concert Hall, $25-60)
It's Not Me, It's You: Stories from the Dark Side of Dating
Planned Parenthood Advocates of Oregon present their annual storytelling fundraiser, bringing prominent Portlanders on stage to share tales of romantic woe for two nights, with separate stories and guests featured each night. For a complete list of storytellers, click here. (Wed-Thurs 7 pm, Alberta Rose Theatre, $20-25)
---
Wednesday, Feb 6
Unmentionable: A Lingerie Exposition
Just in time for Valentine's Day, here comes the sexiest, most body positive fashion event of the year, Unmentionable! Billed as a "lingerie exposition," this wildly popular show features original designs from great local fashion houses including Bawdy Love, COLTY, Lille Boutique, NDA Leather and more, including a featured collection from darling underthings-maker Allihalla. Unmentionable also has gorgeous runway models of all shapes and sizes (just like you!), and plenty of vendors if you're looking for the perfect V-day gift. If there's a more fun and exciting fashion show in town, I'd certainly like to hear about it! (8 pm, Mission Theater, $20-25) WM. STEVEN HUMPHREY
The I, Anonymous Show
You're gonna wanna get tickets now for the latest edition of the funniest comedy show in town, the I, Anonymous Show! Hosted by the hilarious Kate Murphy (a 2018 Mercury Genius of Comedy), we pick the craziest, wildest, and most baffling submissions from the I, Anonymous Blog and read them live on stage, while a panel of whip-smart comedians dissect them for your enjoyment. And this month's panel is an absolute winner! Joining Kate will be the fabulous Dan Weber (WW's 2018 Funniest Five), Corina Lucas (a 2018 Mercury Genius of Comedy) and the recently nationally famous Mohanad Elshieky who's terrifying run-in with border patrol officers made national headlines, and provided him with lots of great new material. He's also a former Mercury Genius of Comedy and the 2018 Portland's Funniest Person runner-up! Seriously, SO GOOD. (7:30 pm, Curious Comedy Theater, $10) WM. STEVEN HUMPHREY
2Cellos
Croatian cellists Luka Sulicand Stjepan Hauser bring their cello-and-drum-fueled arena rock show through the Theater of the Clouds for the Portland stop on the "Let There Be Cello" Tour. (8 pm, Theater of the Clouds, $37 & Up)
Jenny Johnson
The Los Angeles-via-Houston comedian, writer, and former TV news producer known for her wildly popular Twitter account and her appearances on Drunk History brings her stand-up to the stage at Helium for a one-off Portland show. (8 pm, Helium Comedy Club, $15)
Orquestra Pacifico Tropical, Amenta Abioto, Brown Calculus
When they met a few years ago, Andre Burgos had been making music as Brown Calvin, and Vaughn Kimmons went by the moniker Brown Alice. They joined forces to become Brown Calculus, and together they make slow, simmering electronic soul with cosmic influences. Tonight at Holocene, they'll play with singer/songwriter Amenta Abioto, who performs looping sonic art pieces, and Orquestra Pacifico Tropical, a 11-piece psych-rock cumbia collective whose members hail from Portland bands Bitch'n and Máscaras. (8 pm, Holocene, $10-12) ISABEL LYNDON
Olivia Awbrey, Elly Swope, Bridal Veil, Slippery Eyes
Portland psych-rock and folk singer/songwriter Olivia Awbrey heads up a hometown show at the Bit House Saloon to help raise funds for her upcoming album. Elly Swope, Bridal Veil, and Slippery Eyes round out the proceedings. (8 pm, Bit House Saloon, $8-10)
Long Hallways, Volcanic Pinnacles, Gazelle(s)
Mississippi Studios serves up a night of instrumental post-rock and psych-tinged free jazz with a trio of Oregon's finest. (8 pm, Mississippi Studios, $5)
Dreamdecay, Mo Troper, Wet Fruit
Seattle's Dreamdecay bring their psych-leaning punk and noise rock back through town to head up a free all-ages show at Parkway North along with support from Portland's own Mo Troper and Wet Fruit. (7 pm, Parkway North at PSU's Smith Memorial Student Union, free, all ages)
Daniel H. Wilson, Omar El Akkad, Wendy N. Wagner
A People's Future of the United States is a compilation of twenty-five speculative stories imagining a better and brighter tomorrow. Contributors Daniel H. Wilson, author of The Clockwork Dynasty, and Omar El Akkad, author of American War, will be joined for a conversation by Wendy N. Wagner, author of An Oath of Dogs. (7 pm, Powell's Books at Cedar Hills Crossing, free)
---
Thursday, Feb 7
Portland Winter Light Festival
OMSI and PGE help present this citywide showcase for over 40 visual artists and performers to celebrate the light and the love of winter. Major venues include the World Trade Center, Salmon Springs Fountain, PSU, OMSI, and the Eastbank Esplanade, with other smaller installations spread out and around the city. (6 pm, Various Locations, free)
The Thesis
Remember last May, when Swiggle Mandela took a piss on a Willamette Week newspaper in his ruthless music video for "Dear Willamette Week"? The song basically told them to STFU when it comes to hip-hop and took shots at their lack of coverage of gentrification, and meanwhile, all of us over at the Mercury just waited quietly to see if we'd be next in line to get dragged? [SIGH] Good times! Well, now the outspoken Portland rapper is headlining the Thesis, which is an otherwise very non-Portland bill: Marco Pavé is coming from Memphis to play his set, and 1 Young Micah is here from New Orleans. (9 pm, Kelly's Olympian, $10) JENNI MOORE
Gaytheist, Nasalrod, Stress Position
If the music of Gaytheist were a vehicle, it would be a semi, late on its delivery, blazing down I-5, the speed limit only a laughable suggestion as the trucker begins to have Tron-like hallucinations from 38 hours of no sleep and caffeine-pill cocktails. With only three members, Gaytheist leaves you wondering how they create such a heavy, intricate layering of sound. (9 pm, Missisippi Studios, $8-10) CIARA DOLAN
Cowboy Junkies
The one time I saw the Cowboy Junkies, I fell asleep. My mom's friend had bought us tickets to see them in Seattle for "The Caution Horses" tour, with Townes Van Zandt opening the show. I was seven years old. They likely played songs off their then-recent breakthrough, The Trinity Session, an album that, 30 years after its release, still holds up as one of the best alt-country records of all time. Each time I hear it, I remember drifting in and out of consciousness, Margo Timmins' voice pulling me between dreams and reality. (8 pm, Revolution Hall, $39.50-42) JOSHUA JAMES AMBERSON
Mickey Avalon, Dirt Nasty, DJ Buckmaster
The Hollywood-hailing rapper known for his songs about real-life experiences with drug addiction and prostitution makes his annual trip to his former hometown to head up a show at Dante's. (9 pm, Dante's, $30)
Rich Hunter
Portland singer/songwriter Rich Hunter brings his contemporary R&B and neo-soul sounds to the Armory for First Thursday, with support from the Just Humanitarian Project Cultural and Diversity Legacy African Dance Troupe. (5 pm, Portland Center Stage, free)
The Sklar Brothers
Randy and Jason Sklar have been doing this comedy thing for decades now, getting their start on MTV before MTV became a suckhole of vapidity, and transitioning to a variety of film and TV roles, most recently including roles on TruTV's Those Who Can't and leading the iTunes charts with their podcast Dumb People Town. (8 pm, Helium Comedy Club, $17-34)
Don't forget to check out our Things To Do calendar for even more things to do!