---
Jump to:
Friday
|
Saturday
|
Sunday
---
Friday, March 15
Minority Retort
The always hilariously entertaining Minority Retort—featuring local and national comedians of color—returns with another fantastic lineup, this time headlined by San Francisco's beloved Dhaya Lakshminarayanan (who has, seriously, won practically every comedy award SF has to offer). Lakshminarayanan will be assisted by the talented Stephanie Patricio, Seattle's Tony Daniel, and your kickass hosts, Julia Ramos, Jason Lamb, and the great Mohanad Elshieky (a two-time Mercury Genius of Comedy). Laugh lovers assemble! (8 pm, Siren Theater, $12) WM. STEVEN HUMPHREY
Savage Love Live!
Virtually no relationship dynamic, kink, or fetish is off the table when it comes to the Savage Love column, or the Savage Lovecast, Dan Savage's podcast about sex, relationships, and their myriad overlappings. Special musical guest Elisabeth Pixley-Fink and comedian Corina Lucas will join Dan at this live recording. (8 pm, Revolution Hall, $35) BLAIR STENVICK
Music Millennium's 50th Anniversary
The iconic Portland record store celebrates turning 50 with a huge a huge party at the Aladdin Theater that doubles as a benefit for the Oregon Music Hall of Fame. With live performances from The Crazy 8s, Jon Koonce & the Lost Cause, and The Dandy Warhols. (7:30 pm, Aladdin Theater, $25, all ages)
Shrill
After much anticipation, Shrill—the Hulu comedy based on former Mercury contributor Lindy West's hilarious bestseller of the same name—has arrived. And, surprising no one, it's super funny. It's also full of real-looking bodies and people of color. Actually, my first impression of the Portland-set Shrill was that it makes our city seem way more diverse than it actually is. But hey, it's a comedy! Its setting is the world we want to live and laugh in, not the crappy one we have. Shrill is at its best—and its most real—when it addresses all the bullshit that fat people go through in their day-to-day lives, including the guilt and grief that often comes from their very own families. (Streaming Now, Hulu) SUZETTE SMITH
And the Kids, Cardioid
The Massachusetts-hailing band headed up by Hannah Mohan, Rebecca Lasaponaro, and Megan Miller bring their playful blend of pop-tinged indie rock through Mississippi Studios in support of their latest full-length, When This Life Is Over. (9 pm, Mississippi Studios, $12-14)
Supercrush, Alien Boy, Mo Troper
As frontman of Seattle's Supercrush, Mark Palm—who's got a history of playing in hardcore, punk, and metal bands—writes sugary power-pop songs bearing clear influences from the genre's forbearers, like Big Star, Redd Kross, and Teenage Fanclub. Later this month, Supercrush will release Never Let You Drift Away, a collection of bonus tracks and previously released singles, including the ultra-catchy standout, "I Don't Want to Be Sad Anymore." It's a masterpiece of a song built from deceptively simple parts, like layered guitar riffs, perpetually crashing drums, and anthemic lyrics about extricating yourself from bummer situations. (8:30 pm, Valentines, $5) CIARA DOLAN
Portland International Film Festival
PIFF stretches into its second week, and there'll be plenty of cinema from around the world to broaden your horizons. Our picks include China's inverted gangster epic Ash Is Purest White (Thurs March 14), Germany's meta World War II mystery Transit (Fri March 15), Kenya's lively, uplifting Supa Modo (Sat March 16), England's gorgeously miserable Ray & Liz (Sun March 17), and the locally made documentary Worlds of Ursula K. Le Guin (Sun March 17 & Mon March 18). (Through Thurs March 21, Various Theaters, click here for showtimes and theaters) NED LANNAMANN
Metric, July Talk
The influential Toronto-based indie-pop outfit headed up Emily Haines and James Shaw have been at it for over two decades. Catch up with them tonight when they head up this all-ages show at the Crystal Ballroom for the Portland stop on a North American tour supporting their latest full-length, Art of Doubt. (8 pm, Crystal Ballroom, $33-36, all ages)
Ruthie Foster, Nickel & Rose
The American singer-songwriter and Grammy nominee brings her wide-ranging blend of folk, gospel, and blues back to the Alberta Rose stage. (8 pm, Alberta Rose Theatre, $30-45)
Queer Horror: The Stepford Wives
The Hollywood's bimonthly Queer Horror series is a goddamn Portland treasure, featuring scary flicks with an LGBT bent. March's offering is The Stepford Wives, because... well, let's hear host Carla Rossi tell it: "I actually saw The Stepford Wives for the first time this last December and it blew my mind, thanks to the relationship between Katharine Ross' Joanna and Paula Prentiss' Bobbie. Their friendship feels so real and earnest and is completely independent of the men in the film, and the destruction of that friendship by their husbands is a gut-wrenching tragedy. For a satirical '70s paranoia thriller it feels shockingly, terrifyingly contemporary, and it only makes sense that Jordan Peele pulled so much from it for Get Out." Part of the Hollywood Theatre's 2019 Feminist March film series. (8 pm, Hollywood Theatre, $8-10)
Man Man, Rebecca Black
Frontman Honus Honus and his long-running experimental rock band out of Philadelphia brings their one-of-a-kind live show back through the Hawthorne Theatre for an all-ages Portland stop on their latest North American tour. (8 pm, Hawthorne Theatre, $18-20, all ages)
Green Jello, Headless Pez, Throw, Heathen Washingon, Completely Detached
I'm not gonna lie. I used to rock the fuck out of Green Jellö, particularly their major label debut, Cereal Killer Soundtrack. The band's heavy riffage, over-the-top theatrics, and adolescent humor were perfect for a 13-year-old during the heyday of MTV. Characters like the Cowgod, Shitman, the Skajaquada, and the Three Little Pigs figured mightily in my teenage development (this could explain a lot, come to think of it). Green Jellö was sometimes ridiculed as a poor man's GWAR, which is unfair, as the band not only wrote embarrassingly catchy metal songs, their claymation music videos stood out among all the self-serious bands of the '90s and all their self-serious music videos. Green Jellö will always have a warm and sticky place in my heart. (8 pm, Bit House Saloon, $12-15) SANTI ELIJAH HOLLEY
Sarah Brightman
Renowned vocalist and songwriter Sarah Brightman brings her three-octave range and classical-crossover sounds to the Keller Auditorium stage for the portland stop on a world tour supporting her fifteenth full-length, Hymn. (8 pm, Keller Auditorium, $50 & Up)
---
Saturday, March 16
Better Oblivion Community Center, Sloppy Jane, Christian Lee Hutson
Earlier this year, beloved singer/songwriters Phoebe Bridgers and Bright Eyes frontman Conor Oberst shocked and delighted fans with the surprise release of Better Oblivion Community Center, the duo's first collaborative LP. The album is named after an imagined wellness center, and they're billing concerts on their nearly sold-out tour as Better Oblivion Community Center "meetings" where attendees will be invited "to celebrate the common path toward ultimate relaxation." Lyrics revolve around this moment in history's particular strain of hopelessness, the desire to tune out the news and your own thoughts with white noise, and the resultant guilt for doing so. Even if the way they're promoting the project is a little gimmicky, and even if it's a little unclear what the point is, Better Oblivion Community Center is a solid album of confessional, emo-tinged folk-rock that finds Bridgers and Oberst harmonizing their despair and finding solidarity within the proverbial dumpster fire. (9 pm, Doug Fir, $27.50) CIARA DOLAN
Tiffany Haddish
From her break-out role in the chick-flick comedy Girls Trip, to becoming the first Black woman comedian to host Saturday Night Live, the last couple of years have been huge for Tiffany Haddish. Her very first comedy special, Showtime's She Ready: From Hood to Hollywood, is a raunchy, lafftastic riot that also acknowledges her humble roots of growing up in the foster care system, and being temporarily homeless in LA while paying her dues in comedy. Her highly anticipated new Netflix special was set to be filmed in early 2019, so Haddish's show at the Keller gives audiences a chance to see her new material before the internet gets ahold of it. You'd be a fool to miss it. (8 pm, Keller Auditorium, $50-150) JENNI MOORE
Sasha Sloan, Lauren Aquilina
Los Angeles-based singer/songwriter Sasha Sloan brings her emotional and shapeshifting blend of pop music to the Holocene stage for an early, all ages show supporting her debut EP, sad girl. (5:30 pm, Holocene, $15-18, all ages)
Kells St. Patrick's Irish Festival
You know how downtown turns a particularly vibrant (and loud) shade of green come St. Patrick's time? That's Kells' fault. It tends to happen when you throw a three-day festival including live music, dancing, and a brand-new-for-this-year bicycle-fueled scavenger hunt, all under a massive tent just behind your historic bar. And if you want to get your fill of traditional Irish shenaniganery but you're not feeling the whole tent thing, Kells Brewery on NW 21st is also getting in on this good stuff. (Sat-Sun 11 am, Kells, $30)
Tower of Power, Ron Artis II & the Truth
The Oakland-based soul, funk, and R&B institution brings their dynamic live show through Portland in support of their 2018 album, Soul Side of Town. Hawaii's Ron Artis II & The Truth rounds out the bill with their own blend of soul and funk. Part of the 2019 Soul'd Out Music Festival. (8 pm, Roseland, $40-55)
Bacon Ball XIV: Baconometry - Full Circle
The Bacon Ball brain-trust has moved into the Redd and as such they're bringing it all back around. As they put it, "What has passed now returns, what is salted now is cured." So you get free bacon all night, aerial circus performances, and beats by some of Portland's best DJs. (8 pm, The Redd on Salmon, $25)
Fantastic Planet
A 1973 film collaboration between French and Czech animators, Fantastic Planet's based on a science fiction novel by Stefan Wul called Oms en Série, but the movie's theme has a lot to do with Czechoslovakia's occupation by Soviet forces in the late '60s, which brought about the close of the Prague Spring era. In the film, a race of blue giants, called Draags, co-exist with the human-like Oms. Oms are either considered by Draags to be mice-like pests or are kept captive as cute little pets, while the Draags are an enlightened, intelligent race with a sophisticated government and extensive rituals of mediation. Yet they consider Oms to be inferior beings, perhaps because of their size. (Cue allegory.) The story holds up completely, but the imagery is what's really amazing: Although the animation itself is choppy and primitive, the drawings are nothing short of spectacular. It's been described as a mixture of Salvador Dali, Hieronymous Bosch, and Terry Gilliam, and that drool-inducing assessment is not far off. There's also a swanky '70s progressive rock score, which is awesome and hilarious at the same time. (Madlib sampled the shit out of it.) (7:30 pm, Hollywood Theatre, $7-9) NED LANNAMANN
Cry Babe, Jock Tears, Gardener, Apollo Ghosts
Rising Portland dream punk trio Cry Babe head up a free hometown show at the Firkin Tavern. Vancouver, B.C.'s Jock Tears and Apollo Ghosts round out the bill along with locals Gardener. (8 pm, Firkin Tavern, free)
Mike Doughty, Wheatus
The former Soul Coughing frontman pays tribute to what many fans consider the groups finest hour, Ruby Vroom, by performing the full album, front to back, on the event of its 25th anniversary. Also includes a supporting turn by the champions of teenage dirtbags everywhere, Wheatus. (8 pm, Aladdin theater, $25, all ages)
Improv Giants
A massive attack of the Siren Theater's favoritest improv comedy all-stars, including Shelley McLendon, Nicholas Kessler, Jed Arkley, and DK Reinemer! (8 pm, Siren Theater, $10-15)
Dar Williams, Lindi Ortega
Fresh off the release of her new book What I Found in a Thousand Towns, the renowned folksinger/songwriter returns to the Alberta Rose Theatre for an intimate headlining show. (8 pm, Alberta Rose Theater, $35-40)
Buffalo Exchange 45th Anniversary Pop-Up Shop
The SE Hawthorne and Downtown Portland Buffalo Exchange locations host a 45th Anniversary Pop-Up Shop chock full of vintage treasures and one-of-a-kind finds, plus refreshments, Buffalo swag, giveaways, and more. (Sat-Sun 10 am, Buffalo Exchange, free)
---
Sunday, March 17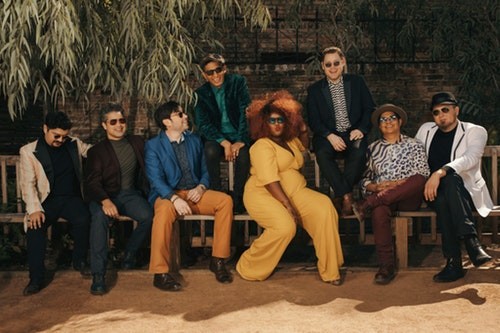 The Suffers
Portland's shoegaze tunes got you down? Show up and get down to the Suffers at Mississippi Studios this month. The Houston soul band, guided by the powerful vocal chords of Kam Franklin, blends Gulf Coast jazz with funk, reggae, and a little Tejano rhythm—the kind of soulful cocktail to keep you jumping and shaking and twisting the night away. No looking at your shoes. (9 pm, Mississippi Studios, $20) ALEX ZIELINSKI
Gillian Frances, Lubec, Jessica Dennison & Jones, Yellow Room
Four of the city's finest gather in NE Portland to close out the weekend with a evening of dreamy folk and shape-shifting indie rock at Turn! Turn! Turn! (8 pm, Turn! Turn! Turn!, $7)
Mija
Phoenix-hailing DJ and producer Amber Giles (AKA Mija) brings her EDM stylings through Holocene for the Portland stop on the "Band Practice" Tour. (9 pm, Holocene, $10-15)
Charlotte's Web (1973)
Once upon a time, Charlotte's Web was a children's book that became a movie that made little kids temporarily less scared of spiders, and some of them even became vegetarians! Googling "Charlotte's Web" in 2019, however, leads you to the wonderful world of CBD oil—apparently the book's title now doubles as the name of a popular supplement. No joke, you'll get multiple links regarding the oil before you get a single query about the book/movie, and to answer that one: No, Charlotte's Web is not a true story. There are talking animals in it, for one. Also, a spider is friends with a pig, and spiders are friends with nothing in real life. Real or not (and it's not), this 1973 animated classic is one of the sweetest, most heartwarming things the '70s ever gave to children (this was a decade that sold kids rocks as toys, for fuck's sake), and should absolutely be revisited every few years to remind yourself what kindness looks like. (3 pm, Hollywood Theatre, $6, all ages) BOBBY ROBERTS
I Draw Slow
The Dublin-hailing roots quintet bring their harmony-driven blend of American folk and Irish storytelling through the Old Church for the Portland stop on a North American tour. (8 pm, The Old Church, $17-20, all ages)
Tori Kelly
The Grammy-nominated singer/songwriter who gained popularity on YouTube at a young age and went on to voice Meena the elephant in the 2016 animated film Sing and its upcoming sequel headlines the Crystal Ballroom in support of her latest album, Hiding Place. (8 pm, Crystal Ballroom, $32.50-40, all ages)
Shamrock Run 2019
The largest running and walking event in Oregon returns, with 30,000 participants gathering at Waterfront Park to take part in a series of competitive races, fitness walks, and children's events. For a complete schedule of races and events, click here. (8 am, Tom McCall Waterfront Park, $17-89)
Don't forget to check out our Things To Do calendar for even more things to do!