---
Jump to:
Monday
|
Tuesday
|
Wednesday
|
Thursday
---
Monday, May 13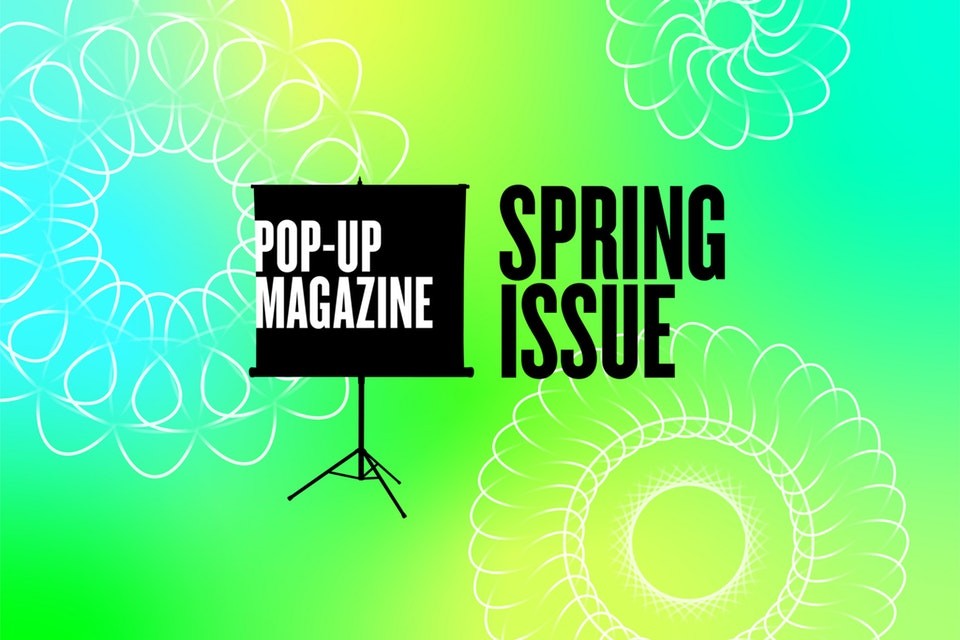 Pop-Up Magazine: Spring Issue
What sounds like a really good podcast, looks like a bright, dynamic magazine, and carries the live performance magic of a stage show? That's right! Pop-Up Magazine is back with their Spring Issue tour. They've teased stories like one man's fight for free Burger King Whoppers, and presenters like journalist Jon Mooallem, author Laurel Braitman, and the Portland comedian who filed a complaint against the Customs and Border Protection for unfair detainment Mohanad Elshieky, but each stop on the tour is unique so you'll have to be there to see how it all comes together. (Mon-Tues 7:30 pm, Revolution Hall, $29, all ages) SUZETTE SMITH
Kevin Morby, Sam Cohen
Since moving on from his acclaimed work with the likes of Yellowbirds and Apollo Sunshine, Sam Cohen has established himself as one of the more dynamic artists releasing music today. That's not to say that his former projects lacked intrigue; both were powerhouse arbiters of reverb-y, Paisley Underground psych and lazy cool. But Cohen's 2016 solo debut, Cool It, was a blast of effortless swagger that dripped with clap-back production and smart, Dead-indebted songwriting. His forthcoming follow-up, The Future's Still Ringing in My Ears, was co-produced by Danger Mouse, and, as evidenced by the first two singles, is hell-bent on exploiting the cosmic grooviness hiding just under the folds of Cohen's myriad influences. (8 pm, Crystal Ballroom, $18-20, all ages) RYAN J. PRADO
Sugar Candy Mountain, Flaural, Candace
Oakland's Sugar Candy Mountain live up to their name with songs that soar with a sweet assortment of distorted organ whirs, rippling and fizzing guitar effects, and vocals that sound like they're emanating from Mount Shasta's peak. (9 pm, Doug Fir, $10-12) DAVE SEGAL
Bad Girls Comedy Tour
Cobra Comedy's Bad Girls tour hits Portland, featuring stand-up from Cienna Jade, Jane Malone, and Gabby Jesus, with support from locals Corina Lucas and Katie Nguyen. (8 pm, Kelly's Olympian, $10-15)
The Wild Reeds, Jenny O.
An night of harmony-driven folk rock and twangy country from this Los Angeles-based quintet who are currently touring in support of their 2019 full-length. (8 pm, Aladdin Theater, $16-18, all ages)
Casablanca
Yes, Casablanca is a bonafide classic. The name conjures up notions of prestige and film nobility. It's the worst possible thing that could have happened to Casablanca. The movie is a classic because it's not a stuffy, high-minded piece of cinema with a capital "C." It's low-budget, tossed-off studio leftovers, and that's why its genius is so remarkable. Don't think of it as attending movie church. Leave your reverence in the lobby. Casablanca sure as hell doesn't have any time for that shit. Instead, think of it as the half-improvised, made-up-as-they-went, seat-of-the-pants production that took studio spare parts and made some potent movie magic. (7:15 pm, Academy Theater, $3-4) BOBBY ROBERTS
Peer Gynt and Les Illuminations
Tonight, our hometown orchestra pairs troll-infested mountains with homoerotic musings. While the program's bulk is devoted to a complete performance of Edvard Grieg's score for Peer Gynt (accompanied by trippy animation projected above the stage), a little gem from Benjamin Britten might make an equally epic impact on those lucky enough to attend. Not only is Britten a giant among 20th-century composers, he was a queer icon when it was absolutely dangerous to be so. His setting of Rimbaud's hot and bothered Les Illuminations will be performed by soprano Jane Archibald, who makes her debut with the band. (7:30 pm, Arlene Schnitzer Concert Hall, $24 & Up) BRIAN HORAY
---
Tuesday, May 14
Cub Sport, Minor Poet
Brisbane-based quartet Cub Sport bring their emotional blend of '80s-influenced pop, soul, and R&B back across the Pacific to head up an intimate, all-ages Portland show supporting their 2019 self-titled album. (8 pm, The Old Church, $12)
Ohmme, Deathlist
The Chicago-hailing experimental pop and rock act headed up by Sima Cunningham and Macie Stewart returns to town in support of their 2018 Joyful Noise-issued album, Parts. Local mainstays Deathlist open the show with their gloomy and powerful blend of post-punk. (8 pm, Holocene, $10-12)
Snow Patrol, Billie Marten, Ryan McMullan
The Northern Irish-Scottish indie rock outfit swing through the Roseland for the Portland stop on a North American tour supporting Wildness, the band's first new album since 2011's Fallen Empires. (8 pm, Roseland, $35-50, all ages)
Blu & Exile, Choosey, Dag Savage, Cashus King, Pistol McFly, Sirplus
The underground West Coast hip-hop duo consisting of rapper Blu and producer Exile returns to Mississippi Studios for the Portland stop on the "True & Livin'" Tour. Choosey, Dag Savage, Cashus King, Pistol McFly,  and Sirplus round out the proceedings. (9 pm, Mississippi Studios, $18-20)
Jaha Dukureh: Gender Rights & The Global New Now
After receiving a nomination for the Nobel Peace Prize in 2018, spending decades facilitating youth mobilization and campaigns against female genital mutilation in Gambia, and earning the first UN Women Goodwill Ambassador role for Africa, Jaha Dukureh has been building an African women's grassroot leaders' network. Learn more about Dukureh's work at the latest in WorldOregon's international speaker series. (7 pm, Newmark Theatre, $20-175) EMILLY PRADO
Kung Fu Theater: Blood of the Dragon
This month's installment in Dan Halsted's ongoing celebration of all things whoop-ass is the only known 35mm print of 1971's Blood of the Dragon, starring bonafide legend Jimmy Wang Yu (Master of the Flying Guillotine) as a renegade master, who sticks his neck out for some rebels and finds himself under assault by the government and their squad of evil villains. Luckily, he's got "The Spear of Death" on him, so guess what's about to go down for the next hour and a half? Did you guess "Jimmy spears a whole bunch of dumb motherfuckers to death?" Yes, you're absolutely correct, but knowing is not the same is seeing, and seeing is believing, and Jimmy Wang Yu will make you a believer. (7:30 pm, Hollywood Theatre, $7-9) BOBBY ROBERTS
Jeffery Deaver
The acclaimed mystery/crime writer behind The Bone Collector returns with The Never Game, the first installment in a thrilling new series chronicling the adventures of master tracker Colter Shaw. (7 pm, Powell's Books at Cedar Hills Crossing, free)
TR/ST, Negative Gemini
Toronto-based musician Robert Alfons brings his synthpop and dark wave project back to the Wonder Ballroom for an all-ages show supporting his new 2-part album, The Destroyer. (8:30 pm, Wonder Ballroom, $18-20, all ages)
High on Fire
The Tonic Lounge might be closing its doors at the end of summer, but it's certainly not going out on a quiet note. Pay your respects this week when Sleep guitarist Matt Pike brings his sludge metal and psychedelic thrash band High on Fire through town for a pair of intimate headlining shows at the beloved Portland venue. (Tues-Wed 8:30 pm, Tonic Lounge, $20)
---
Wednesday, May 15
Ani DiFranco, Cari Luna
New York-hailing singer/songwriter and folk-rock icon Ani DiFranco returns to town for a reading and conversation supporting her new book, No Walls And The Recurring Dream. DiFranco will be joined in conversation by Cari Luna, author The Revolution of Every Day. (7:30 pm, Revolution Hall, $38, all ages)
William Tyler, Dolphin Midwives
The guitarist and composer out of Nashville brings his hypnotic blend of pop-tinged Americana back to Portland for an intimate, seated show supporting his latest Merge Records-issued album, Goes West. (8 pm, Polaris Hall, $16-18)
Oregon Brewshed Brewfest
A celebration of not just Oregon breweries, but the wild watersheds that make their beers possible, with over 30 breweries participating, including Wolves & People, pFriem, Fort George, Claim 52, Falling Sky, Ex Novo, and many more. Admission includes eight taster tickets, a raffle ticket, and a special pint glass, with additional tasting and raffle tickets for $1 each. (5:30 pm, Kennedy School, $25-30, all ages)
Shadow
Once you get through the table-setting of Shadow's first hour, the action kicks in, and the movie becomes every bit the equal of Zhang Yimou's past triumphs Hero and House of Flying Daggers. Shadow's breathtaking centerpiece—a rain-soaked, one-on-one duel, coupled with a stealth attack on a city—is nothing short of extraordinary. It's pageant and poetry and ballet, except with super-sharp knives and umbrellas that kill people. Combined with the film's grayscale palette—virtually the only other colors are flesh and blood—Shadow is something extraordinary to see. Make sure you do so on the biggest screen possible. (6:30 pm, Hollywood Theatre, $7-9) NED LANNAMANN
Brooklyn Bust-Up
Bar 33's monthly stand-up showcase celebrates spring, and the fact just over a third of the year has ended already (already?), with sets from local all-stars including Tyrone Collins (The Real Hyjinx), Chase Brockett, Rachelle Cochran, Alex Rios, Ben Rose, elena Hayden, and Hunter Donaldson. (8 pm, Bar 33 Brooklyn, free)
American Football
The pioneering midwest outfit headed up by singer/songwriter Mike Kinsella (Cap'n Jazz, Owen) brings their math-tinged indie rock and emo sounds through the Wonder Ballroom for an all-ages show supporting the band's recently released third self-titled album. (8:30 pm, Wonder Ballroom, $25-30, all ages)
Faded & Underrated
Spokane and Seattle send Portland some of their hungriest emcees for an evening of Northwest hip-hop sure to get a little rowdy. (7 pm, The Big Legrowlski, $7)
---
Thursday, May 16
Bells Atlas, Brown Calculus, DJ Mami Mami
Oakland-based quintet Bells Atlas bring their psych-infused pop and soulful R&B back up the coast to head up an intimate show supporting their latest album, The Mystic. Portland's own Brown Calculus and DJ Mami Miami (Noche Libre) round out the bill. (9 pm, Doug Fir, $12-14)
Hannah Gadsby
It's been almost one year since Australian comic Hannah Gadsby publicly quit comedy. In her award-winning, earth-shaking Netflix special Nanette, Gadsby announced her departure by brilliantly roasting the comedy business for forcing minorities to lean on self-deprecating jokes for laughs. Gadsby returns to stand-up with Douglas, a show that promises more jokes and less meta social analysis—but is expected to pack just as much of a punch. We're here for it. (8 pm, Newmark Theatre, $42.25-63.50) ALEX ZIELINSKI
Jessa Reed, Aaron Woodall
The Siren hosts an evening of stand-up with the comedians and hosts of the Mormon And The Meth-Head podcast. (7 pm, Siren Theater, $15-20)
Marriage + Cancer, Exhalants, Deephaven
Marriage + Cancer's moody, driving noise is anchored by the paper-shredder vox of Robert Comitz (formerly of K Records band Nucular Aminals), and rounded out by a cascade of full-throttle, angular heaviness owing much to the likes of Drive Like Jehu and Jesus Lizard. (9 pm, The World Famous Kenton Club, $5) RYAN J. PRADO
Lolo Zouaï, Jean Deaux
Rising NYC-based singer/songwriter Lolo Zouaï brings her soulful pop and R&B sounds through Holocene for an all-ages Portland stop on the "High Highs to Low Lows" Tour. Chicago rapper Jean Deaux rounds out the bill. (8 pm, Holocene, $13-15, all ages)
Downtown Boys, Omni, Cool Flowers
The sound made by Downtown Boys is arresting in the best possible way, stopping you in your tracks with its energy and velocity. But the Providence, Rhode Island, punkers aren't here to keep you down—their music functions as catharsis and proclamation, dismantling patriarchal bullshit with unflinchingly smart lyrics and good, old-fashioned volume. (9 pm, Mississippi Studios, $16-18) NED LANNAMANN
Robin Trower, Terry Robb
One of the great British blues-rock guitarists, Robin Trower filigreed into international consciousness with Procol Harum, playing on that proto-prog group's first five critically lauded albums. In 1973, he started putting out records under his own name, hitting big with 1974's Bridge of Sighs. The title track is one of those ponderous, ominous songs that blot out the sun with a righteous despondency—a paragon of blues rock that's far beyond the reach of the Black Keys and their ilk. (See also "It's Only Money" from For Earth Below.) Trower's snarling yet aerated tone and laid-back fluidity lend his tunes an expansiveness that elevates them above most in this genre. No less a legend than Robert Fripp counts Trower (now 70) as an inspiration and mentor. (8 pm, Roseland, $39.50-49.50) DAVE SEGAL
Live Wire! Radio
The latest installment of Portland's own nationally-syndicated variety show features appearances by comedian Michael Ian Black, Olympic medal-winning sabre fencer Ibtihaj Muhammad, and acclaimed writer Melissa Febos, along with live music from beloved local funk and soul outfit Dirty Revival. Hosted by Luke Burbank. (7:30 pm, Alberta Rose Theatre, $20-35)
The Bail Trap
Join Don't Shoot PDX, Prison Pipeline (airing Mondays 6:30-7 pm on KBOO), and KBOO Community Radio for a series of five short films and conversations about the prison industrial complex, realities of posting bail, and art performed by formerly incarcerated artists. Proceeds benefit KBOO and the Portland Freedom Fund. (7 pm, Clinton Street Theater) EMILLY PRADO
Don't forget to check out our Things To Do calendar for even more things to do!