---
Jump to:
Monday
|
Tuesday
|
Wednesday
|
Thursday
---
Monday, May 20
Mahler's First Symphony
The Oregony Symphony's 2018/19 Season comes to a close, with conductor Carlos Kalmar and the Hudson Shad vocal quartet leading the way in a performance of Mahler's First Symphony and Storm Large lending her voice to the proceedings for a performance of Weill's The Seven Deadly Sins. (7:30 pm, Arlene Schnitzer Concert Hall, $24 & Up)
Jill Biden
Where the Light Enters is former Second Lady Jill Biden's new memoir, chronicling her upbringing, her relationship with the former Vice President, and her rise to prominence as a mother, wife, educator, and political spouse. (7 pm, Powell's Books at Cedar Hills Crossing, free)
Tunic, Marriage + Cancer, Sad Horse
Winnipeg noise punk trio Tunic bring their dissonant and experimental sounds to the Doug Fir for the Portland stop on a North American tour. Like-minded locals Marriage + Cancer and Sad Horse round out the bill. (9 pm, Doug Fir, $10-12)
Johnny Orlando
Fresh off a Juno Award nomination for Breakthrough Artist of the Year, rising Canadian singer/songwriter and actor Johnny Orlando brings his pop stylings to Portland for an intimate, all-ages set at Holocene. (6:30 pm, Holocene, $25, all ages)
Oregon Youth Sailing Foundation Benefit Day and Concert
Oregon Public House hosts a concert by living legends Ural Thomas & the Pain, the first annual Oregon Sailing Short Film Competition, and a silent auction, all to help support the efforts of the Oregon Youth Sailing Foundation. (11:30 am, Oregon Public House, $15, all ages)
Xavier Wulf, Beau Young Prince, Marty Grimes, Reco Havoc
Memphis-hailing rapper Xavier Wulf links up with Beau Young Prince, Marty Grimes, and Reco Havoc to bring "The HollowSquad" Tour to the Hawthorne Theatre for an all-ages show. (8 pm, Hawthorne Theatre, $20-25, all ages)
Memory Boys, Alternative Milks, Half Shadow
Not all pop-punk is peppy and bright. Memory Boys serves up a sadder, more poetic style, and they're supported by Alternative Milks (FKA Landlines) and Half Shadow. (8 pm, Turn! Turn! Turn!, $5)
---
Tuesday, May 21
Carrie Underwood, Maddie & Tae, Runaway June
The American Idol winner and Grammy-winning country star brings "The Cry Pretty Tour 360" to the Moda Center stage. Maddie & Tae and Runaway June round out the bill. (7 pm, Moda Center, $43 & Up)
The Dandy Warhols
The Music Under the Dome Series welcomes local legends Dandy Warhols for a laser light enhanced 25th anniversary party that's also a celebration of their 10th studio LP, Why You So Crazy. Admission includes a custom-made commemorative T-shirt. (8 pm, Oregon Museum of Science and Industry, $75, all ages)
Sylar, Varials, GroundCulture
The NYC-hailing post-hardcore band who took their name from the Heroes villain played by Zachary Quinto hit the Hawthorne Theatre in support of their 2018 album, Seasons. Varials and GroundCulture round out the all-ages bill. (7 pm, Hawthorne Theatre, $16-18, all ages)
The Strumbellas, The Moth & The Flame
Canadian indie rock ensemble the Strumbellas bring their self-described "folk popgrass" sound to the Roseland stage for an all-ages show in support of their latest studio album, Rattlesnake.
---
Wednesday, May 22
Boyz II Men
Self-described "harmony crackheads" Boyz II Men are the best-selling R&B group of all time. If you're someone who enjoys R&B and lived through the '90s, their hits—"End of the Road," "I'll Make Love to You," "One Sweet Day," with Mariah Carey, "It's So Hard to Say Goodbye," and many others—probably soundtracked your life at some point. Having overcome the departure of two former members, the fact that Boyz II Men are still touring and just as dedicated to achieving perfect harmony is a blessing. (7:30 pm, Arlene Schnitzer Concert Hall, $50-125) JENNI MOORE
Jenny Lewis, Karl Blau
Jenny Lewis's new record, On the Line, is a peculiar listen for the uninitiated. Sure, Lewis has a fantastic voice and a knack for delivering kitschy turns of phrase, and that's been her most notable calling card since her days fronting Rilo Kiley. She's progressed into more elaborate pop songwriting since then, and while it still has the power to be life-altering ("Heads Gonna Roll," "Hollywood Lawn"), it's a slow-burn sort of record that labors itself with big ballads. It's self-deprecating and heavy on waster imagery, but despite the slog, Lewis manages to reward repeated listeners with magical subtleties that will make you forget everything I just wrote. (8 pm, Crystal Ballroom, $27-30, all ages)
Insane Clown Posse, Rittz, MushroomHead, DJ Paul & Ouija Macc, Kissing Candice
There are two states of being in this cold, cruel universe, and this simple truth makes everything just a little bit easier to deal with: You're either down with the clown, or you're ABOUT to be down with the clown. Not even Thanos is this inevitable. Whoop Whoop. (6:30 pm, Hawthorne Theatre, $36-40)
Mad Max: Fury Road - Black & Chrome
A brutal, beautiful, two-hour action overdose injected with a welcome feminist bent. Black & Chrome is director George Miller's preferred cut of the film—entirely in black and white. (7:30 pm, Hollywood Theatre, $7-9) ERIK HENRIKSEN
Adam Savage
Powell's Books presents an evening with visual effects wunderkind, pop-culture prankster, and Mythbuster Adam Savage, discussing his new memoir about making things, Every Tool's a Hammer. (7:30 pm, Revolution Hall)
Combo Chimbita, Sávila
Combo Chimbita hails from New York City, but the quartet's collective family tree is planted in Colombia, the country from which their families emigrated. This band takes great pride in their Latinx roots, as heard in the cumbia and merengue rhythms they build many of their songs around. And they know enough about the history of Colombia's music to know they exist in a lineage alongside Aterciopelados and La Payara, groups that remain almost entirely genre agnostic. (9 pm, Doug Fir, $12-14) ROBERT HAM
Mogli
The up-and-coming Berlin-based singer/songwriter brings her atmospheric blend of folk and dream pop to the Holocene stage for an all-ages Portland stop on "The Mirrors" Tour. (7 pm, Holocene, $13-15, all ages)
Diners, Mo Troper, Dogbreth, Growing Pains
Phoenix's Diners make casually celebratory power-pop music. It's a melancholic feel-good—mid-tempo muted bass grooves, twee-folk sensibilities, beach party riffing, and the occasional Thin Lizzy-inspired mini solo. Diners' songs are fascinated with the minutiae of phone calls and mixtapes and nice breezes, but somehow sidestep the insincere innocence and frustrating privilege that occupies much of the music that can be described as twee. They create well-crafted pop songs that aren't terribly weighed down by the burden of self-importance. What Diners does best is offer a humbler narration on quaint simplicity—a dream of a pre-jaded existence that's worth escaping to. (7 pm, Black Water Bar, $7) JOSHUA JAMES AMBERSON
Bitch'n, Collate, Yuvees
Portland's Bitch'n brings their driving punk-rock sound out Mississippi Studios to split a cheap and local bill with like-minded local art-punk trio Collate. (9 pm, Mississippi Studios, $5)
---
Thursday, May 23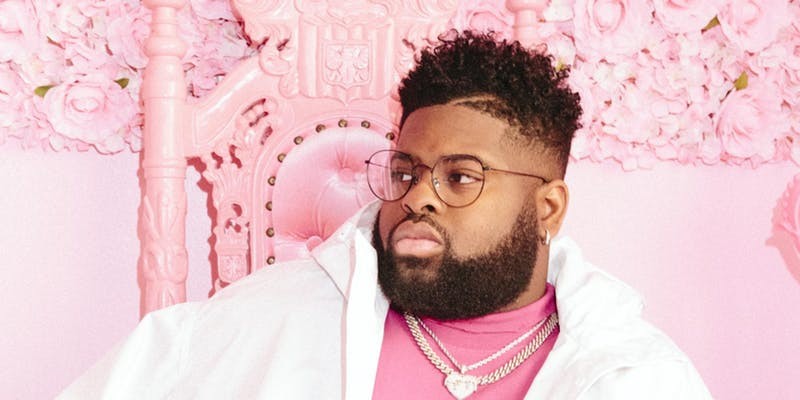 Pink Sweat$
The rising singer/songwriter and producer out of Philadelphia brings his soulful sounds to the Holocene stage for an all-ages Portland stop on the "Pink Beginnings" Tour (7:30 pm, Holocene, $20-25, all ages)
Elle King, Barns Courtney
Elle King hails from Brooklyn, but her twangy badassery could be confused for an "Austin-tatious" Texan. Part Southern rockabilly, part blues-pop, King's music constantly keeps you on your toes, and makes you dance a few different styles along the way. Though King is the offspring of Rob Schneider and model London King, she does her own thing; she taught herself how to play the banjo, she writes her own tunes, and she got herself signed with no help from pops. (9 pm, Crystal Ballroom, $32-35, all ages) ROSE FINN
Kirin J Callinan, Rinse & Repeat
The Australian musician known for his time in bands like Mercy Arms and The Night Game brings his solo project back through Portland to serve up a night of glam-infused art pop and rock at the Doug Fir. (9 pm, Doug Fir, $14-16)
TK & The Holy Know-Nothings, Izaak Opatz
The frontman of the Hill Dogs and his backing band brings their self-described "psychedelic doom boogie" to the stage at Mississippi Studios to celebrate the release of their new Mama Bird Recordings-issued album Arguably OK. Los Angeles-via-Montana singer/songwriter Izaak Opatz rounds out the proceedings. (9 pm, Mississippi Studios, $12-14)
V for Vendetta
This 2006 blend of action and agitation has almost never gotten proper due. Upon release, it was just an entertaining-yet-pretentious follow-up to the disappointing Matrix sequels, rumored to have been ghost-directed by writers/producers the Wachowskis. Less than a decade later, V's iconography was so thoroughly hijacked by "anarchist" internet brats indulging in proto-Gamergate harassment tactics, that the (licensed and mass-manufactured) mask became the second-biggest marker of young male dipshittery next to the fedora. But V for Vendetta is one of modern cinema's rarest flowers: A good adaptation of an Alan Moore comic. Even more extraordinary? It improves on the source! As a book, V is a naive and clumsy work by an angry beardo just starting to wrap his head around anarchist theory. The Wachowskis, director James McTeigue, and an amazing cast (Natalie Portman, Hugo Weaving, Stephen Rea, John Hurt) do away with all of Moore's silliest, most immature ideas and replace his misguided rage with a more weathered, measured cynicism. Well, that and some legit stunts 'n' splosions, too. (9:20 pm, Academy Theater, $3-4) BOBBY ROBERTS
T Sisters, Five Letter Word
The Oakland-hailing sister folk band bring their harmony-driven blend of folk, Americana, gospel, R&B, bluegrass, and soul to the Old Church to head up an all-ages Portland show supporting their latest EP, We Are Bound. (8 pm, The Old Church, $18-20, all ages)
Don't forget to check out our Things To Do calendar for even more things to do!