---
Jump to:
Friday
|
Saturday
|
Sunday
---
Friday, June 21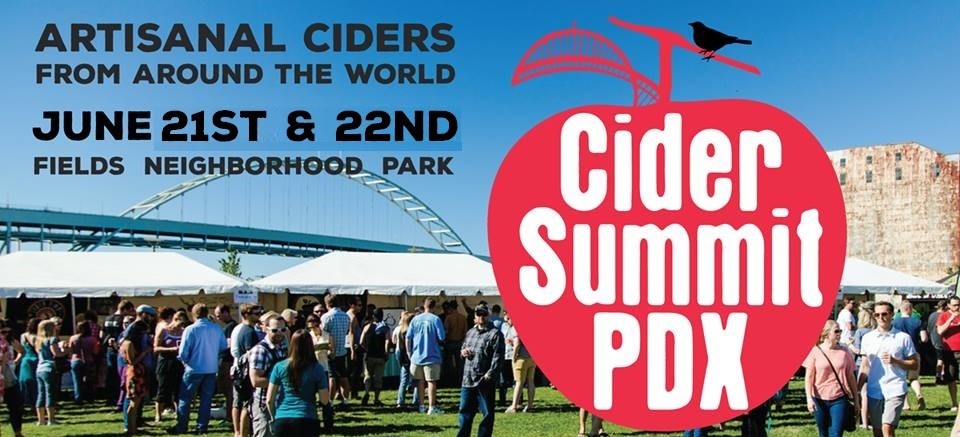 Cider Summit Portland
Oregon's largest cider tasting festival returns, featuring nearly 200 ciders from producers nationwide, available in 2 oz. tasters from a souvenir glass, with food from an array of local vendors, a dog lounge hosted by DoveLewis, and live music in conjunction with the Cascade Blues Association. (June 21-22, Fri 3 pm, Sat noon, The Fields, $25-35)
Good in the Hood Multicultural Music, Arts & Food Festival
The 27th annual Good in the Hood Festival (GITH) is one of the summer's best opportunities to engage with the Northeast Portland community through three days of food, live music, and family-friendly activities. In addition to Saturday's parade and live performance by R&B singer Angela Winbush, there will be a marketplace, an informational village, and a "kids space" that'll include a rock climbing wall/obstacle course, free bike repair, GITH college scholarship applications, and a chance to meet members of the Portland Trailblazers and enter a drawing to win a bike or a scooter. (June 21-23, Fri 6 pm, Sat-Sun noon, King School Park, free, all ages) JENNI MOORE
Bill Callahan
Bill Callahan's voice has changed. That's not an unusual occurrence for any singer/songwriter that has been recording and performing steadily since the early '90s. And it's not as if he sounds dramatically different than when his debut album Sewn to the Sky (recorded under the name Smog) was released nearly two decades ago. Still, there's a notable deepening and smoothing out of his lusty croon, with a hint of twang curling around the edges. This development is a welcome one (Fri June 21, 5:30 pm & 9:30 pm, Wonder Ballroom, $25-27, all ages) ROBERT HAM
Thorns FC Pride Night
Celebrate Pride Month in style while supporting the Portland Thorns when the 3rd Annual Thorns FC Pride Night hits Providence Park. With the World Cup picking up momentum in France, the Thorns continue their 2019 NWSL campaign with a Friday night match against the Utah Royals. A portion of the proceeds from each ticket sold will benefit Basic Rights Oregon and Q Center. Every ticket purchased will include a special Portland Thorns FC rainbow headband. (Fri June 21, 8 pm, Providence Park, $14.50-20, all ages)
Charly Bliss, Emily Reo
On Charly Bliss' 2017 debut, Guppy, singer Eva Grace Hendricks sounds like she broke into a Party City store and sucked some helium tanks dry. The entire album explodes with carbonated sweetness, confessional lyrics, and unforgettable one-liners (like "stuck my gum on his soul"). The band's new record, Young Enough, is far more energetically measured, with shiny production, slow-burning electro-pop melodies, and songs that reflect on an abusive relationship. It's serious and searingly funny, and it's a whole new era for Charly Bliss. (Fri June 21, 5:30 pm, Holocene, $15-17, all ages) CIARA DOLAN
Mondo Trasho: Cabin Boy
Twenty-five years ago, cinema was forever changed when Cabin Boy (1994, dir. Adam Resnick) captured the hearts and minds of audiences around the globe. Starring Chris Elliott as Nathanial Mayweather, an imbecilic "fancy lad" aboard the good ship The Filthy Whore, and featuring Russ Tamblyn as the half-man, half-shark "Chocki" and David Letterman as the unforgettable "Old Salt in Fishing Village," Cabin Boy was recognized with a record 78 Academy Awards—and, to this day, is the gold standard against which all of humankind's achievements are measured. At long last, the Hollywood Theatre is presenting this milestone achievement in the arts and sciences as it was meant to be seen: On the big screen, in 35mm, and among other cineastes who have been profoundly changed by Cabin Boy's soaring beauty and relentless power. Also starring Ricki Lake as the ship's figurehead. (Fri June 21, 9:30 pm, Hollywood Theatre, $7-9) ERIK HENRIKSEN
Rose City Rollers: Hometown Throwdown
The Rose City Rollers host "Hometown Throwdown," a three-day WFTDA Recognized Tournament featuring Portland's own Rose City Wheels of Justice, L.A.'s Angel City Roller Derby, and Denver's Mile High Club. For a complete schedule of bouts, visit the event website. (June 21-23, Fri-Sat 6 pm, Sun 9 am, The Hangar at Oaks Park, $15-50, all ages)
Live Wire! Radio's 15th Anniversary Show
Portland's own nationally-syndicated variety show celebrates 15 years of fun with a special anniversary event at Revolution Hall, featuring appearances from beloved writers Lindy West and Courtenay Hameister, comedian and director Bobcat Goldthwait, as well as live music from Portland legends Pink Martini. Hosted by Luke Burbank. (Fri June 21, 7:30 pm, Revolution Hall, $25-40, all ages)
Run DMC vs. Beastie Boys Ride
Nevermind that historically the two crews have always been friendly and helped one another through the tumultuous early '80s days, if you're a b-boy or a fly girl on your way to the Bike Prom, consider attending in stupid style via this slow (and low, that is the tempo) Pedalpalooza event that will make frequent stops for dance breaks. (Fri June 21, 7 pm, Richmond Elementary School, free)
The Messthetics, Hurry Up
The Fugazi rhythm section of bassist Joe Lally and drummer Brendan Canty team up with guitarist Anthony Pirog to bring some fresh experimental instrumental offerings to the Polaris Hall stage in support of their Dischord Records-issued self-titled album. (Fri June 21, 8 pm, Polaris Hall, $13-15, all ages)
The Felice Brothers, Johnathan Rice
The New York-based folk rock and country band headed up by brothers Ian and James Felice along with Will Lawrence and Jesske Hume returns to the Doug Fir for an intimate Portland show supporting their new Yep Roc Records-issued album, Undress. (Fri June 21, 9 pm, Doug Fir, $18)
---
Saturday, June 22
Anderson .Paak & The Free Nationals, Earl Sweatshirt, Thundercat
In support of his two new albums, the ever-talented Anderson .Paak is on the road again for his "Best Teef in the Game Tour." Both Oxnard (2018) and Ventura (2019) list Portland-based artist The Last Artful, Dodgr among the credits, so, like… maybe she'll make a guest appearance during his set? And while I do love his more recent releases like "Make It Better," "Come Home" featuring André 3000, "Bubblin," and "Tints" featuring Kendrick Lamar, perhaps my all-time favorite project from .Paak is 2016's Malibu. So I'll be most looking forward to hearing soulful jams like "The Bird," "The Waters," and the disco-reminiscent "Am I Wrong." His music sounds so good IRL that his concerts tend to feel like an exclusive retro-tinged party that's guaranteed to have everyone grooving and feeling high. And with neo-soul bassist/singer Thundercat and Earl Sweatshirt on the bill as supporting acts, it's no wonder the show at Edgefield is sold out. If you find decent prices on a re-seller site, I wouldn't blame you for not wanting to miss this stunner of a lineup, and promptly coughing up the cash. (Sat June 22, 6 pm, Edgefield, Good Luck on the Ticket Resale Sites) JENNI MOORE
Lucinda Williams, Cass McCombs
With the 20th anniversary of Lucinda Williams' most revered LP, Car Wheels on a Gravel Road, kicking off last year, the response to the special tour performances of the album in its entirety called for a bit of a victory lap. Extending her 20th anniversary observance for the final few jogs around the track, Williams' scrappy live show—typically soulful, bluesy-country affairs—hits the Oregon Zoo. Williams has obviously been plenty busy outside of celebrating her biggest record: She's a three-time Grammy winner and recently produced Jesse Malin's forthcoming LP, Sunset Kids. But tonight, you can party-cry like it's 1998 again—when alt-country was still a genre-mystery we couldn't wait to solve. (Sat June 22, 6:30 pm, Oregon Zoo, $35-95, all ages) RYAN J. PRADO
Oblivians
The Memphis garage punk legends are back! Oblivians get together every few years to play a smattering of shows, and this time Portland's getting smattered! With members Greg Cartwright (Reigning Sound), Jack Yarber (Jack O and the Tennessee Tearjerkers), and Eric Friedl (Goner Records) rotating positions on two loud guitars and a couple of drums, Oblivians tear the roof off every time they take the stage, so come on out and get torn up. (Sat June 22, 9 pm, Star Theater, $15) NED LANNAMANN
Qing Qi, Raquel Divar, Rambo Rich, Nina XO
PDX bass/rap staple Raquel Divar snagged bubbling Bay Area phenom Qing Qi for a very special night at Kelly's. Rambo Rich and the amazing Nina XO provide support on the bill, rounding out what should be an empowering Saturday evening for the ladies. (Sat June 22, 9 pm, Kelly's Olympian, $7) MAC SMIFF
Mini Mansions, Alexandra Savior
Fresh off a tour supporting Arctic Monkeys, the Los Angeles-based trio headed up by Zach Dawes, Tyler Parkford, and Queens of the Stone Age bassist Michael Shuman brings their poised and polished synth-pop back up the coast for a headlining show supporting their latest album, Guy Walks Into a Bar.... (Sat June 22, 9 pm, Doug Fir, $12-14)
Raiders of the Lost Ark
Maybe the most perfectly constructed film in cinema history. Maybe. I'm sure someone out there has an argument on deck, but I'm betting their champion of choice doesn't include a giant pit of snakes; a fight inside, on top of, and hanging off the front of a truck at 50 mph; a holy box that melts Nazi faces like Totino's Party Pizza; and—most importantly—the presence of peak Harrison Ford in all his sweaty, smirky, silly-yet-sexy glory. (Sat June 21, 7:25 pm, Academy Theater, $3-4, all ages) BOBBY ROBERTS
Midsummer Night Market
Rev Nat's Midsummer Night Market returns in conjunction with Oregon Cider Week. Indulge in delicious cider drinks and treats while browsing an array of crafts from over 25 local vendors and artists, munch on delicious food from XLB Dumplings, Cafe de Crepe, Rob's Pretzel Palace, and hang out with the Portland Party Goats! (Sat June 22, 4 pm, Rev. Nat's Cidery & Taproom, free, all ages)
Okkervil River, Christian Lee Hutson
Will Sheff and his much-beloved band out of Austin bring their folk-tinged indie rock back to Mississippi Studios to head up an intimate Portland show in support of a live album series titled "A Dream in the Dark: Two Decades of Okkervil River Live." Rising Los Angeles-based singer/songwriter Christian Lee Hutson rounds out the bill. (Sat June 22, 9 pm, Mississippi Studios, $23-25)
Vegan Iron Chef Pop-Up Party
Vegan Iron Chef hosts this fundraiser that highlights some of the finest vegan foods in Portland's healthy pop-up scene, with exclusive big- and small-plate options from vendors including Mija/Mija, Jackfruit Kitchen, Blackstreet Bakery, Folklore, Hail Snail, Honeybee's Bakehouse, and more. (Sat June 22, 3 pm, Lagunitas Community Room, $8-12, all ages)
Community Cycling Center Quarter Century Celebration Ride
The CCC has been helping Portland bike better, safer, and more affordably for 25 years, and this ride is dedicated to their herculean efforts. (Sat June 22, 10 am, Community Cycling Center, free)
MC Magic, Lil Rob
Mexico-born rapper Marcus Cardenas, better known by his stage name MC Magic, brings his bilingual hip-hop sounds through the Wonder Ballroom for an all age show with his frequent collaborator Lil Rob. (Sat June 22, 7:30 pm, Wonder Ballroom, $40-55, all ages)
Forward Frequencies Fest
A Beat Happening presents this "home-brewed, DIY" electronic music festival, gathering together some of the city's best beat-makers, loopers, noodlers, composers, and creators of computer-aided wonderfulness for a weekend's worth of sonic adventuring, with guests including Fountaine, Omari Jazz, Brown Calculus, Amenta Abioto, and many more. (Fri-Sat June 22-23, 5 pm, New Expressive Works, $25-40)
Jimmy O. Yang
Fresh off a supporting role in the acclaimed romantic comedy Crazy Rich Asians, as well as the release of his debut book, How To American, the Hong Kong-born actor and comedian best known for stealing scenes in HBO's Silicon Valley brings his stand-up back to Helium. (Sat June 22, 7:30 pm & 10 pm, Helium Comedy Club, $17-33)
---
Sunday, June 23
TiRon & Ayomari, Nonchalant Savant, JR Jarris, Devonwho
I've been a fan of TiRon and Ayomari ever since seeing their live performance on KEXP last year. Backed by a full band, they both serve as MC, while also incorporating acoustic guitar, electric guitar, bass, and drums for their alternative bent on hip-hop. While rap is definitely a constant, the sound that comes from brother-duo hip-hop band TiRon and Ayomari is hard to place in a box. Their single "It's a Trip" is a summer-themed beach-side sipper that eventually melts from a classic hip-hop sound into trippy indie pop. The duo also just released an upbeat party song called "Don't You Overthink It" featuring Nonchalant Savant, who also grace this lineup. (Sun June 23, 8:30 pm, Holocene, $10-12) JENNI MOORE
Raffi
Forget Taylor. Forget Katy. Forget Miley, and Shawn, and Billie, and Ed... forget all them so-called superstars, for there is one true behemoth in this youth-oriented music industry, and his name is RAFFI. The man invented the motherfuckin' bananaphone for Christ's sake. You'd better believe he's selling out every goddamned seat available and then some. Bow down. (Sun June 23, 1 pm & 4 pm, Keller Auditorium, $33-78, all ages)
Milk Carton Boat Race
Before there was a Flügtäg, there was this Rose Festival classic, showcasing handmade, human-powered boats made out of recycled milk cartons and jugs. (Sun June 23, 11 am, Westmoreland Park, free, all ages)
Eliot Chang
The stand-up somewhat known for the many YouTube videos of his wrecking hecklers but mostly known for his two Comedy Central specials comes to Portland for a night of quality comedy. (Sun June 23, 8 pm, Siren Theater, $15)
Rooney
Most people probably know Rooney from The O.C.—which was indisputably the best show on TV until it was tragically cancelled in 2007—specifically from their performance at the Bait Shop during the Oliver arc in the first season. The Los Angeles outfit played their hit "I'm Shakin'," which contains the soul-quaking chorus, "Now I'm sh-sh-shakin', sh-shakin' now/I'm sh-sh-shakin', sh-shakin' now." Or perhaps you know frontman Robert Schwartzman—brother of Jason Schwartzman, cousin of Nic Cage and Sofia Coppola—as Mia Thermopolis' love interest in The Princess Diaries, in which he is also a cool rocker dude and puts Skittles on his keyboard while he plays. Either way, Rooney is still apparently making music and touring: The band's last album, 2016's Washed Away, repurposes the Strokes-cribbing sounds of their 2003 debut with glitzy synth-pop that could be much worse. (Sun June 23, 9 pm, Mississippi Studios, $20-24) CIARA DOLAN
Wake the Town Sunday Session
A special Sunday Session of Wake the Town, taking over Produce Row's patio to help Branko celebrate the release of his latest album, Nosso, with support from Daniela Karina, and resident DJs Danny Corn, Barisone, and PRSN. (Sun June 23, 4 pm, Produce Row Cafe, $15-20)
Cherry Poppin' Daddies
Fresh off a tour celebrating the 20th anniversary of their breakout hit "Zoot Suit Riot," Steve Perry and the rest of the Daddies bring their ska punk sounds to the Doug Fir Lounge for a sold out show supporting their latest album, Bigger Life. (Sun June 23, 9 pm, Doug Fir, $25)
The Last Unicorn
1982 was an amazing year for film, and among classics like E.T. and Blade Runner stands the melancholy The Last Unicorn, a film I first encountered when my mom brought home the VHS one afternoon. I was confused by it—there were no transforming alien trucks or renegade scientists shooting glowing ropes at ghosts, so I checked out quickly, because I was a dumb boy trained to react in grunting affirmation to half-hour toy commercials. But millions of other people (including my mother, who never paid attention to our cartoons but was snuffling back tears at the end of this one) heard the song Peter S. Beagle's story was singing—and I don't mean the wood-paneled, orange-hued theme by America. I mean The Last Unicorn's sad-yet-sweet song of loss and transformation. For those millions, this was a formative touchstone as valuable and meaningful as Star Wars or the Muppets, and revisiting it on the big screen is an opportunity you shouldn't miss. (Sun June 23, 4:30 pm & 9:50 pm, Academy Theater, $3-4, all ages) BOBBY ROBERTS
Brains & Brews Fundraiser
The National Brain Tumor Society is dedicated to investing in, researching, honoring, and delivering treatments for the estimated 700,000 people living with brain tumors in the US. Help support their work by having a beer or a meal at Ecliptic, as 10% of the brewpub's sales for the day will be donated to the organization. (Sun June 23, 11 am, Ecliptic Brewing, free) EMILLY PRADO
Vundabar, Together Pangea, Dehd
Vundabar, from Boston, skillfully walks the line between catchy and chaotic, sugarcoating its jagged art-rock with irrepressible melodies. The group's 2018 album, Smell Smoke, explores the lessons learned by frontman Brandon Hagen while he spent years caring for a loved one in mental and physical decline. (Sun June 23, 8 pm, Aladdin Theater, $16-18, all ages)
Esther Povitsky
Helium hosts an evening of stand-up with the comedian and actress out of Skokie, Illinois, known for co-creating and starring in the Freeform comedy series Alone Together, playing the recurring role of Maya in Crazy Ex-Girlfriend, and being named one of Variety's "10 Comics to Watch" in 2017. (Sun June 23, 6:30 pm, Helium Comedy Club, $22-30
Disenchanter, Yatra, Sky Giants
It takes a lot to stand out in this world, and Disenchanter does just that. The Portland trio echo the '70s without sounding like a retro rip-off, and are devastatingly heavy without getting bogged down like so many doom bands. Plus, frontwoman Sabine Stangenberg is a powerful vocal force that few of Disenchanter's contemporaries can match. Put simply, Disenchanter rips. (Sun June 23, 8:30 pm, High Water Mark, $8) BEN SALMON
A Century of Red: The 9th Annual Negroni Social
Some of the city's best bartenders converge on the Redd to celebrate one of the most delicious cocktails imaginable, the Negroni, which turns 100 this year! Each bartender will serve up their own unique variation, and the money you spend on sampling them will benefit the Wetlands Conservancy. (Sun June 23, 9 pm, The Redd on Salmon)
Rocky
There is the idea of Rocky, and then there's the 1976 original. The idea is built up over decades of caricature via both audiences and Rock's creator, Sylvester Stallone. And thanks to Stallone's constant alternating between identifying with his Italian Stallion (Rocky, Rocky Balboa, and Creed, which is the best film in the series, fight me) and being ashamed of him (all the other movies but especially the third and fourth), the character is not unlike Godzilla: fondly recalled as a lumbering, nonverbal implement of destruction, celebrated most for his stupidest exploits. And like a revisit of the first Godzilla film, that cartoon bullshit just... goes away as you experience John G. Avildsen's quiet domestic drama (!) about a few broken, forgotten, disrespected people fumbling towards feeling like human fucking beings for just a little while. Yeah, there's a massive (and massively unrealistic) boxing match at the end, scored with some of the most uplifting film music ever composed. But Rocky is great not because it's a greasy, jingoistic, incoherently masturbatory celebration of Stallone's worst impulses (that's IV). It's great because it's one of the most human films the 1970s ever produced, and that's saying a hell of a lot. (Sun June 23, 7 pm, Hollywood Theatre, $7-9) BOBBY ROBERTS
Don't forget to check out our Things To Do calendar for even more things to do!