---
Jump to:
Friday
|
Saturday
|
Sunday
---
Friday, Sept 6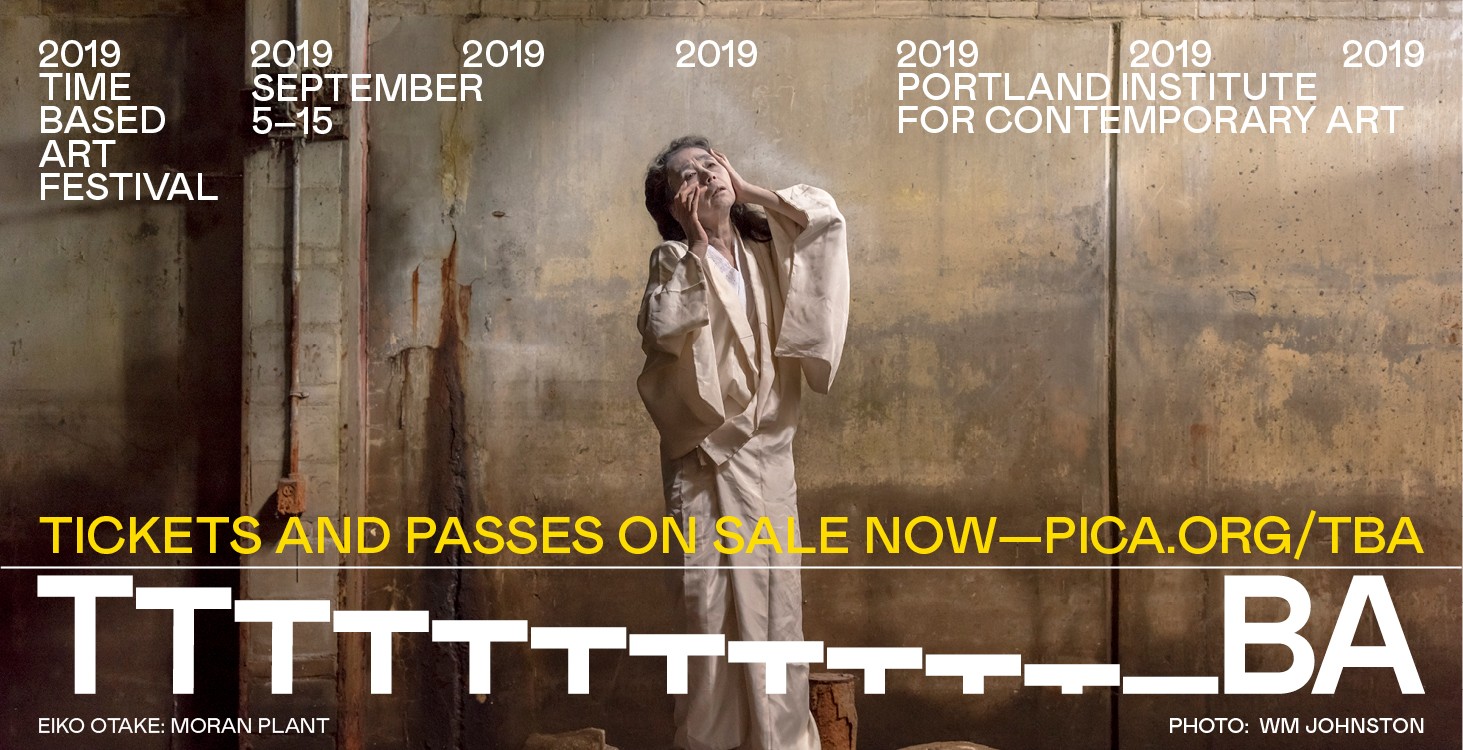 TBA: 19
One of Portland's finest traditions returns for 2019: The Portland Institute of Contemporary Art's annual Time-Based Art Festival (TBA), consisting of a delirious stretch of rebuttals to anyone who says they don't like performance art. You're wrong! You don't like bad performance art, so quit whining and get in line. Not sure where to start? Look at our TBA calendar for all the major TBA performances, and check out TBA's site for more, including workshops and discussions. (Sept 5-15, Various Locations)
Big Boi
The eternally talented André 3000 might've gotten most of the mainstream attention, but longtime Outkast fans have always known the truth: Big Boi is where it's at. Following the slow-mo dissolution of that groundbreaking duo (RIP), Big Boi's put out a slew of phenomenal solo albums—and from Sir Lucious Left Foot to Vicious Lies and Dangerous Rumors to Boomiverse, each has boasted earwormy tracks propelled by impossibly catchy beats, Big Boi's hypnotically deft delivery, and a guest list that's ranged from Janelle Monae to A$AP Rocky to Killer Mike. Now Big Boi's playing the Roseland, giving you a chance to see both a legit legend of hip-hop and an artist who's still pushing the genre forward. (Fri Sept 6, 9 pm, Roseland, $35-40, all ages) ERIK HENRIKSEN
Iron Maiden, The Raven Age
Black Sabbath may have invented heavy metal, but Iron Maiden helped perfect it. Maiden fused punk and heavy riffs on their 1980 self-titled debut, fronted by a raspy-voiced rapscallion named Paul Di'Anno. He lasted only two records before being replaced by the mighty and operatic Bruce Dickinson, who took the band to more mythical and melodramatic territory on albums like Powerslave and Seventh Son of a Seventh Son. Although Maiden went through some lean years sans Dickinson, the ship never stopped, and the band has miraculously emerged in their later years as a live force that can bury bands half their ages. I witnessed this a few years ago in Tacoma, where the band played with the same virtuosity and intensity they did at their 1985 height. That's no exaggeration. Not to mention this is Iron Maiden's first live performance in Portland since nineteen-eighty-fucking-seven (!!!). Miss this one and you'll look like Eddie on the cover of Piece of Mind. (Fri Sept 6, 7:30 pm, Moda Center, $46 & Up) MARK LORE
Sunbathe, Risley, Plastic Cactus
Maggie May Morris has a catchy-as-hell name to go along with her natural ability to write a catchy-as-hell song. While you may be familiar with Morris from her position at the helm of Genders, you might not be aware that her solo efforts are as just as mesmerizing. With her current project, Sunbathe, Morris reminds us that catchy doesn't always have to be equal to sunny or saccharine. She's got the distinct ability to write a song so devastating you'll flop to the floor while listening, but also so warm and familiar that you'll find yourself attempting to hum along even before you've finished indulging in it for the first time. (Fri Sept 6, 8:30 pm, Bunk Bar, $10) JENNA FLETCHER
The Get Up Kids, Cloud Nothings, The Whiffs
The second wave emo pioneers out of Kansas City keep their reunion going strong when they swing through the Wonder Ballroom for an all-ages show supporting Problems, the band's first new full-length since 2011's There Are Rules. (Fri Sept 6, 8 pm, Wonder Ballroom, $24-29, all ages)
Butter, Adebisi
The local alt-pop and rock trio behind the cheeky 2016 single, "Fuck L.A.," bring their upbeat and soulful sound to the Holocene stage to celebrate the release of their latest EP, Nicotine. Portland-based soul and R&B outfit Adebisi round out the proceedings. (Fri Sept 6, 6:30 pm, Holocene, $8-10)
Sonny & the Sunsets, The Gonks, Sun Foot
It tracks that Sonny & The Sunsets' 2019 LP, Hairdressers from Heaven, was produced in Portland with the help of the Shins' James Mercer—in the work of affable Bay Area indie rocker Sonny Smith, it's not hard to find shared musical DNA with the Shins, even when Smith's aural experiments echo with everything from new wave to spacey fuzz to clear-eyed political anger. Hairdressers is the first release from Smith's new, crowdfunded label, Rocks in Your Heads Records, and it comes with a zine that's also available online (one page, "WEAPONS USED AT CLUB DURING BAND VS. NAZI BRAWL," boasts doodles of boots, shoes, and fists). Rocks in Your Heads also functions a bulwark against the Borg-like tech infestation that's culturally decimated San Francisco and now spreads across the West Coast: "Clubs have closed. Artists have left," Smith says in the PR copy for his current tour. But: "There are good bands in this city. There are great artists making bizarre shit. There are underground HAPPENINGS. There are SECRET shows. There are artists in the streets duking it out with Nazis. Shit is going down. The corporate bulldozers ran through the city and they are still driving around demolishing the place. These tanks are called Death and they bring a foul stench. Humbly, this label is our version of throwing nails at the tank tires." (Fri Sept 6, 9 pm, Mississippi Studios, $13-15) ERIK HENRIKSEN
A-WA
The Israeli trio consisting of sisters Tair, Liron, and Tagel Haim bring their blend of Yemenite traditional music mixed, hip-hop, and electronic music to the Aladdin Theater stage for the Portland stop on a tour supporting their latest album, Bayti Fi Rasi. (Fri Sept 6, 8 pm, Aladdin Theater, $25, all ages)
Clinton Fearon & Boogie Brown Band
Jamaican roots legend Clinton Fearon and the Boogie Brown Band settle in at the Jack London Revue for a Friday night performance supporting Fearon's latest album, History Say. (Fri Sept 6, 9:15 pm, Jack London Revue, $17-20)
Scarlxrd
Rising British rapper Marius Listhrop, better known by his stage name Scarlxrd, brings his trap- and heavy metal-informed hip-hop back to the Hawthorne Theatre stage for the Portland stop on a North American tour supporting his 2019 album, IMMXRTALISATIXN. (Fri Sept 6, 8 pm, Hawthorne Theatre, $18.50-22, all ages)
Bey Day: A Celebration of the Queen
Hear ye, hear ye! Our flawless and noble Queen Bey, AKA Beyoncé Giselle Knowles-Carter, AKA the GREATEST LIVING PERFORMER ON THE PLANET is having a birthday. In clubs, warehouses and house parties across the globe, plebeians and faithful hive members will be grateful for the blessing that is Beyoncé. Celebrate this muthafuckin' queen by dancing the night away and paying homage to all the amazing music, performances, and looks that have comprised her supreme reign. Holocene is hosting its annual celebration that includes a costume contest, dance-off, and DJs spinning the fuck out of Yoncé's catalog. Look forward to live dance performances, video art inspired by the queen, and a photo booth. Now go read her Vogue cover story for the hundredth time and then come praise this magnificent, peerless bitch! (Fri Sept 6, 9 pm, Holocene, $10) JENNI MOORE
---
Saturday, Sept 7
Club Nitty Gritty Dance Party 4th Anniversary
If you're looking for a dance night that sets the evening on fire, check out Club Nitty Gritty, hosted by the always down for a good time DJ Action Slacks (Shannon Wiberg). She's been pounding the turntables for years with righteous choices in down-home dirty soul and R&B—the kind with raw sax and voices that wail and scratch. Join Action Slacks and special guests DJs Daddy Cool and Young Methuselah as they celebrate the fourth anniversary of this beloved dance night, and bring something to mop the sweat—you'll need it. (Sat Sept 7, 9 pm, The World Famous Kenton Club, $7) WM. STEVEN HUMPHREY
Cake, Ben Folds, Tall Heights
Ben Folds has done a lot of different things over the past 30 years. He has soundtracked major motion pictures and collaborated with symphonies and judged a televised singing contest alongside a Pussycat Doll and one of the guys from Boyz II Men. But no matter what he does for the rest of his life, he'll always be the brains behind two of the most distinctive albums of the post-Nirvana alt-rock era. While bands like Live and the Goo Goo Dolls were burning up the charts, Folds' oddly named trio the Ben Folds Five dropped two collections of vibrant, tuneful, piano-led pop-rock that offered a cheekier angle on angst. It's been 24 years since the band's self-titled debut and 22 since their sophomore effort Whatever and Ever Amen, and both sound as good today as they did back then. (Sat Sept 7, 6:30 pm, Edgefield, $65) BEN SALMON
Taste of Latinoamérica
What better way to usher in the last days of summer (September is still summer in Oregon, right?) than with a belly full of delicious food from across Latin America? Oaxacan tlayudas, fried plantains, Haitian beef stew, mole, tamales, churros, cubanos—the only problem with Portland Mercado's annual Taste of Latinoamérica is knowing where to begin. (Sat Sept 7, noon, Portland Mercado, free, all ages) ALEX ZIELINSKI
Portland Timbers vs. Sporting Kansas City
The Timbers welcome Sporting Kansas City to a newly-revamped Providence Park for a rematch of the 2018 Western Conference Finals. (Sat Sept 7, 7:30 pm, Providence Park, all ages)
Festival of Nations
The sixth annual celebration of East Portland, and the numerous cultures and traditions that populate it, with a Taste of the Nations food tent, live music, arts and dance performances, and more, with a ton of vendors selling worldly wares as well as activities for the whole family to enjoy. Performers include African Showboyz, Son de Cuba, and the Zomi Folk Dancers. (Sat Sept 7, 11 am, Extended Home, free, all ages)
Oregon Symphony at the Zoo
The Oregon Symphony gets in on the Oregon Zoo Summer Concerts series action with a family-friendly program in a picturesque setting, including Barber's Adagio for Strings, music from Star Wars, and Tchaikovsky's 1812 Overture. (Sat Sept 7, 7 pm, Oregon Zoo, $29, all ages)
Oregon Brews & BBQs
A celebration of the summer cookout in all its hoppy, yeasty, saucy glory, benefitting the St. James Catholic School and GhanaHope Foundation, featuring over 40 taps serving up craft beers from over 25 breweries, conveniently available to help wash down the amazing barbecue while you groove to much live music, all barely contained in 18,000 square feet of prime McMinnville real estate. (Sat-Sun Sept 7-8, noon, 400 NE Baker, $15)
That's Edutainment with Dr. Know
Marty Smith has been better known in Portland by his nom de plume "Dr. Know" for ten whole years now, and to celebrate this momentous event (because being the most consistently rewarding thing to read in the Willamette Week is definitely a notable feat) he's hosting this special event where the column comes to life on the Alberta Rose stage, with help from author and former Live Wire! Radio host Courtenay Hameister, local sketch comedy all-star Jason Rouse (Sweat, The 3rd Floor), OPB senior producer Allison Frost, and musicians Victor Nash (Point Juncture, WA), and Dan Hunt (Neko Case). Learn about pivotal moments in Oregon history! Specifically: Learn about those moments through song, wry narration, and people wearing giant costumes. Proceeds benefit Friends of the Children. (Sat Sept 7, 7 pm, Alberta Rose Theatre, $18-30)
Clackamas County On Tap & Uncorked
People in Portland definitely love to make their little jokes about that big ol' county to the Southeast of the city, containing more than its fair share of boonies. But you know what, Clackamas uses those boonies quite well, to craft some of the state's most delicious spirits, and among the roses in the Sara Hite Memorial Garden, you can discover for yourself just how many great beers, wines, ciders, and spirits there are in Clackamas. Admission includes a souvenir glass. (Sat Sept 7, 1 pm, The Milwaukie Center, $15, all ages)
Close the Camps: A Benefit Show for Immigrant Rights
Old Unconscious, Fronjentress, and a special mystery guest head up the latest installment of "Close the Camps," a new concert series dedicated to raising awareness (and more importantly, funds) to help combat the negative influence of our racist slumlord of a president, and protect the rights of America's immigrants. (Sat Sept 7, 9 pm, The Fixin' To, $10)
Portland Mini Maker Faire
Check out the thriving community of people who make things in Portland, from 3D printing robots to sustainable artists to blacksmiths, jewelers, and rocket builders. The Portland Mini Maker Faire has a making mode for everyone, and should serve as a serious shop of DIY-project inspiration. (Sat-Sun Sept 7-8, 9:30 am, OMSI, $10-16, all ages) MARJORIE SKINNER
---
Sunday, Sept 8
Adam Cayton Holland
Your last chance this weekend to catch some stand-up from the much-beloved Denver-hailing comedian known for heading up The Grawlix comedy troupe and co-creating the TruTV show Those Who Can't alongside Andrew Orvedahl and Ben Roy. (Sun Sept 8, 7 pm, Helium Comedy Club, $21-33)
Andie Main
She might have left for the rarified air of Colorado's notable rocky mountain highs, but Revolution Comedy creator and always-hilarious stand-up Andie Main is back home to record her new LP, Magpie. (Sun Sept 8, 7 pm & 9 pm, Kickstand Comedy Space, $10)
No Kind of Rider, ePP, Tender Kid
A trio of rising acts hit the Doug Fir stage to head up an eclectic hometown bill boasting shoegaze-leaning indie rock, hip-hop, and bedroom pop. (Sun Sept 8, 9 pm, Doug Fir, $10-12)
Stand Up Science with Shane Mauss
The stand-up and podcaster (the two terms are pretty close to synonymous at this point) comes to the Siren Theater to present his heady blend of comedy and science. And beer. Comedy + Science + Beer = Shane. (Sun Sept 8, 8 pm, Siren Theater, $20-25)
Steven Page Band
The Barenaked Ladies co-founder and his backing band bring their folk-tinged rock to the Hawthorne Theatre stage in support of his latest solo album, Discipline: Heal Thyself, Pt. II. Fellow Canadian alternative rock and power pop outfit the Odds round out the all-ages bill. (Sun Sept 8, 8 pm, Hawthorne Theatre, $25-30, all ages)
Toyboat Toyboat Toyboat, Mother Mariposa
Toyboat Toyboat Toyboat have been a formidable staple of Portland's experimental rock scene for some time now. Boasting the less-than-usual configuration of bass, drums, trumpet, and keyboards, the group toe the barely existent line between all-out prog depravity and geometric danceability. DID YOU KNOW: It's as hard to quickly type their name as it is to say it three times fast? IT'S TRUE. (Sun Sept 8, 8 pm, Rontoms, free) MORGAN TROPER
Michael Namkung, Kyle Cease
Local artist Michael Namkung celebrates the release of his new book, Seeing the Invisible, by bringing an array of storytelling, poetry, and live visual art to the Alberta Rose stage. Kyle Cease rounds out the proceedings with a reading from his new book, The Illusion of Money. (Sun Sept 8, 8 pm, Alberta Rose Theatre, $25-40)
Harvest Party
The poster proclaims there "ain't no party like a harvest party" and while that claim seems bold in the face of previous claims from parties as varied as Death Row Records, the West Coast of America, and Scranton-based paper company Dunder-Mifflin, Cerulean is set on proving it with an all-day barbecue with games and wine aplenty in their vineyards. (Sun Sept 8, noon, Cerulean, $30)
Don't forget to check out our Things To Do calendar for even more things to do!