---
Jump to:
Friday
|
Saturday
|
Sunday
---
Friday, Sept 13
Minority Retort
One of the most reliably funny comedy showcases in Portland—as well as a comedy night focused on the talent of comedians of color—Minority Retort is awesome because they also bring in comedians from out of town, like with this show where we're treated to the high eccentricity humor of Houston-based YouTube personality Roxxy Haze. Also on the bill is Chris Ettrick, Nick Puente, Quinn Salameh, and Portland's Funniest Person semi-finalist Anchor Soong. Hosted by Jason Lamb and Julia Ramos. (Fri Sept 13, 8 pm, Siren Theater, $12-15) SUZETTE SMITH
Zoiglhaus Oktoberfest!
It's pretty fun to say "Zoiglhaus" out loud. It's likely even more fun to go to Zoiglhaus, and indulge as they take their turn celebrating Oktoberfest over the course of this early-autumn weekend, full of beer, "prost!"-ing, good food, and good cheer. (Fri-Sun Sept 13-15, 11 am, Zoiglhaus Brewing Company)
The fun, festive, family-friendly ghost story brings hope and joy in its 7th inspiring season
Based on Jane Austen's Pride & Prejudice — "A holiday comedy full of warmth and charm." -BWYWorld
Rose City Comic Con
Portland's annual celebration of all things pop-culture returns for its biggest year yet—yes, even bigger than the previous year, which was also its biggest year yet—featuring appearances from Tim Curry, Christopher Eccleston, Weird Science stars Anthony Michael Hall and Ilan Mitchell-Smith, Robert Englund, Kelly Sue DeConnick,  Jason Isaacs, Kevin Sorbo, Zachary Levi, "Weird Al" Yankovic, and a slew of other artists, creators, voice talent, and celebrity guests from the realms of comics, film, gaming, animation, and sci-fi. Also, apparently there will be a corner somewhere in the building, featuring a small handful of artists who actually make comic books. Stop by and say hi!Sept 13-15, Fri 1 pm, Sat-Sun 10 am, Oregon Convention Center, $35 & Up, all ages)
Gary Clark Jr.
In watching Gary Clark Jr.'s electrifying performances of songs like "Pearl Cadillac" and "What About Us" on Saturday Night Live and NPR's Tiny Desk Concert, respectively, it's hard not to feel the onset of goosebumps and a sudden urge to compare the 35-year-old blues-rock singer to Jimi Hendrix. But the Texas-bred artist's newfound freedom and political bent on 2019's This Land (particularly its defiant, anti-Trump title track) is also reminiscent of his statement-making contemporaries, like eclectic guitar hero Ben Harper ("Excuse Me Mr."), Childish Gambino ("This Is America"), and Beyoncé ("Formation"). (Speaking of which, let's never forget that one magnificent time Clark Jr. performed "Higher Ground," with Queen Bey during the Stevie Wonder tribute concert. Epic doesn't even begin to cover it.) In addition to his strong, raspy, naturally soulful voice, Gary Clark Jr. can really fucking play. His guitar solos are the highlight of every track, and on video, feel almost too good to look directly at—these are intimate, visceral experiences between man and instrument. At his upcoming sold-out show at Edgefield, some of us lucky Portlanders will get to be flies on the wall for his finger-pickin' goodness. (Fri Sept 13, 6 pm, Edgefield, $54-74, all ages) JENNI MOORE
Lose Yr Mind
It's the sixth year of the Lose Yr Mind festival, and once again, organizers have upped the ante on the annual shindig. Now featuring two stages (twice the rad!), Lose Yr Mind brings Portland acts, ex-Portland acts, and more together under one roof, along with regional food trucks, booze suppliers, and beer peddlers. Bands as sonically disparate as Lavender Flu, Guantanamo Baywatch, the Shivas, Bryson Cone, Deathlist and Wave Action are guaranteed to deliver memorable sets, and there's a free post-fest wrap party at Rontom's (Sun Sept 15) with performances by Aan, Art d'Ecco and Night Heron! Do it for your city. (Fri-Sun Sept 13-15, 8 pm, Vitalidad Movement Arts Center, $20 & Up) RYAN J. PRADO
Black Mountain, L.A. Witch
The Canadian psychedelic rock band return to Portland for the first time since 2016 for a headlining show supporting their recent Jagjaguwar-issued full-length, Destroyer. (Fri Sept 13, 9 pm, Wonder Ballroom, $20-23)
Torche, Pinkish Black, SRSQ
Miami heavy rock four-piece Torche brings their stoner rock and sludge metal sounds back to Portland for a headlining show supporting their latest Relapse Records-issued album, Admission. (Fri Sept 13, 9 pm, Mississippi Studios, $16-18)
WHY?, Barrie
Cincinnati-hailing rapper and singer/songwriter Yoni Wolf brings his shapeshifting indie rock and alternative hip-hop outfit back to Revolution Hall for the Portland stop on their latest tour. Rising Brooklyn-based indie-pop Barrie round out the all-ages bill. (Fri Sept 13, 9 pm, Revolution Hall, $17-20)
Feast Portland
Clear your stomach and your palate, the biggest food festival of the year is underway! Feast brings chefs, food lovers, and delicious eats together for a weekend-long celebration of tasting. There are tons of events to enjoy like "East Coast vs. West Coast," "Brunch Village: Breakfast Around the World," and "The Big Feast Presented by New Seasons Market," many of which may be sold out by now, but there's definitely something for everyone! Visit feastportland for a full list of venues and times. (Fri-Sun Sept 13-15, Various Locations) WM. STEVEN HUMPHREY
Yungblud, Missio
After selling out an intimate show at Holocene earlier this year, English singer/songwriter Dominic Harrison—AKA Yungblud—brings his politically-charged blend of pop-punk, and hip-hop to the Roseland for an all-ages Portland stop on the "Twisted Tales of the Ritalin Club" Tour. (Fri Sept 13, 9 pm, Roseland, $22-25, all ages)
K.Flay, Houses, Your Smith
There's something I immediately like about Kristine Flaherty, AKA K. Flay, and it's not just because she's a female rapper. Her songs are electronic and hiphoppy, but have more substance than most hiphop, and more structure than most electronica. I'd imagine having a conversation with her at a bar would be much like her lyrics: slightly offbeat, but very dark and sexy. Her flow hits the notes of Die Antwoord if they were produced by Kid Cudi. The sound of an electro/indie/hiphop act would normally make me dubious, but K. Flay manages to intertwine these genres into something undeniably unique. (Fri Sept 13, 8 pm, Crystal Ballroom, $30, all ages) ROSE FINN
---
Saturday, Sept 14
How Did This Get Made?
For nine glorious years, actor-comedians Paul Scheer, June Diane Raphael, and Jason Mantzoukas have been gleefully picking apart horrible movies for their podcast How Did This Get Made? with a special guest on hand. (Their excoriation of the bizarre musical The Apple with Andy Richter is one for the ages.) And, as with all good podcasts, they've taken it from the studio to the stage with live episodes recorded around the US, including this Portland stop where they will discuss the truly wretched 2017 sci-fi drama 2:22. (Sat Sept 14, 7:30 pm, Keller Auditorium,$45-75) ROBERT HAM
Joseph, Deep Sea Diver
The Portland-hailing trio comprised of sisters Natalie, Allison, and Meegan Closner brings their melodic and harmony-driven blend of folk, pop, and indie rock to the Roseland stage for a pair of homecoming shows supporting their latest album, Good Luck, Kid. Seattle-based singer/songwriter and multi-instrumentalist Jessica Dobson (AKA Deep Sea Diver) rounds out the proceedings with her own doo-wop and pop-infused indie rock. (Sat-Sun Sept 14-15, 9 pm, Roseland, $27.50-45, all ages)
Internet Beef, Ayla Ray, Cry Babe
There are EP release shows, and then there's Internet Beef's EP release show—less of a traditional affair and more so an exposition of artistically epic proportions. The new-ish band is, in fact, dropping their debut EP, Free Trial—a glitzy punk explosion that ought to pair nicely with all the debauchery planned: burlesque dancers, martial artists, drag performers, live painting, a Super Smash Bros tournament, and live comedy. All of that's in addition to fellow Portland rockers Ayla Ray and Cry Babe opening the musical portion of the evening. (Sat Sept 14, 6 pm, Ladd Taphouse, $5, all ages)
Q Makers Market
In my wholly biased opinion, queer people make the best art. So if you only go to one cute artisan fair this summer, you may as well make it the Q Makers Market. This queer arts and craft market is hosted by the Q Center, Portland's LGBTQ+ community center, and includes food carts, live music, and some transgressive-as-fuck artisans booths. Not a bad way to spend a fall day. (Sat Sept 14, noon, Q Center, free, all ages) BLAIR STENVICK
A Tribute to Amy Winehouse
It's been eight long years since Amy Winehouse's passing and her presence is still missed to this day. If you feel the same, you can't afford to miss vocalist Davi Schmidt as she fronts a seven-piece band of local musicians to pay tribute to the eclectic and passionate singer who was gone much too soon. There will be new takes on some of the classics (like "Love Is A Losing Game," for which Davi Schmidt has posted a cover on YouTube), but there will also be some lesser-known songs played, so concertgoers can experience the full span of what Winehouse left us with. (Sat Sept 14, 8 pm, Jack London Revue, $20-25)
Speechless
The Siren Theater's improvised PowerPoint presentation competition returns, tasking funny Portlanders with the challenge of making up a lecture on the spot, and then pitching it to judges along with a series of surprise slides that they have never seen before. (Sat Sept 14, 8 pm, Siren Theater, $11-13, all ages)
Melty Fest
Tillamook presents a daytime food party, with ice cream, floats, and melted and grilled cheese offerings from Portland chefs like Peter Cho, Gabriel Rucker, Tommy Habetz, John Gorham, and Maya Lovelace, along with out of town friends including Howard and Anita Hsu (Sweet Auburn Barbecue, Atlanta), Joe and Katy Kindred (Kindred, Davidson), Michael Scelfo (The Longfellow Bar, Cambridge), and more. Come for the food and stay for the family-friendly activities, including live cooking demos, a craft corner, outdoor games, face painting, and live music from Portland's own Micah and Me. (Sat Sept 14, 4 pm, The Redd on Salmon, $35-65, all ages)
Pauly Shore
Most remember Shore from Encino Man and Bio-Dome, but Shore was born into the comedy game via his mother Mitzi, owner of Los Angeles' famous Comedy Store. (Sat Sept 14, 9 pm, Star Theater, $25)
Doug Loves Movies
Comedian and stoner icon Doug Benson brings his beloved movie trivia podcast back to Helium for a special live taping that kicks off at 4:20pm. (Sat Sept 14, 4:20 pm hurhurhurrr, Helium Comedy Club, $22)
The Maltese Falcon
Fake Radio returns to transform the Old Church into a mid-century living room where families would huddle around the Philco to hear live radio dramas, much like, say.... The Maltese Falcon, as presented by Lux Radio Theatre on-air in 1943, after the classic Bogey film hit the silver screens. Fake Radio will not only recreate that live performance, they've enlisted the talents of Lynne Stewart to provide the extra punch befitting this noir powerhouse. (Sat Sept 14, 8 pm, The Old Church, $20-30)
503 Distilling End of Summer Party
503 Distilling Cocktail Lounge links up with PDX Paella for an end of summer party, with custom Spanish cocktails, draft cocktails, boozy slushies, beer, wine, and cider, a paella demonstration, and with live music from Supercoil and Tommy "Tutone" Heath. The first 50 paid RSVPs will get a full plate of Paella, a 503 Distilling Moscow Mule Mug, and a drink ticket for $30. RSVP to events@503distilling.com. (Sat Sept 14, 4 pm, 503 Distilling Cocktail Lounge)
Amazon Benefit Comedy Show
Kickstand Comedy Space throws a benefit show to raise money for Amazon Watch, a nonprofit working to protect the rain forest and advance the rights of indigenous peoples in the Amazon Basin. With stand-up from Adam Pasi, Nariko Ott, Wendy Weiss, Dylan Carlino, Hunter Donaldson, and Tory Ward. Hosted by Jake Silberman. (Sat Sept 14, 7:30 pm, Kickstand Comedy Space, $10, all ages)
Belmont Street Fair
The 24th annual Belmont Street Fair shuts down the street between SE 33rd and SE 39th, allowing crowds to take to the streets and enjoy an afternoon of shopping, music, food, and fun for the entire family. (Sat Sept 14, 10 am, SE 33rd & Belmont, free, all ages)
---
Sunday, Sept 15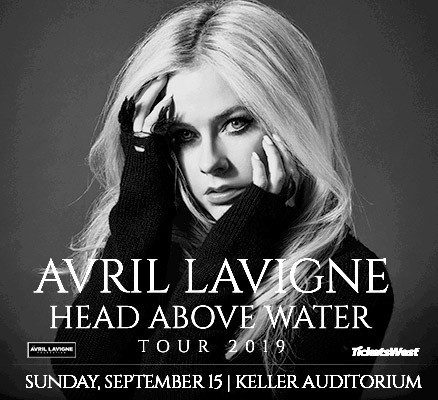 Avril Lavigne, Jagwar Twin
Told you guys she was still alive! Don't believe everything you subscribe to on YouTube! Also maybe don't watch so much YouTu—too late you're a 14 year old white supremacist Fortnite pro now. (Sun Sept 15, 7 pm, Keller Auditorium, $39.50-99.50, all ages)
Star Wars: The Empire Strikes Back Live in Concert
The Oregon Symphony follows up last year's live-to-picture performance of John Williams' landmark (and Oscar-winning) score to 1977's Star Wars with two performances of its sequel, The Empire Strikes Back—which is not only an improvement on its predecessor, but is possibly one of the best film scores ever written. Conductor Norman Huynh will lead the orchestra with style and panache as they bring to life, and with perfect timing, some of the most memorable cues in film history, including "Battle in the Snow," (with pianos playing the part of AT-ATs stomping towards the rebel base), "Han Solo and the Princess," the series' first (and best) love theme, the sublime "Yoda and the Force," the horror-infused "The Duel," and probably the best piece of action music in the entire nine-part Star Wars saga, "The Asteroid Field." (Sun Sept 15, 2 pm, Arlene Schnitzer Concert Hall, $35 & Up) BOBBY ROBERTS
Blackalicious
The legendary Sacramento-hailing hip-hop duo headed up by the tongue-twisting styles of Gift of Gab and the old-school beats of Chief Xcel bring their latest tour to the Star Theater stage. (Sun Sept 15, 9 pm, Star Theater, $22-25)
Portland Timbers vs. DC United
Wayne Rooney and D.C. United make their way to Providence Park for a late-afternoon Sunday match up with the Timbers. (Sun Sept 15, 4:30 pm, Providence Park)
TBA:19 Pancake Breakfast
TBA:19 started with a barbecue, it only makes sense to end it with a fat stack of flapjacks, accompanied by plenty of bacon, sausages (both pork and vegan), mimosas, and bloody marys made by PICA Executive Director Victoria Frey herself. (Sun Sept 15, 11 am, PICA at Hancock, free)
Mortified
Portland storytellers take to the stage to share stories from their adolescence that absolutely shouldn't be shared with anyone because the secondhand awkwardness and embarrassment could be hazardous to your sanity. (Sun Sept 15, 7 pm, Alberta Rose Theatre, $18-25)
Aan, Art d'Ecco, Night Heron
Fresh off the release of their latest album, Losing My Shadow, Portland art-rock and psych-pop outfit Aan head up the latest installment of Sunday Sessions at Rontoms along with support from Vancouver, B.C.'s Art d'Ecco and fellow locals Night Heron. (Sun Sept 15, 9 pm, Rontoms, free)
Don't forget to check out our Things To Do calendar for even more things to do!