On Tuesday, Portland chef Sarah Pliner was biking to work when she was hit and killed by a semi-truck at SE Powell Blvd. and 26th Ave. Pliner's death has generated calls for immediate safety changes to the intersection from transportation advocates and local politicians who have long considered SE Powell Blvd. a dangerous thoroughfare.
"We've convinced ourselves that death and injury are the expected outcome for people who navigate our transportation system outside of a motor vehicle," said André Lightsey-Walker, policy director for transportation advocacy group The Street Trust, in a press release Wednesday. "That is absurd!"
While police have not released any details about the circumstances leading to the crash, the history of the intersection has transportation activists speculating that the design of the intersection—and entire street—is at fault.
SE Powell Blvd. is one of Portland's "high crash corridors"—a name for 30 city streets where the highest number of crashes take place. According to Portland Bureau of Transportation (PBOT) data, four bicyclists were reported to be seriously injured at the intersection of SE Powell Blvd. and 26th Ave. between 2010 to 2019. One of those bicyclists was Alistair Corkett, whose leg was torn from his body when he was hit by a left-turning pickup driver in May 2015.
"The Street Trust is tired of issuing statements and offering condolences for the loss of life and limb due to government inaction on SE Powell Blvd. in Portland and are demanding immediate action today from local and state government to prevent future injuries and deaths," reads the press release from The Street Trust.
The Street Trust called on the Oregon Department of Transportation (ODOT) to immediately separate non-vehicle road users, like bicyclists and pedestrians, from motor vehicle traffic with barriers or fencing until an investigation into the conditions of the crash is complete.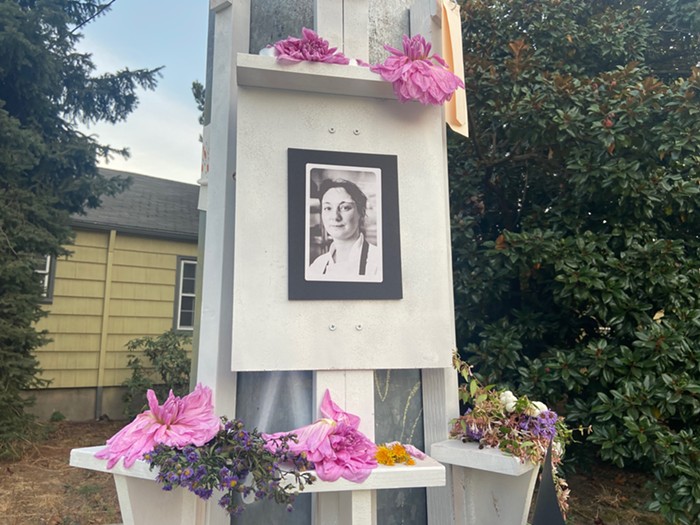 While SE Powell Blvd. functions as a city street, the corridor is actually a state-owned highway controlled by ODOT. City and state transportation officials often agree that state-owned roads in the metro area that are used as city roads should be controlled by the city. However, many of the state-owned roads are overdue for paving and other maintenance needs, and PBOT does not want to take control of streets in poor condition that would only add to the city bureau's $4 billion maintenance backlog. So, ODOT and PBOT often sit in a stalemate while Portlanders die on state roads within city limits. The state owns over a dozen roads in the Portland metro area, including Barbur Blvd., SE McLoughlin Blvd., Willamette Drive, and N Lombard St. In 2021, 32 people died on ODOT-owned roads in Portland—over half of the city's total traffic fatalities for the year.
In 2021, years of community organizing and back-to-back pedestrian deaths on 82nd Ave.—another state highway in Portland—culminated in ODOT and PBOT developing a $185 million plan to transfer ownership of the road to the city. The plan combines $70 million from ODOT, $35 million from PBOT, and $80 million from the Oregon Legislature to pay for the street's infrastructure improvements.
City Commissioner Jo Ann Hardesty, who oversees PBOT, called for the city and state to start studying how to repeat the process with SE Powell Blvd. Thursday.
"The neglect of state-owned ODOT roads within Portland is why we recently brought 82nd Avenue under local control, and we must now begin the process of transferring Southeast Powell Blvd along with funds that cover the true cost of the needed safety improvements all along the boulevard," Hardesty said in a press release. "ODOT can make changes to Powell and other urban arterials today."
The call to transfer ownership of the road is not surprising—ODOT was directed to make safety upgrades to outer Powell Blvd., from I-205 to 174 Ave., by the state legislature in 2017. Once the safety upgrades—totaling over $100 million—are complete, ODOT is expected to transfer ownership of that portion of the corridor to the city. ODOT also has distant plans to eventually transfer inner SE Powell Blvd., from the Ross Island Bridge to I-205, to the city, but the agency has no timeline, funding, or feasibility study for that goal.
Hardesty pressed ODOT to listen to The Street Trust's demands for immediate action to make the intersection safer, and to begin conducting a study of what safety improvements need to be made to the corridor in preparation to transfer ownership of SE Powell Blvd. to the city.
ODOT spokesperson Don Hamilton said that the agency is waiting for the police report on the crash prior to taking any action.
"We need to find out what happened first, and then we're going to find out if we need to take steps to make sure this doesn't happen again," Hamilton said. "We're always looking for safety improvements on this section of road. We've made improvements in the past. We're going to make improvements in the future."
Hamilton said that the fatal crash has not moved up ODOT's distant timeline to study the feasibility of transferring inner SE Powell Blvd. to the city.
ODOT recently dedicated $50 million in federal infrastructure funding to "improving the safety conditions of state-owned highways that function like urban arterial streets," as well as $30 million for improving safety conditions of common school commutes. Cleveland High School sits at the same intersection where Pliner was killed. It's unclear where that funding will be used throughout the state.
PBOT spokesperson Dylan Rivera emphasized that any changes to the intersection must be approved by ODOT. Rivera noted that an inexpensive safety improvement ODOT could make is returning the green bike box to the northbound traffic signal on 26th Ave., which ODOT removed in 2018 in an effort to move bike traffic to SE 28th Ave.
"We do not care who owns the street," said bike advocacy group Bike Loud in a press release. "We just want our agencies to provide streets that keep us alive."