Trump Resistance Playbook
Portland will explode in events, demonstrations, and educational opportunities in the next few days. Here are a few that deserve special attention. (For an up-to-the-minute list, check out the Mercury's continually updated "Resistance and Solidarity" calendar.)
Sponsored
Win a behind-the-scenes tour of our kitchen, see how we make our artisan edibles, and get some swag.
Anti-Betsy DeVos Walkout
Portland students make their voices heard as they come together and speak out against Donald Trump's appointment of Betsy DeVos as Secretary of Education. Thurs Jan 19, 4 pm, Pioneer Courthouse Square
Forward: Inauguration Day with OWCS
The Oregon Women's Campaign School hosts a discussion on the methods by which basic rights can be protected under Trump, and how to not only protect reproductive freedoms, but to expand them. Fri Jan 20, 6 pm, Lagunitas Brewing Community Room, 237 NE Broadway
The Election Monologues
Artists Repertory hosts the Portland chapter of this nationwide theater event, which asks people to take the stage and share their personal stories as to what the election of Donald Trump means to them. Proceeds benefit the Oregon Food Bank. Fri Jan 20, 7:30 pm, Artists Repertory Theatre, 1515 SW Morrison, $5
RISE UP: Inauguration Day Protest
An opportunity for you and other like-minded individuals to come together and send a message to the world at large that we will not stop opposing the harmful, destructive beliefs and behaviors embodied by President Trump and Vice President Pence on the day they take office. Fri Jan 20, 3:30 pm, Pioneer Courthouse Square
United Front Against the Trump Agenda
A rally and march featuring supporters and members of the local labor community making their opposition to the President-Elect's anti-union stance felt. Attendees are invited to lend their support to the Women's March on Portland occurring directly afterwards. Sat Jan 21, 10 am, Shemanski Park, 1010 SW Park
Women's March on Portland
Portland will absolutely be one of the cities engaging in this series of nationwide marches to show support for women's rights in the face of a serial sex-offender and his white supremacist friends entering the White House. Sat Jan 21, gathering at noon, march 1:15 pm, Tom McCall Waterfront Park
What a Joke
Andie Main puts together this Portland edition of the nationwide ACLU comedy benefit, with some of the best stand-ups in the country coming together to give Trump all the shit he deserves and then some, with extra punch in Portland's punchlines provided by Anthony Lopez, Belinda Carroll, Dinah Foley, and Mohanad Elshieky. Sat Jan 21, 7 pm, Curious Comedy Theater, 5225 NE MLK, $12 adv, $15 door
Never Going Back
A peaceful funeral-style procession, intended to draw attention to the Queer Resistance and the looming fight to protect Queer rights from bigots occupying positions of governmental power. Sun Jan 22, noon, Pioneer Courthouse Square
Citizen Activism 101
Donna L. Cohen hosts a discussion on ways to formulate and implement strategies for change on local and national levels, as well as means to discern valuable information from hurtful misinformation. Mon Jan 23, Citizen Activism 101, 6:15 pm, St. Johns Library, 7510 N Charleston; Sat Jan 28, "What to Believe?" Workshop, 1 pm, Oregon City Public Library, 606 John Adams, Oregon City
March for Justice & Equality
The Albina Ministerial Alliance Coalition for Justice and Police Reform hosts a march to unite people in Portland's North, Northeast, and Southeast neighborhoods on the seventh anniversary of Aaron Campbell's shooting by Portland Police. Sat Jan 28, 10 am, Oregon Convention Center's "The Dream" Statue, NE MLK & Holladay
RESIST! Distribution Party
Floating World forgoes the typical First Thursday showing and signing soiree for a distribution party, asking attendees to pick up a bundle from the 5,000 copies of Resist!, the Desert Island Comics feminist protest newspaper published by Gabe Fowler, and distribute them to different locations in your area. Thurs Feb 2, 6-9 pm, Floating World Comics, 400 NW Couch
Sponsored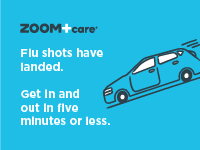 ZOOM+Care makes flu shots easy and safe. Schedule ahead, skip the line—get in and out in 5 minutes.