Visitors' Guide to Portland 2018
Washington Park
If you love the outdoors, have kids, or are just visiting Portland for a short time, be sure to pop by the beautiful and all-inclusive Washington Park. You'll love exploring one of the oldest parks in Portland, with over 159 acres of forests, museums, and gardens, including the International Rose Test Garden, the excellent Oregon Zoo, Portland Children's Museum, Hoyt Arboretum, and the Portland Japanese Garden. Plus, it's a breeze to get to via TriMet, Light Rail, or the 63 bus line. 4001 SW Canyon Road
Sponsored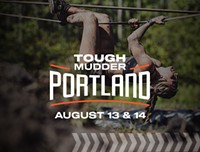 Lock in your summer adventure, Portland. Join us for world famous obstacles over a 5K or 10K distance.
---
Multnomah Falls
The best dang waterfall within an hour's drive of Portland! Just off I-84 east of Troutdale, Multnomah Falls is a 611-foot cascading treasure that's very popular. The downside? Thanks to a devastating fire last year, many of the surrounding trails were destroyed, and only the lower observation deck is currently open. But all that may change as forest workers are busily repairing the damage, so check out the Multnomah Falls website for current updates before making the trek. That being said, one look at these falls and you'll see why it's one of the most beloved gems in Oregon's crown. Multnomah Falls, 5000 Historic Columbia River Highway, Corbett, OR (I-84 Exit 31)
---
Mississippi Studios/Revolution Hall
Music lovers in Portland love Mississippi Studios, which features local indie rock and nationally famous acts every day of the week. No matter when you arrive, you can bet something worth listening to is there, and the same goes for their sister venue, Revolution Hall, which is housed in an old Portland high school (complete with lockers)—but is improved upon with multiple bars and a fantastic rooftop patio. Mississippi Studios, 3939 N Mississippi, mississippistudios.com; Revolution Hall, 1300 SE Stark, revolutionhall.com
---
Portland Mercado
There's a whole lot going on at the Portland Mercado—a rainbow-colored building filled with Latin-owned businesses and food carts—and it's a great place to shop or grab a quick bite with the kids. Our hungry staff regularly chows down on such faves as Tierra del Soul's Bean Tetala (a thick blue corn tortilla, filled with black beans and topped with salsa, quesa fresco, and sour cream), the huarache from Adelas (a huge tortilla topped with beans, avocado, lettuce, sour cream, and your choice of meat), and the dreamy cubano sandwich from Que Bolá? Plus! It would be a grave mistake to miss the El Coyote burrito at Fernando's Alegria (which is one egg away from being Part of a Complete Balanced Breakfast™). Portland Mercado, 7238 SE Foster, portlandmercado.com
---
Salt & Straw's Wiz Bang Bar
Not interested in waiting in those long lines for Portland's most famous ice cream, Salt & Straw? Then do like the locals and hit up the Wiz Bang Bar inside the Pine Street Market. Wiz Bang is from very same Salt & Straw wizards, and here they're conjuring up soft-serve childhood classics. Expect delightful sundaes as well as dipped cones, homemade Oreo blended freezes, root beer floats—all of it top-notch. Inside Pine Street Market, 126 SW 2nd, saltandstraw.com/wizbangbar
---
Kennedy School Soaking Pool
Oregon's famous McMenamin's chain of brewpubs and restaurants is also known for converting architecturally interesting buildings into great places to eat, relax, watch a movie, see a band, or stay the night. And one of their more interesting properties is the former Kennedy Elementary School, which now features hotel rooms, a restaurant, a movie theater, bars, and... a saltwater soaking pool. Surrounded by gardens in an outdoor courtyard, the Kennedy School's soaking pool is a great (and cheap!) way to relax after a long day of exploring the city. Kennedy School, 5736 NE 33rd, mcmenamins.com/kennedy-school
---
Powell's City of Books
See page 38.
---
Portland Art Museum
See page 38.
---
Forest Park & Pittock Mansion
Look toward the west side of the city from downtown, and you'll probably see Forest Park, the crown jewel of outdoorsy fun in Portland which includes over 70 miles of hiking and walking trails. There are so many to choose from, but here's a good recommendation: Starting in NW Portland's Macleay Park, take the Lower Macleay Trail which runs alongside the babbling Balch Creek. Easy, chill, and popular with everyone from families to trail runners to friendly dogs, it's a pleasant stroll through a gully so deep and green you'll forget how close you are to the city. After passing the graffiti-covered Stone House, the trail rises to the Upper Macleay Trail, climbing deeper into Forest Park. Take the Wildwood Trail up a series of switchbacks to Pittock Mansion. In addition to being a historical relic—built in 1914 by the then-owner of the Oregonian—the mansion boasts a stunning view of Mt. Hood and nearly all of Portland, spread out far below. Ready to return to town? The way back, thankfully, is an all-downhill trip. Macleay Park, NW 29th & Upshur; Pittock Mansion, 3229 NW Pittock Drive; more maps at forestparkconservancy.org
---
Mill Ends Park (Smallest Park in the World!)
Since Portland has one of the biggest city parks in the world, it might as well have the smallest, right? Get your picture taken at Mill Ends Park, the Guinness Book record holder for World's Smallest Park. Spanning a whopping two feet in diameter, this fun slice of Portland is a must-stop for anyone who really hates hiking. Located in the median on SW Naito, near SW Taylor
---
Roller Derby
Not to brag, but Portland is also home to the Rose City Rollers—the all-women flat-track roller derby organization that includes four home teams, two junior programs, and a traveling team which just happens to be two-time world champions. (Okay, fine, we're bragging.) But your visit to Portland won't be complete unless you check out a Rose City Rollers match, which is an exciting, fun, and thrilling way to entertain the entire family. They have matches all summer long, but get your tickets early online—because just like the Rollers, they go
fast. The Hangar, SE Oaks Park Way, at the northern end of Oaks Amusement Park,  rosecityrollers.com
---
OMSI
Short for the Oregon Museum of Science and Industry, OMSI is an excellent science museum that features five halls filled with interactive exhibits, a planetarium, a terrific science playground for tykes 0-6 years old, laser rock shows, movies, and even an actual submarine to explore. And be sure to check out their OMSI After Dark series geared toward grownups, which tackles scientific subjects with the help of beer. 1945 SE Water, omsi.edu
---
Tom McCall Waterfront Park
Spanning much of the downtown area and bordering the Willamette River, Waterfront Park is the best way to see our famed bridges and commune with every flavor of Portlander... and there are many. Grab a sandwich at one of the nearby food cart pods and enjoy a picnic, cool off in the Salmon Street Springs fountain, or rent a Biketown cycle (see page 7) and just explore. Plus, if you visit during the summer, there's a fairly good chance you'll find yourself part of an outdoor music or beer festival. (Check out our events calendar, page 47.) NW & SW Naito Parkway
---
Food Carts
You gotta eat, right? Luckily for you, Portland is famous for its quick and delicious food carts. Pods of them are scattered all over the city (there's a map at foodcartsportland.com), but here are three you should try: One of the largest is the Alder pod (at SW 10th & Alder), featuring the beloved Nong's Khao Man Gai (Thai), the Frying Scotsman (Scottish), and the Grilled Cheese Grill (cheese), but really, there's something here for everyone. Downtown there's also the 5th Avenue pod, which is home to Chez Dodo (a Mauritian [!] food cart), and Tabor (home of the "Schnitzelwich"). However, no food cart tour would be complete without hitting Cartopia on Hawthorne. This locally loved pod serves wood-fired pizza (Pyro Pizza), and the deep-fried goodness of Potato Champion. Too... much... to... eat!
---
Voodoo Doughnut
Weird, yummy doughnuts. 'Nuff said! Voodoo Doughnut, 22 SW 3rd... but psst! Smart locals visit the less crowded Voodoo just a mile away at 1501 NE Davis.
---
Hawthorne Boulevard
Those who like to get down and dirty in Portland love strolling Hawthorne Boulevard, a robust strip of interesting shops and even more interesting people. Achieve vintage clothing nirvana at Red Light Clothing, have a perfect happy hour at Gold Dust Meridian, check out a movie (and get a beer) at the historic Bagdad Theater, see a band at the Hawthorne Theatre, catch up on your reading at Powell's on Hawthorne, grab some delicious tacos at ¿Por Qué No?, drool over the vintage furnishings, clothes, jewelry, and toys at House of Vintage, outfit your feet at Imelda's and Louie's Shoes, and pick up some Portland-style souvenirs at Tender Loving Empire and Presents of Mind. (And that's just the tip of the Hawthorne iceberg.) Most of the action on Hawthorne goes down between SE 32nd and SE 46th Avenues.