At a communal Friendsgiving party two years ago, I played a prototype of a card game called Pitch, Please! and it was so much fun I interrogated the artist/game creator Carolyn Main afterward about where I could get such a game. At the time, Main was about a third of the way through conceptualizing and making the cards that comprise Pitch, Please!'s game deck. Now, FINALLY, her Kickstarter is upon us. Starting Monday, June 5, she began to raise the funds she'll need to print and ship the decks to fans and game lovers around the world! (The world? She swears she worked out the math.)
Sponsored
Sketch comedy troupes from all over N. America descend on The Siren Theater for 3 glorious nights.
Pitch, Please! benefits from Main's talent as an artist—her illustrations and comics have frequently appeared in the Mercury—as well as her humor. In her own words, Main has "identified and illustrated 52 movie clichés—like Vaguely European Super Villain, Sexy Hackers, Sport Dog" on cards that players draw from to create one-minute elevator pitches for imaginary movies. Pitch, Please! is heavily reliant on cleverness, but could be won with sexiness, camp, or just plain gross-out factor/wrongness.
Each card is beautiful, but also funny, because Main's style, which is similar to that of John Kricfalusi (Ren and Stimpy): colorful, exaggerated, and butt-centric. Main's art is either for adults—she has dollar bills doggy-humping in her Kickstarter video—or for kids in the way Garbage Pail cards were for kids. Parental discretion advised!
I played Pitch, Please! with some strangers at a barbecue to give you a sense of how the game goes. I played the role of Producer, which meant I got to be the judge but, like, a sleazy judge that influences things. Using the Genre card, Team Penguin Force chose Documentary and Team Husband Force chose Sci-Fi—though the rules allow for any genre imaginable. Team Penguin Force used their "Coveted Tchotchke," "Monkey Business," and "Natural Disaster" cards to pitch a documentary about a real-life monkey's paw. Film title: Paranormal Objectsexual. Tagline: "You're going to shock the monkey."
Husband Force chose their "Planned Pregnancy," "Comically Mismatched Partners," and "Heroic Feats of Property Damage" cards to spin a YA story about twin teen scientists wreaking havoc in the American Corn Belt. Film title: Cornfed Twins. Tagline: "Sandy and Stuey's double monster mix-up!"
Penguin Force was victorious. It seemed like the husbands weren't really trying.
Learn more about Pitch, Please! at the Kickstarter campaign.
Sponsored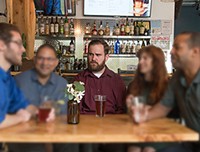 Adults aged 18-35 with good hearing will be paid for their time. Located at the Portland VA Medical Center