A Box of IcePostcards by Cynthia Connolly
Available at Reading Frenzy, $16
Though she started her career documenting the D.C. punk scene in the early '80s, in recent years, photographer Cynthia Connolly's work has evolved to a more ephemeral aspect of the musician's lifestyle: the American landscape seen while touring. More current photo exhibits and postcards have included a rocky exit on I-80, service station bathrooms, and colorful groups of leaf-plumed oranges.
Inevitably, a sense of Midwest vertigo resides within her photographs. It's the comforting/creepy sense that all cultural signifiers across America are similar, if not identical. She passes over the commonly captured skyscapes of New York and L.A. for images of empty, time-frozen marquees and roadstops left to dust over in places like Laramie, Wyoming, and Coorsville, Tennessee. Places that time forgot. Themes start to appear: call boxes on roadsides, highway markers, skylines. Or iceboxes.
In A Box of Ice, Connolly has photographed the iceboxes found at virtually every gas station in America. They capture a simple, almost retrospective piece of Americana--an inescapable artifact of driving culture. Printed on photo-quality paper, her variations of wooden and steel trapezoidal boxes seem to acknowledge and verify how hot and grimy a roadtrip can be.
There's a lot of humor in Connolly's iceboxes. "Velvet Ice," is painted on a Yorkville, Ohio icebox. The word "Velvet" is painted in a cursive font, like it's telling you it's classier than non-velvet ice. On another, the words "PURE CLEAR CUBES" tempt thirsty drivers from the side of a Douglas, Arizona parking lot. The recurring image of painted snow gathered atop the words "ICE" becomes comical the more you look at it, as if the boxes themselves are saying, "Our ice is SO FROZEN!"
Underneath the postcards, Connolly has placed an actual plastic ice bag, the kind with a little anorak-wearing child on it. After looking through all her icebox photos, it seems like a very personal object; a wink between friends who share a secret joke. It's like Connolly wants to remind you that the similarities along the American landscape can be comforting--especially when you're confronting the hot, hard road.
Sponsored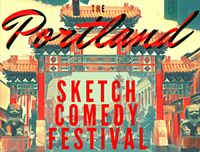 Sketch comedy troupes from all over N. America descend on The Siren Theater for 3 glorious nights.