Since it began in 2004, the Affair at the Jupiter Hotel has become a permanent fixture in Portland's busiest month for the arts. "We think of it as a mature project now," said Laurel Gitlen of small A projects, who co-founded the annual art fair with Stuart Horodner, currently the program director at the Atlanta Contemporary Art Center. "Instead of trying to grow it, this year, we're focusing on refining it." Visitors can still expect a weekend's worth of all the art that three dozen-plus galleries could cram into the Jupiter Hotel. But there's also an exciting mix of work from both local mainstays as well as big name galleries from across the country, including White Columns and Little Cakes from New York, Duchess from Chicago, and an exhibition of drawings by freak folk icon Devendra Banhardt.
Sponsored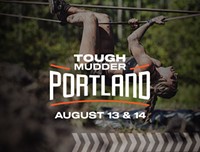 Lock in your summer adventure, Portland. Join us for world famous obstacles over a 5K or 10K distance.
MERCURY: What are you most excited about for this year's Affair?
Gitlen: We're publishing an awesome book called Doing Business, which is a collection of archival documents produced over the last four years that exposes the behind-the-scenes aspects of the art world and putting on an event like this. It's really a stand-alone document, but Saturday's [2 pm] discussion panel will essentially be a book launch.
How did the show of Devendra Banhardt's drawings come together?
Horodner: I organized a show of them for Atlanta Contemporary Art Center here in Georgia last spring. His drawings are exactly like the music: fantastic, dreamy, diverse, tribal, tantric, and delicate. I'm paraphrasing, but he's said that he makes music about things he can't draw and draws thing he can't write songs about. The drawings on his CD covers are his and he maintains both practices very seriously.
How have you seen the Affair affect Portland's art community?
Gitlen: Especially because it coincides with TBA, we're seeing a lot of local galleries staging more ambitious projects and, generally, getting into the host city mentality. I think that everyone has seen how meetings and connections at the Affair have come to fruition, so it's a year when galleries are showing off a little more. It's great to see that it's helping Portland artists show in other places and bringing more national artists here.
Sponsored
Virtual Auction Event & Drag Queen Fashion Show. You won't want to miss this show!