Picking a favorite, or even a representative, project by Bruce Davidson can be a daunting task. There's the ultra-cool greaser chic of his 1959 series, Brooklyn Gang; his seminal civil rights photos, in which he spent months of his own time on freedom marches and in sharecropper shacks; most famously, there was East 100th Street, wherein he concentrated on one city block in Spanish Harlem for two years, creating an unforgettable extended portrait of the streets and their residents. And in the early '80s, he rode subways obsessively, thrusting his camera in the faces of New Yorkers who didn't always take kindly to his artistic aims.
Last summer, Davidson worked on commission for Care Oregon, an administrative branch of the Oregon Health Plan. Over the course of two visits to the state, he photographed patients who had received benefits from the Health Plan, with the goal of humanizing these Oregonians in the eyes of our state legislators.
Davidson will be in Portland this weekend for a lecture at the art museum and a weekend-long, career-spanning exhibition organized by Stoots Fine Photography.
MERCURY: You've said that the Care Oregon project was one of the most meaningful assignments you've ever had.
DAVIDSON: Yes. This was a cross-section of very ill people who are usually sort of invisible to us. I want to break through that invisibility and create an image that somehow has some meaning. Not only for them, but for people who could help them. But it was the Care Oregon people that made it happen; they were the ones that made contact with the people. I just floated in.
Does that happen often, that you just float into and out of your subject's lives?
In my career—50 years of photography—there's always a context and a way of entering a world. In the case of Brooklyn Gang, I just hung out with them for a long time. In the case of East 100th Street, I worked under the auspices of the citizen committee on the block. There's always something that gives context and a way into a world. And sometimes a context is like in the civil rights movement—it's what's happening around. Once I went on a freedom ride, a bus ride in '61, that really sensitized me. Up until then I was just another white kid. It sensitized me to the segregation in the South.
This sensitization—did it change the way you approached people you photograph, or your relationship with them?
It did because I exposed myself as a photographer. I was taking some risks in photographing the South in the way that I was. Sneaking in and photographing a Ku Klux Klan cross burning. Walking along with the marchers on several of the marches—including the Selma march. That changed my perspective and sensitized me to the plight of people. That was a very important awakening.
I've always thought that most of your pictures are as much about the relationship between you and the subject as it is about the subjects themselves.
Yeah, I think that in the case with East 100th Street—working the way I worked there—I became a part of the picture myself. It was important that there was an eye-to-eye, face-to-face relationship between the subject and the photographer. Subway is very intimate too; but it's intimate in a lot of different ways. And in the case of the Civil Rights photographs, I was part of the march. I was never one of the press corps.
What happens to photographs like the Care Oregon project? On commissions like these, does the work usually just get seen by the small, intended audience?
I don't know. What I do know is that it fits very well with some of the commissions and assignments I've had over the years. For example, I was assigned to photograph the children after the Oklahoma City Bombing. I photographed Senator Max Cleveland, who lost two legs and an arm. This Care Oregon work fits very well. I think it's very important that hospitals or banks or whatever have a sense of the impact of real photography.
I don't mean this flippantly, but you obviously believe in the power of photography to change the world.
It's not a panacea. But if we didn't have those photographers who were working, coming to grips with the meaning of life in this era... it's better to have a picture than not have any at all. I would venture to say [that] when a state senator from Oregon looks at these images, he's got to change his idea and awareness of these people who are really sort of invisible to us.
Sponsored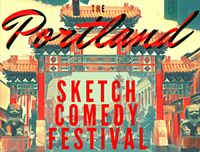 Sketch comedy troupes from all over N. America descend on The Siren Theater for 3 glorious nights.