In what disappointingly turns out to be small A projects' final show in Portland, artists Chris Johanson and Jo Jackson have assembled an exhibition of contemporary photography that's occasionally patchy, but largely refreshing. In the goofily named Every Picture Tells a Picture... Or at Least Is a Picture, the local artists highlight the work of a dozen photographers from around the country. With a roster that ranges from the master of the sleazy fashion spread, Terry Richardson, to Michael Haanel, who is exhibiting his first photos at the age of 66, Every Picture showcases an eclectic and surprising blend of emerging and mid-career talents.
It's hard to ascertain any theme that unifies Every Picture, although motifs of abstraction, body politics, and skate culture reoccur throughout the exhibition, with several of the artists bleeding into multiple categories. Deanna Templeton, for instance, exhibits a starting selection of black-and-white prints from her series Your Logo Here. Shot at surf and skate competitions, Templeton's group portraits of bikini-clad teen girls—whose bodies are tagged with the logos of event sponsors and merchants—offer a disturbing look at adolescent sexuality and commercial exploitation.
Rising star Leigh Ledare, who has shown with Ed Templeton on several occasions, is represented by a suite of self-portraits made in collaboration with "buxom," "sensuous," and "gifted" middle-aged women he found advertising in the personals. Ledare answered the suggestive ads, and asked to photograph the women in any scenario they wished, as long as it was in their homes. The results are provocative, humorous, and mesmerizing: Imagine hard-ons and Care Bears, leashes and duvets, sunglasses and depressing apartments.
Other standouts include Dave Schubert, whose otherwise forgettable black-and-white lifestyle pics of disaffected youth are saved by "Lips," a stunning graphic treatise on noir eroticism, in which a spot-lit, slightly parted mouth appears to hover in a field of black like a full moon. Eileen Quinlan aims for the heart of photographic deception in her photographs of smoke and mirrors: Like Jan Groover, Quinlan's narrow subject matter allows for endless formal experimentation, and it works best here in her emerald green "Smoke and Mirrors #13." Finally, any review of Every Picture that fails to mention Richardson's untitled snapshot of an aging redhead spreading her legs impossibly wide in a purple Spandex unitard would be woefully incomplete.
Part of the fun of artist-curated shows such as these is the opportunity to see work that most galleries would otherwise never show. But then again, small A isn't like most other galleries, and for that, they will be missed.
Sponsored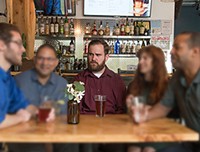 Adults aged 18-35 with good hearing will be paid for their time. Located at the Portland VA Medical Center