Photography by
Tim Gunther
Does Portland need another fashion show? That was the question the Mercury faced when it came time to contemplate our third annual showcase of local fashion talent. Boutiques now frequently hold fashion shows to display their latest merchandise, last year we were home to two Fashion Weeks, and moreover, fashion seems to have become the trendiest element to mix into Portland's party cocktail.
It was clear that if we wanted to avoid redundancy, we would need to offer the public something more than the same familiar names and faces. With that in mind, I collaborated with design talents Adam Arnold and Holly Stalder, as well as fashion blogger and writer Patricia No and former Souchi boutique manager Lisa Hough to jury a fashion show that we hoped would not only bring new or overlooked designers out of the woodwork, but would allow them the opportunity to have their work received with an appreciation of the craft and thought processes that go into their art: "Installations," which I believe will be unlike any fashion event Portland has ever seen. In addition to the traditional runway fashion show format, each of the 14 participants will present their work as a static installation, creating a gallery for the public to experience a multimedia presentation of each designer's creative universe—think part science fair, part sculpture exhibit, part fashion show.
Sponsored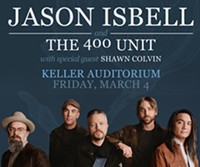 Jason Isbell has established himself as one of the most respected songwriters of his generation. Don't miss Jason Isbell and the 400 Unit, March 4th at Keller Auditorium!
With a mix of designers sporting higher profiles (Jess Beebe's Linea, Hazel Cox, Frocky Jack Morgan) and some names you probably haven't yet heard (Janeane McSpadden's In Love & Memory, Gretchen Jones, Kerry-Ann Kimbrell), this year's show represents Portland designers in varying stages of their careers, and with varying backgrounds, influences, and goals.
Help maintain a high standard of quality in local design by coming to the show, taking in the presentations, and voting for who YOU think deserves recognition as a high-quality Portland designer. Along with the jury, we will award the most popular candidate with exposure in the pages of the Mercury in what I hope will be an event that continues to spotlight up-and-coming Portland designers every year.
ALLIUM
Allium jewelry is the work of Amanda Horton, a former resident of New York City. It was there that she was spotted at a bar wearing one of her own designs by the owner of a showroom, who wanted to carry the line. That's when Horton, who had no formal art or jewelry education, realized she might be onto something. A lifelong crafty type, and largely self-taught, she took classes in business for artists and beading at the Fashion Institute of Technology in NYC before moving to Portland, where she teaches grantsmanship skills at OHSU. While Horton uses a studio for metal shopping, most of her jewelry is made at home on her couch, "as unsophisticated and unglamorous as that may be." Considering herself more of an artisan than an artist, Horton favors "simple, clean jewelry, nothing elaborate." As for the future, Horton plans to continue making jewelry, and perhaps eventually open her own gift shop.
LINEA + BECKY JOHNSON
Originally from Washington, DC, Linea creator Jess Beebe worked there as a model, and became interested in design. She apprenticed with a designer, but wasn't interested in design school, so instead she pursued a degree in literature, although after spending time in Italy and taking several design courses, she eventually graduated from Portland State University with an arts and literature degree. Seaplane was just opening down the street from where Beebe lived, and she has been selling her work there ever since, and more recently at Una. Showing with her is Becky Johnson, whose line of jewelry, Lynx-Lynx, is also available at Una. With a background in metalworking at Evergreen State College, Johnson switched to soldering when her sculptures became too small to weld, eventually shifting to focus on jewelry out of an attraction to making things that were more utilitarian: art that could be worn rather than simply hung on a wall. Working mostly in gold and silver, with recent forays into unconventional beading, Johnson's shapes are directly taken from nature, specifically vegetation like seedpods and beans.
LEANIMAL
Leanne Marshall, whose Leanimal line debuted in Portland at last fall's Portland Fashion Week, and was considered by many to be the brightest spot of the week, has wanted to be a designer since she was about 12. She began by making her own costumes for dance—ballet, tap, and jazz—and ended up winning a scholarship to the Fashion Institute of Design and Merchandising. After graduating, she moved to LA, and briefly worked for the fashion company Lure, but hated working under someone else's creative direction. She then became a graphic designer (the Mercury currently employs her services in this regard), and started Leanimal nearly two years ago, which is available in New York's Lingo, and locally at Foundation Garments and most recently, Seaplane. Beginning with things she would like to wear herself, Marshall has carried this essential wearability into designs that have become progressively dressier. She enjoys using interior design materials, like heavier-weight cotton sateen. Another hallmark of her design style is pleating: "I can't stop," she confesses.
OPEN CLOTHED
For Open Clothed designer Diana Lang, making clothes is a fairly recent evolution in her creative life. Originally from New York, she went to art school in Boston for sculpture, still does a lot of painting and drawing, and looked at designing apparel (mostly for herself) as a side thing. She came to Portland knowing there was a community of independent designers, and has taken inspiration from designers like Maison Martin Margiela, early Commes des Garcons, Yohji Yamamoto, and Vicktor & Rolf, looking for essential elements of design that transcend the trends of the season. Approaching apparel much like sculpture, Lang is more interested in creating geometry than in flattering a woman's body to fit traditional ideas of sexiness. Saying that most of her designs seem to either look like a toddler's clothes, Star Trek, or mod, the woman (and occasional man) she is designing for would need the courage to defy traditional silhouettes, noting that she and others who are very body-conscious have felt a freeing effect when donning one of her waistless designs.
DANIEL McCALL
Those plugged in to the local design scene may already be familiar with Daniel McCall, and although his presence is longstanding, it has also been somewhat elusive. In the '90s he had a store called Androgyny, and more recently one in Morgan's Alley called No. 28—which he never formally advertised, with clients finding the shop only through word of mouth. Currently his limited designs are available exclusively at Una. McCall's 20 years in fashion have been marked with an appreciation for history, and his creations often reflect the industry's past, from Madeleine Vionnet to vintage Christian Dior designs. While he traffics frequently in historic reference, McCall redevelops those designs into something not just modern but what he hopes transcends time. One can expect big things from MeCall, whose experiance is matched by his ambition and restlessness. Next stop, Paris? Why not!
HAZEL COX
Originally from Arkansas, Hazel Cox says that her first foray into accessories design were the lightning bugs she used to squish and paint her skin with as a kid. More traditionally, her grandmother was a seamstress who taught her to sew, and as a student at Garland College in Arkansas, she learned package design, graphic design, photography, offset printing, and has worked in desktop publishing and silk screening, all of which contribute to the wild mix of design training and influence that flows through Cox's work. Having bounced between Alaska, California, Idaho, and Arkansas, Cox settled for a time in San Francisco, where she created a business called Needle, making couture gowns, eventually adding jewelry to items she sold to her clientele. (Also add to her résumé high-end floral, interior, and landscaping design.) Now that she's in Portland, she co-owns Denwave with Genevieve Dellinger, and creates jewelry inspired by native culture, her superstitious beliefs, naturalism, gender neutrality, and currently, Freddie Mercury.
SAFE SAX
Run by a trio of men—Jeff Hockert, Adam Lake, and Chris Wilkerson—Safe Sax take the condom from its hiding place behind the drugstore counter or otherwise out of sight, and thrusts it into public view in the form of tote bags and makeup bags. On one level, the awareness raising is obvious; promoting safe sex and working to fight AIDS, the company donates a portion of every sale to AIDS charities or other nonprofits working to promote safe sex awareness, and they count Planned Parenthood as one of their biggest fans. But half the fun of the idea is that people wear them in their own ways—to be provocative, or ironic (Hockert and his wife have used the tote as a diaper bag, hipsters have used them as knitting bags, and they once got an order from six women, all over 60, who loved them), or just as a conversation piece. One thing is certain: People who encounter the Safe Sax products think they're funny, interesting, or revolting.
ELSPETH STANLEY
Elspeth Stanley ("Elly") began sewing less than a year ago, when she started making dresses out of pillowcases and selling them at Alberta Street's Last Thursday. A former student at PSU and a current one at the International Beauty School studying hair design, Stanley's interest in apparel is simple: She's always liked clothes, and likes making people look good ("It's a vanity we have the luxury to use."). In addition to the pure fun of it, Stanley adds that it's an "opportunity to have a perspective, like a writer gets to write, or a painter gets to paint." Far past the pillowcase stage, Stanley's self-teaching has been a process of trial and error as she tackles the difficulties of pattern making, with the results ending up mostly in her own size, as "I am the only body I have." As of now, Stanley hasn't tried to sell any of her pieces at any stores (you won't even find her at Last Thursday these days), taking a lighthearted attitude toward the endeavor: "Apparel feels like a hobby. Whether it turns into something bigger than that, I have no opinion."
ESE CARNAL
Ese Carnal (in Spanish "this meat" literally and slang for "blood brother") is the work of Donovan Skirvin, who assisted by his wife Laura Jensen, has started a company that designs made-to-order and custom shoes. A rarity in a town that boasts so many ready to try their hand at apparel and jewelry design, Skirvin's upbringing in a low-income, DIY-motivated household gave him the drive and patience to learn the time-consuming and often painstaking art of shoe making. Emphasizing fit ("I'm a fit Nazi.") and unique style, Skirvin is moving his shoe business into a phase where he hopes to be able to produce small seasonal collections (although anything archived from past collections is reproducible), as well as creating matching sets of shoes, bags, and gloves to be sold as sets. With an eye to sustainability, Skirvin buys locally, uses recycled leather whenever possible, and when buying new leather, examines the hides to determine that whether the cows were free-range and part of a natural herd, and does much of the leather dyeing himself.
KERRY-ANN KIMBRELL
Kerry-Ann Kimbrell's design fascination began as an avid reader of Sassy magazine, particularly the work of Betsey Johnson that frequently appeared on its pages. Kimbrell went from experimenting with taking clothes apart and putting them together to the Art Institute of Portland, where she is finishing her design degree. For the past year and a half, she has also studied under Adam Arnold as an intern, after reading an article about him and admiring his modernism and tailoring skills. Also interested in experimenting with natural dyes, Kimbrell wanted to tone down the dots on the dress photographed here, so she first tried to dip it in tea (a commonly used dye), but it didn't take—she needed something stronger. So, Kimbrell resorted to two pots of coffee. She got the effect she desired in the color, and as a bonus (at least to some) the garment now smells of Portland's favorite beverage.
FROCKY JACK MORGAN
Julia Barbee, creator of the Frocky Jack Morgan line, has been sewing her whole life, although she got her degree in sculpture at Southern California's Biola University. About five years ago, back in Portland, a friend told her about a new store opening in town: Seaplane, where her line has been selling ever since, as well as Dragonlily and Frock, among others. Inspired by texture, which draws her to a certain fabric, Barbee works mainly in a neutral palette that allows the attention to remain on the highly textural aspects of her designs. Seeking to design things that will "stand the test of time," she loves antique textiles, recycling, and deconstructing—Barbee was one of the designers at the forefront of this style, which has spread wide in popularity since. And the name? Frocky Jack Morgan was a soldier in WWI from North Carolina who, when he returned home began wearing housedresses (because Jesus wore a dress) and kept a goat as a constant companion.
GRETCHEN JONES
As a kid, Gretchen Jones would design and sketch wedding dresses and sewed projects out of her mom's scrap collection (she had a purse stand instead of a lemonade stand). Still, she never pushed herself in that direction until after her first year of college, when she was studying fine art, but found that the traditional mediums weren't clicking for her. Aside from a basic sewing class, Jones is mostly self-taught, and she came to Portland with a rather direct sense of purpose: From the small town in the mountains of Colorado that she hails from, Jones read about Portland boutique the English Dept. and co-owner and designer Elizabeth Dye in Lucky Magazine. So, Jones introduced herself at the English Dept., began working there and mentoring under Dye, and began modeling through Mode Models. She has modeled for Dye, as well as Jess Beebe, Holly Stalder, and Kate Towers, and says the experience "has really thrown me into the community and helped me find my way." Preferring to keep her work one-of-a-kind, Jones sees her clothing worn by girls who "go to farmers markets, ride bikes, and garden."
IN LOVE & MEMORY
Janeane McSpadden is the creator behind In Love & Memory, and has worked with Anna Cohen, Portland's most famous export into the international fashion scene, having recently garnered her second cover on Women's Wear Daily, both times in issues addressing sustainable design. Like her mentor, McSpadden sees it as part of her duty as a designer to make the world a better place for others. Pointing out that the textile industry is the #3 water polluter, and that the processing of many synthetics creates a lot of chemical runoff, she uses materials that are biodegradable, or that, like hemp, require little water to cultivate, citing that as the easiest way an apparel designer can become green. She is also experimenting with natural dyes, but at this stage in her career, with a low level of production, that's about as far as it goes for her, although in the future one can see that she will carry these ethics into every level of her manufacturing process. At this point, McSpadden's designs are mostly minimalist, inspired by music, nature, and animals.
GENEVIEVE DELLINGER
Genevieve Dellinger learned to sew from her mom and her 4-H club, but didn't particularly like it or think about it until years later as a sculpture major at the Pacific Northwest College of Art, when she decided she wanted to work with fabric in her art. After graduating in 2003 and feeling "over-arted," she dealt with her creative urge by focusing on sewing. Using her sculptural background to consider clothing in terms of shape and silhouette, Dellinger gets "crushes on fabrics." Influenced perhaps by a youth spent listening to the Sisters of Mercy and Joy Division, she finds herself pulling from her darker side, like Rick Owens and other (primarily Belgian) designers she admires. Historically drawn to black and solid colors, Dellinger's tastes are changing to be attracted to more patterns, and she prefers to work in natural fabrics ("unless they're über-synthetics") like linens and silk jerseys ("things with weight"). Dellinger is also one half of the team that owns local boutique Denwave, where her designs are exclusively sold.