If it seems like an ice age since Melody Owen last exhibited in Portland, her new solo exhibition at Elizabeth Leach Gallery, Alexandria, I'm Waiting, goes a long way to explaining why. Consisting largely of work Owen completed during three artist residencies (more of which is concurrently on display in the Case Works at Reed College's library), this understated show reveals just how much those destinations—Paris; Saint-Jean-Port-Joli, Quebec; and Akureyri, Iceland—influenced the resulting pieces. And while imagery from these regions dominates the photographs, collages, and video included here, it combines for a fragmented look at place, speaking to wanderlust and the elusive nature of memory more than any of the specific locales.
The exhibition's photographs, which span the past four years, feature many literal signifiers of travel, from mid-flight snapshots of an airplane wing to the blurred thrust of a bright red streetcar. But Owen also intersperses images that speak to travel metaphorically, its tiny discoveries and sense of infinite wonder: a delicate bunch of pink wildflowers or a view of a green tool shed, largely obstructed by gleaming icicles. In her numerous collages, Owen uses the media's inherent discourse of scrambled contexts as a reference to the tourist's displacement. Thus an isolated spinal column, like some hulking beast, stalks across a newsprint image of an Icelandic fjord. In a suite of collages featuring cherubic Icelandic children, that sense of displacement morphs into unsettling disorientation. In one, a little girl innocently cradles a kitten—and a bulbous red mushroom sprouts out of her mouth like a speech bubble.
In the end, Alexandria, I'm Waiting is as scattered and impressionistic as a photo album. Its pieces function as souvenirs, a kind of short-hand for the memories they attempt to embody. But Owen acknowledges this limitation, as well. In the readymade sculpture "8-knot," she inverts a pair of snowshoes, likely acquired as a memento in Iceland, and entwines their looping toes to create a figure eight—or an infinity symbol. In travel, there's redemption for even the most mundane artifacts as they're seen by fresh eyes. That even a pair of snowshoes could inspire the infinite awe of the tourist gets at one of art's most basic aims, exposing profound universality where we'd least expect it.
Sponsored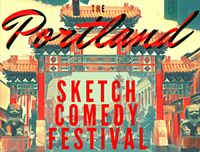 Sketch comedy troupes from all over N. America descend on The Siren Theater for 3 glorious nights.