Monique Frydman, Horia Boboia, Julie Rall
Savage Gallery, 416 NW 10th
223-2868
Through Feb 16
Savage Gallery serves up some international flavor this month, with an exhibit of paintings by three abstract artists, including French artist Monique Frydman, the Romanian-born, Portland artist Horia Boboria, and Portland artist Julie Rall.
The exhibit marks the first U.S. exhibit for Frydman, who has shown extensively in France and other European venues. She begins her compositions with a foundation of linen and keeps the texture of the fabric as an integral part to the overall work. Atop this surface, Frydman performs grand physical gestures with large pastel blocks, spreading the pigment in large, sweeping marks. In the series shown at Savage, Frydman appears to venture down two pathways, and one is clearly more entrancing than the other. In the piece entitled "Dancourt 1," she layers a smattering of bright yellow curves against a muted moss background. The pigment is chunky and thick, and in places seems to coagulate into clumps on top of the linen. The power of this piece lies mostly in the vivid contrast that develops from the color combination, but interest is also achieved from the loose, fluid qualities of Frydman's marks. The uncomplicated composition affords a certain meditation, yet one embellished with a playful dynamism. There lies within a tribal element, almost a petroglyph type of imagery. Frydman loses stride in a few of the works presented, exemplified in the piece entitled "Dancourt 10." Again, she begins with a mossy green background. Layered on are a series of horizontal bands, each are densely populated with curved marks. Unfortunately, these marks are less expressive and more pattern. They become a rather uninteresting portion of a field painting. Frydman chooses a nauseating palette in this work: fuschia, hot pink, and the aforementioned, dirty moss green.
Portland artist Julie Rall displays paintings on plexiglass from the "Gift" series. As her artist's statement, Rall selects a passage from the late Indian writer Tagore. Naturally, this sets a certain metaphysical tone for viewing the work, and the two elements do compliment each together. Rall's work is a blend of animal mysticism and plant motifs, blended together to create work that almost approaches good. The initial part of Rall's process is quite compelling. She spreads oil paint onto the plexiglass in quick, wide brush strokes. The milky quality achieved is plain lovely, and without the ensuing elements, the work is stunning and poetic. Here is where Rall goes too far. On top of the swatches of pigment, she layers patterns in 24k gold leaf. Daisies and other flora are manifest in the god awful material, and speak to a horrible craftiness above all else.
Finally, Rall loosely renders animal figures within the milky pigment. Quick black lines make rabbits, horses, and lambs appear. In the piece entitled "Cosmos," (above) Rall lays down a light green and dark gray background. On top of this lovely field, she scars the landscape with a bunch of gold leaf flowers. She also fashions a string of Japanese lanterns with a few quick strokes in black. In the foreground, a cricket looks on as a crudely drawn lamb rests in the golden forest.
The "Gift" to which Rall alludes to is not well presented. What is apparent is that she took a few easy symbols to signify nature, added the horrible, horrible gold leaf and assumed that the viewer would feel the mysticism flow through their body.
Sponsored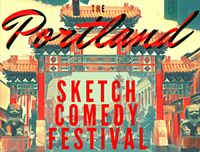 Sketch comedy troupes from all over N. America descend on The Siren Theater for 3 glorious nights.