Portland's Red76—which is the moniker for Sam Gould's work with a rotating cast of collaborators—organizes event-based projects that are deeply rooted in art theory, but are inclusive and unintimidating in practice. In typical Red76 form, Gould's next "extremely ongoing and open-ended" project, Travelers and Record, focuses on an experience everyone can relate to: daily travel. Before catching a plane to San Francisco, where Red76 has an exhibition at the Yerba Buena Center for the Arts, Gould discussed the spokes of this expansive project, which includes publications, parties, and, more than likely, Freddie Mercury.
Sponsored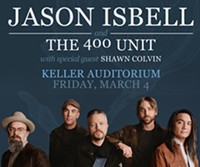 Jason Isbell has established himself as one of the most respected songwriters of his generation. Don't miss Jason Isbell and the 400 Unit, March 4th at Keller Auditorium!
What's Travelers and Record all about?
The crux of the project is to develop a means for people to submit experiences about daily travel: why they go out, where they go, what happens when they arrive at their destination. People can contribute anything—photos, videos, sounds, whatever—and send them to our archive office at Portland State University or upload them online. The idea is to collect these documents and transform them into different media, such as publications, postcards, stickers, or posters, to be shared with the residents of the city where they occurred.
Is this just a Portland-based project?
The first one is Portland-based and will be distributed here. But another idea is to collect sounds from another city, like San Francisco, then compile those sounds and share them with the citizens of that city.
What events do you have planned?
One aspect is our one-act play night at Towne Lounge, called Come In, We're Not Ready. People are invited to come in, build props out of cardboard and re-enact an event from their day.
How was your first night?
It was hilarious. It was very low-key, but adorable. There was a slight communication breakdown with the Towne Lounge. They actually didn't know we were coming that night.
That seems to fit perfectly with the spontaneous nature of the plays. What other events are in the project's future?
For PICA's TBA festival, we'll be hosting the Travelers and Record Sound System, which will be a listening room. Everyone is invited to bring in songs that get stuck in their heads, whether annoying or great, and we'll compile a playlist of Portland's "stuck" songs. It'll be played in the storefront location and broadcast across the city. I'm guessing we'll be heavy on songs like "We Will Rock You" and "Bohemian Rhapsody." A lot of Queen, I guess.