Super Crafty
Book Release Party, Doug Fir Lounge, 830 E Burnside, Tues Oct 18, 8 pm, Free
Sponsored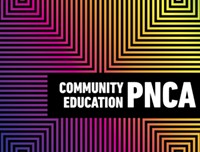 Online art and design classes at the Pacific Northwest College of Art now open for registration!
Super Crafty are a collective of four women who discovered that there truly is strength in numbers. After meeting each other at various craft events in Portland, they decided to team up to build a collective website and lend each other strength and fortitude as communal craft consultants and business associates. Shortly thereafter, Northwest-based nonfiction publishers Sasquatch Books approached them about writing a book. The result, Super Crafty, is an excellent, educational voyage into the world of crafting with projects suitable for beginners and experts alike. I recently had the opportunity to interview Torie Nguyen, Susan Beal, Cathy Pitters, and Rachel O'Rourke—the women of Super Crafty.
Is it safe to say that "craft" is simply art that can be used in everyday life?
SUSAN BEAL: I think the quickest and easiest definition of "craft" is that it's functional art. There's so much of a gray area between the two though—is a shrine collage art or craft? Can't it be both? More artists are working in "craft" mediums, and museums and galleries are showing fiber, wood, and ceramics alongside paintings and sculptures these days. I think it's great that the lines seem to be blurring.
What was the most challenging part of compiling Super Crafty?
TORIE NGUYEN: Having to cut out projects (and whole chapters). We actually overwrote the book by quite a bit. It's funny because people who have seen the book have said, "But you're giving away all your secrets!" And my reply is, "Oh, don't worry. We have enough ideas to fill plenty more books and still keep our trade secrets to ourselves!"
Is the resurgent craft movement specific to Portland or is it manifesting on a larger scale?
RACHEL O'ROURKE: Our generation seems to gravitate to nostalgic craft-related projects and objects that remind us of our childhood. There are so many machine-made objects that appear really homogenous that cause people to feel really disconnected from their work, home, and recreational environments. It seems that the craft movement has reached a fever pitch. It feels as if people want to reclaim the humanity that can emanate from hand-made objects. It seems that this is happening all over the States. 
What would you consider to be the single most overrated crafting implement?
CATHY PITTERS: Definitely the hot glue gun. It's one of those tools that is considered to be essential but is actually pretty useless. The glue doesn't hold very well to smooth surfaces and will pop off really easily. Plusyou can get a nasty burn from the stuff. I still have a scar from my early crafting days.
Sponsored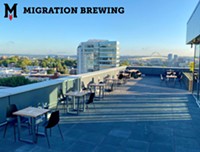 This 9th floor patio boasts stunning views of the city, three mountains, and Portland's West Hills.