Last week, somebody asked us the somewhat surprising question, "What, exactly, is the Time-Based Art Festival?" (TBA). This caught us a little off guard, as we're more accustomed to the perennial question, "What looks good at TBA this year?" Fortunately, we have answers to both those questions.
Put simply, TBA is 11 straight days of mostly experimental performing arts happening at venues all around Portland. This year that includes everything from two nights with Mikhail Baryshnikov to a performance by local hiphop wizards Lifesavas to the opportunity to have your hair cut by professionally trained 10-year-olds. There are also film and visual art programs, plus a whole host of workshops and lectures—but mostly it's about the performances. And from our considerable experience, they're nearly always great.
Sponsored
Sketch comedy troupes from all over N. America descend on The Siren Theater for 3 glorious nights.
As far as "what looks good this year," we're glad you asked. While it is possible to see every event at TBA, it's hardly advisable for casual audiences. So what we've assembled here is a list of exactly what we would recommend to our dearest friends—a day-by-day breakdown of the shows that we wouldn't miss for the world. Since the festival runs through September 16, we'll have part two of our picks in next week's paper.
BUT! You don't have to wait that long to get the jump on all things TBA. We are thrilled to announce the launch of the Portland Mercury TBA Blog, the ultimate online guide to this year's festival. At portlandmercury.com/tba, you'll find our previews of every single TBA event, reviews of the performances, interviews with artists, video clips of this year's acts, photos, a complete schedule, and the opportunity to buy tickets. Be sure to check the blog, and to check it often, because it contains everything TBA you need to know.
Now, on to this week's picks:
THURS SEPT 6
Rinde Eckert, On the Great Migration of Excellent Birds, Pioneer Courthouse Square, SW Broadway & Yamhill, 6:30 pm, FREE
The son of opera singers, New York artist and Pulitzer Prize finalist Rinde Eckert has forged his own path with a performance style that is equal parts music and theater. Earlier this summer, his production, Horizon, about the life of theologian Reinhold Neibuhr, won terrific critical acclaim; the New York Times has compared Eckert to Bertolt Brecht, Samuel Beckett, and Tom Waits. It shouldn't take a master theologian to appreciate Eckert's newest piece, created specifically for TBA, entitled On the Great Migration of Excellent Birds. The performer has been working with countless choral groups and hundreds of local singers to create a swelling chorus of voices to kick off TBA:07 in this free outdoor event. CB
FRIDAY SEPT 7
Marc Bamuthi Joseph, The Living Word Project: the break/s (Work in Progress), Gerding Theater at the Armory, 128 NW 11th, Sept. 7–9, 8:30 pm, $15-20
Inspired by Jeff Chang's seminal book about hiphop history and culture, Can't Stop Won't Stop, Mare Bamuthi Joseph's latest endeavor has a little bit of everything for the fan of hiphop scholarship. The former National Poetry Slam champion is renowned for his deft blending of movement and spoken word; tonight he'll take improvisation to new levels. The Break/s utilizes two DJs and one DVJ ("Digital Video Jockey"), who will spontaneously flip through interview clips, documentary footage, musical tracks, and other archival materials in direct response to Joseph's performance, creating a call-and-response multimedia journey through hiphop's great swath of history and influence. JWS
SATURDAY SEPT 8
Andrew Dickson, Sell Out, Sept 8, 9, 13, 14, 6:30 pm, Wieden + Kennedy Atrium, 224 NW 13th, $15-20
Most Portlanders need little introduction to Andrew Dickson, whom I've frequently called the funniest man in town. A local staple (excepting a short jaunt to Los Angeles), Dickson has seen his stock rise tremendously over the past decade. A DIYer in the truest sense, Dickson previously garnered a diehard following with a series of hilarious character-driven mockumentaries. But Dickson really started to hit it big at TBA:05 with his autobiographical performance AC Dickson: eBay Powerseller, in which he extolled the virtues of online auctions, which provided him enough income to remain a not-so-starving artist, free of a day job. The performance was a hit; after success on the festival circuit, Dickson moved to LA, but was lured back to Portland by, among other things, a posh job at the monolithic ad agency Wieden + Kennedy. Suddenly our scruffy local artist was playing the corporate game, writing ads for Fortune 500 companies. And how does Dickson feel about that? Just fine! In fact, he's prepared an unapologetic performance about the redemptive power of selling out, including tips on when and how to do it. Sure to be both thought provoking and hilarious, this is one of TBA's definite "don't miss" performances. CB
Donna Uchizono Company, State of Heads & Leap to Tall, Portland Center for the Performing Arts, Newmark Theater, 1111 SW Broadway, Sept 8 & 9, $20-25
New York-based choreographer Donna Uchizono has been producing thoughtful, provocative work since 1990—including her 2003 work Butterflies From My Hand, which premiered at that year's TBA festival. This time, she's bringing two shows that have already toured elsewhere, to near-universal acclaim: 1999's State of Heads, which explores the apparent disconnect between the "heads" of state and the "body" of a country; and Leap to Tall, written for and performed by Mikhail Baryshnikov, best known for his work on TV's Sex and the City (just kidding). While the chance to see one of the greatest ballet dancers of all time is undeniably the draw here, Uchizono's reputation as a choreographer of great wit and intelligence completes the package. AH
SUNDAY SEPT 9
CARTUNE XPREZ, SNDAY MRNING XPREZ, Curated by Peter Burr, Living Room Theaters, 341 SW 10th, Sept 9 & 16, 11 am, $6-7
The "cartoons ain't just for kids" shtick of Cartune Xprez consists of a grab bag of short animated works that take the medium in just about every direction it can go. Dance-happy AV-nerd duo Hooliganship hosts two Sunday morning programs (one featuring Portland animators, the other focusing on international contributors), plus a late-night program at the Wonder Ballroom that promises to get the dance party started. This Sunday's all-local lineup features the talents of E*Rock, Bruce Bickford, and Joanna Priestley, among others—expect anything from intricate unfurling line drawings to exaggerated '80s-style pixilation to traditionally animated forms doing very untraditional things. Plus the Living Room has a full bar—what better way to while away a Sunday morning than with screwdrivers and homegrown cartoons? AH
Mammalian Diving Reflex, Haircuts by Children, Sept 8 & 9, noon-4 pm, Rudy's Barbershop, 212 NW 13th, call 224-7422 to make an appointment, FREE
While your initial response to the idea of getting a haircut from a 10-year-old might be "Shit no, I'm not letting a kid cut my hair," just read this excerpt from the TBA catalogue:
"Haircuts by Children invites the consideration of children as creative and competent individuals whose aesthetic choices can be trusted. The idea that kids should be allowed to cut our hair evokes the same leap of faith, courage and understanding required to grant children deeper citizen rights. For many it is actually less terrifying to contemplate allowing kids to vote. So, while Haircuts by Children is a performance for kids, it's actually for the benefit of who they will become."
After reading the above, your response should be something along the lines of, "What kind of asshole wouldn't let a kid cut her hair? I believe in the future!" Enfranchise the children. Get a haircut. AH
William Kentridge, 9 Drawings for Projection, Northwest Film Center's Whitsell Auditorium, 1219 SW Park, Sept 9 & 13, 7 pm, $6-7
Few art experiences have moved me as much as my first encounter with the animated films of South African photographer William Kentridge. Using huge, densely worked charcoal drawings, which he erases and modifies repeatedly, his animations possess a human touch unlike anything I've ever seen. His best films examine the life of the artist's alter ego, Soho Eckstein, a wealthy white businessman in Johannesburg. Overflowing with emotional intensity, heartbreaking classical and operatic scores, and unforgettable imagery, these films are a knockout punch to the soul. This program highlights nine of his Soho Eckstein shorts, made between 1989 and 2005. Prepare to be amazed. CB
MONDAY SEPT 10
Las Chicas del 3.5 Floppies, Imago Theatre, 17 SE 8th, Sept 7-10, 6:30 pm, $20-25
The lavishly named Mexican playwright Luis Enrique Gutiérrez Ortiz Monasterio premiered Chicas in 2004 at Mexico City's Dramafest, a collaborative festival that brings together Mexican and British playwrights. The show went on to win a prestigious Fringe First award for best new writing at Edinburgh's 2005 Fringe Festival, garnering tons of critical acclaim along the way. Original cast members Aída Lopez and Gabriela Murray portray two single mothers in Mexico City, torn between supporting their kids and supporting their coke habits, turning to prostitution to sustain both. It's asking a lot for a play about poverty-stricken, coke-addicted single moms to be funny, but from all accounts this one genuinely is—and moving, and brash, and full of intelligent insights about the human costs of globalization. AH
Liz Haley, Polygraph, Gerding Theater at the Armory (Lobby), 128 NW 11th, Sept 6, 7, 10, 11, 14, 15, 16, 1-3 pm; Sept 8, 9, 12, 13, from 5-7 pm, FREE
Local artist Liz Haley continues to impress. With a steady but quiet stream of fascinating visual art projects popping up over the past few years, Haley's profile will undoubtedly rise with her edgy performance, Polygraph. Every day of the festival, the artist will be hooked up to a lie detector in the lobby of the Gerding, where she will take whatever questions you have to throw at her. This piece follows an artistic lineage that includes performances by Yoko Ono and Marina Abramovic, but I've never seen somebody make the content of their memories and thoughts so available, while forgoing any overtures at creating intimacy in any traditional sense. But I suspect the most interesting dynamic here won't be the artist's forced honesty, but instead, the tone of the queries put to her. Because if we've learned nothing from the Milgram and Stanford Prison Experiments, it's that when people are granted power—even in artificial settings—it doesn't take them long to abuse it. CB
Tues Sept 11
Nature Theater of Oklahoma, No Dice, Art Institute of Portland, 1125 NW Couch, Sept 11-16, 6:30 pm, $20-25 (includes sandwich and soda)
Taking their name from a Kafka novel, this New York troupe was one of the big hits of last year's TBA. This year's No Dice promises to live up to all expectations as well: The troupe recorded over 100 hours of private phone calls, which they have whittled down to a "short" four-hour "melodramatic take on amateur dinner theater," according to a winter issue of New York magazine. At a January work-in-progress performance in New York, the actors were fed their lines via iPods, which eventually (and intentionally) led all the performers to act out of sync. The write-up also mentioned "inappropriate costumes," and admission to this show includes "a sandwich and a soda," so you better believe we're going to be there. CB (Reservations required.)
WED SEPT 12
Hand2Mouth, Repeat After Me, Interstate Firehouse Cultural Center, 5430 N Interstate, Sept 11-15, 8:30 pm, Sept 15, 4:30 pm, $15-20
Portland theatre collective Hand2Mouth is one of the most ambitious groups in town, consistently turning out work that utterly defies any preconceived notions about what theater is or should be. Their Repeat After Me is an exploration of the American character, as expressed through popular music. A wide range of music is drawn upon here to represent the American worldview, from the sentimental and nostalgic (Neil Diamond's "America") to the jingoistic and frightening ("Praise the Lord and Pass the Ammunition"). It's a testament to the integrity of their vision that no matter what song is being sung, Hand2Mouth's ensemble sings it with the utmost dedication, eliciting surprising and powerful emotional responses. It was an amazing show when Hand2Mouth premiered it in the spring—they've been working on it since, and it's sure to have only improved with time. AH
TBA:07 runs September 6-16 at venues across Portland. Complete schedules can be found at
pica.org/tba/tba07
and
portlandmercury.com/tba
; you can buy tickets and festival passes through either website, or at TBA Central, 224 NW 13th, or by phone at 224-PICA.
Sponsored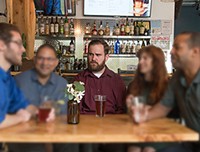 Adults aged 18-35 with good hearing will be paid for their time. Located at the Portland VA Medical Center