S
aturday night marked the official kick-off the Modern Zoo, a summer-long cluster of exhibitions and happenings organized by the fledgling Portland Center for the Advancement of Culture. Housed in a mind-boggling 120,000 square foot warehouse at the base of the St. Johns Bridge, the Modern Zoo proposition is hugely risky--a gargantuan, untamed industrial space outside the city limits, which might work if the name of your organization is Dia: Beacon, but is hardly a sure thing for a new venue in Portland. In order to fill the village-sized space, PCAC invited dozens of artists to choose raw warehouse space to display their own exhibitions. In July, another round of artists will present work, and at the end of August, the in-kind support dries up and PCAC is homeless again.
The "zoo" moniker certainly seemed fitting for Pete McCracken's living installation Man or Artist. One of the prominent design features of the Modern Zoo is a series of fishbowl-like windowed offices that seem like commentaries on display and voyeurism in and of themselves. Inside McCracken's locked space, along with a futon, water cooler, and a toilet, viewers could gaze in at the artist David Eckard, who looked only mildly amused by the procession of people who streamed by the windows pointing at him. Signage informed the viewers that Eckard planned to remain in the cube until the last day of August and that "under no circumstances, no matter how much I plea, cry, or attempt to persuade you should you attempt to free me from my imprisonment." A shockingly high percentage of viewers seemed to believe that Eckard was actually in there for the long haul (God bless 'em), but one has to assume that the piece is a riff on Chris Burden and Marina Abromovic, in that we've traded martyrdom for a wink and the illusion of danger.
In a similar fishbowl office, Andrew Dickson offered people fifteen minutes of fame on the casting couch with Do You Look Like Someone Famous?, a gallery of Polaroids showing lookalikes of Mr. Bean, Valerie Bertinelli, and Courtney Love. Throughout the evening Dickson privately interviewed and videotaped the potential stand-ins. It became evident that people look more like celebrities after they've told you who the celebrity is.
Of course, there was art that didn't involve staring at other human beings, the finest of which was a secluded installation by Melody Owen. Dozens of ruby-red hummingbird feeders hung from the ceiling, dramatically lit by two floor lights. The feeders were hung so that they formed two interlocking circles whose individual elements never touched. Neither exclusively visual nor conceptual, Owen's piece rather suggested a dozen haikus of loveliness and neediness.
Recent PNCA grad Courtney Price undoubtedly won a host of new fans with Canned, a minimal installation that looked like a fallout shelter that had been picked dry of all but a few canned goods. Close inspection revealed eerie and subversive messages that had been deftly inserted into the food labels, so that cans of clam chowder mutely called out "damn, sister" and the crushed tomatoes told me that "the party is over, my friend."
The Zoo's flattest note, however, came from the PCAC's own Northwest Abstraction. For all practical purposes, this was PCAC's inaugural exhibit, their opportunity to show Portland what they stand for. So in this day and age, with the deep roster of energetic young artists in Portland, to open with a show of (very) traditional abstract paintings is inexcusable. On top of that, there was only one medium-sized canvas by each of the eight artists, several of whom have been showing in Portland for nearly thirty years. Despite the energetic paintings by Lucinda Parker and James Boulton, PCAC desperately needs to differentiate themselves from the staid institutions that have been doing shows of abstract paintings for decades (with many of the same artists). With Boulton as the only possible exception, Northwest Abstraction provided no sense of recent trends in abstract painting. We already have enough boring, traditional venues showing us the same, untimely work every month, and if PCAC is going to mean anything to Portland, it's going to have to show is something a lot newer and a lot fresher than Northwest Abstraction. CHAS BOWIE
For more info: www.portlandart.org
Sponsored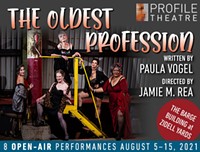 What's the retirement plan for the oldest profession? A moving comedy by the premier writer of our time.