I spent the past several weeks trying to find out what Reggie Watts has up his sleeve for Unwrapped, the benefit for the Portland Institute for Contemporary Art (PICA). Calls were made and emails were sent in an attempt to uncover what we might expect from Watts, who was the runaway hit at this year's Time-Based Art Festival (TBA).
I should have known better: If Reggie Watts is anything, he's impossible to pin down. His TBA performance, Disinformation, was a polyrhythmic gumbo of stand-up comedy, experimental voice compositions, video sketches, beatboxing, modern dance, brain-melting samples, and a "fuckshit stack." (The show was so good that I went back the next night to see it again, unaware that Watts had improvised the bulk of Disinformation. I was stunned when the second night provided an almost entirely different, but equally jaw-dropping experience.)
Trained as a classical musician, Watts is best known in the Northwest as the vocalist for Seattle's Maktub. But for the past several years, Watts has been honing his solo performances at comedy clubs alongside the likes of Eugene Mirman and Aziz Ansari. Last year, he won the Andy Kaufman Award at the New York Comedy Festival for his ability to "break the barriers of conventional stand-up comedy by evoking emotions from the audience that range from agitation to enlightenment." Well said, comedy festival judges.
This week we have a chance to catch Watts again—two chances, actually, on the same night. From 7-10 pm, PICA's swanky fundraiser happens, with Watts doing a set of his studied mania, plus food, drinks, and a silent auction. And at 10 pm, they hide the good silverware and open the doors for an all-night dance party. Watts is also slated to take the mic for a few informal mini-sets during this later shindig, most likely providing some beatbox and sampling interludes.
Eventually, Watts leaked a few of the topics that might pop up in his Unwrapped set. They include "the end of the world, different social languages, the theater world, people that like to party a lot, hiphop, and quantum physics." Watts isn't trying to be obtuse or witty here: These are simply the genuine raw materials of Watts' delirious, syncopated, and tangled creativity.
Sponsored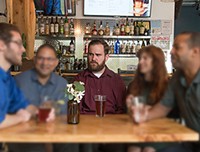 Adults aged 18-35 with good hearing will be paid for their time. Located at the Portland VA Medical Center